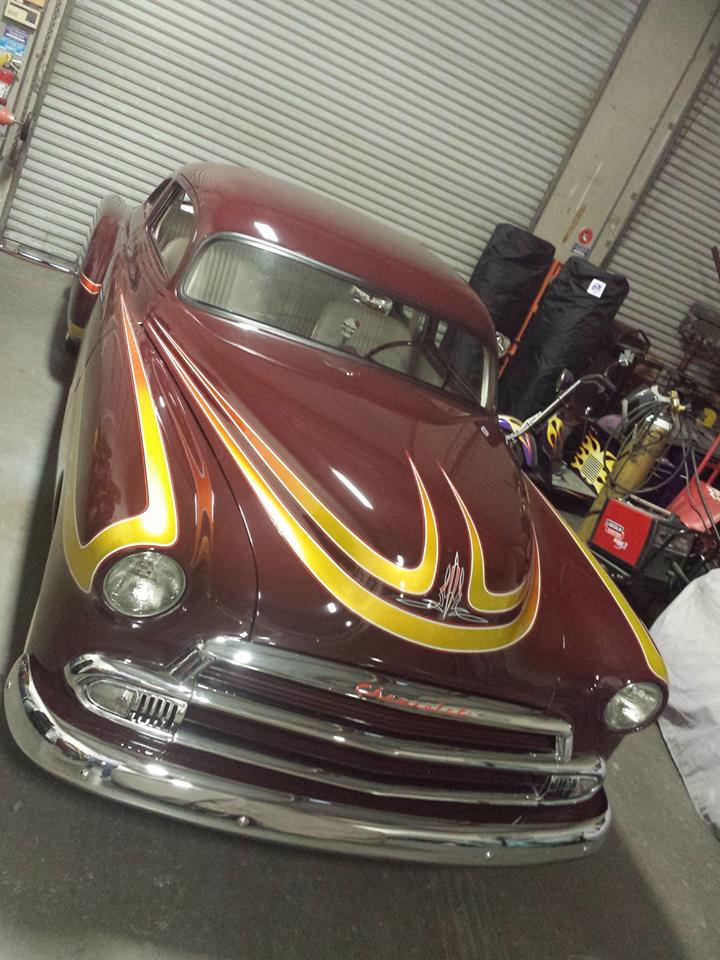 1951 CHEVY Styline hotrod .  This car was built by Scott Norton of Norton's Customs in Huntington Beach.   The build process can be seen on his web site at Nortonscustomsteetrods. com. just click on Mark's 51 and you can see detailed photographs of the car in addition to other cars he built. This project was a partial body off restoration and extensive work was done for frame reinforcment and to set up for a 350 motor and transmission.  The car has had the motor. transmission and rear end rebuilt in addition to having a new radiator. all engine accessories. carburetor etc. replaced.   The rear end has 2:73  gears so the RPM's at freeway speed are reasonable.   The suspension was installed by the BAGMAN in Anaheim and is a four link rear and a Mustang tubular front end along with an Accuair E-Level air ride system with sensor levers on all four corners.    The car handles and drives superbly.   The car has been painted in a two stage color similar to a deep Burgundy or Merlot color. The custom scallops were painted and pinstriped and then a clear gloss was painted over the work. A second pin stripping was added along with other painted features. All the custom paint work was done by Dave Wittle of California Design in Norco. CA. The car has a heater and does not have AC since I live in so cal and usually drive with the windows down.  The wiring is all new with over 20 relays controlling the various components.   All the bullet switches control the various electrical devices and there are 4 additional switches that are available to operate future components it they are added latter.   The wheels are new by Wheel Smith and the front covers are 1953 Cadillac hub caps that have been altered to fit.   The front seats are 1964 T-Bird seats covered in white leather.   All the trim on the seats was removed and polished.   The rear seat is stock and covered in white leather as well.   The center console is a custom piece made of translucent Corian and has red LED lights placed inside the unit.   The photographs on Norton's site show what the car looks like at night when the lights are turned on.     All the chrome was re-plated.   The top has been chopped 5". the hood has been filled and pancaked. the lights are frenched front and back. the doors are electronically operated and also have an emergency release cable installed and the drip rails have been shaved.   Please note the shift knob that is on the car does not come with the car.   I will provide an alternative to the new owner.   I will be at the Father's day L. A. Roadster show in Pomona this Saturday. June 21. 2014 if anyone would like to see the car in person.  
This 1951 has had these modifications: 
- All Steel Body 
- Tilt steering  
- Chopped 5" in front 
- Frenched headlights and tail lights.  
- Power disc brakes 
- Power windows
- T-bird front seats 
- Remote doors /shaved handles
- Mustang2 front clip/ tubilar A arms  
- 350 Chevy motor/cam upgrade.  
- 350 Chevy transmission - air ride system/ bags with shocks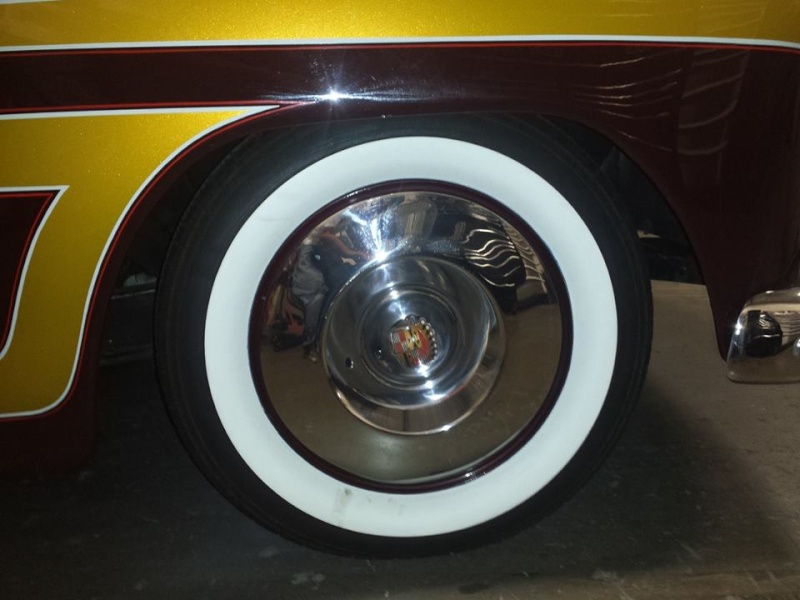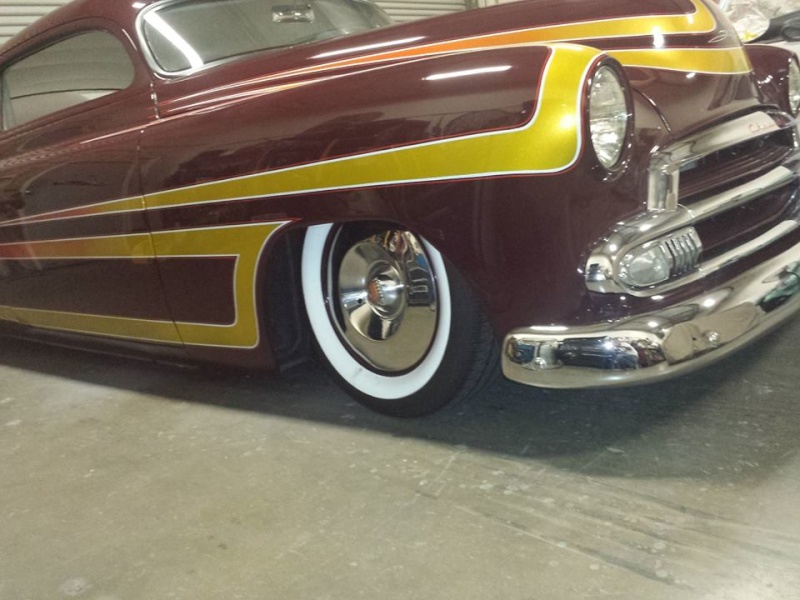 _________________
We don't care the People Says , Rock 'n' roll is here to stay - Danny & the Juniors - 1958

_________________
We don't care the People Says , Rock 'n' roll is here to stay - Danny & the Juniors - 1958

_________________
We don't care the People Says , Rock 'n' roll is here to stay - Danny & the Juniors - 1958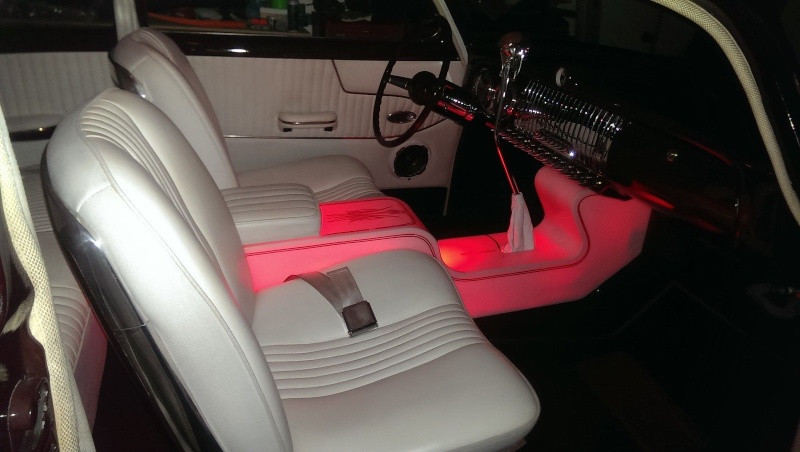 1951 Chevrolet 
After nearly three years of enjoyment, it's time for me to sell my all time favorite car. Its been in magazines, won lots of top trophies and given me hours of great times. She is a driver too, this is no trailer queen you can drive her anywhere you want.
Here's a partial list of options:
Chopped top approximately 5"
350 Chevy with aluminum heads and 350 automatic Transmission with a 10 bolt rear end and 2.73 gears
 Mustang II front end with disk brakes, dual reservoir master cylinder with power booster, Southern Air Heater (no AC), custom 1953 polished Cadillac hub caps up front and rear fender skirts,
Custom Acrylic translucent center console with red LED lights, Dual exhaust that exit the rear of the car and 4 link Air Ride suspension by the Bagman of Fullerton, CA with AccuAir E-level.Custom paint with pin stripping all by Dave Wittle of California Customs in Norco CA.
Full leather interior with 1965 T-bird front seats. 
  Booming great stereo with sub-woofer (I-pod connection only)
New custom wiring throughout.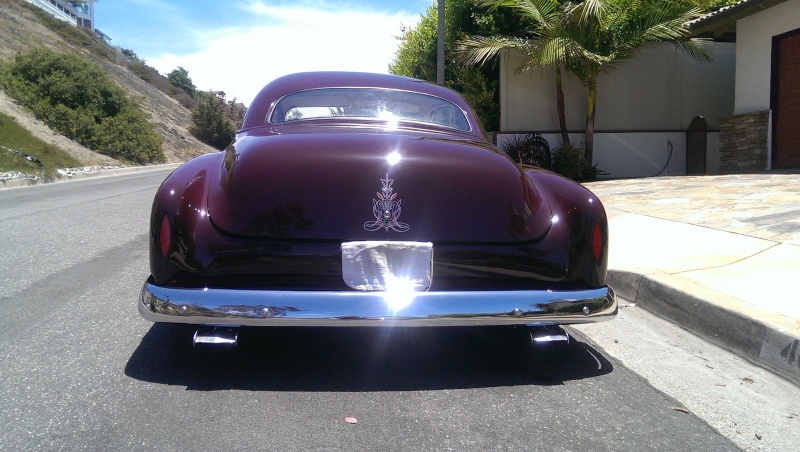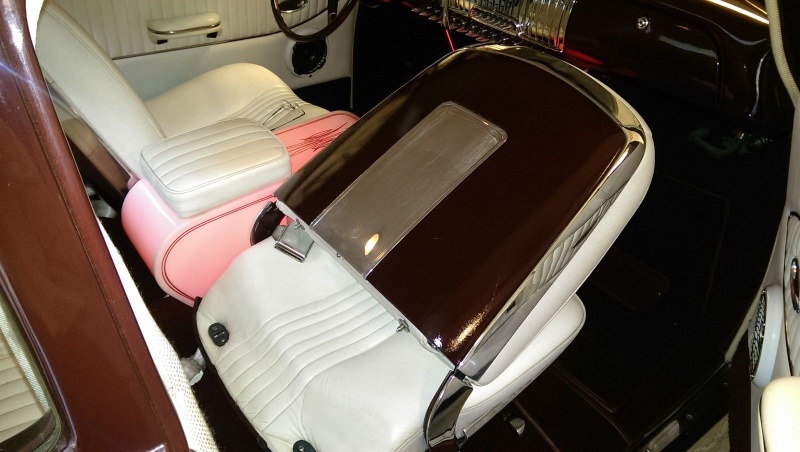 _________________
We don't care the People Says , Rock 'n' roll is here to stay - Danny & the Juniors - 1958
---
Permission de ce forum:
Vous
ne pouvez pas
répondre aux sujets dans ce forum