John D'Agostino, who is very well known customizer, used his extraordinary imagination and skills to customize this custom '61 Thunderbird Coupe "Firestar". The car was built in 1997 and it beautifully renders D'Agostino's customizing style and traditions.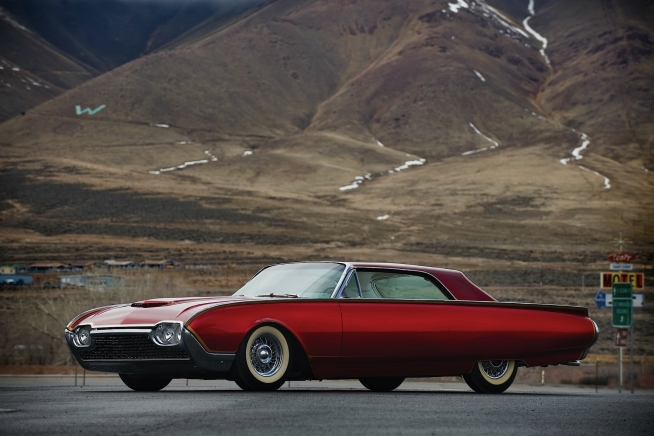 Even though Firestar looks very smooth and "light" it actually hides much of custom work: the roof was chopped, taillights were nicely modified, rear fender peaks were redesigned to echo high-canted fenders from 1857 Thunderbird. Headlamps got European style and were housed in mesh, the custom grille features bullet-shaped mesh. It runs on a set of chrome plated wire wheels with wide whitewall tires – one more trademark of Mr D'Agostino.
Interior was also tastefully modified: dashboard features aircraft instrument panel, "waterfall" console and nice white vinyl upholstery. Custom hood hides 390 cubic V8 [6.3 liter, 300 HP] that is mated to a single 4-barrel carb and 3-speed automatic transmission. Candy Red paint with golden scallops finishes the car perfectly.
Dernière édition par Predicta le Ven 1 Mai - 8:37, édité 1 fois

_________________
We don't care the People Says , Rock 'n' roll is here to stay - Danny & the Juniors - 1958
300 bhp, 390 cu. in V8 engine, single four-barrel carburetor, three-speed Ford-O-Matic automatic transmission, independent front suspension and live rear axle with Air Ride front and rear, and four-wheel hydraulic drum brakes. Wheelbase: 113"
As customs go, it is hard to improve on a sleek 1961 Ford Thunderbird coupe with its build orchestrated by John D'Agostino, who has been instrumental in reviving the art of customizing since he rose to prominence in the 1970s. Over the intervening years, his very fertile imagination and true reverence for the legends of the restyling art have resulted in a multitude of beautiful customs that emphasize and retain the best original design elements of each car with tasteful accents, creating a unique statement every time.
D'Agostino was already a seasoned competitor on the West Coast ISCA show-car circuit by the early 1970s with his brand-new 1970 Pontiac Grand Prix, which took Best Custom honors at the Grand National Roadster Show, followed by a much more radical 1972 Buick Riviera. D'Agostino developed an even greater fascination for the restyling art after viewing George Lucas's iconic American Graffiti in 1973. Shortly thereafter, D'Agostino purchased a nearly restored 1951 Mercury, but found it too nice to customize, so he simply completed the restoration and sold the car, clearing space for the purchase of another 1951 Mercury. This time, D'Agostino radically customized the Mercury, which he dubbed the Midnight Sensation. True to its name, even though the car had not yet been completed, it created an unexpected sensation in the parking lot at the 1975 Oakland Roadster Show, forging D'Agostino's growing stature in the custom car world.
A steady succession of major award-winning customs followed over the ensuing decades, with D'Agostino enjoying national and international notoriety. This particular D'Agostino creation, the "Firestar" 1961 Ford Thunderbird Coupe, was built in 1997 and beautifully continued the distinguished tradition of its creator. Sporting a chopped top and a pair of subtly modified taillights, the Thunderbird also features restyled rear fender peaks, very successfully echoing the attractive high-canted fenders of the earlier 1957 Thunderbird.
Beautifully finished in arresting Candy Red paint with gold scallops by Marcos Garcia of the Lucky 7 Custom Shop of Antioch, California, "Firestar" is accented by a set of chrome plated wire wheels and wide whitewall tires, a D'Agostino trademark. Other touches include extensively dechromed bodywork, European-style headlamps within custom mesh-type housings and a custom grille insert with an intricate network of bullet-shaped projections, reminiscent of custom grille treatments of the late 1950s and early 1960s. Inside, the already stylish Thunderbird interior remains intact and includes the aircraft-inspired instrument panel, a "waterfall" dash and floor console enhanced by beautifully fitted white vinyl upholstery. Options include power brakes, power steering, power windows and an AM radio. The powertrain includes a powerful 390 cubic inch V8 engine, backed by an automatic transmission for smooth and effortless cruising.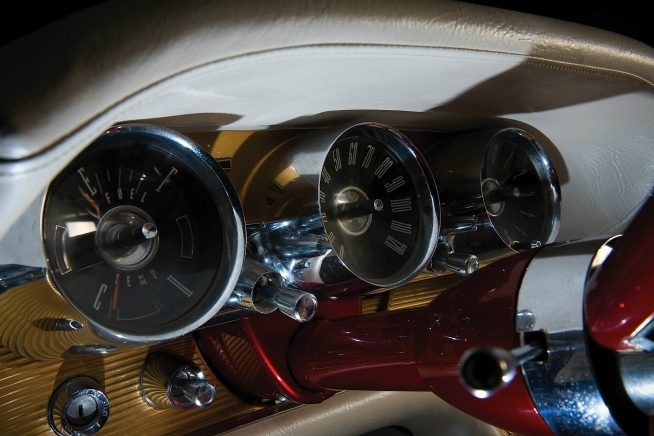 Following its completion, Firestar was displayed alongside D'Agostino's 1957 Chrysler "Imperial Royale" at the Sacramento Autorama, prior to its shipment to Sweden, where it embarked on an extensive European show tour. Upon its return stateside in 2002, Firestar joined the famous "Kustoms With a K" display at world-renowned Petersen Automotive Museum in Los Angeles and continued to dazzle many more onlookers. As presented, Firestar is ready to continue its show career and is in outstanding condition after years of professional maintenance.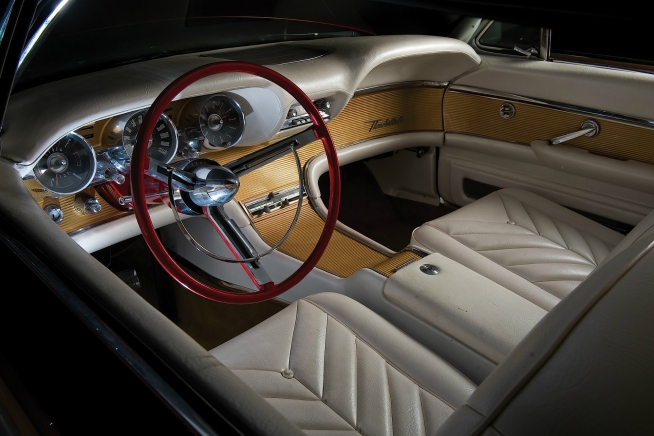 _________________
We don't care the People Says , Rock 'n' roll is here to stay - Danny & the Juniors - 1958
I'm not going to waste any time showcasing a couple of my favorites from the Long Beach Motorama. There were countless candidates to spotlight, but one of my choices was "Firestar", a 1961 Ford Thunderbird originally built by well known California customizer John D'Agostino.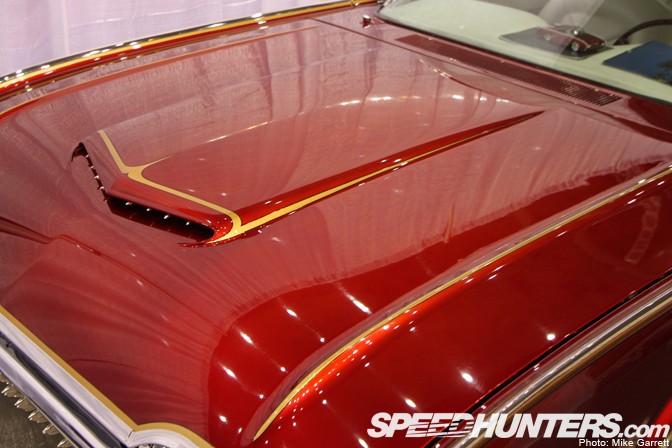 I've said before that the '61-'63 T-Birds are one of my favorite designs of the '60s, so I was naturally drawn to this car. This one happens to be a perfect example of a 1960s style custom.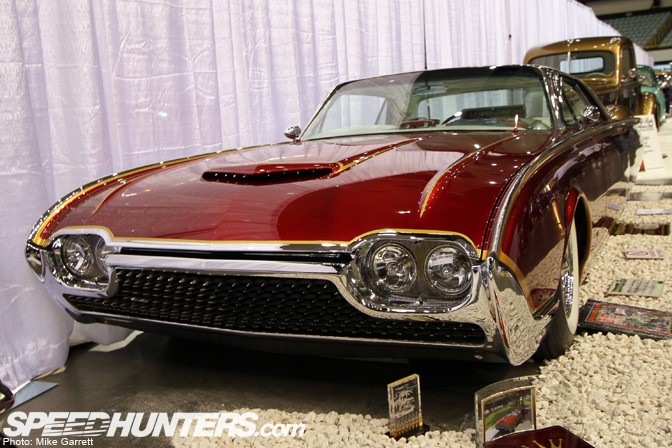 What I like is that most of the original Thunderbird styling elements are still there.
The afterburner taillights in particular get me every time.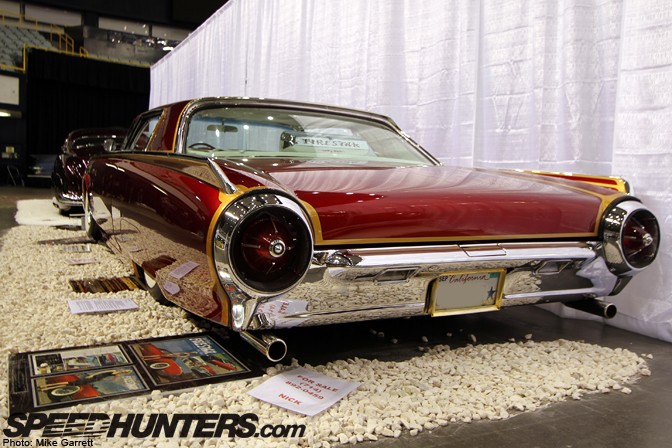 _________________
We don't care the People Says , Rock 'n' roll is here to stay - Danny & the Juniors - 1958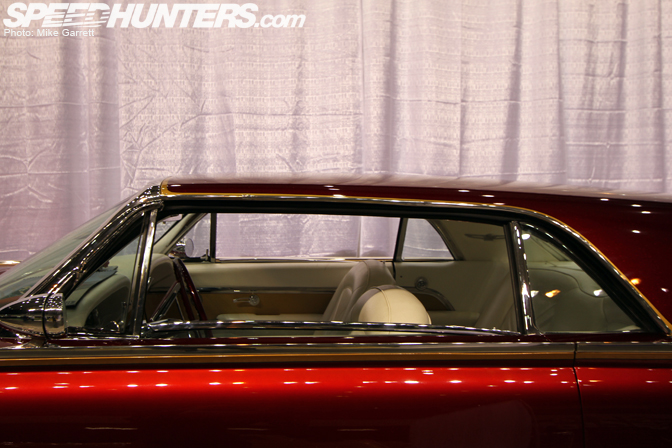 The chop is subtle, and almost looks like something that could have come from the factory.
Mild scallops further enhance the lines. The dark red and gold paint combo is also choice.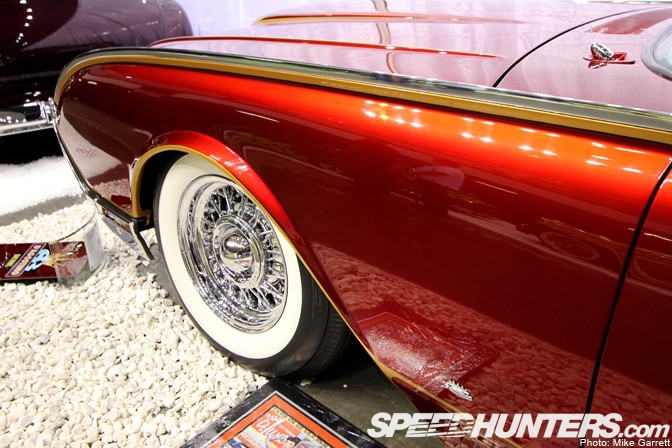 The swiveling steering column might also look like a custom thing, but all Thunderbirds from this era included this. Gotta love the early '60s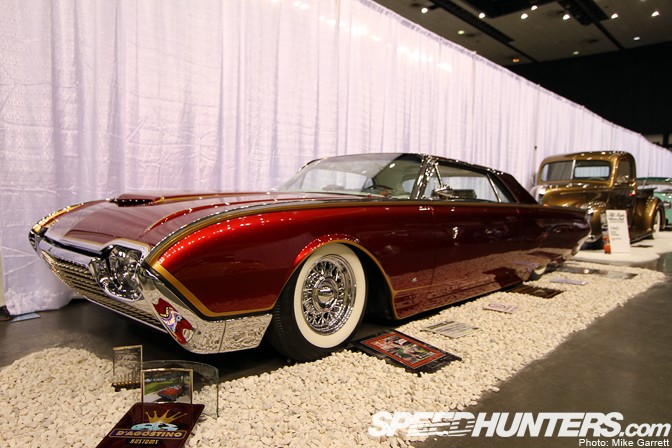 To be honest I'm usually not to big on wire wheels, but they just work on this car.

_________________
We don't care the People Says , Rock 'n' roll is here to stay - Danny & the Juniors - 1958

_________________
We don't care the People Says , Rock 'n' roll is here to stay - Danny & the Juniors - 1958

_________________
We don't care the People Says , Rock 'n' roll is here to stay - Danny & the Juniors - 1958

_________________
We don't care the People Says , Rock 'n' roll is here to stay - Danny & the Juniors - 1958
Sujets similaires
---
Permission de ce forum:
Vous
ne pouvez pas
répondre aux sujets dans ce forum