je viens de terminer une réa,
avant de vous la présenter un peu d'histoire
le little T monogram voit le jour en 1964, c'est un troi en un, comme souvent à l'époque
première réedition, et nouveau boitage, en 1966, sans modification du contenu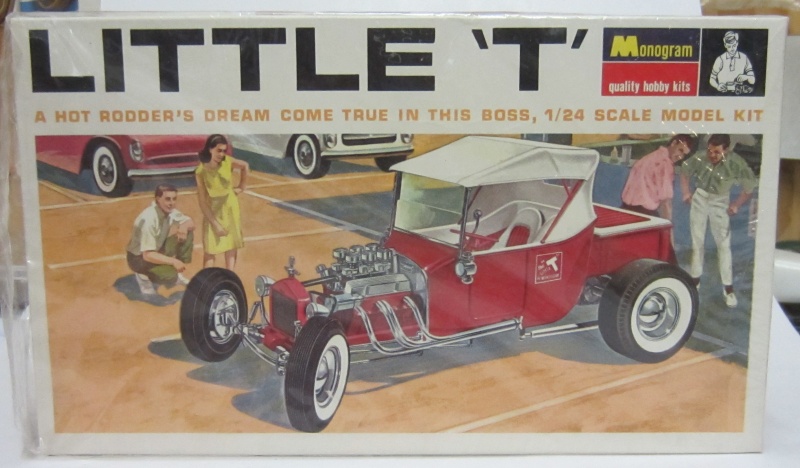 puis il disparait jusqu'en 1996, 30 ans quand même, ou il réapparait sous cette forme, avec de nombreuses modifications, dont les plus notables sont: les sièges "baquet" remplacé par une banquette, les échappements latéraux modifiés, l'admission moteur changé, et l'adjonction d'une remorque.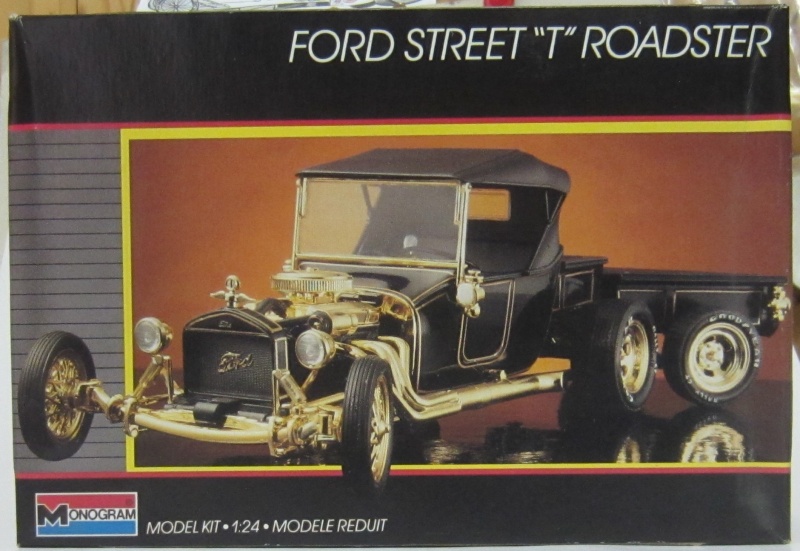 puis nouveau boitage en 1998 (en série limité de 10000 exemplaires), aucun changement, à part que l'or est remplacé par du chrome, beaucoup plus seyant, de mon point de vu, je n'aime pas le doré :dent: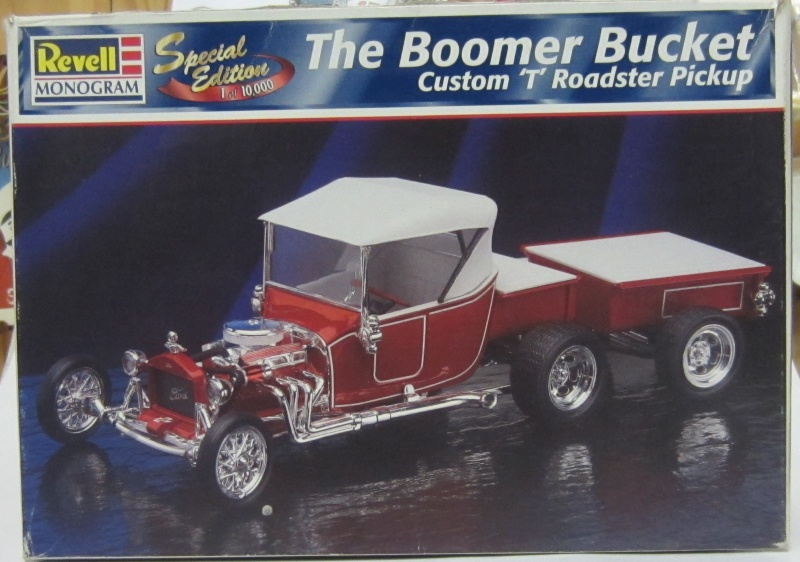 dernière version en 2014, aucun changement, si ce n'est la planche de décalque
ceci étant dit, revenons au modèle que je vais vous présenter, comme déjà dit plus haut, le premier boitage était un trois en un, très courant à l'époque chez tous les fabricants, les pièces spécifiques ayant été supprimé lors de la réédition/modification de 1996, j'ai décidé de faire les versions originales, aujourd'hui la version turtledeck, à gauche sur la photo

l'idée est bien sur de coller à l'esprit des sixtie's, je suis partie d'une réédition de 1998, ou curieusement il me manquait le bloc moteur, que j'ai donc remplacé par un autre, ou j'ai pu mettre toutes les pièces spécifiques, l'alimentation à six carbus, non présente dans la réédition provient d'une des éditions du ford 30 woody, ce sont exactement les mêmes pièces, les échappement disparu eux aussi ont été remplacé par d'autres provenant d'un boitage originale du ford 30, je n'ai, volontairement, pas trop détaillé le modèle, toujours pour resté dans le style de l'époque, j'ai remplacé le volant par un de chevy 59, les tambours avant sont des modèles amt des 60's que j'ai adapté, la plaque d'immat arrière est une johan provenant d'un kit de 1965, les jantes sont de provenance indéterminé.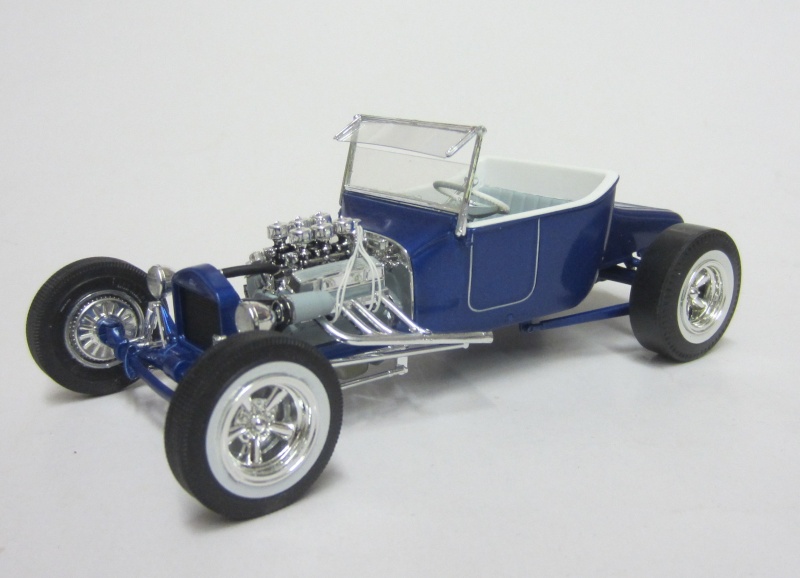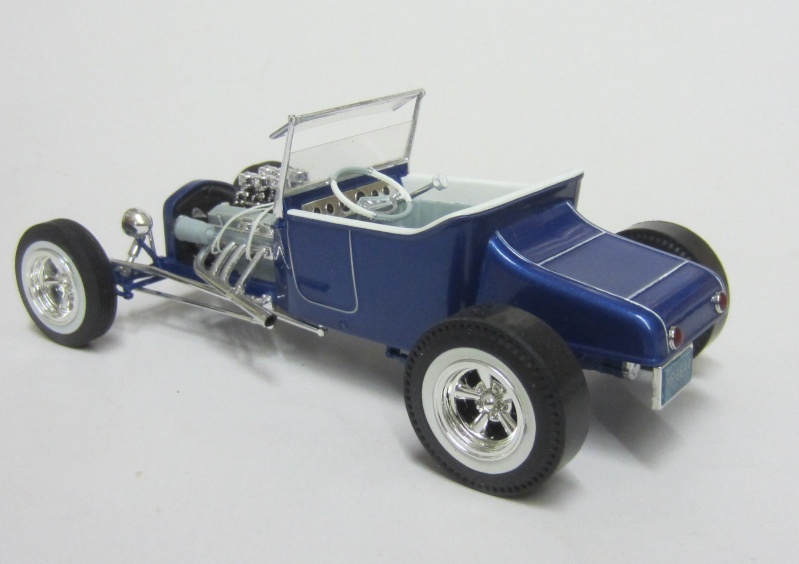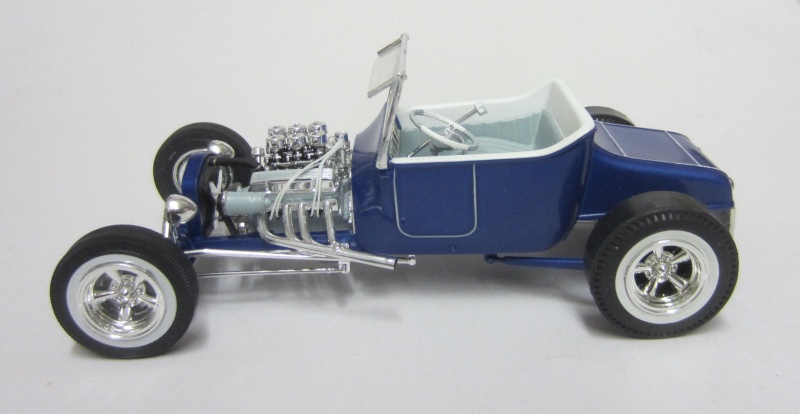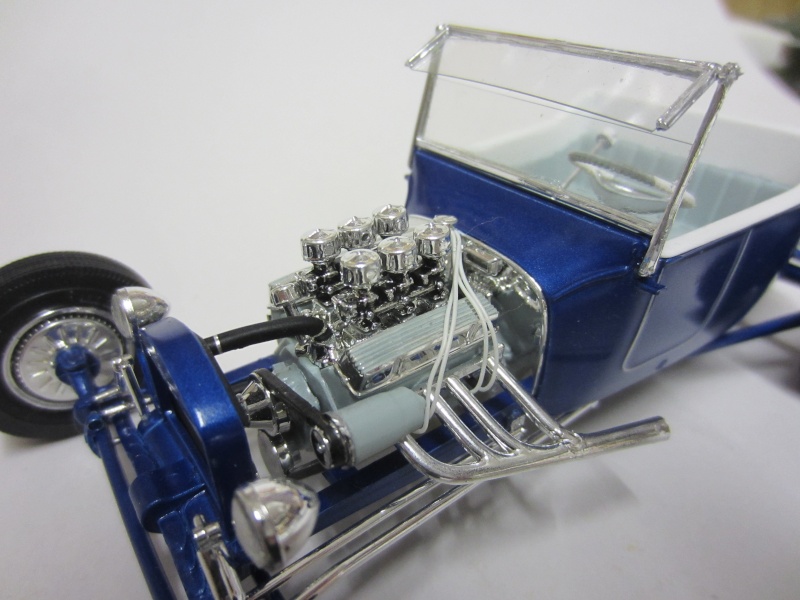 _________________
OLD KIT NEVER DIE
AUTOS-CAMIONS-WEBMAG
Il est superbe

_________________
We don't care the People Says , Rock 'n' roll is here to stay - Danny & the Juniors - 1958
Sympa cet historique, et la caisse est top, de très bon goût
Chouette réa !   

ChevyDave




Messages

: 3899


Date d'inscription

: 11/11/2012



Sujets similaires
---
Permission de ce forum:
Vous
ne pouvez pas
répondre aux sujets dans ce forum