Ray Fahrner built extreme customs in the 1950s and 60s. That by itself wasn't so remarkable, but in a California-centric custom car culture, Ray Fahrner did it in Missouri. Then, to promote his work, he eventually started his own custom car show circuit, World of Wheels. The World of Wheels name survives today and Ray Fahrner's World of Wheels is a precursor to the nationwide series of Autorama shows.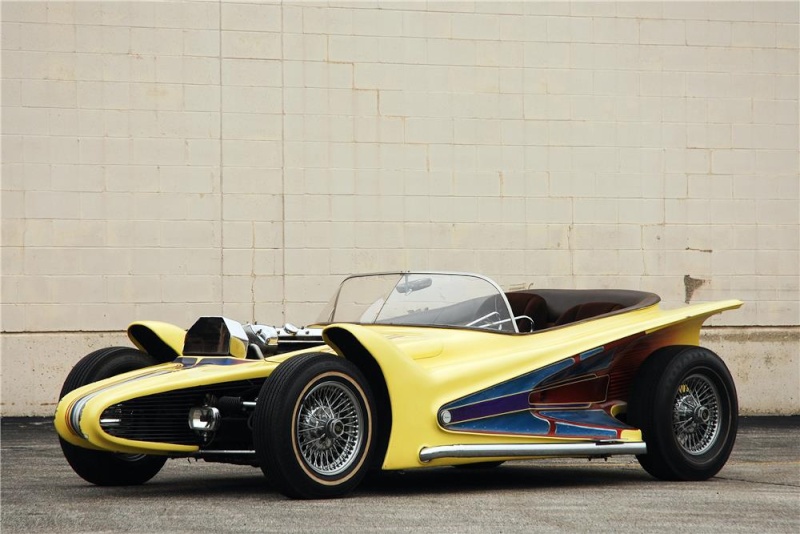 Think you've never heard of Ray Fahrner's cars? Wrong. He built the (in)famous Boothill Express, immortalized in a 1967 1/24 Monogram plastic model kit - a model so popular it was re-released in 1994. Ray Fahrner's Boothill Express commanded a premium price of $126,500 in 2009. Fahrner's most imaginative work was X-Ray. Based on a Jaguar XK 150 chassis and drivetrain, X-Ray was built in 1961 and has been featured in numerous magazine articles including Hot Rod Magazine's 1963 Custom Car Yearbook #1, Rod and Custom in December 1963 and Wildest Show rods of the 60s and 70s.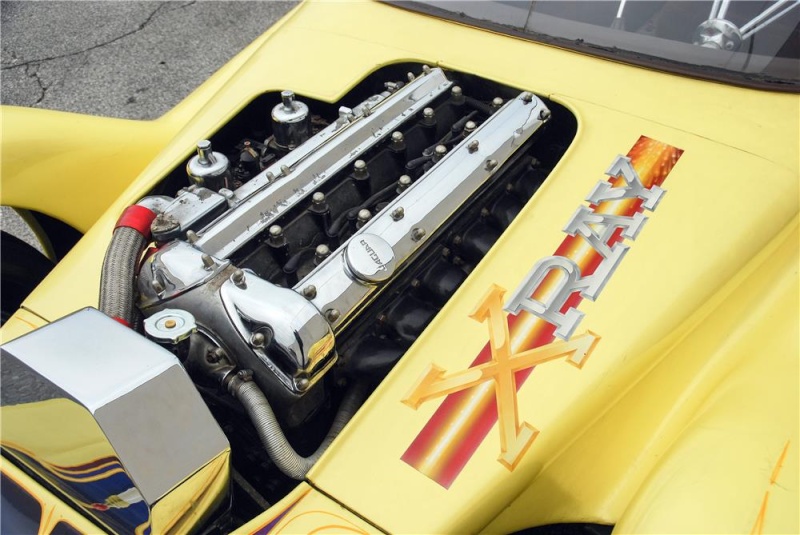 Displaying exceptional ingenuity, its wedge shape, dramatically scalloped body sides, integrated cycle-style front fenders, polished Jag XK twin cam 6 and roadster-like passenger compartment exhibits the best 1960s customizing concepts. A modern Formula One car has many of the same elements. Discovered in Missouri recently, X-Ray has evolved over the years without losing its identity. It now sports a light yellow paint job with elaborate blue, white and red painted scallops that pick out its body details. It is exactly as-found after years in storage with old bias ply tires and sound but aged upholstery and interior trim.
Some details have been updated from the original including later wire wheels and rectangular headlights, but the original X-Ray is essentially as-built in all important details. It is an opportunity for a collector with sensitivity and perspective to acquire an important, even milestone, custom from the early 1960s built by one of the acknowledged masters.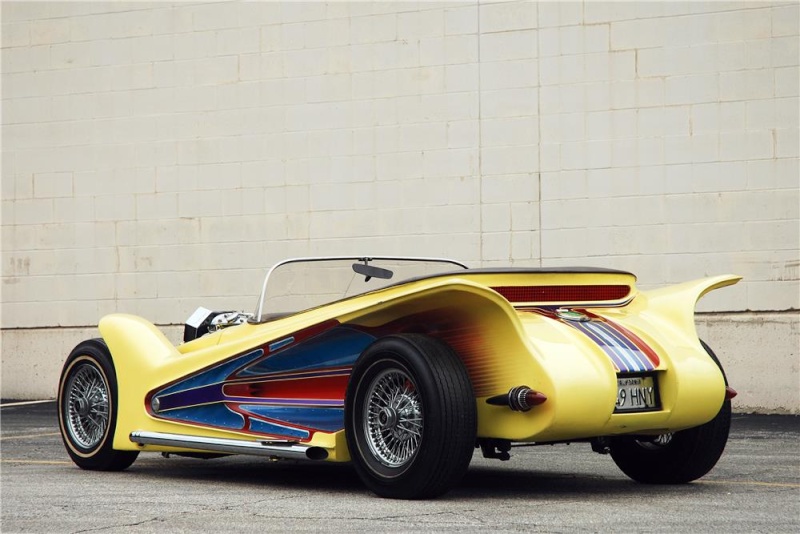 _________________
We don't care the People Says , Rock 'n' roll is here to stay - Danny & the Juniors - 1958
---
Permission de ce forum:
Vous
ne pouvez pas
répondre aux sujets dans ce forum