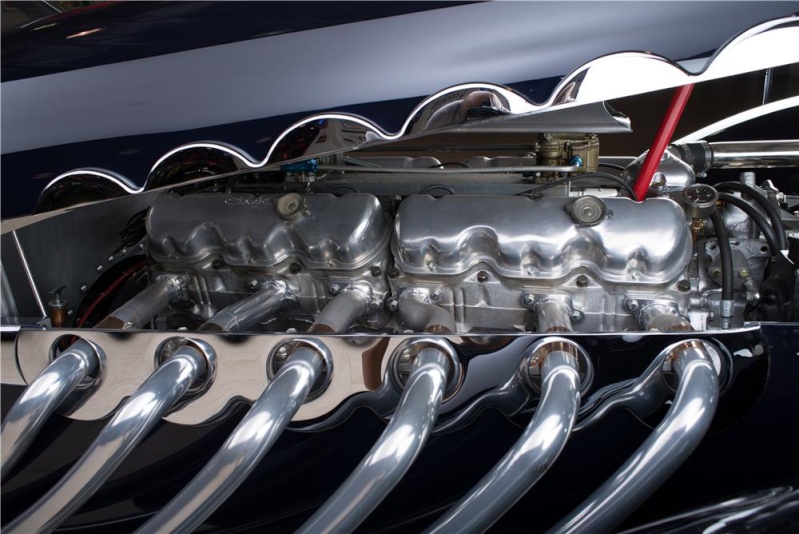 The B-702 is a creation from the Blastolene Brothers, Michael Leeds and Randy Grubb. The B-702, designed by Leeds, was inspired by the great French cars of the 1930s. The size of the car is surprising at 19.5 feet long, and the 94" width makes a powerful impact. The dramatic separation between the body and pod-style front fenders is further highlighted by the glass grille bars and woodlight headlights.
The 702cid V12 was produced from 1960-1965 by GMC for use in 2-1/2-ton medium-duty trucks, producing 650 ft/lbs of torque at 850rpm on regular gasoline. A modern Allison 4-speed sends power to a 9" Ford Currie rear end. 4-wheel power disc brakes and power steering makes the 4,800-pound car drive like a dream. The Blastolene Brothers are known for their oversized V12-powered custom cars. Their first project was the "Jay Leno Tank Car" that rocked the automotive world in 2002.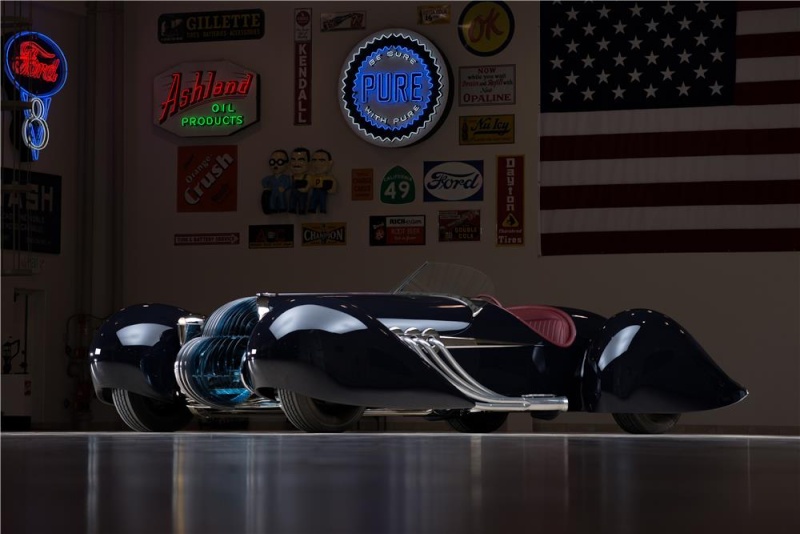 This was the first Blastolene creation to be offered to the public. The hand-formed aluminum body rides on a custom frame, and the entire chassis is nickel-plated or powder coated to a show quality. The interior is finished in maroon leather, and the oversized speedometer cluster is a Lincoln Zephyr unit. Rear fenders and body are all one flowing piece.
The deep separation between the body and fenders is accented by hand-blown glass taillights. Painted Midnight Blue, this should be considered a rolling piece of sculpture. Debuted at Quail Lodge in Monterey, CA, in August 2007, the B-702 was a new construction. This uniquely American creation is a true one-of-a-kind coachbuilt masterpiece.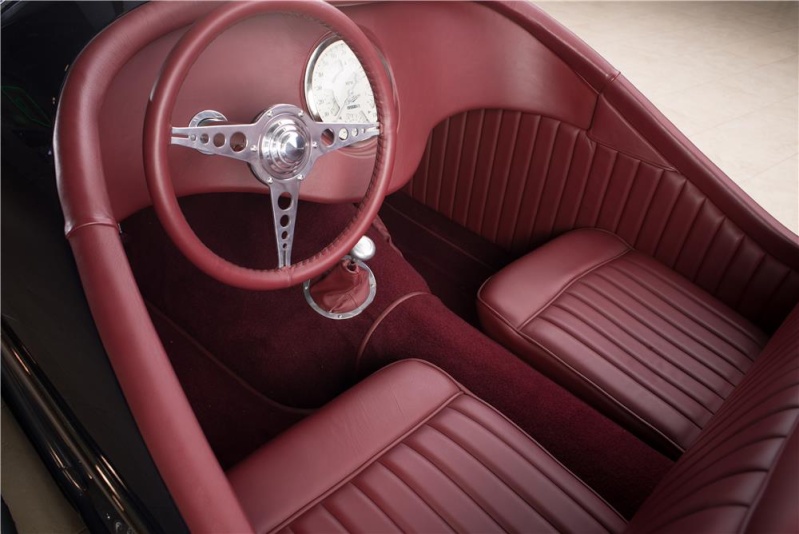 The Blastolene Brothers have created the unique look of this creation by combining the American love of high-powered, large displacement engines with a refined, almost European design sensibility. The resulting blend is unique in the automotive world — a passionate design statement with the performance of traditional American Hot Rodding

_________________
We don't care the People Says , Rock 'n' roll is here to stay - Danny & the Juniors - 1958

_________________
We don't care the People Says , Rock 'n' roll is here to stay - Danny & the Juniors - 1958

_________________
We don't care the People Says , Rock 'n' roll is here to stay - Danny & the Juniors - 1958
---
Permission de ce forum:
Vous
ne pouvez pas
répondre aux sujets dans ce forum