The Echoes est un trio masculin de teen rock   Doo wop formé par Boyle, Duffy et McRory qui enregistre entre 1961 et 1965 sur différents labels Segway, Smash et Ascot, je dois reconnaitre que c'est grâce à la compilation
Baby-Blue
sur BL records que je découvre cette formation. Ce disque compile l'ensemble de ses enregistrements studios associés à quelques inédits.
Le disque débute par les 3 simples enregistrés pour Segway records en 1961 soit  
Baby Blue / Boomerang
 (Segway 103) de 1961 2 titres vraiment très bon de teen rock à la fois inspiré par les Everly Brothers et Jan and Dean le premier titre n'a rien n'a voir avec le classique de Gene vincent and the Blue Caps,  
Sad Eyes/ It's Rainin'  
(Segway 106) le premier titre est un teenrock à la bonne mélodie avec violons et harmonies vocales doo wop, le second est une bonne ballade doo wop,  et  
Gee Oh Gee/Angel Of My Heart
(Segway 1002) le premier est une ballade Teenrock dans le style de Dion and Belmonts et le second un bon doo wop medium, les deux titres suivants sont des démo de 1960 soit
Think It Over
une bonne cover bien rock de Buddy Holly et
Every Dream I Dream
une splendide ballade doo wop ,
In A Little Spanish Town
est de son côté un teen rock variété inédit de leur période Segway. En 1962 ils signent pour Smash records et réalisent  1 simples soit
Bluebirds Over The Mountain/ A Chicken Ain't Nothin' But A Bird
(Smash 1766) le premier est une cover originale du classique de Ersel Hickey, et le second est un bon surf rock rapide, en 1963 ils sortent deux simples  
A Million Miles From Nowhere/ Keep And Eye On Her
(Smash 1807) le premier est un teen rock dans le style de Jay and the Americans et le second un rock sixties rapide avec chœurs féminins !!,  
If Love Is/ Annabelle Lee
(Smash 1850) ce sont des ballades teenrock pop avec harmonies vocales dans le style des Everly Brothers . En 1964 ils ne sortent pas de disques officiels mais enregistre ce titre inédit  
I Just Can't Help Myself
(une ballade doo wop), l'année suivante ils signe pour Ascot records pour qui ils enregistrent leur dernier simple  
I Love Candy/  Paper Roses
(Ascot 2188) le premier est un doo wop medium dans le style des Elegants avec une production Spectorienne et le second est un teenrock medium, le dernier titre du groupe de la décennie est un inédit de 1969
A Rose And A Baby Ruth
un medium country rock avec mélodie teen rock.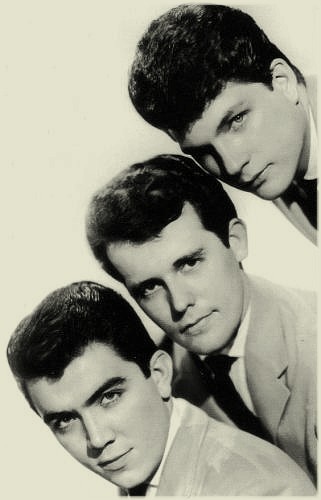 Il faut attendre 1984 pour les retrouver en studio pour le label Crystall Ball sur une compilation (Chrystal Ball lp 115) avec un medley contenant deux titres des Elegants et leur classique soit  
Little Star - Hushabye - Baby Blue
même si l'intérêt artistique de ce genre de medley n'est pas important il faut reconnaître que c'est bigrement bien fait,  suivent quatre inédits enregistrés par le groupe en 1983
Maybe Tonight
et
Let's Go To Angelos  
2 très bon doo wop rapide,
I Flunked
est un surf rock 'n'roll plutôt réussi et surtout  
It's Party Time
un rockabilly doo wop dans le style des Jets, merci d'avoir réédité ces 4 petites perles qui aurait du être sorti en disque à l'époque !!!. En 1985 ils enregistrent 1 ep pour Chrystal Ball  (Chrystal Ball 150 EP) contenant les titres  
One Night Too Late
un twist rapide dans le style des titres de Chubby Checker de 1960 et 61,  
Waiting For The Ultimate Tan
un excellent rock 'n' roll doo wop à la production moderne,  
Asexual  
est un doo wop rapide dans le style des Coasters et
Land Of Rock 'n' Roll
un bon doo wop rock n' roll dans le style des Jets, le disque s'achève par une démo de 1960 de leur classique
Baby Blue
.

_________________
We don't care the People Says , Rock 'n' roll is here to stay - Danny & the Juniors - 1958

_________________
We don't care the People Says , Rock 'n' roll is here to stay - Danny & the Juniors - 1958

_________________
We don't care the People Says , Rock 'n' roll is here to stay - Danny & the Juniors - 1958

_________________
We don't care the People Says , Rock 'n' roll is here to stay - Danny & the Juniors - 1958

_________________
We don't care the People Says , Rock 'n' roll is here to stay - Danny & the Juniors - 1958

_________________
We don't care the People Says , Rock 'n' roll is here to stay - Danny & the Juniors - 1958

_________________
We don't care the People Says , Rock 'n' roll is here to stay - Danny & the Juniors - 1958

_________________
We don't care the People Says , Rock 'n' roll is here to stay - Danny & the Juniors - 1958

_________________
We don't care the People Says , Rock 'n' roll is here to stay - Danny & the Juniors - 1958

_________________
We don't care the People Says , Rock 'n' roll is here to stay - Danny & the Juniors - 1958
---
Permission de ce forum:
Vous
ne pouvez pas
répondre aux sujets dans ce forum