La pianiste Kathryn Jewel Thorne  (alias Katie Webster) est né le 11 Janvier 1936 à Houston (Texas), elle devient à la fin des années 1950's et début des 1960's une des figures marquantes de la scène  Swamp blues du sud de la Louisiane.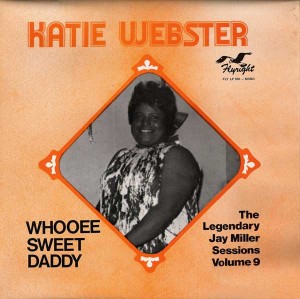 [url=https://servimg.com/view/19236730/41218]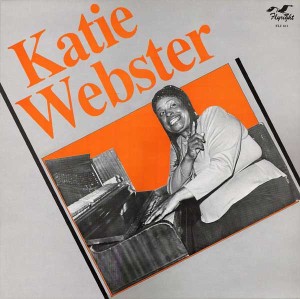 [/url]
Elle commence sa carrière sous l'influence des enregistrements rock 'n' roll de Fats Domino et Little Richard, aidé par le guitariste Ashton Savoy.
Son premier simple
Baby baby
sort en 1958, et c'est grâce aux producteurs JD Miller (Crowley)  et Eddie Shuler (Lake Charles) qu'elle peut réalisé un grand nombres d'enregistrements.
C'est entre 1959 et 1961 qu'elle met en boite de trés nombreux classique sous la houlette de Miller pour les labels Rocko, Action et Spot on peut noter le génial
The Katie Lee
, elle possède alors sa propre formation the Uptighters.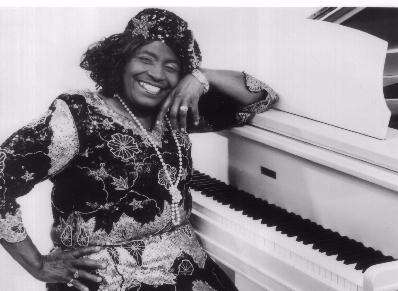 Mais elle est également un musicien de studios prisé en jouant derrières certains titres studios d'artistes comme entre autres Guitar Junior (Lonnie Brooks), Clarence Garlow, Jimmy Wilson, Lazy Lester et Phil Phillips (en particulier sur son tube
Sea of love
).
En 1964, elle fait partie du groupe qui accompagne Otis Redding au bamaboo Club (Lake Charles). Durant les 1970's elle part rejoindre ses parents à Oakland en Californie, en 1988 elle fait une tournée européenne, commence également sa période Alligator records au côté d'artistes comme Bonnie Raitt, Robert Cray et Kim Wilson. Elle décède le 5 Septembre 1999.
Nous allons ici nous interresser à ses faces fifties et début sixties réalisé lors de sessions sous la direction de Jay Miller on peut citer les eux lp Flyright
Whooe Sweet Daddy
correspondant au Volume 9 de la série
The Legendary Jay Miller Sessions
, et le volume 48 de cette même série.
Ces deux albums contiennent quelques petits classiques de rock 'n'roll noir féminin dans le style d'artiste comme Fats Domino, Huey Piano Smith ou Little Richard alliant boogie rock rapide et rhythm and blues médium nous trouvons sur le Volume 9 les titres
No Bread, No Meat
( est une reprise de son premier simple
Baby baby
un blues medium),
I Want You To Love Me
(un rock n'roll medium avec Ashton Savoy au chant),  
Baby Come On
(un trés bon boogie rock rapide),
I Wanna Know
(est un blues enregistré au début des sixties avec des sonorités soul),
Glory Of Love
(belle version R &B de ce classique Doo wop),
The Katie Lee
(bon rock 'n'roll issu de la même session avec chant dans le style du monologue de Big Bopper soutenu par le sax tenor) ,
Whooee Sweet Daddy
(un fabuleux rock dans le style des meilleurs Fats Domino),
Sunny Side Of Love
(Ballad rhythm and blues),
I Feel So Low
(excellent rock 'n'roll),
Goodbye Baby
(ballade dans l'esprit de Fats Domino),
Don't You Know
(rock soul typique du début des 1960's) et
Mama Don't Allow
(et un rock twist ans le style de Chubby Checker ou Gary Us Bombs).
Le Volume 48 contient sont fameux premier simple blues de 1958 
Baby baby
,  
Sunny Side Of Love
et
  I Feel So Low 
(ballade r & b et rock 'n' roll déjas présents sur le volume précédent mais ici dans la version sortie à l'époque sur les simples Rocko records datant de 1960),
Close To My Heart
(belle ballade rhythm and blues),
Hey Mr. Love
(rock soul avec des passages chantés masculin de Bobby Jay jusque là inédit),
Cry Cry Darling
(ballade blues aux harmonies country),
God Is So Wonderful
(ballade blues gospel inédit de 1961),
Sea Of Love
(splendide cover de 1960 du hit de Phil Phillips ),
Your Cheating Heart
(cover blues du chef d'oeuvre country de Hank Williams),
I Keep A-Callin' On You
(medium rock),
Goodbye Baby
(ballade présente sur le volume 9 dans une version différente),
Sunny Side Of Love
(titre encore présent mais dans une version alternative),
Lonely For You
 (une superbe ballade soul rhythm and blues) et
If I Ask You
(est un gospel blues de 1961).
Katie Webster raviera l'amateur de Rock 'n'roll, de blues et de belle voix féminine.

_________________
We don't care the People Says , Rock 'n' roll is here to stay - Danny & the Juniors - 1958

_________________
We don't care the People Says , Rock 'n' roll is here to stay - Danny & the Juniors - 1958

_________________
We don't care the People Says , Rock 'n' roll is here to stay - Danny & the Juniors - 1958

_________________
We don't care the People Says , Rock 'n' roll is here to stay - Danny & the Juniors - 1958

_________________
We don't care the People Says , Rock 'n' roll is here to stay - Danny & the Juniors - 1958

_________________
We don't care the People Says , Rock 'n' roll is here to stay - Danny & the Juniors - 1958
---
Permission de ce forum:
Vous
ne pouvez pas
répondre aux sujets dans ce forum