In the world of automobile collecting the hobby is basically broken down into two main divides. The collector that likes to collect cars that are ascetically beautiful and the collectors that like to collect vintage cars that go fast. It is very seldom that one car can satisfy both sides of the fence. Generally the vintage 'go fast' racing cars usually perform surprising well on the track but are not always that attractive. The cars with the beautiful silhouettes and fabulous sculptured form are generally not 'go fast' cars but are great for display at Concours d'Elegance or museums and just the personal pleasure of going out to your garage and looking at your collector car.
The car in this ad has the unusually rare combination of both speed and beauty. It is a beautiful car to look at and is a beastly fast car to drive. It has an excellent racing history and is running a Chevy 283 that has been bored out to 297 with three two barrel Rochester carbs. The car has been fully setup for vintage racing but could also be set up for street use with the necessary modifications. Note at time of listing we did not know the mileage or if the car even has an odometer.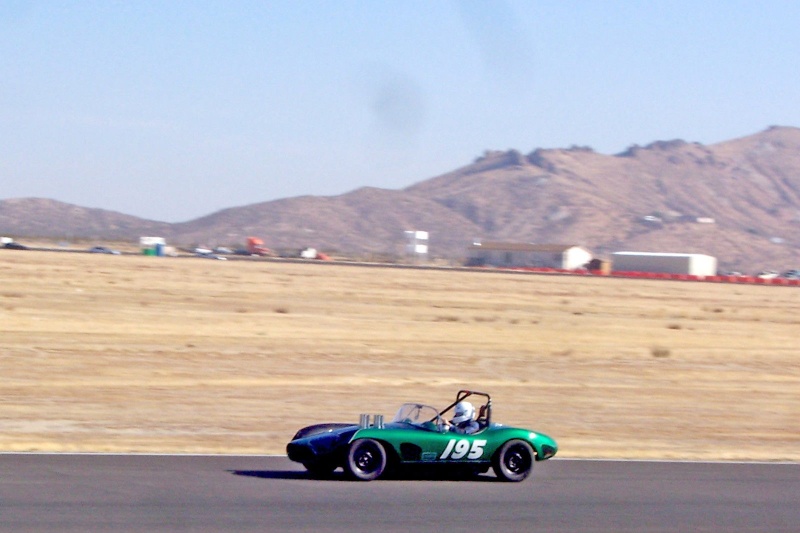 For any party that would be interested in this car for vintage racing or just pride of ownership in their collection we offer up the current owner's list of specifications and modifications that have been done to this car to make it what it is. We realize that it is an extremely lengthy list but we also feel that after you read it you will be fully impressed.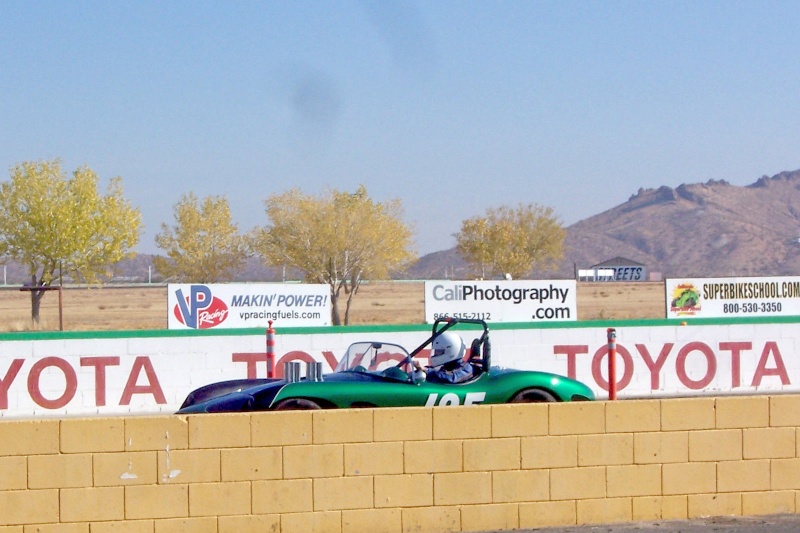 Body:
1959 Devin wide body with large grille opening. No doors.
Headlights are correctly mounted, taped and wired to the dash switch, but are not powered.
Taillights (Unknown Mfg.) are mounted and wired to the brake pedal switch and operate correctly.
Paint is bright green with flat black, glare-reducing sections on the hood and front fenders.
Original, well-mounted windshield is Polycarbonate and is still clear and has very few scratches.
Vent screens behind the front and rear tires.
Side valences for the straight exhaust or for mufflers.
Vintage racing mirrors mounted on both sides adjacent to the windshield.
Aluminum firewall.
Hood and trunk lid snap-ring hold-downs.
Tow rings attached to frame front and rear.
Chassis :
Main Frame:
1940 Ford, shortened, "Z'd" (Kicked up) in the rear, boxed, heavily reinforced.
Upper Frame:
2 ½ inch tube with upper cross members in front of the engine, under the dash and behind the rear cockpit panel. Horizontal upper tube from front to rear on each side with triangular bracing. The chassis is extremely rigid. Solid tube supports from the frame to the body are glassed into the body at many places in the front, rear and sides.
Front Suspension:
1940 Ford live axle with a four-bar, trailing-link mounting.
Panhard style, adjustable track bar.
One, single-leaf cross spring.
Dual coil springs with Aldan "Eagle" dual adjustable dampers.
Rear Suspension:
Early Ford 9" rear end.
Four bar, leading-link mounting.
Panhard style, adjustable track bar.
Dual coil springs with Aldan "Eagle" dual adjustable dampers.
Rear Axle and Differential Assembly:
Heavily reinforced housing with larger axle tubes.
Moser large diameter axles with 28 splines.
Strange aluminum center section.
Winters Wedgelock limited slip differential. (110 – 120 Lb. Pre-load)
3.7 to 1 Ratio.
Vent hose and overflow catch can.

_________________
We don't care the People Says , Rock 'n' roll is here to stay - Danny & the Juniors - 1958
Brakes:
Front:
11" x3" Finned aluminum drums, 1959-1962 NASCAR.
Steel fabricated heavy duty backing plates.
Bendix brake shoes, cylinders, springs. (Front and rear)
Carbotech "Green" brake lining. (Front and rear)
Rear:
10"x2 ¼" Steel drums.
Ford/Bendix backing plates.
Master Cylinder:
GM step-bore. (Gives an excellent high pedal)
Proportioning Valve:
Adjustable in-cockpit valve.
Wheels and Tires:
Steel wheels per VSCCA specifications. (An approved Special must use the same type wheels as original) The wheels on the car are modern reproduction, fully-welded Chrysler Police Package wheel. (For strength.)
Pirelli P4000, 205-70 ZR 15 tires, shaved to 5/32". Also, Dunlop 600L tires.
Steering:
Steering is by a Vega steering box. (Flaming River mfg.)
Borgeson universal joints.
Steering shaft located by spherical bearings.
Wrapped vintage Moto-Lita steering wheel made in England.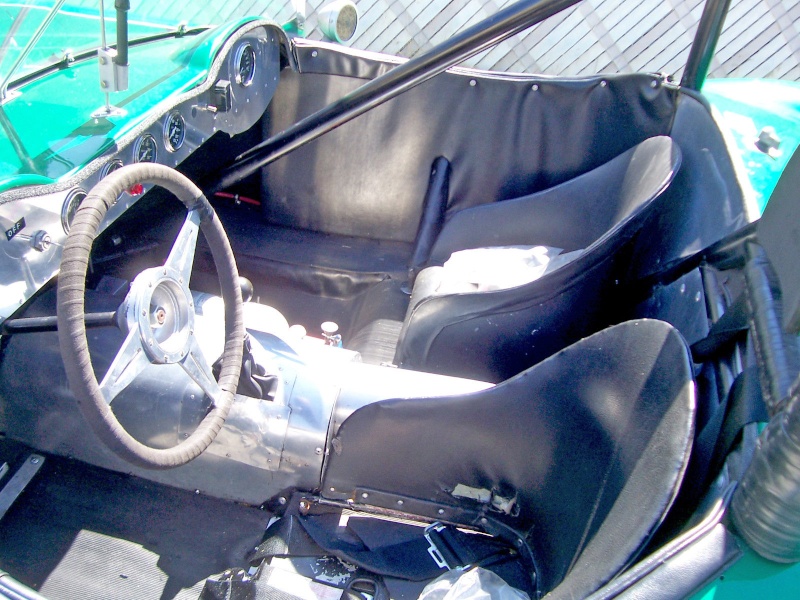 Transmission:
Borg Warner Super T-10 with rollerized first gear. Short ratios (2.41, 1.61, 1.23, 1.00)
Clutch Assembly:
Tilton 7 ¾" triple-disc clutch.
Tilton steel scattershield-type bellhousing.
Mechanical linkage and throwout bearing.
Engine:
High-nickel, high-tin 350 block.
4" Bore x 2.95" Stroke, 296.57 Cu. In.
Callies forged crank.
Four bolt main maps. (Pro Graham)
ARP studs.
Crower 6" Sportsman rods.
Weisco forged pistons.
Howard roller cam.
Crower roller lifters.
Crane Professional shaft-type roller rocker assemblies.
Stainless valves, titanium retainers.
Straight-plug iron 461 cylinder heads with extensive port work.
Early (1962) Hilborn mechanical fuel injection, 2 1/8" diameter ram tubes.
Scintilla-Vertex magneto.
Stewart Stage Three water pump.
HPC coated headers with 4" collectors.
525-550 horse power at 7500 RPM. Redline – 8000 RPM
Fuel System:
Fuel Safe eight gallon aluminum fuel cell. (PC108AN)
Rear mounted fuel filter.
Steel braided fuel lines. (Steel lines (3) from tank to engine)
Sunoco Supreme 112 octane racing fuel (Blue) or Trick Racing Fuel 110 octane. (Also blue)
Fuel shutoff valve.
Oil System:
Melling Performance high volume and high pressure pump. (Normal hot oil pressure is 60 PSI.)
Remote oil filter. (Located on frame cross bar in front of engine)
Remote oil cooler. (Located in driver's side of grille opening)
Accusump cold-start pressure system. (Located under dash)
Eight quart oil pan.
Twelve quart system total.
Valve cover breathers with hoses to a catch can.
Cooling System:
Wizard Cooling aluminum four-core radiator.
Overflow catch can.
Straight water with Water-Wetter additive.
Electrical System:
Dual six volt gel cell batteries. (Located behind panel in passenger side compartment adjacent to seat)
Charging posts. (Located on above panel next to seat)
No alternator. (Batteries are for starting and brake lights only)
Master shut-off switch. (Located on rear passenger-side cowl
Cockpit Details:
Fabricated aluminum dash panel. From left to right on dash:
Magneto switch.
Stewart-Warner mechanical tell-tale tach. (Button is on passenger side of tach, under the dash)
Keyed ignition switch. (Turns on power to the magneto switch)
Ampmeter. (Not wired – no alternator)
Oil Pressure.
Light switch (Top – not wired), Red warning light for low oil pressure. (Bottom)
Water Temperature.
Oil Temperature.
Auxilary switch. (This is a spare switch)
Master circuit breaker.
Speedometer. (Not hooked up at this time)
Guages oriented to "Needle at top" positions.
Rigidly mounted curved center mirror.
Accusump with shut-off valve. (Under dash)
Brake proportioning valve. (Under dash)
Fuel shut-off valve. (Under dash)
Fabricated, very strong pedals.
Dead pedal to left of operating pedals.
Aluminum floor panels, transmission and driveshaft tunnel, rear cockpit panel.
Rubber matting on floor panels.
Halon three-compartment Fire System. (Engine bay, cockpit and trunk)
Vinyl covered door area panels.
Correctly mounted Stanguellini black fabric covered racing seats.
Approved seat belt anchor plates.
Crow Enterprises five-point seat belts. Dated 2010. ( Expire the end of 2015 for most racing organizations)
Extremely well-mounted three-point roll bar with head rest pad.
Spares:
Original hood.
One front brake drum.
Second set of Valences.
Hilborn parts:
Gilmer belt.
Extra jets.
Extra small hoses.
Old hinges, tail light and spark plugs.
Brake springs.
Wheel bearings.
Eight sets of front brake shoes.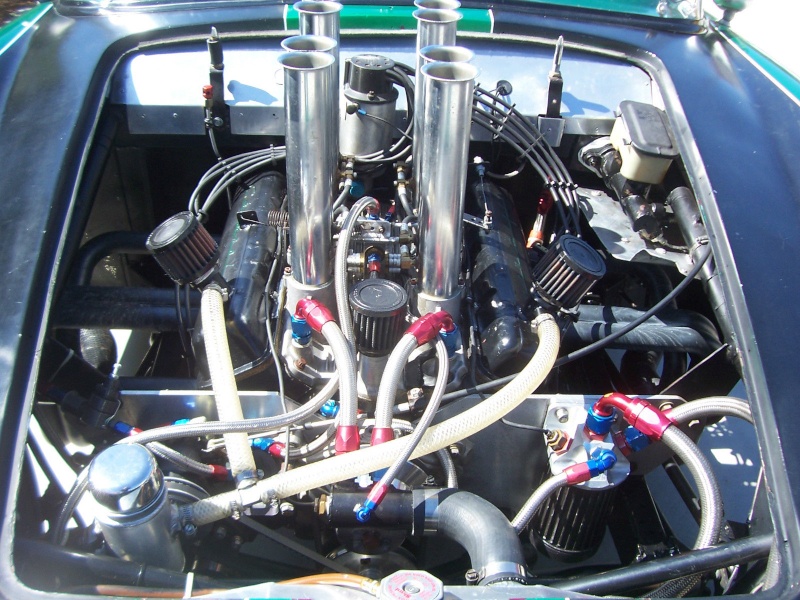 Other:
VIN number is located on the passenger side frame rail next to engine.
Weight – 2150 Lbs.
Documentation:
Several letters from prior owners.
Extensive receipts for work performed on this car.
Many equipment manuals and brochures.
Log Books from 1996 to present.
This car has raced at the following race courses:
Watkins Glen, NY.
Pocono roadrace course, Pocono, PA.
Virginia International Raceway, Danville, VA.
Lime Rock Park Raceway, Lakeville, CT.
Summit Point Motorsports Park, Summit Point, WV.
Beaver Run Race Track, Pittsburg, PA.
Road America, Inc. at Elkhart Lake, WI.
Eagle Field 1/8th mile drags, Dol Polos, CA.
Chuckwalla Valley Raceway, Desert Center, CA.
Willow Springs International Raceway, Rosamond, CA.

_________________
We don't care the People Says , Rock 'n' roll is here to stay - Danny & the Juniors - 1958
Sujets similaires
---
Permission de ce forum:
Vous
ne pouvez pas
répondre aux sujets dans ce forum