1953 Series II Woodill Wildfire.  An American sprots car built by a Dodge and Willy dealer Blanchard Robert "Woody" Woodill from 1952 to 1958 in Downey, California.  The Wildfire used a Glasspar fiberglass body and is credited with being the first complete fiberglass car available.  Robert wanted a sports car but was not satisfield with what the market had to offer, so he decided to build his own.

Robert decided to build his sports car with Willys parts and an assembly plant was nearby.  So was Glasspar, a poineer in fiberglass technology.  Also close at hand was the Post Body Shop, which built a frame out of "angle stuff" as Woody put it.  Thus, Woody ended up with a car with a custom-build frame, Willys engine, and a Jeepster front axle and bumpers.  He later modified the origial Glasspar body with a higher hood, rear deck, and doors, as well as a dummy hoopscoop and neatly intergrated Aero-Willys tailights. 
This beautiful Wildfire  has been tucked away in a climate controlled garage for the last 7 years.  The original interior is in great shape with no rips or tares.  The Kaiser Hurricane Inline 6 cylinder with three speed transmission runs and drives nice and does not smoke or leak.
Only 15 of these Wildfiires were built with less than 10 still in existence.  The finest Wildfire built was the prototype so that Robert could sell the design to build another and covering his expenses.  He was able to accomplish that task.  The Woodill Wildfire became a pioneer in the fiberglass bodied car setting high standards and becoming a true American sports car.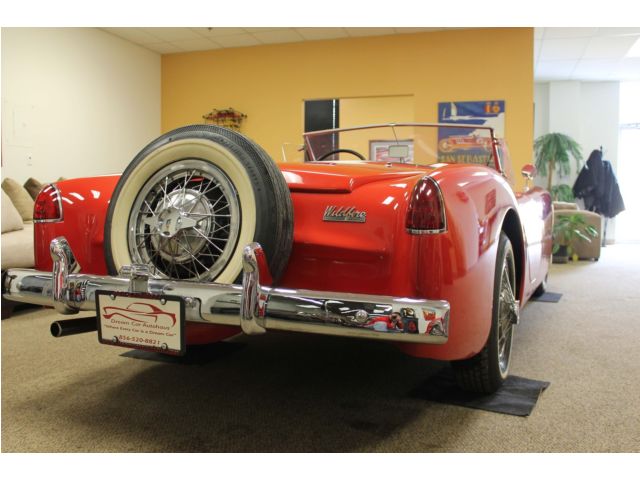 In late 1953-54 Tony Curtis starred in a movie call Johnny Dark. Johnny Dark is an automobile engineer who designs a radical new car.  When the owner refuses to sponsor the car in a Canada to Mexico sports-car race, Johnny with the aid of the owner's granddaughter, steals the car and runs the race against the favored driver, his ex-buddy.
The movie used three Woodill Wildfires and this is one of the three movie cars.  We have the production stills of the car being used on the movie as well as the movie poster and DVD of the movie which will come with the car.  The information regarding the authenticity has been verified by noted exper Geoff Hacker of forgotten fiberglass.com.

_________________
We don't care the People Says , Rock 'n' roll is here to stay - Danny & the Juniors - 1958

_________________
We don't care the People Says , Rock 'n' roll is here to stay - Danny & the Juniors - 1958

_________________
We don't care the People Says , Rock 'n' roll is here to stay - Danny & the Juniors - 1958

_________________
We don't care the People Says , Rock 'n' roll is here to stay - Danny & the Juniors - 1958
Sujets similaires
---
Permission de ce forum:
Vous
ne pouvez pas
répondre aux sujets dans ce forum