"You've got to understand; I built the Ice Truck to drive the #@*$ out of--I wanted to go out and raise hell with it. I'd take it out to parking lots after a car show and smash my foot down and turn the steering wheel. It's like the world's biggest go-kart--you couldn't turn it over if you tried. It's less than 47 inches tall, 100 inches wide with a 106-inch wheelbase--you do the math."
Almost 40 years after Rod & Custom featured Dan Woods' Ice Truck in concept form on our August 1970 cover, we're pleased to feature it finished courtesy of Dan and friends from 1967-1970 and owner Dave Shuten and friends in 2007. It's not your typical hot rod, builder, or R&C feature to be sure.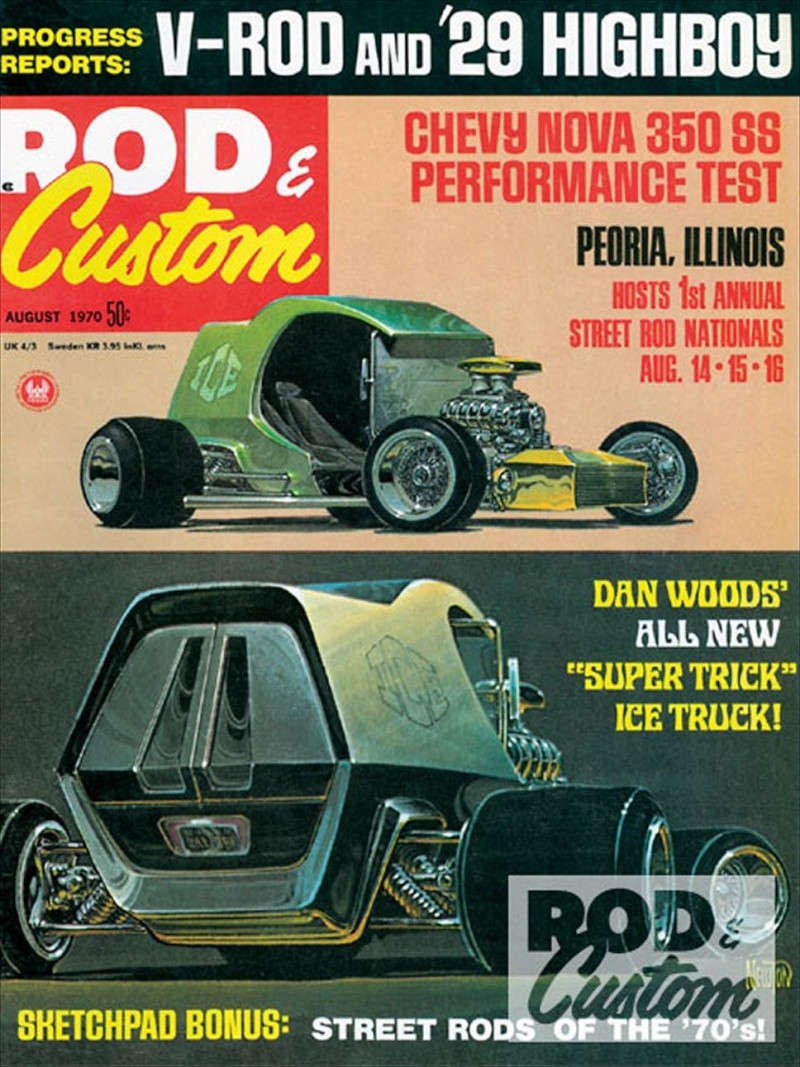 There are many pioneers of hot rodding, but you don't usually find them much past the 1950s. Dan Woods redefined hot rodding in the 1970s with his application of then-current racing technology, unique design and fabrication, great attention to finish and detail, but also as one of the first to devote a business exclusively to building hot rods for customers and selling exclusive hot rod components for Model Ts through 1940s Fords.
His reputation as a great builder was defined by many things, but the Ice Truck established him as the leading builder of hot rods. No one was building cars like he was then or possibly ever. The Ice Truck was like something from outer space back in the 1960s when Dan, legendary designer Ed "Big Daddy" Roth, and cartoonist Ed "Newt" Newton first conceived it.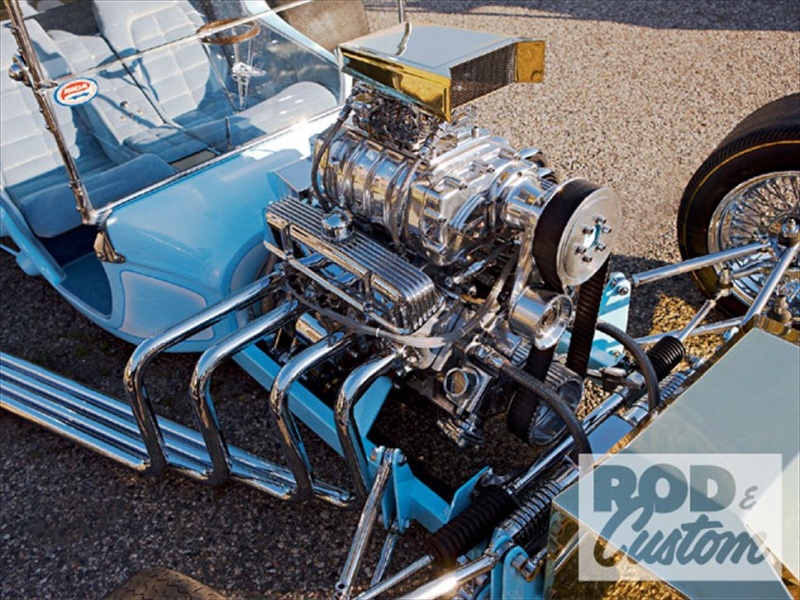 Dan wanted something wild to follow on the heels of his Milk Truck show rod, also featured on an August R&C cover--1965 for that one. He loved the components and also proportions of the race cars he saw at Dan Gurney's shop and that whole Indy car look--but he also liked the early Model T ice truck he saw as a kid coming back from a weekend in Sun City, California.
Dave Shutens Ice Truck Old Magazine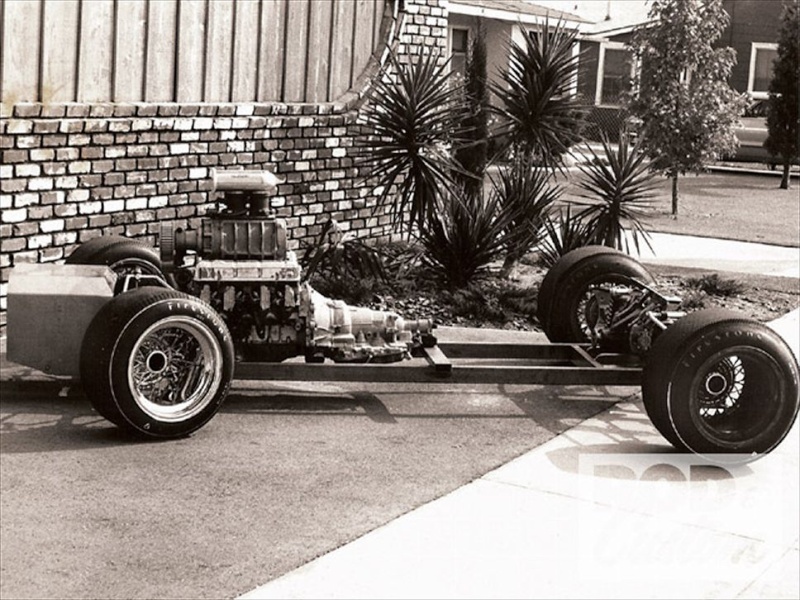 Dan's Milk Truck landed him a job at Ed Roth's Maywood digs, which introduced him to resident cartoonist and designer Newt. Soon Dan had conveyed his wacky ice truck/Indy car idea to Newt, who morphed the two opposing ideas on paper. Keep in mind the entire conception and build takes place between 1967 and 1970.
The frame and independent suspension were built by Dan in his parents' garage. The rear is based on a Jaguar third member, while the front features homemade A-arms originally sprung by a single leaf spring, before being changed in the early 1970s into Dan's signature opposed-coil spring setup. The brass radiator housing hides the military armored personnel carrier water pump and conventional radiator and was put together at Henry's Machine Works in Bellflower using thick brass plate painstakingly welded through trial and error so there is no heat discoloration or pitting. Dan also purchased the blown Buick from Mickey Thompson straight out of his twin-engine Monster dragster for $500--paid in installments--before Vietnam interrupted Dan's life in 1967.

_________________
We don't care the People Says , Rock 'n' roll is here to stay - Danny & the Juniors - 1958
By the time of the first moon walk in August 1969, Dan was back home with ice in his veins and that personnel carrier water pump and F-4 Phantom map light stuffed in his duffel bag--both of which would end up on the Ice Truck.
When R&C's editor Bud Bryan visited J&J Chassis in Cerritos in early 1970, he found Dan, Newt, and J&J owner Roger Jonguris mocking up the body--which was featured in that August 1970 issue. You could see it was a fantasy hot rod for sure--but it was for real!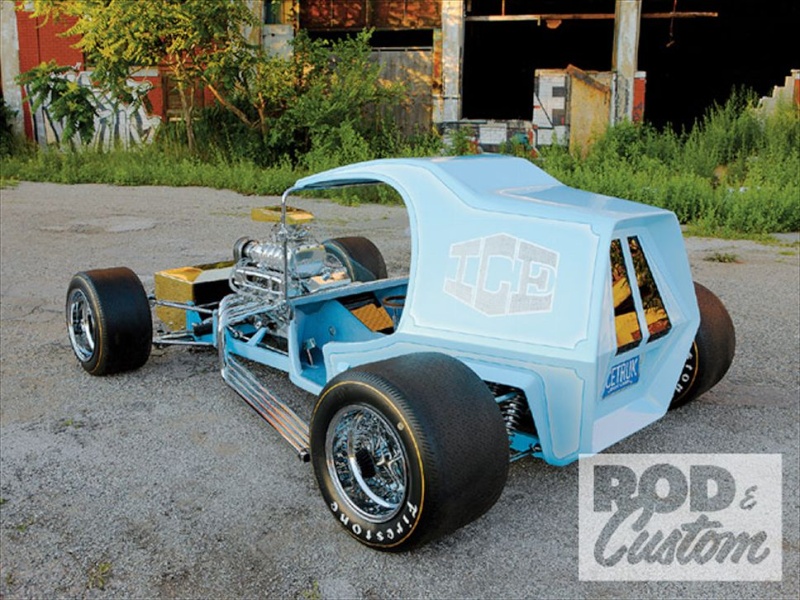 "I would sit there and grind and Newt would tell me to move it this way or that--he and Roger were there for every inch of the body shape," says Dan. "Once we got the mahogany panels on, I took it back home and fiberglassed it. We used finger joints pinned with dowels and glue for the body framework--kind of Old World-like construction. I primed and painted it, then it was off to Joe Perez for upholstery. We thrashed to get it done for the 1971 Oakland Roadster Show."
Dave Shutens Ice Truck Old Picture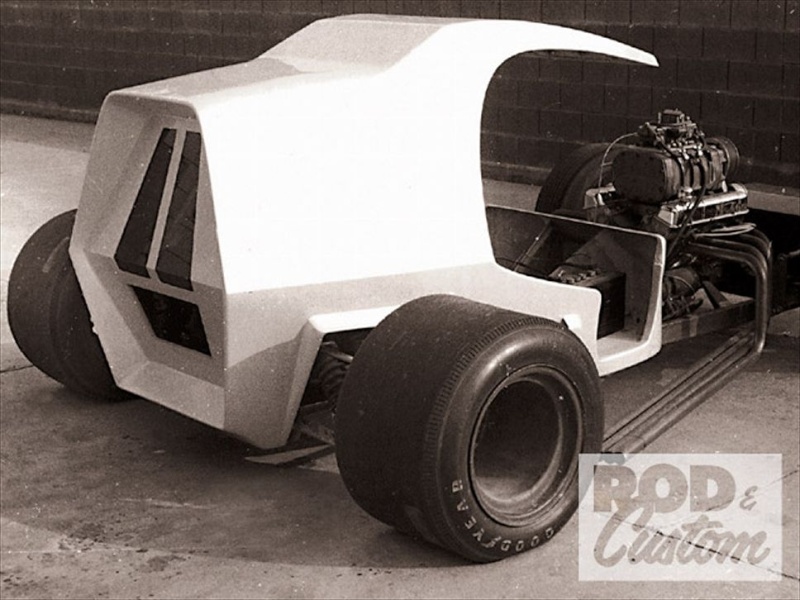 The Early Times Car Club contingent comprised of Dan and his Ice Truck, Jim Babbs with his It-T-Bits T-delivery (also featured in that same August 1970 issue), Danny Eichstedt and his Leg Show T-bucket, and Richard Graves' 1927 T-touring (both featured in the January 1971 R&C) trucked to Oakland for the show. What a caravan that must have been! But Dan wanted to polish the heads and make a few changes, so another show or two were the extent of the Ice Truck's public life before it was partially torn down.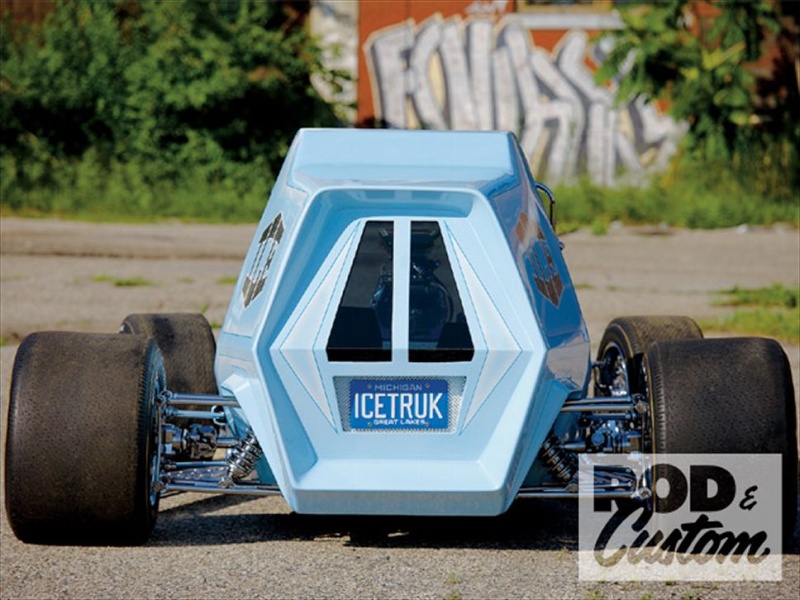 Business and life took over and Dan opened Contemporary Chassis Design and Contemporary Carriage Works and became responsible for countless customer hot rods. The Ice Truck sat until the late1970s when he sold it, which was the last time he saw his creation for many years.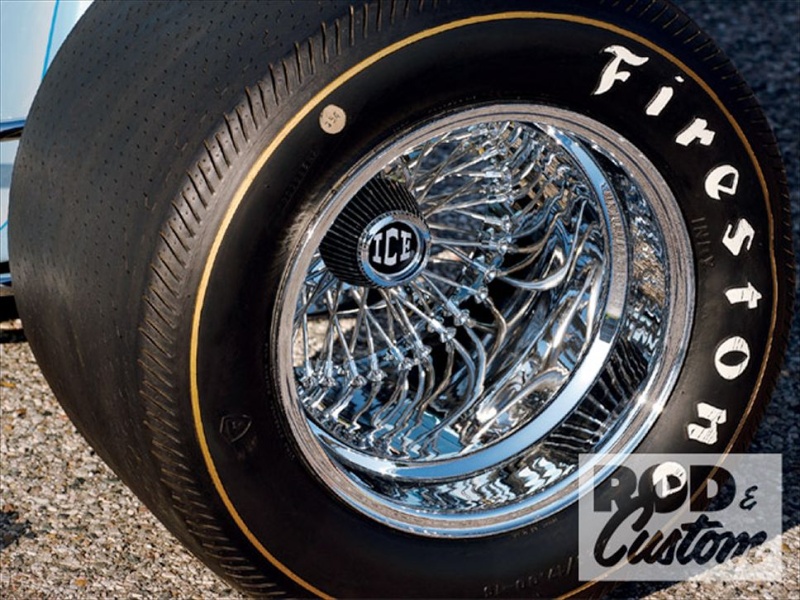 Current Ice Truck owner Dave Shuten has immersed himself in the show car culture of the 1960s and 1970s, and after recreating Ed Roth's Mysterion and his own Astrosled bubbletop car, he was ready to build his version of Dan's Ice Truck, which he thought was never finished. "I'm fascinated by the whole show car thing because I like how it's cars and art, and I like the artsy part," says Dave. "And they're different--I like different." When I asked what his car buddies thought about his show car affliction he added, "Most of my friends think I'm nuts."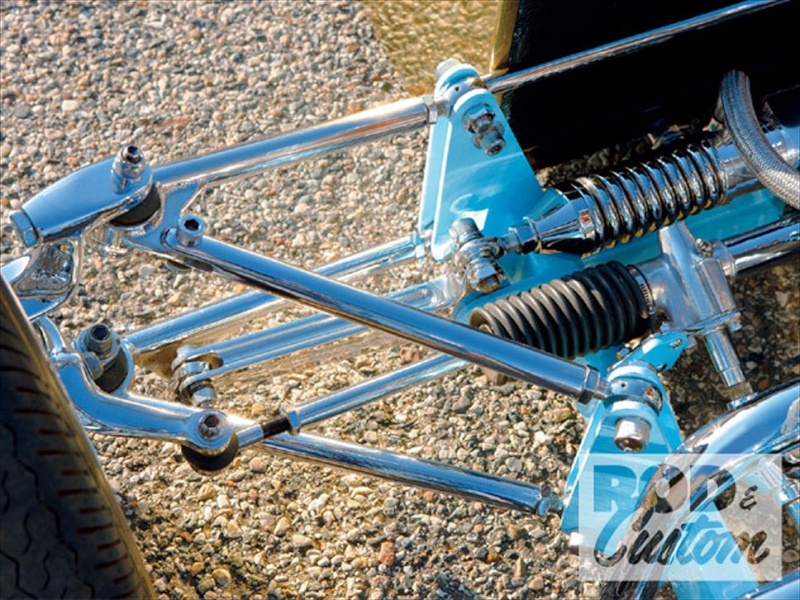 He started gathering parts to duplicate Newt's R&C cover drawings. Then good friend and fellow show car freak Steve Estrin called Dave to tell him not only did the Ice Truck exist, but it was for sale. Dave soon purchased the 1980s incarnation of the Ice Truck, now called Blood Alley.
Dave Shutens Ice Truck Engine Top

_________________
We don't care the People Says , Rock 'n' roll is here to stay - Danny & the Juniors - 1958
We'll let Dan describe it: "It had been years and years and then these pictures of the Ice Truck show up painted candy blood red with `Blood Alley' emblazoned on the side. It just curdled my stomach. Candy red with all that brass crap hung all over it--cowl lights and headlights engraved like bikers do it--and the headers were cut off to get in without stepping on them. They relocated the steering, too--all these things just messed it up."
The candy paint was a problem for another reason. Says Dave, "Yeah, whoever painted it used that old Centari paint--everything under the clear was like chewing gum. I had to strip the paint with a razor blade--the frame and everything." That and finding the NOS Indy tires were the biggest problems encountered with the project. Otherwise the car was remarkably intact.
Dave found a drag boat gearbox to convert the steering back to the 90-degree configuration and recreated the center console, which had been modified. With the headers restored, he cleaned and polished the engine and transmission, which had almost no miles, and painted and reassembled the chassis.
After prepping the body, Dave got Long Island's Fritz Schenck--another 1960s/70s show car fanatic--to paint the House of Kolor Ice Blue pearl with diamond dust and white fogging. Fritz also handled the platinum leaf work, then he and Dave pinstriped the body.
Dave Shutens Ice Truck Side View Chassis
John Meyer at Ogden Top and Trim in Chicago handled the ice blue velour interior, closely following photos supplied by Woods. "These old show cars need to be what they were," says Dave. "I went to great lengths to make sure it was right--the way it was." The F-4 Phantom map light seen just above a young Dan Woods in the vintage photo has been lost and another has yet to be found.
So how does it run? Says Dave, "It runs like a MF--scary fast." It's lopey and loud, he says.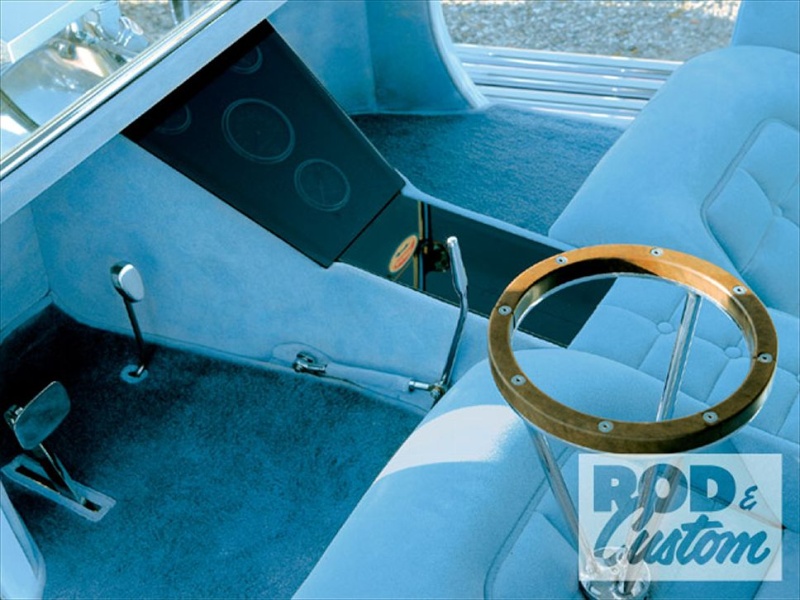 Says Dan, "When these pictures in front of the old Packard Plant came across my desk, I've got to admit, it made me smile. I wanted to drive that car--it just never happened. Life takes hold, the business took over, and it just sat there."
Dave and Dan have much more in common than the Ice Truck. Besides Dave finishing up the restoration of Dan's Milk Truck for a customer and storing Steve Estrin's Butcher Truck, which Dan originally built for Bob Reed in the mid-1970s, they both have plans for some unconventional rods. There's more to come from Dan and Dave, exhibiting that special mix of history, cars, and art for which they have a unique eye.
Rod & Custom Feature Car
Owner contact info:
dmshuten@aol.com
Dave Shuten
Dorr, Michigan
Ice Truck
Chassis
Dan custom-built the entire 106-inch wheelbase from 1x3-inch rectangular tubing in his parents' garage in 1967. The rearend is based on a Jaguar center section with axles, uprights, and locators all fabricated by Dan. The front suspension is tubular A-arms fabbed by Dan, originally sprung by a single buggy spring attached to MG spindles. In 1971, he changed it to what had become his signature frontend, utilizing coilovers laid on their sides in an "opposed coil" configuration. Airheart disc brakes were mounted front and rear. This was all restored by Shuten and chromed by Advanced Plating.
Drivetrain
The little Buick 215 was punched and stroked to 325ci and originally built by Mickey Thompson as one of two engines powering his twin-engine dragster from 1961. Dan purchased it from Mickey for $500 in 1967. It features some unique and rare Thompson parts, like the custom crank, aluminum rods, and pistons. The heads are aluminum with Cal Custom valve covers and the cam is a big-lobed solid roller. A 4-71 Cragar blower is mounted to a one-off M/T intake, with chrome 780 Holleys on a one-off Thompson-lettered tri-plate. Ignition is Vertex. Shuten made the headers to replicate Dan's originals. Transmission is a '62 Buick Dual-Path Turbine Drive two-speed automatic, with a manual shift body.
Body & Paint
The body was designed by Ed "Newt" Newton in 1967 and created in late 1969 and 1970 by Roger Jonguris, Newt, and Dan in mahogany panels over ash beams pinned with wooden dowels, then fiberglassed, primed, and painted by Dan. It was restored to its 1970 configuration in a custom-mix Ice Blue pearl with diamond dust by Fritz Schenck, North Bellmore, New York, who also did the platinum lettering and assisted Shuten with 'striping. The white-fogged panels were the only deviation from the original 1970 version.
Wheels & Tires
Dan built custom wire wheels as a side business for years so, naturally, these Buick Skylark wires are custom-made--15x12-inch fronts and 15x18-inch rears, both with 1-inch backspacing. Dan says he bought many a Skylark in the 1960s for scrap price, yanked the wire wheels, put on some rollers, and resold them for the same price! NOS Firestone Indy tires are 15x12-inch fronts and 15x18-inch rears. Finding the tires was the hardest part of the restoration, according to Shuten.
Interior
Originally upholstered in light blue velour by Joe Perez, it was redone in the exact same style and material by John Meyer at Ogden Top and Trim in Chicago. Shuten recreated the smoked acrylic console, which was altered for its "Blood Alley" configuration.
Read more:
http://www.rodandcustommagazine.com/featuredvehicles/0905rc_dave_shutens_ice_truck/
---
Permission de ce forum:
Vous
ne pouvez pas
répondre aux sujets dans ce forum