A lot of musicians get their start singing cover songs-tunes written by others that are often already part of the public consciousness. To be taken seriously as artists, however, most know they must learn to channel their own emotions into original material.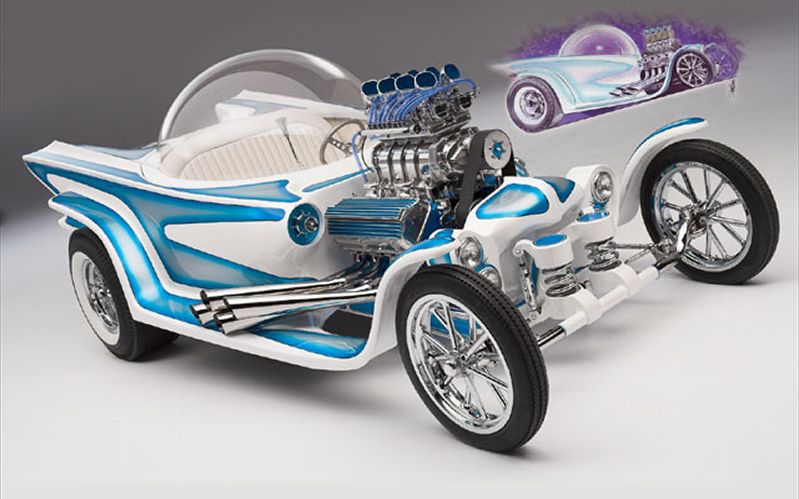 Now, we're not saying Dave Shuten hasn't paid his dues as a hands-on hot rodder. On the contrary, the clone he built of Ed Roth's Mysterion two years ago (see Rod & Custom, January 2006) was an incredible feat of craftsmanship. A faithful recreation down to the smallest details, the Mysterion clone was an amazing tribute to Big Daddy, yet it was still a copy. After showing and enjoying it for a year, Dave was ready to create an original piece of bubbletopped automotive expression.
"'Normal' stuff just wasn't fun after the Mysterion," Dave says. "I was infected with the '60s show rod sickness, so I decided to build my own-with a lot of influence from Roth, Starbird, Casper, and Woods."
Dave set to work in his home shop building a simple foundation for his creation: a 2x4- and 2x6-inch rectangular tube frame with a 99-inch wheelbase. He designed it around a '57-vintage 354ci Chrysler Hemi and a GM TH350 transmission, and suspended a '57 Chevy rearend and highly modified tube axle using cup-mounted coil springs and hairpin radius rods. Dragster-style rack-and-pinion steering was employed, and Dave built his own tie rod extensions and steering arms to connect it to the Ford spindles.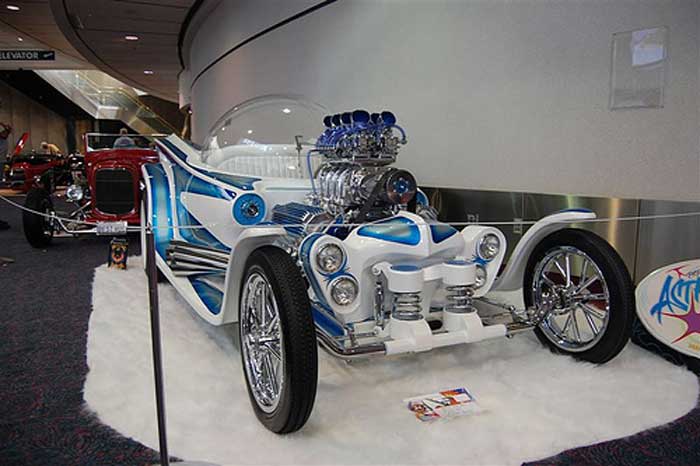 "Once the chassis was a roller, it was time to make the body," Dave says. "I stacked up some milk crates, plywood, and cardboard and began the messy job of mixing vermiculite and plaster in the old Roth fashion and glopping it onto the base. After mixing more than 1,000 pounds of plaster, cheese grating it into shape using brake line, chicken wire, foam-anything I had laying around-I had sculpted the buck for the body."
Designing the body was a bit of a free-form process, but Dave says he had enough foresight to send photos of the plaster buck and other key elements (chassis, engine, wheels, and tires) to artist Jimmy Smith, who sketched concept art based on the rough shape. The final design incorporated skinny front fenders and canted quad headlamps flanking an abbreviated grille shell. "The front upper spring mount took forever to come up with," Dave notes, "but it's the right thing-becoming the grille insert." Additional lighting would come from '64 Galaxie backup lamps (with custom blue lenses) mounted in the cowl, while the rocket-inspired rear was based around eight '59 Cadillac taillight lenses book-ending '57 Lincoln Premier decklid trim. Somewhere along the line, the project was bestowed with the name Astrosled.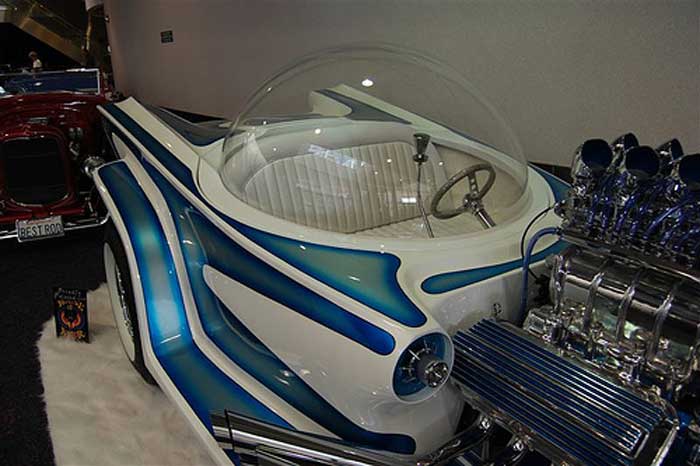 Having a design to work toward was great, but Dave still had much work to do. He says the most difficult part of the buck-building process was keeping everything symmetrical. "Now I know why Roth always went the asymmetrical route," he laughs.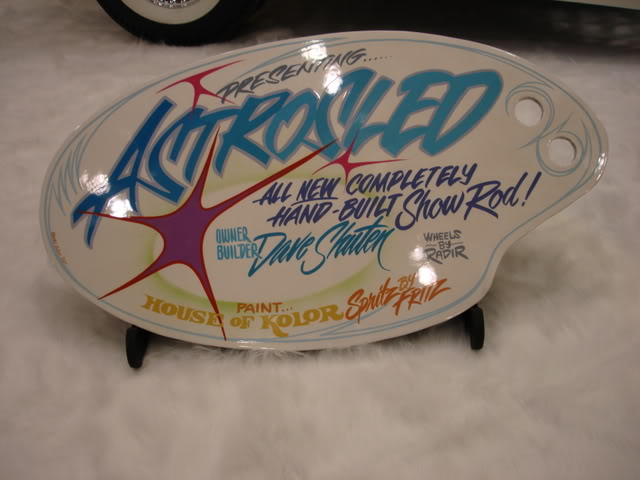 _________________
We don't care the People Says , Rock 'n' roll is here to stay - Danny & the Juniors - 1958
Once the buck was shaped to his liking, Dave let it dry for a few days before painting it with house paint as a mold release. "Then I started laying 'glass," he says, "six to 12 layers of 10oz mat depending on where I was putting it. The front fenders required a lot of support, so there is steel tubing 'glassed inside that runs the length of the running board. After the 'glass had set up, I broke it off the mold (huge mess), flipped it upside down, and began picking out all the paint and plaster. After two days and two trips to the local dump, I had a body shell. From the start of plaster to pulling the body off the mold took 35 days. I then sat the body on the chassis and began trimming off the excess."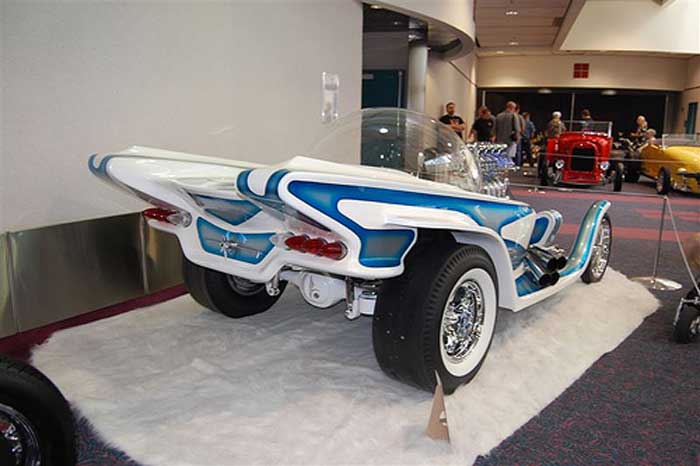 Dave built an interior "tub" to fit the body and crafted a wood and fiberglass ring as a base for the 48-inch-wide, 18-inch-tall bubbletop, which was activated using convertible top cylinders. A small trunk was constructed to house the battery and fuel filler neck.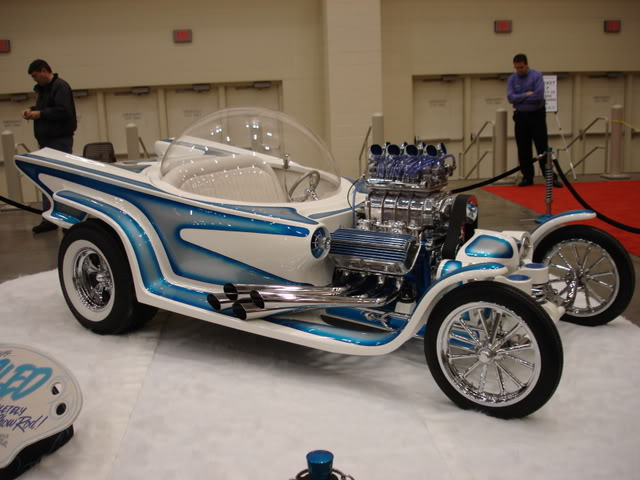 Dave used various grinders and power sanders to smooth out the fiberglass, and then skimmed it with filler. The entire body-outside, inside, and underside-was gelcoated before being primed and prepped for paint. Dave shot the House of Kolor white pearl finish himself and, taking inspiration from Roth's Outlaw and Beatnik Bandit, he taped off the wild panels, which were sprayed silver with candy blue fogging by fellow bubbletop builder Fritz Schenck. Ray Smith laid down the black pinstripe outlines.
In true '60s show rod fashion, the fish bowl interior was lined with white fur surrounding a custom white vinyl seat stitched by Seats by Stews. A metalflake Moon wheel capped the custom chrome column, Stewart Warner gauges filled the pinstriped dash, and the tall Gennie shifter was topped with a one-off brass knob crafted by Amy "Ms. Metal" Conrad.
Built in a little more than 11 months in Dave's spare time (he's a full-time die maker for GM), the Astrosled exhibits a remarkable level of detail. The fully functional Hemi has a beautiful metallic candy blue finish, O'Brien Truckers valve covers, and cone-shaped, owner-built headers. Other cool parts include an N.O.S. Ansen master cylinder, Cragar rear cover and Weiand Drag Star 8x2-carb top on the GMC 6-71 blower, Grant Flamethrower distributor, N.O.S. clear spark-plug wires, and custom-dyed clear blue fuel lines. Naturally, there's an abundance of chrome, from the Stromberg carbs to the Radir spindle-mount 12-spoke front wheels and Tri-Rib rears.
Ed Roth may have departed this earth, but his spirit still stirs the souls of creative rodders around the globe, inspiring them to follow their imaginations and break the molds (pardon the pun) of mainstream rodding. Dave Shuten has definitely done both with the Astrosled. He's singing his own tune now, and that's music to all of our eyes.
Read more:
http://www.rodandcustommagazine.com/featuredvehicles/0706rc_1957_chrysler_rod_and_custom_feature_car/viewall.html#ixzz2mWgXdZuo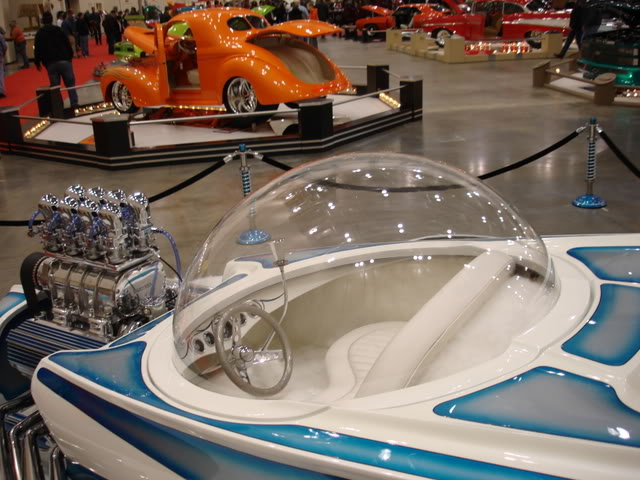 _________________
We don't care the People Says , Rock 'n' roll is here to stay - Danny & the Juniors - 1958

_________________
We don't care the People Says , Rock 'n' roll is here to stay - Danny & the Juniors - 1958
Sujets similaires
---
Permission de ce forum:
Vous
ne pouvez pas
répondre aux sujets dans ce forum