Page 3 sur 3 •
1, 2, 3
ANY CAR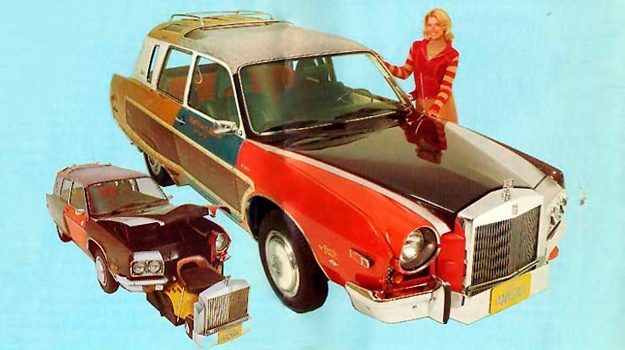 Built in the mid 70's, the Any Car III is an amalgamation of parts from 40 different auto makes and models. Under it's hood is a four speed battery-powered, 27 inch wide "Mini-Any Car designed for short travel. Commissioned by Manufactures Hanover Bank to promote their auto loans for "Any Car".
The base car was a 1974 Volkswagon station wagon. The rear engine vehicle was chosen to take advantage of the storage space under the forward hood compartment where the "Mini Car" is transported. The most distinctive feature of Any Car III is it's paint scheme. Just as each of the pairs-of -parts are dissimilar, so too are the paint schemes. The interior is also multi-colored. The parts are all from 1974-1975 cars with the exception of the 1973 Buick trunk lid. The different makes and models used for the Any Car III are Cadillac, Buick Riviera, Mark IV, Astra Cruiser (Olds), Mercury, El Dorado, Cougar, Chrysler, Toyota, VW Station Wagon, PInto, Alfa Romero, Peugeot, Continental, Lincoln, Buick Matador, New Yorker, Continental, Chevrolet, Plymouth, Ford, and Datsun. See if you can figure out which part is which!

Fif




Messages

: 1325


Date d'inscription

: 11/11/2012



BATHTUB BUGGY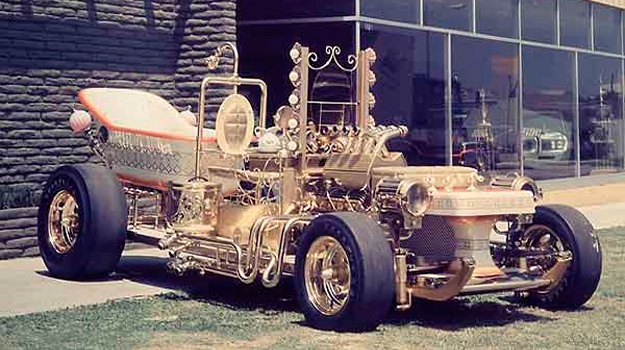 Built in 1970 for the World's Fair in Osaka, Japan. Powered by a 289 cu. in. Ford Mustang engine delivering the horses to the Goodyear tires mounted on brass plated keystone wheels and housed in the hand built gold metalflake chassis, each undercarriage component was brass plated for effect as well as the wild plumbing type exhaust header system and intake manifold.
Overall design includes all essentials and accessories found in a bathroom. The hand sink is located directly in front of the grille and radiator, while the actual French bathtub is located at the very rear with the vanity driver's compartment positioned amidships. The sink and tub are finished in white pearl with Italian goldleaf lace impressions, then Kandy gold highlights and hand striped in a coordinated color.
All hardware such as facets and shower head are formed in solid sculptured brass fixtures. Selection of the design concepts for these components are the Boy and the Dolphin furnished by Artistic Brass F fixtures. Franciscan porcelain gold-dyed tile squares were installed by Terry Garbedian. Accenting the gold tile are bath throw mats tossed around the floor area. The mats are in wild yellow-gold of long hair fur.
The driver's compartment located behind the vanity cowl features such items as a lighted theatrical mirror, a vanity table covered in gold metalflake vinyl with a Muntz Stereo tape deck installed in place of the drawer, a boudoir head. For added comfort, two footrests were fashioned after toilet paper rolls and plated in brass. Moon Equipment Co. supplied the gold anodized aluminum gas tank which carries perfumed smog-free fuel.
The headlamps were adapted fro studio Kleig lights, offering the driver an option of either a spot beam of flood beam. The taillights were converted f rom ornamental Grecian styled bathroom wall lights.
A model kit was made available by Monogram, Inc.

Fif




Messages

: 1325


Date d'inscription

: 11/11/2012



BED BUGGY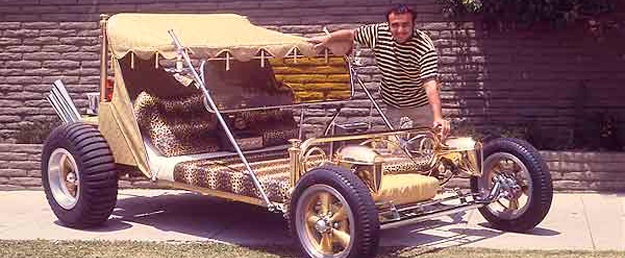 Built in the early 70s when the most common annual events held on college campuses was the competitive "Bed" race between rival fraternities. In an attempt to create a life size automobile to represent this sport, Model Products turned to George.
Incorporating the bed idea into an automobile was accomplished with the completion of the aptly named "Bed Buggy". It features a hand built square tubing chassis, set up to receive a fully chrome plated Corvair engine in the rear This allows the entire front of the vehicle to represent the bed and related accessories. The design is based around the fore and aft Brass Plated 18 Century bed-posts. A real airfoam mattress and bedspread was fitted in a leopard skin vinyl decor with matching comfort contour TV pillows. For maximum relaxation, the attitude of bed living was brought out in the presence of a Muntz Stereo Tape Deck with a French Phone mounted on a console between the pillows, and a Singer Portable Television set placed at the footboard.
The headlights were from an antiquated era which recalls the use of Ruxton lamps, while the rear taillights were made from typical red hurricane lanterns. The port and starboard clearance lights represent a flickering candle atmosphere. The chassis was finished in gold metalflake paint trimmed in gold and chrome plated metal. The top was a hand embroidered vinyl hot rod style with gold fringe and lace.
Model Products Company produced a scale model kit from the Bed Buggy.

Fif




Messages

: 1325


Date d'inscription

: 11/11/2012



FIRE BUG
Built in the mid 70's, designed by George Barris built by Dick Dean the Fire Bug went through a variety of skillful and imaginative customizing work. The front cowl was chopped down and a V windshield was installed, flanked by dual spotlights. The grille moved forward 4 inches utilizes a Continental radiator with one inch grille bars. An original Mack Truck bull emblem with two American Flags behind it sits atop the grille. After cutting down the front bumper and adding vertical bumper guards, the word "Mack" from Mack Truck was stamped in the center. Floating style headlights are from a Pierce Arrow. Side directional lights were chrome plated. Original fire sirens were designed to fit onto side truck-type chrome plated mirror mounts. A bar atop the windshield houses two antique flashing red lights flanking a KC road light and the words "Fire Chief" in the center along with chrome plated air horns. Fenders were taken from a trailer accessory item and chrome plated and flanged to fit between the front and rear wheels. Steel running boards were also chrome plated. Wheels are Appliance deep dish slotted mags of polished steel and chrome plated. Formula 1 Super Stock tires give the Fire Bug a sporty look. Dual tires are in the rear utilizing an adapter attached to the inner wheel and to the rear end drive train. The engine is a stock '70 Bus powerplant.
Replacing the area originally occupied by the van's roof is an all oak adjustable ladder attached to a steel stand that has been sand blasted and plated with a dull finish. At the rear is an antique hose reel with an adjustable fire nozzle. There's also an extended bucket seat with a rear steering wheel to simulate a ladder truck. Taillights are from an old fire truck. The rear bumper has been extended and chrome plated. Accessories, all original fire equipment, include fire bellows, chrome plated hatches and hammers, chromed stainless fire extinguishers, and antique brass fire bell. Interior features include a Model T steering wheel, four bucket seats upholstered in a red vinyl wet look with flames of red Acrilan fur. There is a 10 gallon Moon gas tank and a 100 gallon water tank with caps on chains. 40 coats of Kandy red acrylic lacquer sprayed over a brushed coarse powdered gold underbase. Flames were painted in multi-colored oranges, yellow, purples and reds. Bob Bond did the pinstriping.

Fif




Messages

: 1325


Date d'inscription

: 11/11/2012




Fif




Messages

: 1325


Date d'inscription

: 11/11/2012



DRAG U LA
The fiberglass body of DRAG-U-LA was built from a real fiberglass coffin that Richard "Korky" Korkes was able to purchase out the back door of a funeral home in North Hollywood. Per a conversation with Korky Korkes himself in 2013, it was illegal to sell a coffin without a death certificate. Korky made a deal with the funeral director, paid in cash, and it was a agreed the coffin would be left outside the rear door of the funeral parlor where the Barris crew would "lift" the coffin, during dark, from the rear of the facility to complete the transaction.
It featured a 350HP, 289CI Ford Mustang V-8 engine, with a four-speed stick shift. It had two four-barrel carburetors[citation needed] mounted on a Mickey Thompson Ram-Thrust manifold.
The rear tires were 10.50-inch Firestone racing slicks, mounted on custom 10-inch Rader aluminum & steel wheels. Each hubcap was decorated with a large silver spider. The front tires were 4-inch Italian tires on Speedsport English buggy wire wheels. To extend the Gothic motif further, Barris installed four Zoomie style organ pipes on each side of the car in lieu of standard exhaust pipe, and mounted antique lamps on the front and rear.[citation needed]
The front of the vehicle sported a marble gravestone with the inscription: "Born 1367, Died ?". A "hidden" radiator was topped with a small golden casket. The driver sat in the rear of the vehicle behind the engine, under a plastic bubble.[1]
There were some subtle changes or variations made to the automobile, such as tires etc., generally for different aspects of filming for the movie Munster, Go Home! or for the TV Series.
This car was sold at the closeout auction of the Chicago Historical Antique Automobile Museum in Highland Park, Il. in 1985.

Fif




Messages

: 1325


Date d'inscription

: 11/11/2012



Page 3 sur 3 •
1, 2, 3
---
Permission de ce forum:
Vous
ne pouvez pas
répondre aux sujets dans ce forum