Dernière édition par Predicta le Dim 11 Nov - 22:35, édité 1 fois
Est. 450 hp, 426 cu. in. Chrysler "Hemi" V8 engine with Hilborn fuel injection, Chrysler A-727 TorqueFlite three-speed automatic transmission, CAE tubular straight front axle with transverse leaf spring, live rear axle with full-elliptic leaf springs, and two-wheel drum brakes.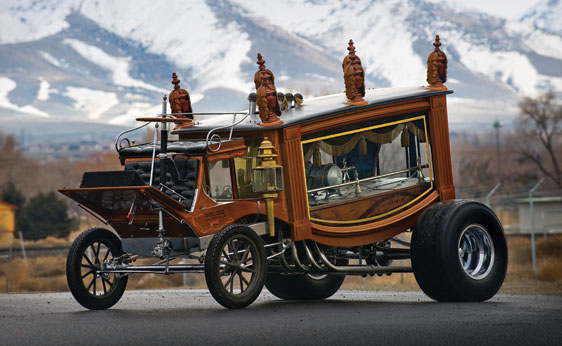 - One of the most famous show rods of all time
- Part of Ray Fahrner's famed "Boothill Caravan" show
- Based on an actual circa-1850 Cunningham funeral hearse
To thousands of custom car fans, Ray Fahrner created some of the most memorable and radical show rods of all time. Fahrner, who passed away in 2005, rose to prominence in the late 1950s with his groundbreaking 1932 Ford Roadster Pickup dubbed the Eclipse. Once on the map, Fahrner's Missouri-based shop pushed the limits of automotive design, echoing the unbridled creativity and experimental nature of America during the 1960s.
By 1967, Fahrner completed his signature creation, the outrageous "Boothill Express," based on an actual circa-1850 horse-drawn funeral coach by Cunningham of New York, which reportedly carried James Gang member Bob Younger to "Boot Hill." Features include ornate carved moldings, brass lamps reportedly dating to late 18th-century India and proper funeral equipment, including tasseled velvet curtains and polished coffin rails.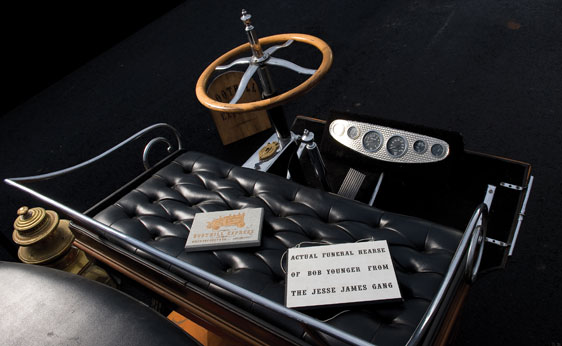 The chrome-plated suspension features a CAE tubular front axle and hairpins, along with 1963 VW steering gear, full-elliptic rear leaf springs, a 1948 Ford rear end and drum brakes. The totally outrageous 426 "Hemi" V8 mounts Hilborn fuel injectors with velocity stacks jutting through the top of the hearse body, while eight individual pipes remove the exhaust gases. A TorqueFlite automatic transmission handles the power, while the car's aggressive rake is provided by a pair of E-T spindle-mounted front wheels, with Cragar S/S wheels and Goodyear Blue Streak slicks at the rear. Other features include a Ford Model T steering wheel, a Moon hydraulic throttle and a canister-style fuel tank, as well as a Stewart-Warner instrument cluster. The open bench-type front seat features black diamond-tufted upholstery.
The Boothill Express formed part of Fahrner's "Boothill Caravan," which toured drag-strips and auto shows during the late 1960s. In the best 1960s show-rod tradition, the vehicle was immortalized with the 1967 release of a 1:24-scale plastic model kit by Monogram, complete with a skeleton packing a six-shooter and wearing a 10-gallon hat. Due to continued strong public demand, the model kit was reissued in 1994.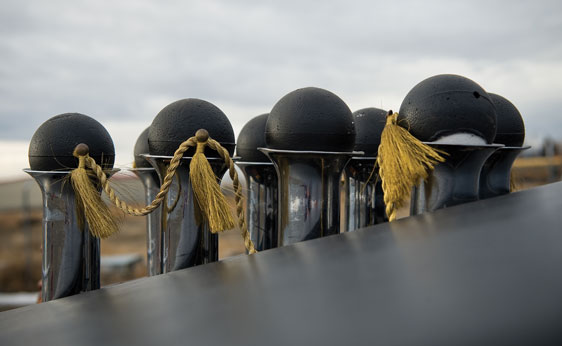 Today, the Boothill Express benefits from a recent expert detailing and is offered in period correct and unrestored condition. It is ready to resume its show career, or to form the prized centerpiece of a collection of the most famous and iconic show rods ever created. The Boothill Express remains a lasting tribute to the wild genius of Ray Fahrner, a custom car legend with an unbridled imagination.
Dernière édition par Predicta le Jeu 15 Oct - 5:57, édité 1 fois

_________________
We don't care the People Says , Rock 'n' roll is here to stay - Danny & the Juniors - 1958
Dernière édition par Predicta le Jeu 15 Oct - 5:57, édité 1 fois

_________________
We don't care the People Says , Rock 'n' roll is here to stay - Danny & the Juniors - 1958
Dernière édition par Predicta le Jeu 15 Oct - 5:58, édité 1 fois

_________________
We don't care the People Says , Rock 'n' roll is here to stay - Danny & the Juniors - 1958

_________________
We don't care the People Says , Rock 'n' roll is here to stay - Danny & the Juniors - 1958

_________________
We don't care the People Says , Rock 'n' roll is here to stay - Danny & the Juniors - 1958

_________________
We don't care the People Says , Rock 'n' roll is here to stay - Danny & the Juniors - 1958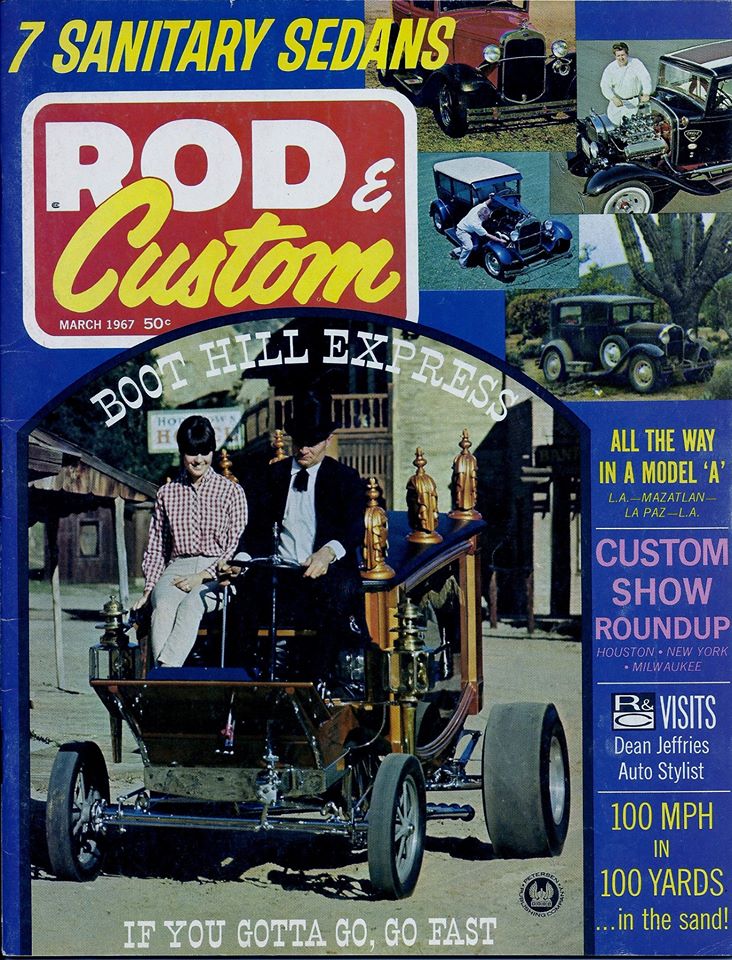 _________________
We don't care the People Says , Rock 'n' roll is here to stay - Danny & the Juniors - 1958
---
Permission de ce forum:
Vous
ne pouvez pas
répondre aux sujets dans ce forum