Little Richard est avec Jerry Lee Lewis le meilleur représentant du Rock 'n' roll violent au piano. Richard à commencer comme beaucoup de jeunes de sa génération à jouer à l'église. Lorsqu'on écoute le style vocal inimitable de Little Richard, les influences gospels sont évidentes. Ce qui fait le génie de little Richard c'est surtout son incroyable violence, et surtout son génie pour faire des tubes. Le plus étonnant c'est que c'est essentiellement dans ses deux premiers lps Spéciality que l'on trouve  ses plus grands tubes, et ils sont très nombreux!!. Il est probablement le rocker dont les titres ont été le plus repris et pas seulement par ses contemporains.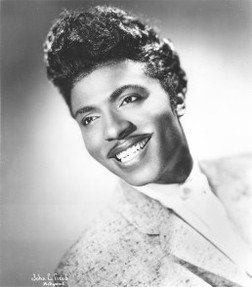 Richard Wayne Penninman est né à Macon, il est passionné dés son plus jeune age par la musique, Il peut assouvir sa passion pleinement en chantant et jouant du piano à l'église tout les Dimanche.
Il commence sa carrière professionnelle de musicien au Tick tock club de Macon. En 1951 Rca records lui fait signer un contrat, après avoir auditionner dans une station de radio d'Atlanta. Il enregistre alors des Jump blues très intéressant comme
Get rich quick
et
Every hour
. Il part ensuite pour Houston ou il enregistre pour Peacock records. En 1955 il joue comme musicien dans l'Orchestre de Johnny Otis, puis dans de nombreux clubs de blues.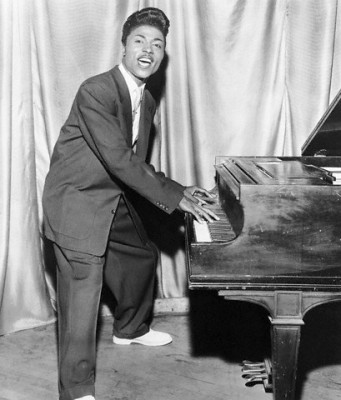 Il envoie cette année là une démo au label Spéciality de Los Angeles, sous le nom d'artiste de Little Richard.
En Septembre sort son
Tutti Frutti
qui se vend à 3 millions d'exemplaire, un incroyable tube, il continu sur cette lancée avec
Long tall sally
(6 ° place dans les charts) ,
Rip it up
(17 ° place dans les charts),
Lucille
(21 ° place dans les charts) et
Good golley miss Molley
(10 ° place dans les charts).
Little Richard est en 1956, une immense star du rock n'roll avec plusieurs disques d'or. Il apparait alors dans plusieurs films cette année là comme
Don't knock the rock
,
The girl can't help it
et en 1957 dans
Mister rock n'roll
.
Au sommet de sa gloire lors d'une tournée en Australie en 1957, Richard décide de quitter le Rock n'roll, pour se concentrer sur la religion, il sortira alors un excellent album de gospel pour Mercury. Au milieu des sixties , il revient au rock 'n' roll avec son
Baa lama bama loo
, puis continue sa carrière de rockers durant les décennies suivantes, participant aussi à des séries télévisé ou des films de cinéma.
Dernière édition par Predicta le Mar 26 Aoû - 11:12, édité 1 fois
Dernière édition par Predicta le Mar 26 Aoû - 11:13, édité 1 fois

_________________
We don't care the People Says , Rock 'n' roll is here to stay - Danny & the Juniors - 1958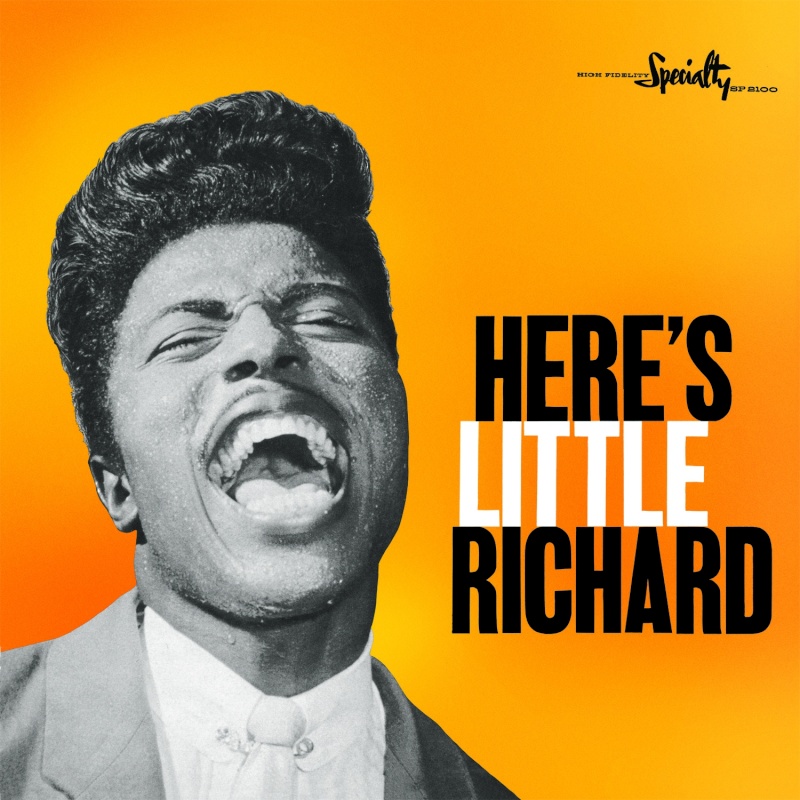 Son premier lp pour Spéciality
Here's Little Richard
est à lui tout seul une compilation de tubes!! Nous trouvons des titres tout aussi géniaux que violents comme
Tutti Frutti
(a lui seul le symbole du rock 'n' roll au même titre que
Rock around the clock
),
Ready Teddy, Slippin' and Sliddin', Long tall sally
(encore un monument du rock),
Rip it up
,
Jenny jenny
et
She's got it
. Ces 7 titres sont de tels chef d'oeuvres que l'on peut se demander comment une seule et même personne ai pu les enregistrer lors des mêmes sessions d'enregistrement. Le reste des titres est également trés bons,  les titres
True Fine mama
,
Can't believe you wanna leave, Baby
,
Miss Ann
,
Hey hey hey hey
et
Oh my soul?
sont autant d'excellents rock dans lequel le talent de compositeur, de musicien et d'interprète de Little Richard est présent. Ce premier album fait partie des disques indispensables pour chaque discothèque c'est un pur chef d'œuvre.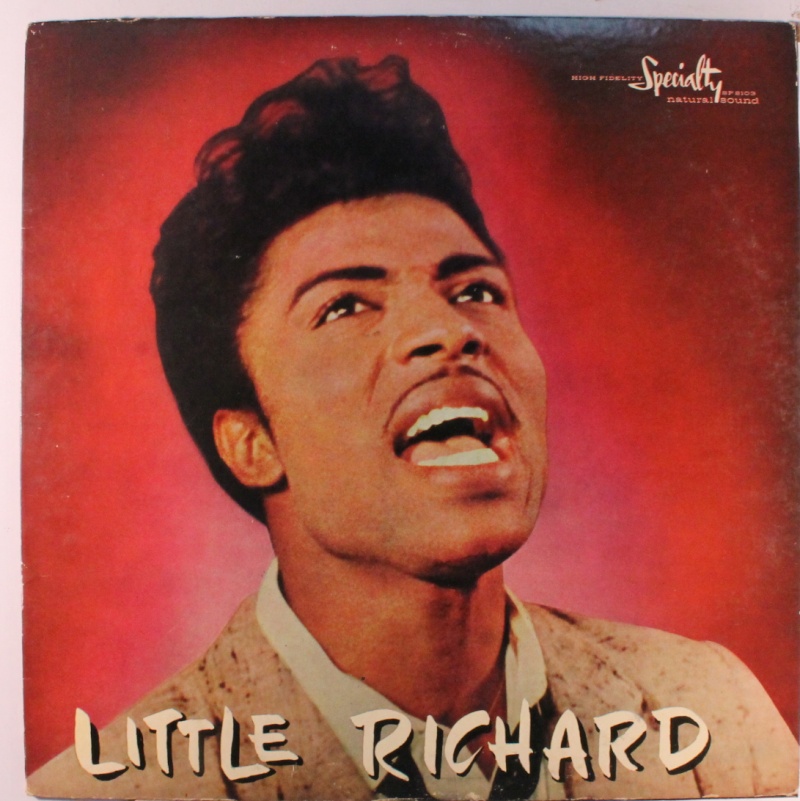 Après l'écoute de cet album il parait impossible qu'une personne puisse arriver à refaire un tel tour de force, et bien Little Richard est de celle là.  Le second album Speciality appelé tout simplement
Little Richard
est de nouveau une compilation de classiques du rock.
Richard nous y enregistre à nouveau une suite de fabuleux rock ultra violent au mélodies exceptionnelles comme
Good golly, Miss Molly
,
Keep a knockin'
,
Heeby Jeebies
,
Ooh! my soul
,
the girl can't help it
et
Lucille
.Puis des rocks rapides aux mélodies tout aussi réussies comme
By the light of the silvery moon
,
Send me some lovin'
,
All around the world
et
baby face
. Voici une nouvelle perle de pur bonheur indispensable à tout amateur de musique tout simplement. Comme on se doute à l'écoute de cette série de titres Little Richard devient alors une des plus grandes vedettes du rock 'n' roll en son temps plaçant ses titres dans les hit parades  nationaux et locaux aux usa mais aussi dans le reste du monde.
Jamais les très nombreuses reprises de ses chansons n'ont pu rivaliser avec les versions originales.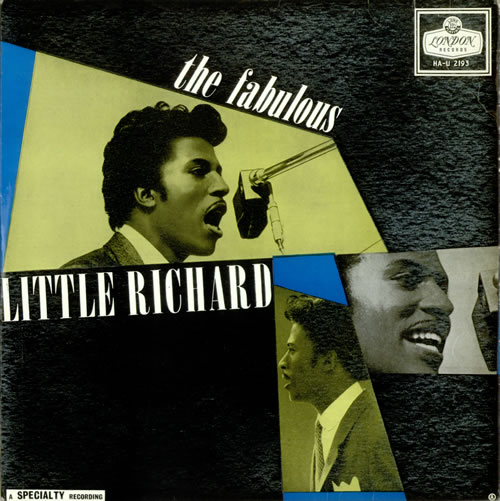 Enfin nous terminerons par son troisième album chez Spéciality "
The fabulous Little Richard
", il  s'agit d'un excellent album de rock 'n' roll mais qui malheureusement parait un peu fade par rapport aux deux chef d'œuvres qui le précèdent. L'ensemble des titres qui le composent méritent quand même une écoute attentive comme
Shake a hand
,
All night long
,
She knows how to rock
,
Kansas city
,
hey hey hey
et
Whole lotta shakin'
.

_________________
We don't care the People Says , Rock 'n' roll is here to stay - Danny & the Juniors - 1958

This is Little Richards cover of Hound Dog, from Granada TV's 'Don't Knock The Rock'

_________________
We don't care the People Says , Rock 'n' roll is here to stay - Danny & the Juniors - 1958

This is Little Richard performing his hit Rip It Up on the Granada TV (UK) show 'Don't knock the rock'. Here he is backed by the 60's band Sounds Incorporated.

_________________
We don't care the People Says , Rock 'n' roll is here to stay - Danny & the Juniors - 1958
Superbe:
https://www.rockinitis.com/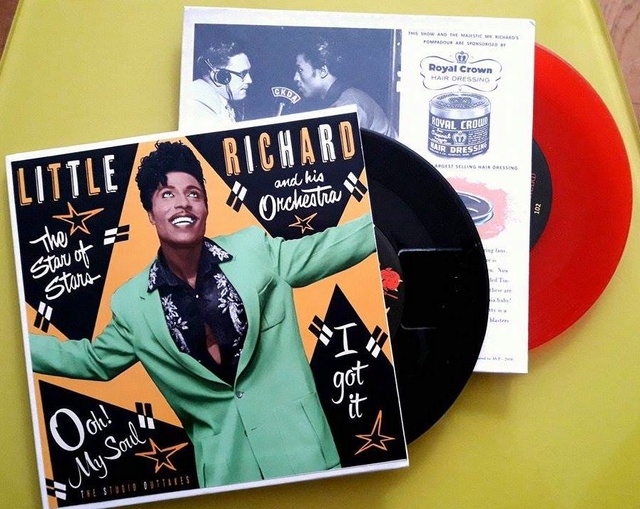 Dj EddieCesc

Dj Eddie-Cesc




Messages

: 493


Date d'inscription

: 03/07/2015



---
Permission de ce forum:
Vous
ne pouvez pas
répondre aux sujets dans ce forum