En 1951, à Belleville dans le New Jersey, Tommy DeVito est un jeune Italo-Américain qui vit de plusieurs arnaques. Il est ami avec Frankie Castelluccio, qui possède une voix magnifique. Frankie est très apprécié par Gyp DeCarlo, le mafieux local, qui l'aide souvent.
En plus de leurs petits larcins, Tommy, son frère Nicky et leur ami Nick Massi se produisent dans un club, sous le nom de The Variety Trio. Un soir, Tommy invite Frankie sur scène. Ce dernier se met d'emblée le public dans la poche, avec sa belle voix aiguë. Alors que l'idée d'un groupe émerge, Frankie rencontre la sublime Mary Delgado, qui lui conseille de s'appeler Frankie Valli (avec un « i » et non un « y »).
Après le départ de son frère Nick, Tommy demande à son ami Joe Pesci de lui trouver quelqu'un d'autre pour le groupe, alors nommé The Four Lovers. Pesci leur présente alors Bob Gaudio, auteur-compositeur-interprète. Après quelques discussions houleuses, Bob Gaudio rejoint finalement le groupe. Après s'être fait jeter d'un bowling où ils devaient se produire, ils se retrouvent sous une enseigne qui leur inspire le nouveau nom de leur groupe : The Four Seasons....

_________________
We don't care the People Says , Rock 'n' roll is here to stay - Danny & the Juniors - 1958
Titre original : Jersey Boys
Titre français : Jersey Boys
Réalisation : Clint Eastwood
Scénario : Rick Elice et Marshall Brickman, d'après leur comédie musicale juke-box Jersey Boys
Direction artistique : Patrick M. Sullivan Jr.
Décors : Ronald R. Reiss
Costumes : Deborah Hopper
Photographie : Tom Stern
Montage : Joel Cox et Gary D. Roach
Musique : Bob Gaudio
Production : Tim Headington et Graham King
Producteurs délégués : Bob Gaudio, Tim Moore, Frankie Valli et Denis O'Sullivan
Sociétés de production : GK Films, Warner Bros., Four Seasons Partnership, RatPac-Dune Entertainment, Malpaso Productions
Distribution : Warner Bros. (États-Unis et France)
Budget : 40 000 000 USD1
Pays d'origine : Drapeau des États-Unis États-Unis
Langue originale : anglais
Format : Couleur - 2.35:1 / son : SDDS - Datasat - Dolby Digital
Durée : 134 minutes
Genre : musical, biographique
Dates de sortie2 :
Australie : 5 juin 2014 (festival du film de Sydney)
Belgique, France, Suisse romande : 18 juin 20143
États-Unis : 20 juin 2014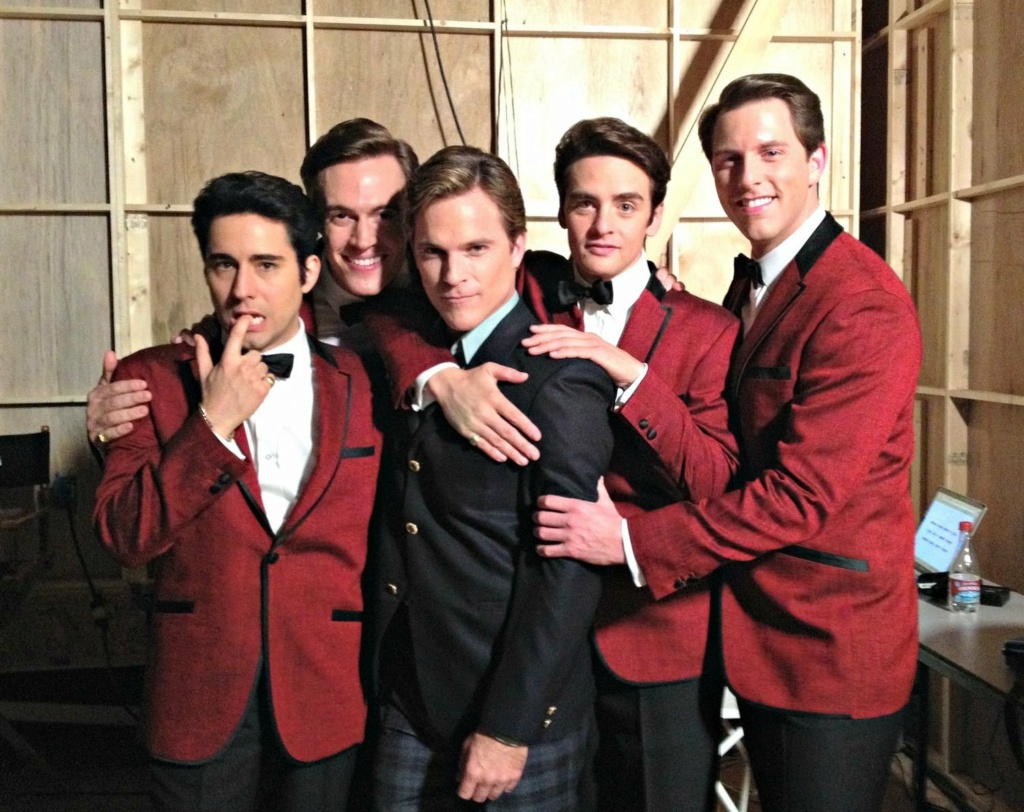 _________________
We don't care the People Says , Rock 'n' roll is here to stay - Danny & the Juniors - 1958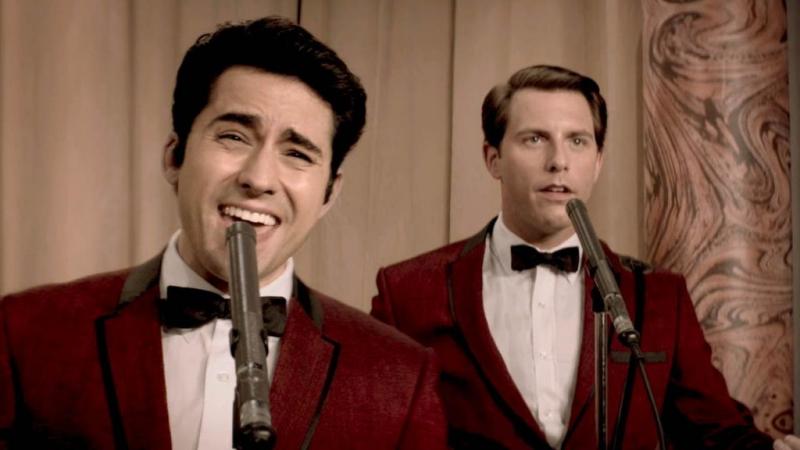 Jersey Boys is a 2014 American musical drama film directed and produced by Clint Eastwood, based on the 2004 Tony Award-winning jukebox musical of the same name. The film tells the story of the musical group The Four Seasons. Original band members Frankie Valli and Bob Gaudio (who also composed the film's music) serve as executive producers.
Jersey Boys was released in the United States on June 20, 2014.[4] It received mixed reviews from critics, who praised the musical numbers but criticized the narrative and runtime, and grossed $67 million worldwide.
In Belleville, New Jersey in 1951, Tommy DeVito performs together with his brother Nicky, and their friend Nick Massi, as The Variety Trio. He meets 16-year-old Frankie Castelluccio, a barber's son, already well known in the neighborhood for his singing voice. Frankie has the admiration of Genovese Family mobster Angelo "Gyp" DeCarlo, who takes a personal interest in him.
One night, the group attempts a robbery of a safe, resulting in the police later arresting them. In court, Frankie is let off with a slap on the wrist, while Tommy is sentenced to six months in prison. After his release, Tommy reunites with the group, and adds Frankie as lead singer. Frankie changes his professional name to Frankie Vally, and then Frankie Valli. At a performance, Frankie is entranced by a woman named Mary Delgado. He takes her to dinner, and they are soon married.
The group, now called "The Four Lovers", is in need of a songwriter after Nicky leaves. Tommy's friend, Joe Pesci, tells him about a talented singer-songwriter, Bob Gaudio, and invites him to hear the group perform. Gaudio is impressed with Valli's vocals, and agrees to join.
The band, having recorded several demos, attempts to attract interest, but has little success. One day, in New York City, producer Bob Crewe signs them to a contract. However, they quickly realize that it only allows them to perform back-up vocals for other acts. Crewe says that the group does not have a distinctive image or sound yet. Inspired by a bowling alley sign, the band is renamed "The Four Seasons," and they sing a new song Gaudio has written, "Sherry", to Crewe, who agrees to record it.
"Sherry" quickly becomes a commercial success, followed by two more, "Big Girls Don't Cry" and "Walk Like a Man". However, before an appearance on The Ed Sullivan Show, Valli is approached by mobster Norman Waxman, a loan shark for one of the other Five Families, who claims that Tommy owes him $150,000. Frankie goes to DeCarlo, who gets Waxman to allow the group to pay the debt, which turns out to be considerably larger. Tommy must go to work for the mob's associates in Las Vegas until it is paid. Nick, irritated by Tommy's irresponsibility, not being involved in the group's decisions, and never being able to see his family, also leaves the group.
Having to tour constantly to pay off the debt, the band hires a set of studio musicians, and becomes Frankie Valli and the Four Seasons, with Gaudio now acting solely as songwriter and producer. Valli learns from his now ex-wife, Mary, that his daughter, Francine, now a drug addict, has escaped from home. Valli meets his estranged daughter and regrets not acting as a better father for her when she was growing up. He also arranges for Gaudio to offer her singing lessons and for Crewe to cut a demo for her.
A few years later, the group has finally paid off Tommy's debt. However, this coincides with the news of Francine's death by drug overdose. Frankie and Mary both grieve for their daughter. Gaudio composes a new number for Valli to sing, his first as a solo artist. At first, Frankie is hesitant, as he is still in mourning, but eventually agrees. The track, "Can't Take My Eyes Off You", becomes a commercial success.
In 1990, the Four Seasons are about to be inducted into the Rock and Roll Hall of Fame. The band performs "Rag Doll" onstage, their first performance together in over twenty years. The music fades as the four men take turns addressing the audience. Tommy, in an ironic twist, now works for Joe Pesci, who has gone on to become an Oscar-winning actor (his award-winning role was a fictionalized account of another real-life gangster named after Tommy DeVito). Nick claims to have no regrets about leaving the group, enjoying the time he spends with his family. Frankie is still touring through his solo career, but yearns for the days he performed with the rest. Bob has retired to Nashville, Tennessee. Frankie states that the best time he had during his time with the Four Seasons was before their success, "but four guys under a streetlamp, when it was all still ahead of us."

_________________
We don't care the People Says , Rock 'n' roll is here to stay - Danny & the Juniors - 1958

_________________
We don't care the People Says , Rock 'n' roll is here to stay - Danny & the Juniors - 1958
---
Permission de ce forum:
Vous
ne pouvez pas
répondre aux sujets dans ce forum