Il y a quelques jours je recevais une enveloppe envoyé de la ville Française de Carpiquet, ville situé dans le Calvados, au moment d´ouvrir l´enveloppe surprise, un Cd, des photos et une biographie d´un groupe.
T Becker Trio voie le jour en Mai de 2019, es comme le nom l´indique c´est un trio, mais attention, style 100% fifties, à date d´aujourd´huit ils non que une maquette avec 6 titres, que des compositions, le groupe est formé par, chanteur et guitare acoustique, guitariste soliste et un contrebassiste, en Juillet 2020 ils enregistrent une démo avec 5 titres, en Février 2021 ils son passer a la radio 247, 4 des 5 titres de leurs démo, mais qui son eux ?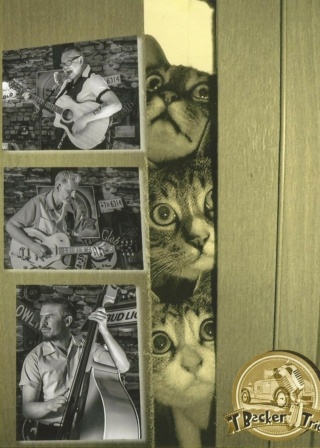 T Becker es le chanteur et guitariste acoustique, en 1977 il n´ a que 10 ans, mais il tombe sur un disque de Elvis Presley et reste captivé à toujours par le Rock and Roll, ensuite il découvrira Bill Haley, Eddie Cochran, Gene Vincent…. Comme la plus part des jeunes de cette génération il découvre le revival Britannique : Crazy Cavan and the Rhythm Rockers, Shakin´Pyramids…. Mais aussi Stargazers, Blue Cats…. Au long des années il découvrir d´autres artistes des années 40s et 50s, il se plonge dans le Jump Blues, le Hillbilly…. T Becker joua avec le groupe Zebluetones, sincèrement je ne connais pas du tous se groupe.
Mr Did es le guitariste soliste, lui forma part des groupes Blue Tears Trio et Flaming Combo, très influencé par Perkins, Moore, Martin etc…. Mais aussi de Higham, Setzer…. Pas de doute, Mr Did est un excellent guitariste avec de très bonne influence musical.
Axel Becker lui est le contrebassiste du groupe, baigné à c´est début par les guitaristes de Jump Blues moderne, Nick Curran, Knockout Greg, Bluetones…. Il s´intéresse au début a la guitare, mais fini pour adopté la basse électrique pour venir a la fin à la contrebasse, c´est influence son : Bill Black, Al Rex, Kevin Smith….
Je ne peux que vous conseillé de visité leurs lien, en vois y un
https://tbeckertrio.wixsite.com/roll
un groupe avec un futur qui promet, vivement que je puisse les voire sur scène et d´avoir entre mais vinyle un de T Becker Trio.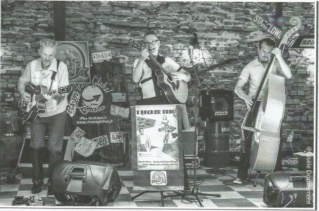 Je vous annonce que dans les prochains mois T Becker Trio seront programmé dans le Dixie Rebel Bop de
www.rockabilly-radio.net/djs/eddie-cesc/
Dj Rockin´Badalona « Eddie-Cesc »

Dj Eddie-Cesc




Messages

: 493


Date d'inscription

: 03/07/2015



---
Permission de ce forum:
Vous
ne pouvez pas
répondre aux sujets dans ce forum