Easy Rider est un film américain réalisé par Dennis Hopper en 1969. Le film est répertorié par le National Film Registry en 1998 pour son apport significatif au cinéma américain et à la culture américaine.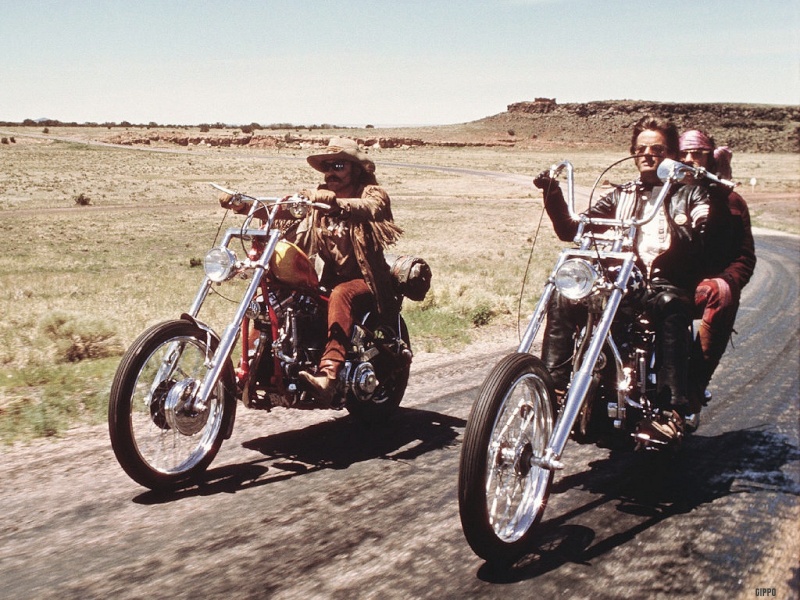 Synopsis
Ce film est un road movie qui est devenu un emblème de la génération hippie des années 1960-1970. Il raconte le voyage de deux jeunes motards, Wyatt et Billy, qui après avoir vendu une grosse quantité de drogue, décident de quitter Los Angeles avec l'argent gagné afin d'aller participer à la célébration du carnaval de la Nouvelle-Orléans. Durant leur traversée des États-Unis, les protagonistes rencontrent une communauté hippie et découvrent leur mode de vie. Accusés abusivement de participer illégalement à un défilé, ils se retrouvent rapidement en prison où ils rencontrent George Hanson, avocat défenseur des droits civiques. Il se joint à eux pour la suite du périple. Les trois compères sont confrontés à l'Amérique profonde, raciste et conservatrice, qui refuse l'évolution des années 1960.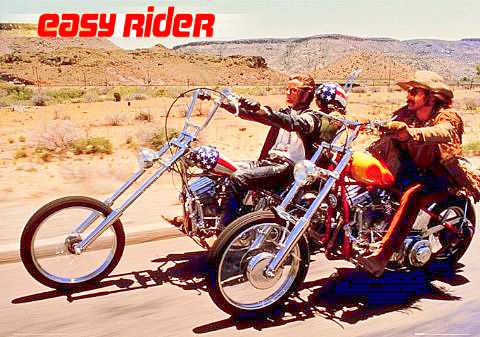 Fiche technique
Réalisation : Dennis Hopper
Scénario : Peter Fonda - Dennis Hopper - Terry Southern
Directeur de la photographie : Laszlo Kovacs
Montage : Donn Cambern
Musique : Roger McGuinn
Producteur : Peter Fonda
Producteur exécutif : Bert Schneider
Producteur associé : William Hayward
Sociétés de production : Columbia Pictures Corporation, Pando Company Inc. et Rayber Productions
Société de distribution : Columbia Pictures
Budget : 340 000 $ (estimation)
Box-Office : 41 728 598 $
Sortie : 14 juillet 1969
Naissance du Nouvel Hollywood
Easy Rider marque la naissance du Nouvel Hollywood, qui apparaît à la fin des années 1960. Il y a bien sûr des prémices avec des films tels que Bonnie and Clyde ou Le Lauréat. Mais c'est avec Easy Rider que le Nouvel Hollywood prend son envol et rompt avec le système de production classique et bien rodé (et en perte de vitesse à ce moment).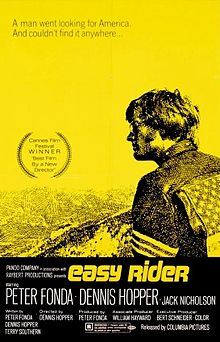 Ce mouvement cinématographique est fortement inspiré du néoréalisme italien et de la Nouvelle Vague française : c'est le mouvement de la contre-culture américaine. Les jeunes réalisateurs américains vont s'emparer du principe de liberté que met en avant la Nouvelle Vague. Il s'agit de la prise de pouvoir des réalisateurs qui font alors leur film et non ceux des studios. Ce qui aboutit à une construction de films (que ce soit au niveau narratif ou esthétique...) atypique pour le cinéma classique américain.
Ainsi le cinéma du Nouvel Hollywood devient le cinéma des réalisateurs et non celui des producteurs, un cinéma qui renoue avec le 7e Art et rompt avec le système de production de divertissements.
Autour du film

Quatre motos ont été customisées (en chopper) pour le film : l'une a été brûlée durant le film, les trois autres ont été volées avant que le film ne soit terminé.
Durant la scène de la veillée nocturne autour du feu, Peter Fonda, Dennis Hopper et Jack Nicholson ont réellement fumé de la marijuana.
Pour écrire ce film, Peter Fonda et Dennis Hopper se sont inspirés du Fanfaron (II sorpasso) de Dino Risi, film italien de 1962.
En 2008, Dennis Hopper a déclaré à propos de son film : « La prophétie d'Easy Rider était d'avoir mis tout notre argent dans le réservoir d'essence marqué du drapeau américain, qui a fini par exploser au bord de la route. Nous ne pensions pas, alors, qu'il y aurait des problèmes d'essence. »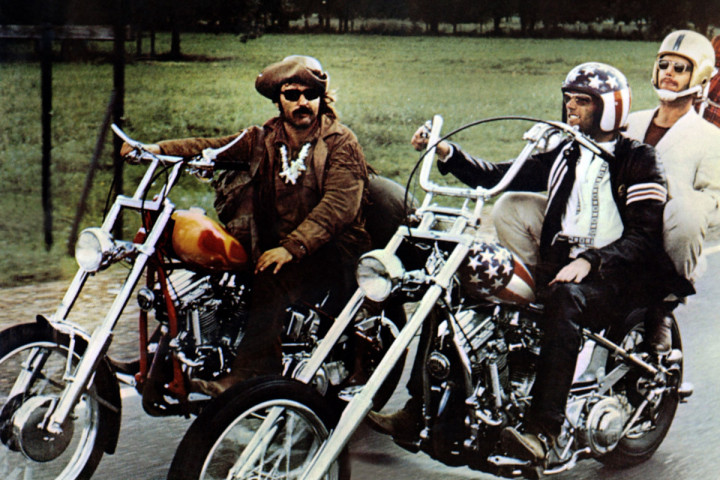 Récompense

Dennis Hopper a reçu le prix de la meilleure première œuvre au festival de Cannes 1969.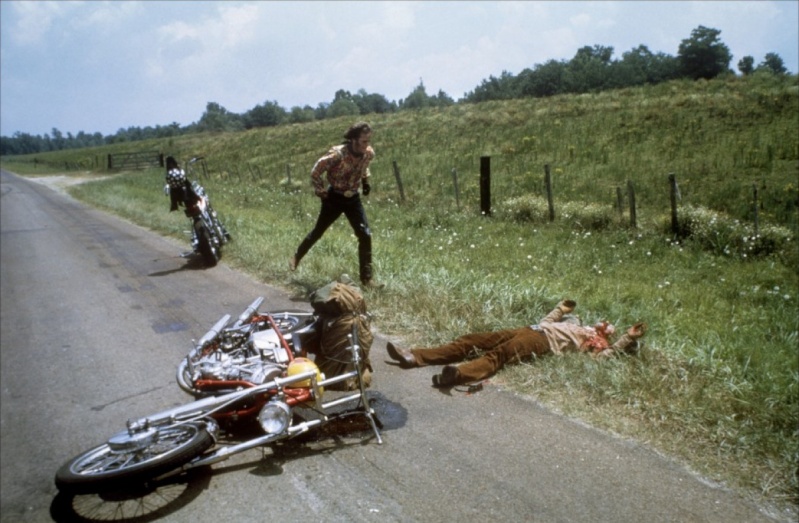 Distribution
Peter Fonda (VF : Bernard Tiphaine) : Wyatt (Captain America)
Dennis Hopper (VF : Pierre Trabaud) : Billy
Jack Nicholson (VF : Michel Roux) : George Hanson
Phil Spector : le riche client près de l'aéroport
Mac Mashourian: Garde du corps et chauffeur du client de l'aéroport
Luke Askew (Vf : Paul-Émile Deiber) : l'auto-stoppeur hyppie
Karen Black (VF : Nelly Vignon) : Karen
Toni Basil : Mary
Antonio Mendoza : Jesus
Warren Finnerty : Le fermier
Tita Colorado : La femme du fermier
Luana Anders (VF : Anne Jolivet) : Lisa, membre de la communaute hyppie
Sabrina Scharf : Sarah, membre de la communaute hyppie
Robert Walker Jr. (crédité Robert Walker) : Jack, membre de la communaute hyppie
Sandy Brown Wyeth : Joanne
Hayward Robilard (VF : Claude Bertrand) : le client du Gril à la casquette
Arnold Hess (VF : Gérard Hernandez) : le Shérif du Gril
George Fowler Jr : Bob, le gardien de prison

_________________
We don't care the People Says , Rock 'n' roll is here to stay - Danny & the Juniors - 1958

_________________
We don't care the People Says , Rock 'n' roll is here to stay - Danny & the Juniors - 1958
J'ai jamais accroché sur ce film ...
Trop hippie, trop came, trop ... booff ... je sais pas ...

ChevyDave




Messages

: 3899


Date d'inscription

: 11/11/2012



bah c'est vrai que c'est "chouter" on va dire comme film mais dans le fond y'a comme meme une morale

il ne sont pas accepter parce qu'il veulent etre libre

custom 56




Messages

: 2631


Date d'inscription

: 14/11/2012


Age

: 27


Localisation

: 77 seine et marne



ChevyDave a écrit:J'ai jamais accroché sur ce film ...

Trop hippie, trop came, trop ... booff ... je sais pas ...
C'est clair que c'est un film de la pèriode psychédélique, woodstock, drogue, chemises à fleurs

_________________
We don't care the People Says , Rock 'n' roll is here to stay - Danny & the Juniors - 1958
Et puis il y a quand même "Born to be wild" de Steppenwolf
Bon il y a aussi quelques longueurs : la scène dans le cimetière
---
Permission de ce forum:
Vous
ne pouvez pas
répondre aux sujets dans ce forum