Le doo wop est une forme musicale entre le rock 'n' roll et le Gospel, aux USA durant les fifties et le début des sixties les titres de ce genre musical remplissent le hit parade au côté des Rockers, Teenage Idole et Artistes de Rhythm and blues.
L'une des formations les plus connues est probablement Frankie Lymon and the Teenagers qui apparaissent dans deux films d'Alan Freed, et classe de nombreux titres dans les charts et enregistre un premier album qui est unje trés grosse vente et un classique dans l'histoire de la musique.
dans wikipedia:
Franklin Joseph "Frankie" Lymon (September 30, 1942 – February 27, 1968)[1] was an American rock and roll/rhythm and blues singer and songwriter, best known as the boy soprano lead singer of a New York City-based early rock and roll group, The Teenagers. The group was composed of five boys, all in their early to mid teens. The original lineup of the Teenagers, an integrated group, included three African American members, Frankie Lymon, Jimmy Merchant and Sherman Garnes, and two Puerto Rican members, Herman Santiago and Joe Negroni.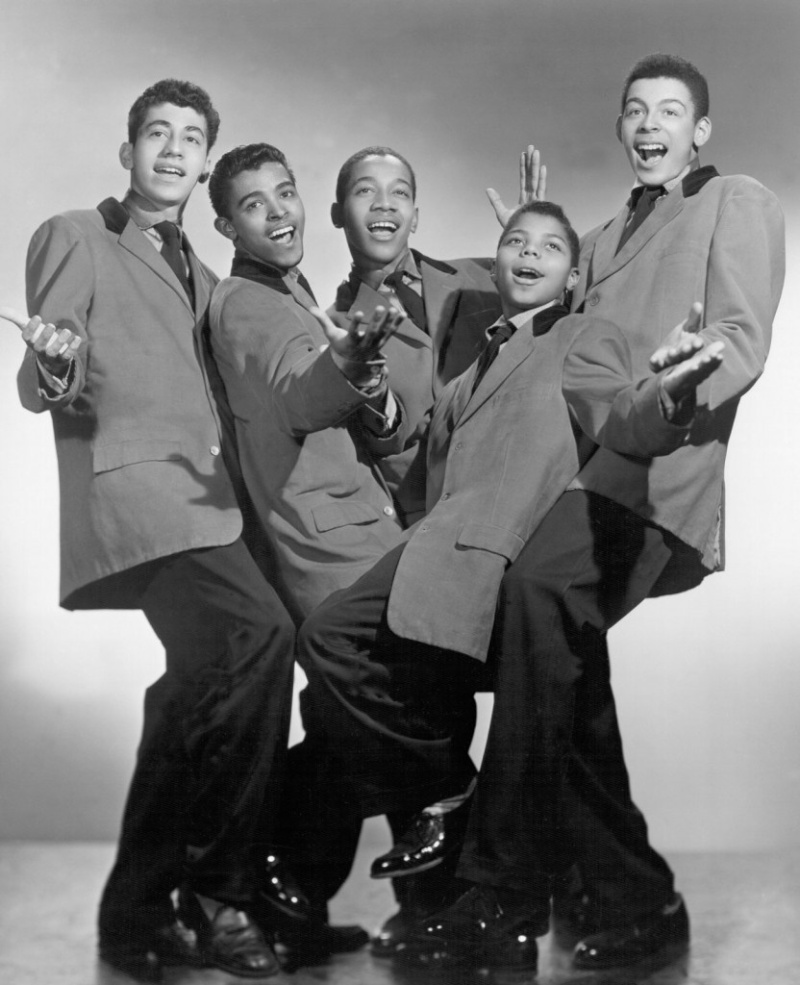 The Teenagers' first single, 1956's "Why Do Fools Fall in Love", was also their biggest hit. After Lymon went solo in mid-1957, both his career and those of the Teenagers fell into decline. At age 25, he was found dead in his grandmother's bathroom from a heroin overdose. His life inspired the 1998 film, Why Do Fools Fall In Love?.
Early years:
joining the TeenagersFrankie Lymon was born in Harlem to a truck driver father and a mother who worked as a maid. Lymon's father, Howard Lymon, also sang in a gospel group known as the Harlemaires; Frankie Lymon and his brothers Lewis and Howie sang with the Harlemaire Juniors (a fourth Lymon brother, Timmy, was a singer, though not with the Harlemaire Juniors). The Lymon family struggled to make ends meet, and Lymon began working as a grocery boy at age ten, augmenting his legitimate income with proceeds gained from hustling prostitutes and was known for having relationships with women twice his age
At the age of 12, Lymon heard a local doo-wop group known as the Coupe De Villes at a school talent show. He befriended their lead singer, Herman Santiago, and he eventually became a member of the group, now calling itself both The Ermines and The Premiers. Dennis Jackson of Columbus, Georgia, was one of the main influences in Lymon's life. His personal donation of $500 helped start Lymon's career.
One day in 1955, a neighbor gave The Premiers several love letters that had been written to him by his girlfriend, with the hopes that he could give the boys inspiration to write their own songs. Merchant and Santiago adapted one of the letters into a song called "Why Do Fools Fall in Love". The Premiers, now calling themselves The Teenagers, got their first shot at fame after impressing Richard Barrett, a singer with The Valentines. Barrett, in turn, got the group an audition with record producer George Goldner. On the day of the group's audition, Santiago, the original lead singer, was late. Lymon stepped up and told Goldner that he knew the part because he helped write the song. The disc jockeys always called them "Frankie Lymon and the Teenagers".
Life and career
"Why Do Fools Fall in Love": fame and successGoldner signed the quintet to Gee Records, and "Why Do Fools Fall in Love" became their first single in January 1956. The single peaked at #6 on the Billboard pop singles chart, and topped the Billboard R&B singles chart for five weeks.
Five other R&B top ten singles followed over the next year or so: "I Want You To Be My Girl", "I Promise To Remember", "Who Can Explain?", "Out in the Cold Again" and "The ABC's of Love". "I'm Not A Juvenile Delinquent" and "Baby Baby" were also popular Teenagers releases. "I Want You To Be My Girl" gave the band its second pop hit, reaching #13 on the national Billboard Hot 100 chart. "Goody Goody" (written by Matty Malneck and Johnny Mercer and originally performed by Benny Goodman) was a #20 pop hit, but did not appear on the R&B chart. The Teenagers placed two other singles in the lower half of the pop chart.
With the release of "I Want You To Be My Girl", the group's second single, The Teenagers became Frankie Lymon & the Teenagers. An album, The Teenagers Featuring Frankie Lymon, was issued in December 1956.
Going solo
In early 1957, Lymon and the Teenagers broke up while on a tour of Europe. During an engagement at the London Palladium, Goldner began pushing Lymon as a solo act, giving him solo spots in the show. Lymon began performing with backing from pre-recorded tapes. The group's last single, "Goody Goody" backed with "Creation of Love," initially retained the "Frankie Lymon & the Teenagers" credit, but they were actually solo recordings (with backing by session singers). Lymon had officially departed from the group by September 1957; an in-progress studio album called Frankie Lymon and the Teenagers at the London Palladium was instead issued as a Lymon solo release.
As a solo artist, Lymon was not nearly as successful as he had been with the Teenagers. Beginning with his second solo release, "My Girl", Lymon had moved to Roulette Records. On a July 19, 1957, episode of Alan Freed's live ABC TV show The Big Beat, Lymon began dancing with a white teenage girl while performing. His actions caused a scandal, particularly among Southern TV station owners, and The Big Beat was subsequently canceled.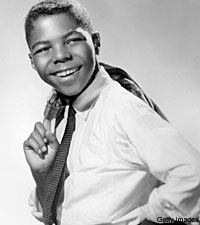 Lymon's slowly declining sales fell sharply after his voice changed and he lost his signature soprano voice. Adopting a falsetto[citation needed], Lymon carried on. His highest charting solo hit was a cover of Thurston Harris' "Little Bitty Pretty One", which peaked at number 58 on the Hot 100 pop chart in 1960, and which had actually been recorded in 1957. Addicted to heroin since age 15, Lymon fell further into his habit, and his performing career went into decline. According to Lymon in an interview with Ebony magazine in 1967, he said that at the age of 15 he was first introduced to heroin by a woman twice his age.[6] In 1961, Roulette, now run by Morris Levy, ended their contract with Lymon and the singer entered a drug rehabilitation program.
After losing Lymon, the Teenagers went through a string of replacement singers, the first of whom was Billy Lobrano. In 1960, Howard Kenny Bobo sang lead on "Tonight's the Night" with the Teenagers; later that year, Johnny Houston sang lead on two songs. The Teenagers, who had been moved by Morris Levy to End Records, were released from their contract in 1961. The Teenagers briefly reunited with Lymon in 1965, without success.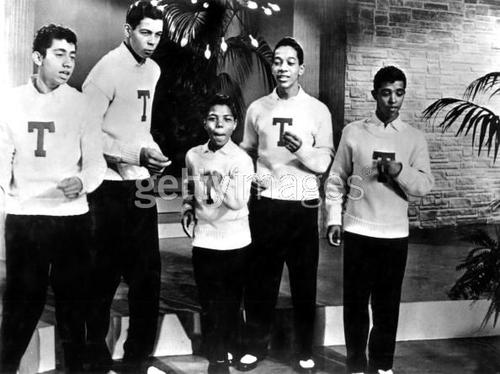 Later years
Over the next four years, Lymon struggled through short-lived deals with 20th Century Fox Records and Columbia Records. Lymon began a relationship with Elizabeth Waters, who became his first wife in January 1964 and the mother of his first and only child, a baby girl named Francine who died two days after birth at Lenox Hill Hospital. Lymon's marriage to Waters was not legal in the beginning, because she was still married to her first husband. However, it is alleged that they became married by way of common law marriage. After the marriage failed, he moved to Los Angeles in the mid-1960s, where he began a romantic relationship with Zola Taylor, a member of the Platters. Taylor claimed to have married Lymon in Mexico in 1965, although their relationship ended several months later purportedly because of Lymon's drug habits. Lymon, however, had been known to say that their marriage was a publicity stunt and Taylor could produce no legal documentation of their marriage.
He appeared at the Apollo as part of a revue, adding an extended tap dance number. Lymon recorded several live performances (such as "Melinda" in 1959), but none rose on the charts. His final television performance was on Hollywood a Go-Go in 1965, where the then 22-year-old singer lip-synched to the recording of his 13-year-old self singing "Why Do Fools Fall in Love." The same year, Lymon was drafted into the United States Army, and reported to Fort Gordon, Georgia, near Augusta, Georgia, for training.[citation needed] While in the Augusta area, Lymon met and fell in love with Emira Eagle, a schoolteacher at Hornsby Elementary in Augusta. The two were wed in June 1967, and Lymon repeatedly went AWOL to secure gigs at small Southern clubs. Dishonorably discharged from the Army,[citation needed] Lymon moved into his wife's home and continued to perform sporadically.
Traveling to New York in 1968, Lymon was signed by manager Sam Bray to his Big Apple label, and the singer returned to recording. Roulette Records expressed interest in releasing Lymon's records in conjunction with Big Apple and scheduled a recording session for February 28. A major promotion had been arranged with CHO Associates, owned by radio personalities, Frankie Crocker, Herb Hamlett and Eddie O'Jay. Lymon, staying at his grandmother's house in Harlem where he had grown up, celebrated his good fortune by taking heroin; he had remained clean ever since entering the Army three years earlier.

_________________
We don't care the People Says , Rock 'n' roll is here to stay - Danny & the Juniors - 1958

_________________
We don't care the People Says , Rock 'n' roll is here to stay - Danny & the Juniors - 1958

_________________
We don't care the People Says , Rock 'n' roll is here to stay - Danny & the Juniors - 1958
---
Permission de ce forum:
Vous
ne pouvez pas
répondre aux sujets dans ce forum