Ray Campi est un pionnier du Rockabilly grâce à de nombreux classiques qu'il met en boite pour différents labels comme Catapillar, Play It Cool, It Ain't Me, Give That Love to Me et My Screamin' Screamin' Mimi, mais il enregistre aussi du doo wop et du rock 'n' roll avec des titres comme You Gambled et le 45 hommage à Ritchie Valens, The Big Bopper et Buddy Holly:
Ballad of Donna and Peggy Sue
,
The Man I Met.

Mais c'est à la fin des 1970's et au début des 1980's qu'il devient extrèmement populaire grâce aux nombreux albums qu'il enregistre sur Rollin' Rock.
Ray Campi (born April 20, 1934 in Yonkers, New York) is a distinguished musician often called The King of Rockabilly. Campi's trademark is his white double bass, which he often jumps on top of and "rides" while playing.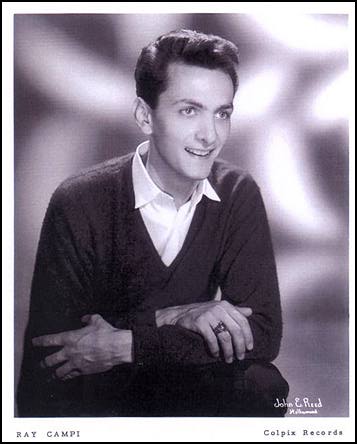 After his family moved to Austin, Texas in 1944, Campi began a lifetime of performing and recording music in numerous American genres, including folk, country, and rock and roll as well as rockabilly. Early on he recorded on Domino Records[1] He rarely concentrated on his musical career exclusively, working a wide variety of jobs, notably twenty-five years spent as a high-school teacher in Van Nuys, California. His career never really took off until the early 1970s when he was rediscovered by Ronnie Weiser, the owner of Rollin' Rock Records. Campi began touring Great Britain and Europe and has regularly played festivals there ever since. Though now in his seventies, he remains a dynamic performer. He has also recorded with German, Finnish, British and Dutch rockabilly bands over the past two decades, and has produced his own albums with artists such as Rosie Flores, Bobby 'Fats' Mizell and Ian Whitcomb.
Ray continues to gig and record with his longtime Rockabilly Rebels band consisting of Kevin Fennell (his lead Guitarist since 1977), Rip Masters on piano for 30 years, Pep Torres on rhythm guitar and DJ Bonebrake on drums.
In the 1950s Ray Campi recorded for several labels, including Dot Records, and recorded the first tribute record to the 1959 Buddy Holly plane crash, 'The Ballad of Donna and Peggy Sue', backed by the Big Bopper's band. He also worked with many of the most prominent pioneers of rock and roll music, including Bill Haley, Buddy Holly, Elvis Presley, and Gene Vincent. He has fiercely criticized the mainstream music industry, in particular its connections with drug culture.
Early Discography
Many of Ray Campi's earliest 1950s recordings weren't issued until the 1980s and 1990s, mostly on European albums. But the following were issued on 45-rpm and, in some cases, 78-rpm. "Catapillar" was considered his most popular record until his revival in the 1970s.
TNT 145 "Catapillar"/"Play It Cool" 1956
Dot 15617 "It Ain't Me"/"Give That Love to Me" 1957
Domino 700 "My Screamin' Screamin' Mimi"/"Uh Huh Huh" 1958
Domino 701 "You Gambled"/"No Time" 1958
D-104 "Ballad of Donna and Peggy Sue"/"The Man I Met (Tribute to the Big Bopper)" 1959
Verve 10208 "Our Man in Havana"/"Reprieve of Love" 1960
Colpix 166 "Cry For Happy"/"Hear What I Wanna Hear" 1960

_________________
We don't care the People Says , Rock 'n' roll is here to stay - Danny & the Juniors - 1958

_________________
We don't care the People Says , Rock 'n' roll is here to stay - Danny & the Juniors - 1958
Ray Campi est célèbres pour ses fantastiques faces de rockabilly des 70's et 80's pour le label Rollin' rock de  Ronnie Weiser. Mais il faut également connaître ses enregistrements fifties qui valent le détour.
 En 1956 il enregistre deux fantastiques rockabilly décapant pour TNT records
Caterpillar
et
Play it cool
. En 1957 il récidive avec deux autres fantastiques rockabilly tout aussi délirant
It ain't me
et
Give that love to me
. On peut aussi noter le foudroyant
My screamin' screamin' Mimi'
en 1958 pour le label Domino. Ces titres fabuleux sont tous présent sur l'album Rollin' rock consacré aux faces fifties de Ray "
The original rockabilly album
". On y trouve d'autres titres excellent comme "
Let go of louie", livin' on love, i didn't mean to be mean et Loretta
. Une mention spéciale aussi pour le fabuleux
The crossing
qu'il enregistrera en démo pour Jim Lowe qui en fera un petit tube. On trouve également une reprise de Chuck Berry
You can't catch me
et de Little Richard
Long tall Sally
. Même si Ray n'a pas eut durant les fifties un succès comparable à celui qu'il eut durant les 70's et 80's, il eut une certaine notoriété en solo et avec le groupe de "rock n'roll doo wop" the Slades, en effet il passa à l'émission de télé l'Américan bandstand de Dick Clark.

_________________
We don't care the People Says , Rock 'n' roll is here to stay - Danny & the Juniors - 1958
Sujets similaires
---
Permission de ce forum:
Vous
ne pouvez pas
répondre aux sujets dans ce forum