The King Rats est une formation de Néo rockabilly qui se forme en 1989 à Los Angeles, dont le membre fondateur John Whiteleather (originaire dePensylvanie), en 1991 il part s'installer en Suède et commence à se faire un nom dans le milieu du rock n'roll en tournant dans toute l'europe avec ses King Rats, mais également dans leur pays d'origine les USA.
Je possède leurs deux albums sur Part records le
Go rat go
  (JC 5767) de 1992 avec des compositions comme
Cadillac attack, Go rat go
(vraiment trés bon),
I want speed
et
Sweet virginia
, mais aussi de nombreuses covers plus ou moins de titres rares et obscures ou de traditionnel
Meet my baby, Blue light boogie
(Louis Jordan),
Rollin' the juke box rock
(Benny joy),
Daddy's home, Ugly & slauchy, Birthday cake, Alley cat, Pink Cadillac
(Jimmy Evans),
Bald head, Everybody got a baby, Cracker jack, ärty saturday night
et
He'll have to go
. Sur cet album leurs influences sont aussi bien le rockabilly, le rock n'roll fifties et début 1960's que le blues, le rythm and blues et la country se qui fait au final un album varié mais aussi inégal.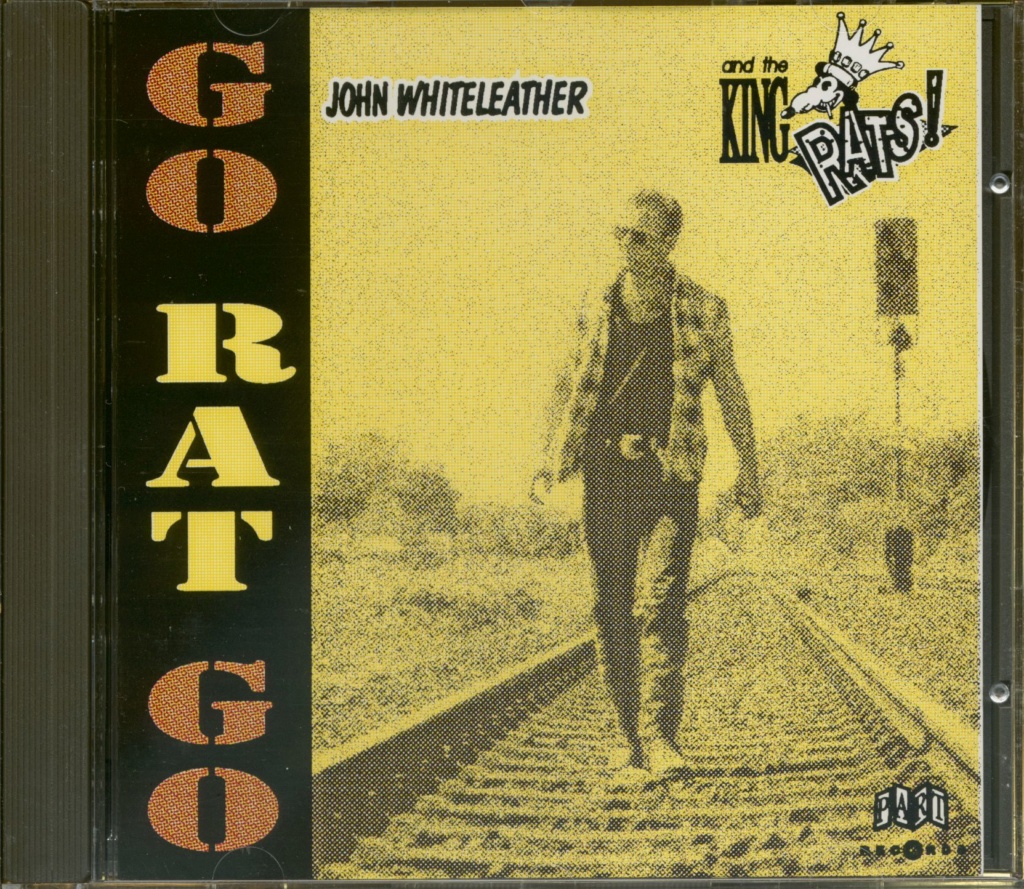 Mais également le second album à mon gout supèrieur au précédent et exclusivement  rock n'roll encore
Tequila Hangover
Part records (Part-cd 601.002) de 1993 contenant quasiment que des compositions de rock n'roll et rockabilly moderne particulièrement originaux et réussis comme par exemple le génial
Bad reputation
, on trouve aussi comme compositions originales
Tequila hangover, Make a little love, i just wanna do what the other boys, Angeline, Jelly jar wine, Honky tonk daddy, Messin' round in essen, Mr scandinanvia, Over again, What did i do to deserve a girl like you, Crazy friend, Slot car party, Hey postman, Fourteen hours, hells around the coener
et
Message to mom
et une seule cover
Tallassee Lassee
de Freddie Cannon.
Dans ces deux albums les King Rats sont John White leather (contrebasse, basse et chant), Luis Graber (chant et guitare), Thorlief Robertson (batterie), Zille (guitare rythmique et chant), Mike Stumpf (choeur guitare et banjo), Frank Ba (piano) et the Yahoos (choeurs)

_________________
We don't care the People Says , Rock 'n' roll is here to stay - Danny & the Juniors - 1958

_________________
We don't care the People Says , Rock 'n' roll is here to stay - Danny & the Juniors - 1958

_________________
We don't care the People Says , Rock 'n' roll is here to stay - Danny & the Juniors - 1958

_________________
We don't care the People Says , Rock 'n' roll is here to stay - Danny & the Juniors - 1958

_________________
We don't care the People Says , Rock 'n' roll is here to stay - Danny & the Juniors - 1958

_________________
We don't care the People Says , Rock 'n' roll is here to stay - Danny & the Juniors - 1958
---
Permission de ce forum:
Vous
ne pouvez pas
répondre aux sujets dans ce forum