https://www.facebook.com/pages/category/Musician-Band/LEVI-Dexter-327134894156664/
Levy Dexter avec les Rockats est aux USA la formation la plus populaires de rockabilly de la fin des 1970's, c'est probablement une des raisons qui pousse Brian Setzer et ses Stray Cats a s'exiler en Europe au début des années 1980's. Levy Dexter est un artiste prolifique est talentueux, et la compilation de 1996 de Rock it Records
Rockabilly Idol
fait un tour d'horizon du début de plus de 15 ans de carrières assez convainquant.
Levi & the Rockats 1979.
Photo by Bill Weiner.
L'album commence par 4 titres au style proche du style Teddy Boys soit 
Rockabilly Idol
,
Room To Rock
, l'énorme classique
Note From The South
(reprenant des extraits de l'hymne sudiste) et
All Thru The Night
sont de véritables perles qui mettent en évidence le talent et l'énergie du groupe.
Au début des 1980's, les Rockats et Levy se séparrent, rapidement Levy forment Levy and the Ripchords dont 8 titres sont présents sur cet album soit
It's The Beat
,
I'm Gone
,
Cat Fight
,
21 Days In Jail
, Th
e Other Side Of Midnight
(avec un petit air des premiers Meteors),
Victim Of Kool
(véritable petit chef d'œuvre aussi bon que
Stray Cats Struts
des Stray Cats ou
Rockabilly guy
des Polecats),
I Get So Excited
, 
Let 'Er Roll
et la cover de
Jitterbop Baby
(rockabilly fifties de Hall Harris chez Starday). Ces 13 titres mettent en évidences que le talent de Dexter est en pleine maturité avec un style qui a évoluer vers du néo rockabilly plus moderne mais toujours rockabilly sans se laisser séduire par une production Pop, new wave ou trop radio.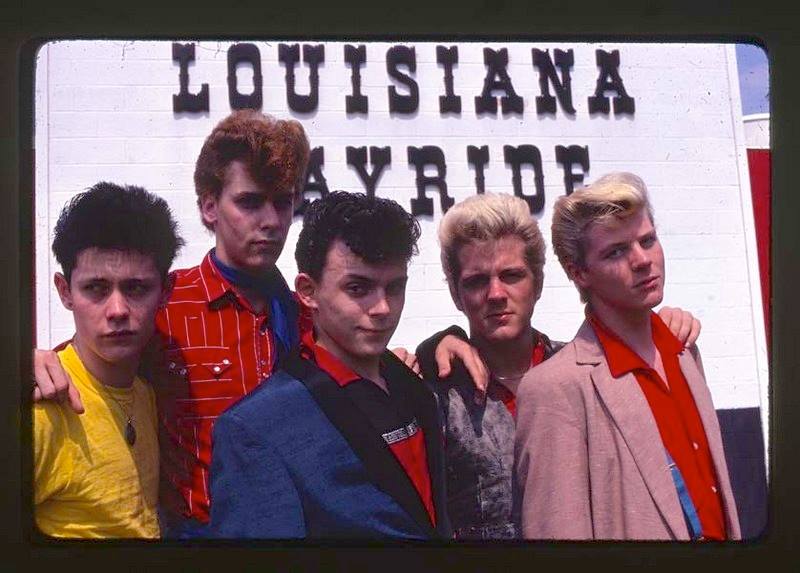 At the Louisiana Hayride 1979.
Photo by Lee Childers.
Les 4 titres suivant sont de Levy Dexter en solo soit 
Joint Jumpin'
et
Lolita
deux titres différents des précédent par leurs sonorités et leur style plutôt Jump, Jive et même jazz, ils sont associés à deux covers 
Just Go Wild Over Rock'n'Roll
(un classique du rock 'n' roll de Bobby Dean sur Chess Records) et
Hot & Cold
de Marvin Rainwater. Même si je suis personnellement moins en phase avec les titres Jump de Dexter ils mettent en évidence son talent musical et sa possibilité à renouveler son style en restant fidèle au rock n' roll (ce qui ne sera pas le cas de toutes les formations ou artistes du néo rocakbilly des 1980's.
Le disque s'achèvent avec 8 titres de Levy Dexter accompagné par Magic (une formation légendaire de la scène néo rockabilly japonaise, mais dont certains albums sont justement assez Pop et variétés) ce sont que des covers des fifties même si ce n'est pas des plus originale l'interprétation vocale de Levy est en symbiose avec l'accompagnement  musical de Magic vraiment bon nous trouvons les titres 
Lonesome Train
(de Johnny Burnette & rock 'n' roll trio),
16 Chicks
( coonu par Joe Clay),
Go Go Go
(de Roy Orbison and the Teen Kings) , All I Can Do Is Cry (de Wayne Walker),
Rip It Up
  (de Little Richard) et
Slow Down
(de Larry Williams).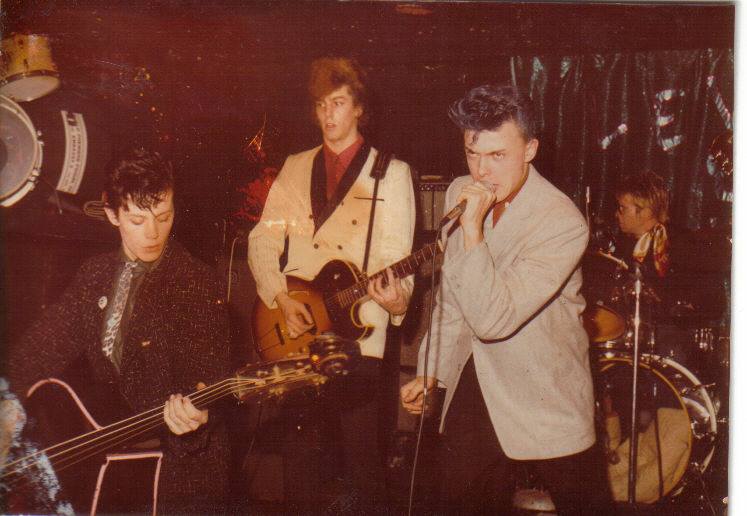 On stage in 1979
with Jerry Nolan on drums
Comme vous avez du le comprendre j'ai plutôt aimé cette compilation, en effet je pense qu'elle est indispensable pour une personne qui aimerait  rajouter à sa discothèque un artiste capital dans l'histoire du rockabilly revival des 1980's au même titre que les Stray Cats, Blasters, Polecats, Crazy Cavan, Restless ou Shakin' Pyramids.

_________________
We don't care the People Says , Rock 'n' roll is here to stay - Danny & the Juniors - 1958

_________________
We don't care the People Says , Rock 'n' roll is here to stay - Danny & the Juniors - 1958

_________________
We don't care the People Says , Rock 'n' roll is here to stay - Danny & the Juniors - 1958

_________________
We don't care the People Says , Rock 'n' roll is here to stay - Danny & the Juniors - 1958
---
Permission de ce forum:
Vous
ne pouvez pas
répondre aux sujets dans ce forum