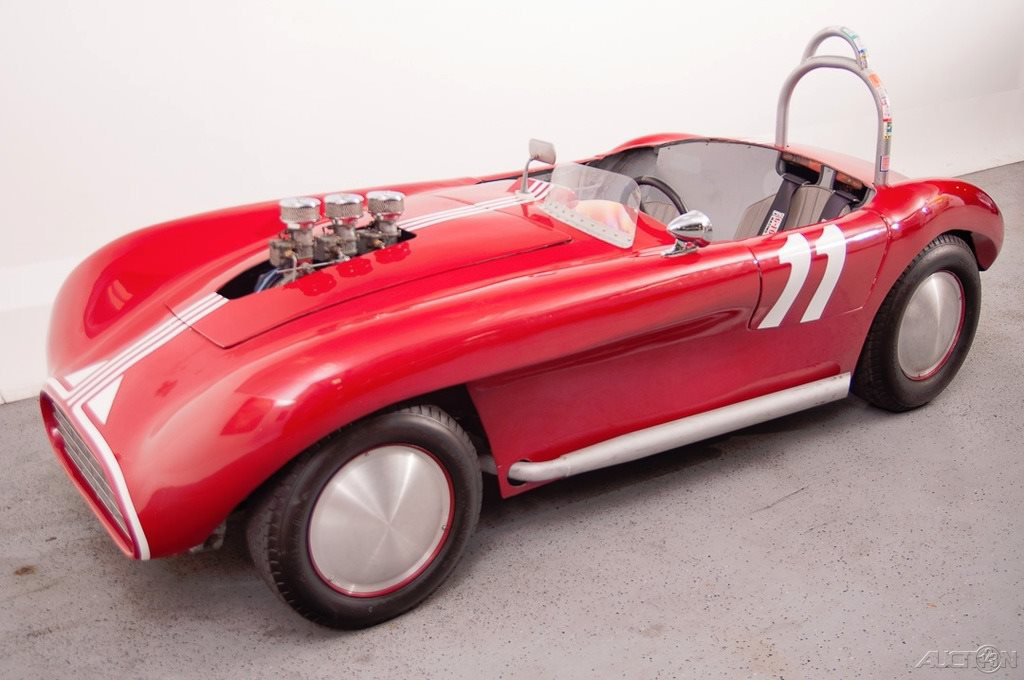 1952 Crosley converted into an Almquist racer in 1957 and vintage raced on circle tracks in Monterey and Sonoma, Ohio until 2013
Titled and street legal
1939 Ford Flathead V-8 engine bored .030 over
* Three Stromberg carburetors mounted atop a Ken Austin 3x2 intake manifold
* NOS Edelbrock aluminum racing pistons
* Clay Smith M3 cam
* Johnson adjustable lifters
* Ground and lapped valves
* Pressure-tested, surfaced Offenhauser cylinder heads with ARP studs
* Rebuilt oil pump with modified oil relief spring
Close-ratio four-speed manual transmission from a Mustang Cobra II and 3.0:1 rear end
Body kit sold by Almquist in the back of racing magazines and designed to bolt to a Crosley chassis
Documentation includes original Almquist sales literature, period advertising and order forms, copies of photos, various patches, service manual supplement for the Goodyear-Hawley hydraulic disc brakes, the car's Historic Motorsports Association log book, with entries from May 1, 2009 to August 18, 2013, two Vintage Motorsports catalogs, 2012 and 2013 and a copy of the 2007 Coronado Speed Fest catalog and more

_________________
We don't care the People Says , Rock 'n' roll is here to stay - Danny & the Juniors - 1958

_________________
We don't care the People Says , Rock 'n' roll is here to stay - Danny & the Juniors - 1958
While Crosleys are rare these days, this example is probably one of the rarer units that exist. This 1952 Crosley was converted into an Almquist racer in 1957 and it was vintage-raced on tracks until 2013.
Fiberglass bodywork from Almquist Engineering was reportedly installed in 1957 and is said to be in good overall condition for its age. However, there are a variety of stress cracks, chips and other marks in its paint. The bodywork is solid however, the engine bay is tidy. Further trim includes a small windscreen for the driver, two rearview mirrors and quad taillights from a 1958 Chevrolet Impala. There is also a custom grille is made from dove-tailed aluminum stock and polished at its leading edges.
Steel wheels are five-lug in the rear and retain the original Crosley four-lug pattern up front, with all wearing solid disc covers and 13-inch Dunlop racing tires. A single roll hoop displays past inspection stickers and provides driver protection along with a reportedly current G-Force five-point harness.
The custom aluminum dash panel is home to simple competition-style switchgear and a modern Sunpro tachometer. A rectangular Crosley gauge cluster houses working temperature, oil pressure and fuel gauges, though the speedometer and ammeter are not currently hooked up per the seller. Both doors are said to be operable, though the passenger's item is currently set up to remain closed and no safety belts are fitted for the small passenger seat.
Current power is from a 1939 Ford V8-60 flathead bored .030 over with NOS Edelbrock aluminum racing pistons, a Clay Smith M3 cam, Johnson adjustable lifters, ground and lapped valves, and pressure-tested and surfaced Offenhauser cylinder heads with ARP studs. A rebuilt oil pump and modified oil relief spring were installed.
Three Stromberg 81 carburetors are mounted on a Ken Austin aluminum 3×2 intake manifold and capped with breathers, frogmouths, or filters depending on the race venue. Modified lightweight headers from a 1948 Midget route exhaust through a pair of tapered 1936 Ford driveshafts. Cooling is from a custom aluminum radiator mounted with a modern fan, an electric Mezière water pump and custom piping to backward-mounted Offenhauser water manifolds on each cylinder head.
Electrics include a frame-mounted alternator and Mallory electronic ignition. An electric fuel pump and pressure regulator draw from a stock Crosley tank. The four-speed manual gearbox was sourced from a Ford Mustang Cobra II and built with close ratios in the top three gears as well as a stock flywheel machined to approximately half its original weight. Power is sent to the rear wheels through a short-balanced driveshaft and a narrowed Ford eight-inch open differential with 3.0:1 gears.
Chassis and suspension work were reportedly carried out with help from Norm Rapp and Jim Correia during previous ownership. Steering modifications include a rebuilt and reversed Corvair gearbox and a solid Heim-jointed drag link. Suspension features rear trailing arms, a Panhard rod, heavy-duty shocks, re-arched leaf springs on relocated perches, new bushings and adjustable Heim joints throughout. Bearings and seals were freshened as were braking components, the latter including front discs from a Datsun B210.
The car's body kit sold by Almquist in the back of racing magazines and designed to bolt to a Crosley chassis.
All recent racing was done by the previous owner, who reportedly saw speeds of up to 110 mph on the front straight at Laguna Seca.

_________________
We don't care the People Says , Rock 'n' roll is here to stay - Danny & the Juniors - 1958

_________________
We don't care the People Says , Rock 'n' roll is here to stay - Danny & the Juniors - 1958
Sujets similaires
---
Permission de ce forum:
Vous
ne pouvez pas
répondre aux sujets dans ce forum