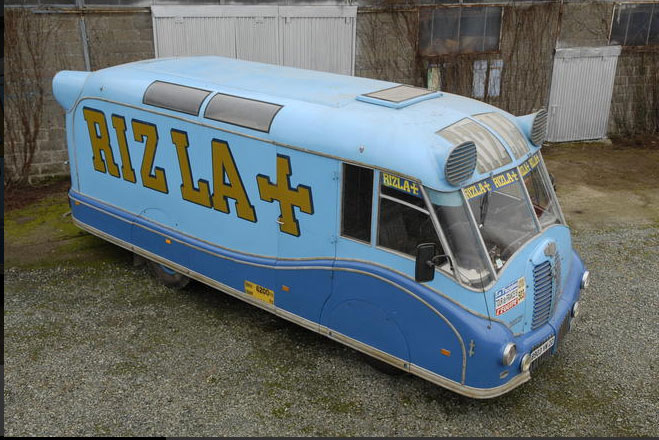 1959 Delahaye Merk Moteur Perkins "Rizla +"
L'essor du véhicule publicitaire, amorcé avant guerre, prends réellement sa vraie dimension après la libération. Les marques européennes investissent d'importants budgets pour renouer le contact avec le client. Et quoi de mieux qu'une caravane commerciale itinérante pour attirer l'oeil des foules, que le rendez-vous annuel du Tour de France cycliste massé sur le parcours.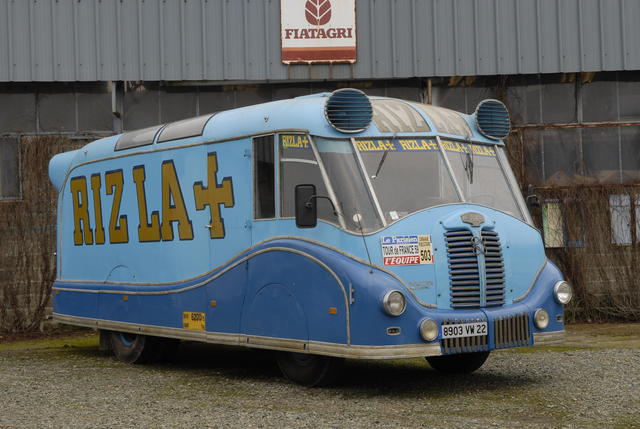 Ce véhicule fut carrossé en Belgique en 1950 pour le compte de la société des papeterie qui produisaient, entre autres, le papier à cigarette Riz la +. La base roulante est un châssis Delahaye de type 163 D, numéro 850 991. Il était à l'origine équipé d'un moteur diesel Panhard de 4 cylindres (110 mm x 160 mm) qui développait 15CV. Il fut remplacé par la suite par un moteur diesel quatre cylindres de marque Perkins. Ce modèle de moteur à huile lourde équipa nombre de poids-lourds de l'après guerre, notamment en seconde monte.

_________________
We don't care the People Says , Rock 'n' roll is here to stay - Danny & the Juniors - 1958
La carrosserie est du type intégrale, avec une ligne de bas de caisse qui intègre les roues sous la jupe. Des panneaux amovibles permettent de dévoiler les roues en cas de nécessité, pour changer une roue notamment. Le panneau de tôlerie au dessus du pare-brise accueille deux hauts parleurs destinés à l'animation lors des arrêts à l'étape, ou lors du trajet aux traversées des bourgades. Le car publicitaire est peint en deux teintes de bleu, séparées par des joncs en aluminium poli. Les clignotants avant sont empruntés à la Panhard Dyna X.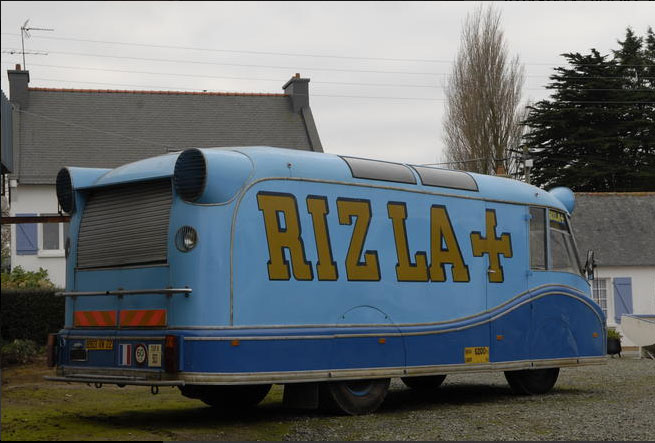 Sur le toit des hublots permettent d'apporter de la luminosité à l'intérieur du fourgon. La partie arrière s'ouvre en partie supérieure avec un rideau articulé en aluminium, tandis que la partie inférieure se divise en deux vantaux ouvrant vers l'intérieur. Une petit podium formant marchepied sert à accueillir des animateurs durant l'étape, qui tout en se cramponnant à la barre transversale de maintien, distribuent des gadgets aux badauds. Au dessus, deux orifices circulaires accueillent également des hauts parleurs.
Dans l'étrange habitacle, très lumineux, le volant à quatre branches ne peut dissimuler la spectaculaire planche de bord circulaire en aluminium, recouverte des multiples boutons de commande des accessoires qui équipent le véhicule publicitaire. Au centre trône un compteur kilométrique qui revendique de pouvoir mener le mastodonte jusqu'à 120 km/h, mais l'imposant véhicule ne dépasse pas les 80 km/h en terrain plat. Au second plan de l'habitacle, un troisième siège permet d'accueillir le bonimenteur qui anime le trajet au micro.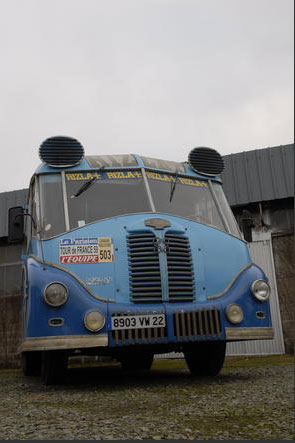 Le poids total du véhicule est de 10,2 tonnes. Il participa à son dernier Tour de France en 1959. Il est dans son strict état d'origine, bien préservé par le temps et présente une patine qui lui donne un petit supplément d'âme.

_________________
We don't care the People Says , Rock 'n' roll is here to stay - Danny & the Juniors - 1958

_________________
We don't care the People Says , Rock 'n' roll is here to stay - Danny & the Juniors - 1958

_________________
We don't care the People Says , Rock 'n' roll is here to stay - Danny & the Juniors - 1958

_________________
We don't care the People Says , Rock 'n' roll is here to stay - Danny & the Juniors - 1958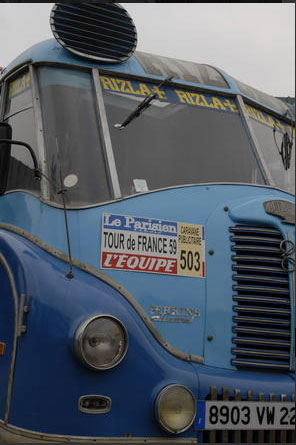 _________________
We don't care the People Says , Rock 'n' roll is here to stay - Danny & the Juniors - 1958
---
Permission de ce forum:
Vous
ne pouvez pas
répondre aux sujets dans ce forum