Le petit label Espagnole, CAB Records, initiales de Carlos Del Bosque, est le fondateur du label, a une bonne petit série de Cd´s et vinyles très intéressants, mais attention, Carlos Del Bosque a travaillé et collaboré dans des revues, par exemple pour Teddy Bear, ainsi que pour et chez Empire Records, Rebel Ted Records ainsi que Axis of Devil, Carlos del Bosque le 2003 lance le premier et unique album du groupe d´Estonie, The Jumpin´Wheels, celui si a comme référence CAB-56001, faut dire que se groupe tourna en Espagne pas mal dans c´est années.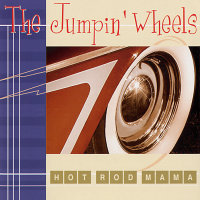 L´année 2007 Carlos Del Bosque après un certain temps inactive fonde enfin CAB Records, les premier travaille pour son label se centre surtout a produire des musiciens et amies a lui directement, dans beaucoup de c´est travaille on peut écouter Carlos Del Bosque a la guitare, quelques pays Européens. C´est un excellent guitariste, tous cela commence en 2011, tous les lancements et référence de CAB Records son des éditions limité, très peux de copies, toutes celle si son rapidement épuisé et très peux de temps, elles sont surtout vendu au Japon, USA et pays Européen.
En question Cd´s, si je ne me trompe pas, il existe 12 références, entre celle si, The Panteras (CAB-56008), Double Six (CAB-56006), Hot Volcan Stompers (CAB-56003) etc….
Le premier vinyle de CAB Records a comme référence, CAB-7001, il sortie le 2011 et il est attribué a Uncle Charlie Combo, qui n´est autre que Carlos Del Bosque, très bon, au total il existe 9 vinyles, le dernier sortie il y a très peux de temps, CAB-7008, aussi de Uncle Charlie Combo, un formidable Ep, mais il y a aussi des Ep´s de Junior Marvel, Tiyuna Cats, The Bumpers, Huelyn Duvall….
Dans beaucoup de c´est travaille nous pouvons écouter la guitare de Carlos Del Bosque, un excellent guitariste mais encore meilleurs personne, un homme sincère avec les idées claire, un conseille, commencé a collectionné toutes les références de chez CAB Records.
Dj Eddie-Cesc
www.buddyholly.es

Dj Eddie-Cesc




Messages

: 493


Date d'inscription

: 03/07/2015



---
Permission de ce forum:
Vous
ne pouvez pas
répondre aux sujets dans ce forum