https://www.whichcar.com.au/features/slammed-custom-1955-buick-century
This article on Paul Quaife's Buick was originally published in issue no.14 of Street Machine's Hot Rod magazine, 2014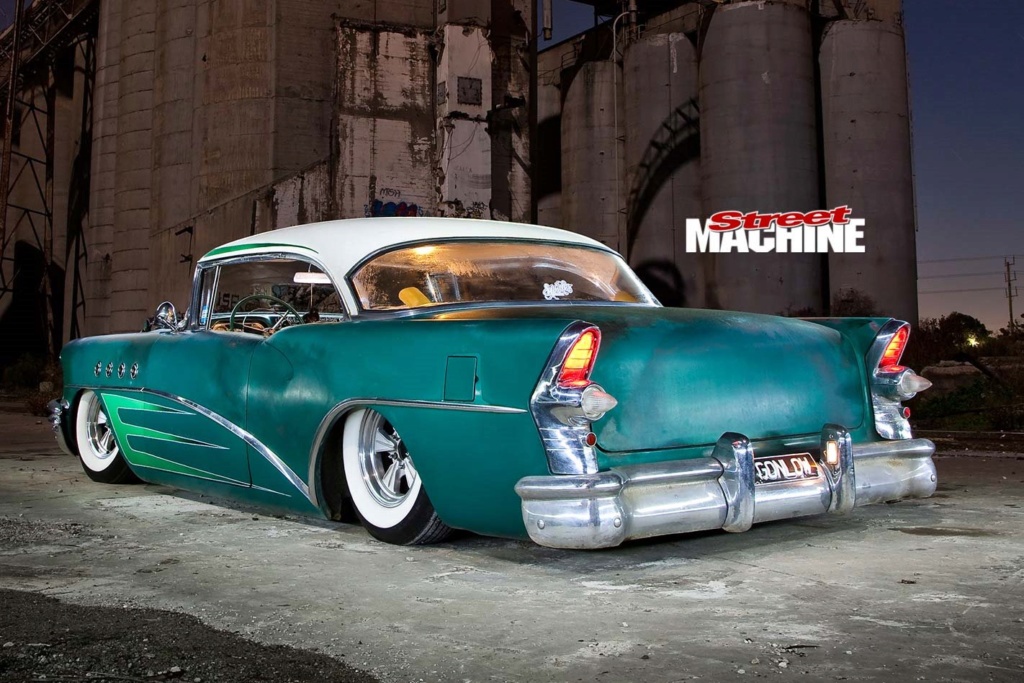 THE first time I clapped my eyes on this '55 Buick Century was at John's Rod and Custom Picnic in 2004. It was my first time at a Melbourne rod show and my eyes were already out on sticks. There was cool stuff everywhere, jalopies with fully-dressed four bangers, 60s survivor cars and a good handful of tough customs. The Buick was something else. Slammed over a set of Radirs and adorned with tasteful scallops and pinstripes, it was otherwise a very original and nicely lived-in example of the breed. And what a breed: the Century was Buick's performance line at that time, combining the 322ci Nailhead with their smallest wheelbase.
With power steering, brakes and windows, as well as a Novi air con unit, the Century was an enviable machine, especially for those raised on more rugged fare. With its one gold tooth and a bunch of eight balls jammed in the Century's signature fender ports, the Buick won its owner Colin Gower the Best Unfinished Encouragement award at the Picnic, though anyone with half an idea knew the car was bascially as finished as it was going to get. The car made an impact and not long after went to into hibernation, as Colin turned his attention to some of his other projects.
The Buick first made its mark on the Australian scene the year before at the Geelong Street Rod Nationals. Glenn Rulach, proprietor of Air Ride had imported the car into the country and was driving it around the Nationals, dead stock and sitting up proudly on its factory suspension. Mid fifties Buicks were only just beginning to take off in Australia and the '55 had plenty of admirers, recalls the car's present owner, Paul Quaife. "We were there with a big group of mates and Colin wandered up and said 'I've bought a Buick'. "We did some laps in it, then I striped it there and then. It was a pretty good laugh."

_________________
We don't care the People Says , Rock 'n' roll is here to stay - Danny & the Juniors - 1958
Instead of taking the car home, Colin gave the car back to Glenn to fit a set of airbags and began planning the rest of the build. The body mods were handled by Brent McKenzie, which included shaved doorhandles, frenched headlights, a DeSoto grille and later, deleting the front indicators. "Brent is a great tradesman," says Paul. "He did a great job of hiding the ugly stuff and lots of little tweaks that tidy the car up, but most people don't notice, such as shortening the steering column."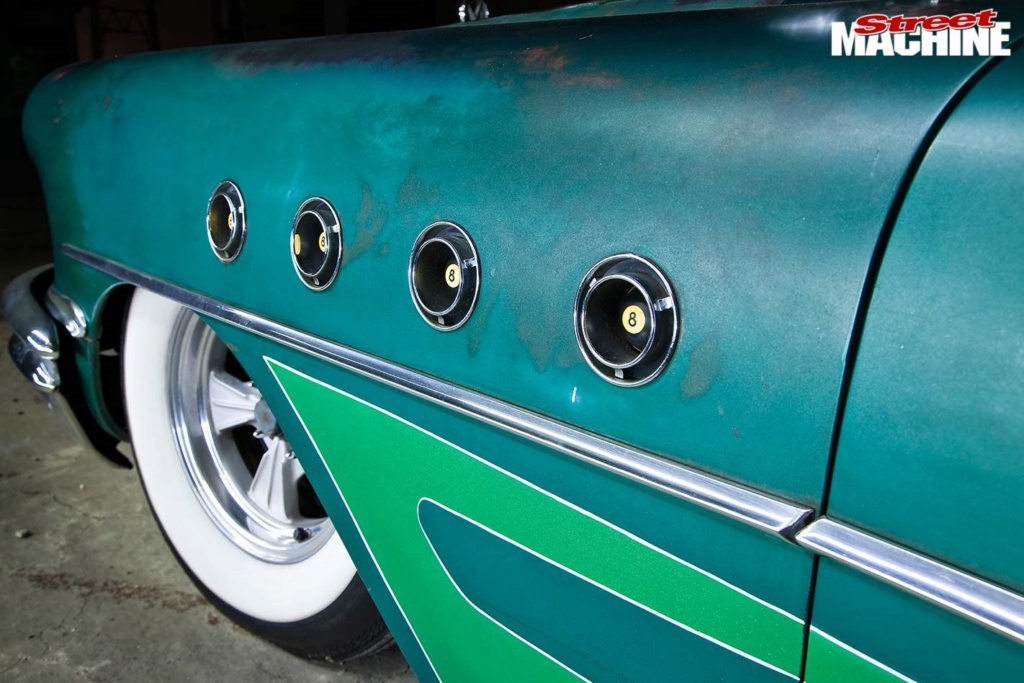 The Buick's real knockout punch though, is the trim, which was stitched up to Colin's design by Pat Mesiti. "Colin did the sketches and took them to Pat," says Paul. "That kind of 60s trim wasn't very common at that stage and it was a heap of work. Apparently Pat wrote something very uncomplimentary about Colin on the roof of the car before he installed the hoodlining [laughs]." The elaborate, stark white trim contrasts beautifully with the Buick's faded green patina and it is still a pleasant surprise to me whenever I get a chance to stick my head in the car.
Paul has owned the Buick three years now. "Colin called me up and was wanting to move his Mercury on. Did I know anyone who might want it? I said 'What about the Buick, do you want to sell that?' I assured him I wanted to hang onto it and he agreed to sell it to me. That was an expensive phone call!"

_________________
We don't care the People Says , Rock 'n' roll is here to stay - Danny & the Juniors - 1958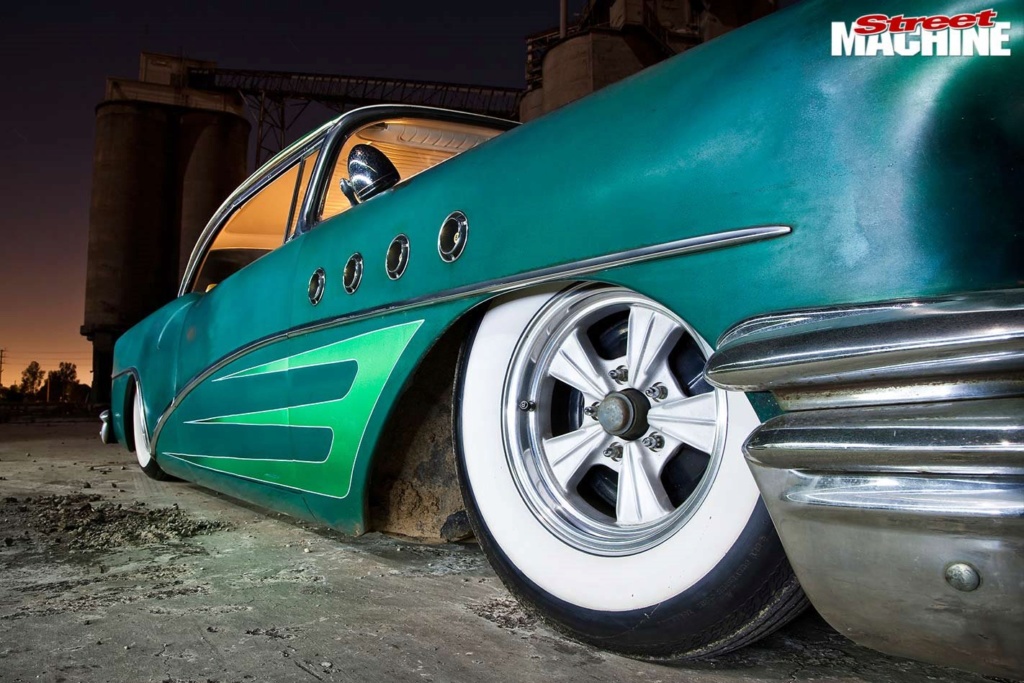 Since then, Paul has been driving the wheels off the car. "I recently handed it over to Leon at Big L's Chop Shop to go through the suspension. That stuff was over 10 years old and it just wears out, so he went right through it with new compressors. He also fitted 3/8th inch lines – Colin had 1/2in lines to make the car slam down really fast. It looked cool to do it, but it wasn't very comfortable [laughs]. "I'm really enjoying the Buick. My other car is a '32 roadster, so it is nice to have a car with windows and a roof. It is just a 322 with the two-speed auto and even the torque tube, but it gets along really well, it sits on 80mph beautifully."
And what of the 'Always Fucking Up' script on the dashboard? "Colin got me to do that, when he owned it," says Paul. "It's funny, I was in the US with Alex Gambino, who has the Fuck You '54. I told him about mine and he said 'You can't change it. Once a car has a name, that's it."
Glenn Rulach, who brought the car into the country, passed away earlier this year, but the Century wasn't the last Buick in the Rulach family. The crew at Air Ride have a cool '50 Buick woody wagon project and Glenn's wife Jules has a green '55 two-door of her own. "It is getting pretty close to being back on the road," says Jules. "Our sons David and Michael are doing all the work when time allows. My job is just to say what I like and don't like [laughs]. Its going to be a lovely car."

_________________
We don't care the People Says , Rock 'n' roll is here to stay - Danny & the Juniors - 1958

_________________
We don't care the People Says , Rock 'n' roll is here to stay - Danny & the Juniors - 1958

_________________
We don't care the People Says , Rock 'n' roll is here to stay - Danny & the Juniors - 1958

_________________
We don't care the People Says , Rock 'n' roll is here to stay - Danny & the Juniors - 1958

_________________
We don't care the People Says , Rock 'n' roll is here to stay - Danny & the Juniors - 1958

_________________
We don't care the People Says , Rock 'n' roll is here to stay - Danny & the Juniors - 1958

_________________
We don't care the People Says , Rock 'n' roll is here to stay - Danny & the Juniors - 1958
---
Permission de ce forum:
Vous
ne pouvez pas
répondre aux sujets dans ce forum