https://www.whichcar.com.au/features/1951-kaiser-dragon-chopped-custom
Take one Kaiser Dragon, ignore all the rules and create something über-cool
FORGET everything you know about car building — it's only going to hold you back. Well, that's how it seems when you meet someone like Keith Charvonia from Arizona, USA. He saw a TV show about old-school custom cars and then went and built this 1951 Kaiser almost from scratch. All while knowing next to nothing about 50s custom cars.
This article was first published in the April 2013 issue of Street Machine
It started with an episode of Monster Garage he watched while at uni in 2004. Jesse James and his crew were building a '54 Chevy and Keith and his mates were transfixed by the transformation. By the end of it, Keith had decided that he had to build an old-school custom.
Thing is, with no background in hot rods or customs, Keith wasn't aware of the rules and traditions, such as brand loyalty. In almost all cases it's gotta be Chevy, Ford or Chrysler in this scene. But as Keith proved, it don't gotta be any of those — especially if your stepfather is a collector of a rarer breed of car called a Kaiser.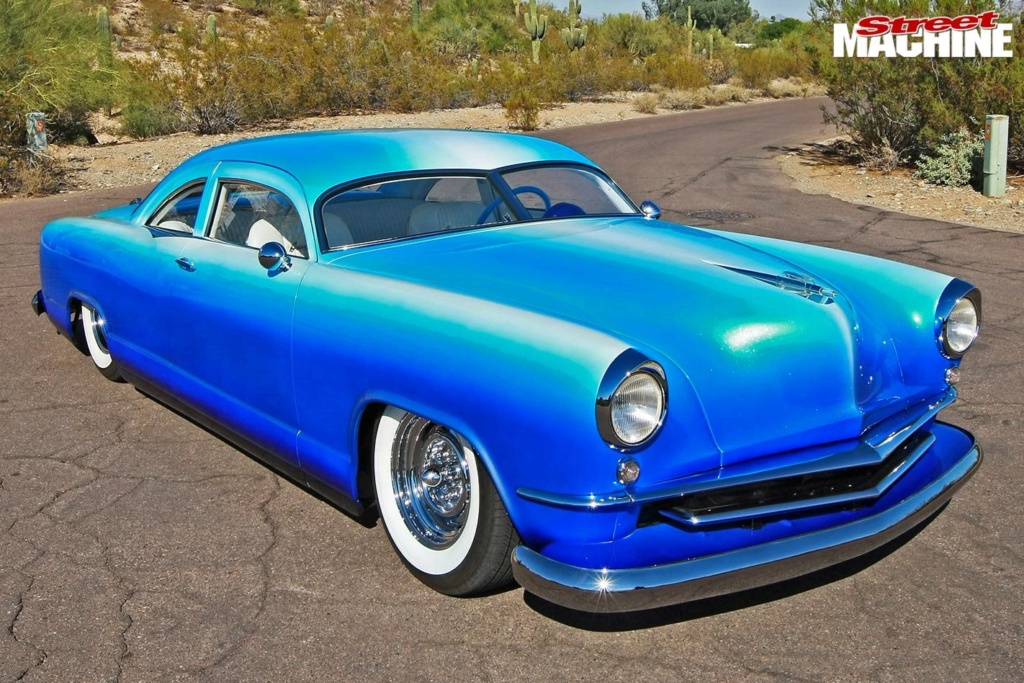 As luck would have it, his stepdad, Larry Barker, was selling a '51 Kaiser Dragon shell for scrap and asking just $150. Keith hadn't taken much notice of Kaisers before but he bought the car.
"I honestly didn't know enough to know that people built Fords, Chevys and Mercurys. It was just that I had access to a Kaiser and I thought it looked cool," he says. "I mean I was very new to this whole thing and I just thought it was a cool car and I went at it."

_________________
We don't care the People Says , Rock 'n' roll is here to stay - Danny & the Juniors - 1958
He had built mini-trucks in the past but had never taken on a project like chopping a big old-school car. Armed with barely more than a MIG welder and an angle-grinder, he set out to build a cheap driver.
"The first thing I did was take good side profile pictures with the dimensions marked on masking tape, then I cut the car up in Photoshop.
"I was able to work out all the proportions this way, and I knew from what I learnt in design school that I had to have my 'rough draft' before I jumped in."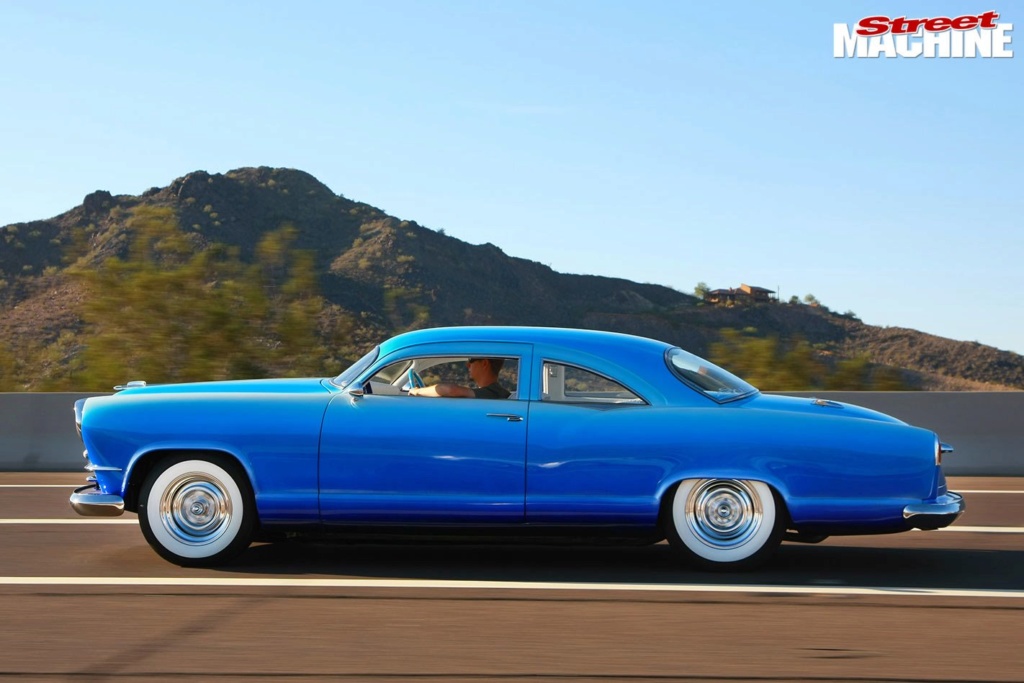 We should point out that while Keith didn't know much about custom cars, he does have a brain for how things should go together and he was finishing a degree in industrial design.
And so, after he patched the extensively rusted floor panels, it was time for the chop.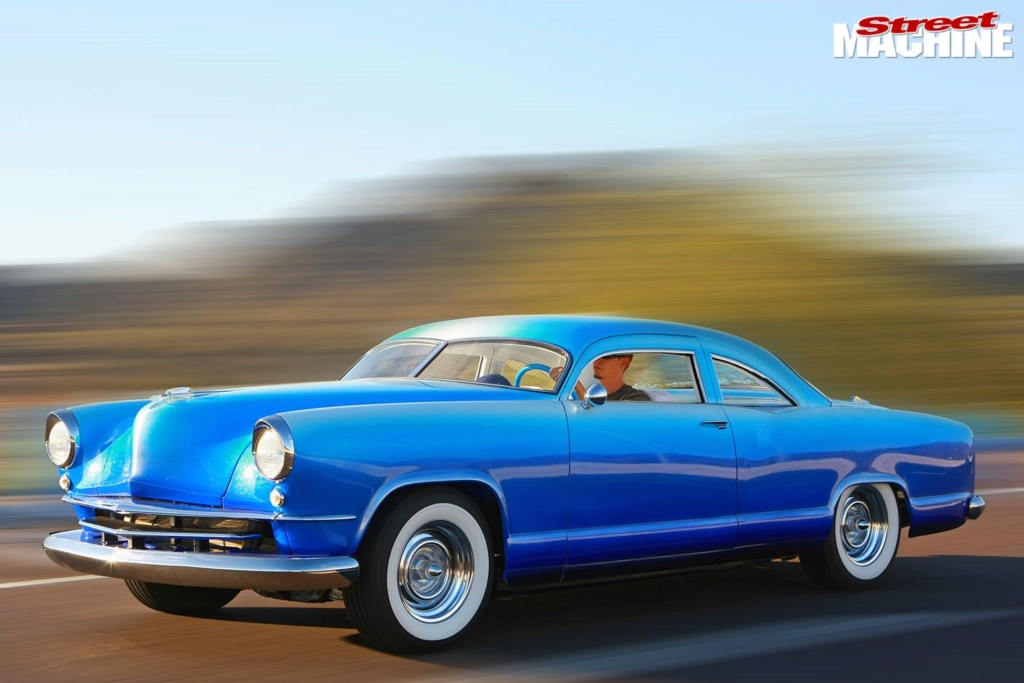 Kaiser Dragon engine bayUnder the sweet lines is a complete '95 Chev Caprice driveline and chassis. The Caprice is 3in shorter, so it was just a matter of moving the rear wheel-wells of the Kaiser forward by the same amount
"I had a few people tell me that you couldn't chop such a round top but I soon learned that if I had a vision and a plan it didn't matter what somebody else thought. I bought two books on chopping tops and I had my game plan.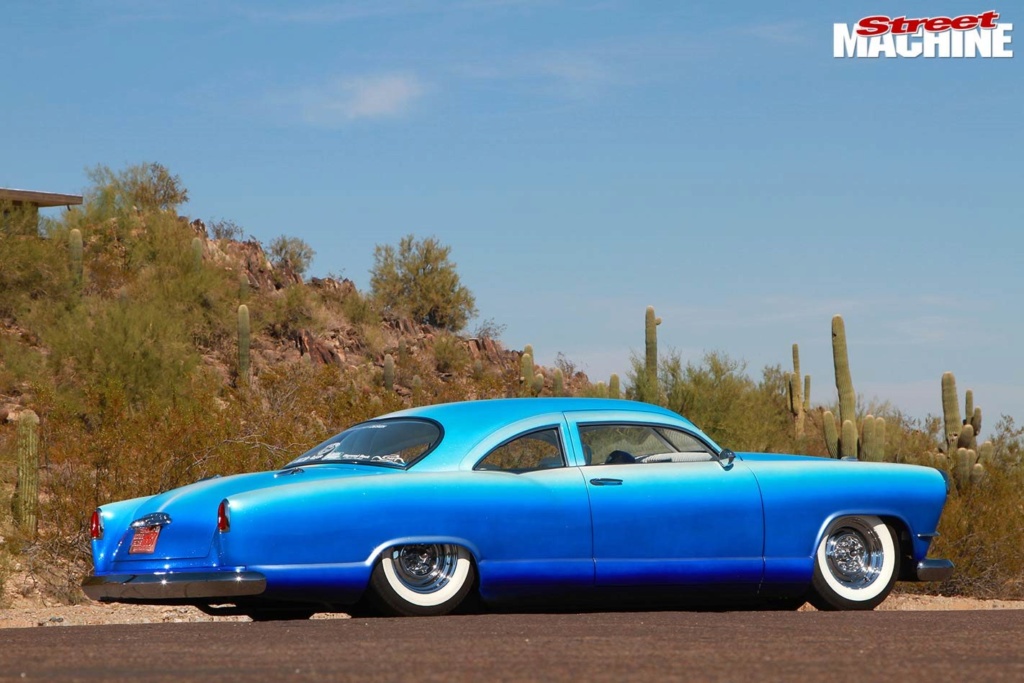 _________________
We don't care the People Says , Rock 'n' roll is here to stay - Danny & the Juniors - 1958
"Once the roof was in place, I took sections out of the back doors and welded them shut to make it a two-door. I used those sections to stretch the front doors to Kaiser two-door dimensions, then relocated the B-pillars aft.
"I chopped and angled the B-pillars, then did the same to the window frames on the front doors. I chose to sink the windshield behind the cowl because I figured the Kaiser glass was rare and would be difficult to cut."
Apart from giving the car an amazing paint job, Gene Winfield also came up with the ideas of frenching the hood ornament and fitting the Zodiac headlight rims
The hunt then began for a chassis but rather than trying to find a 1950s Kaiser frame to fit the body, Keith went for what he knew better — late 20th century technology.
"I bought a $1500 Arizona police car on eBay. The car was a 1995 Chevy Caprice."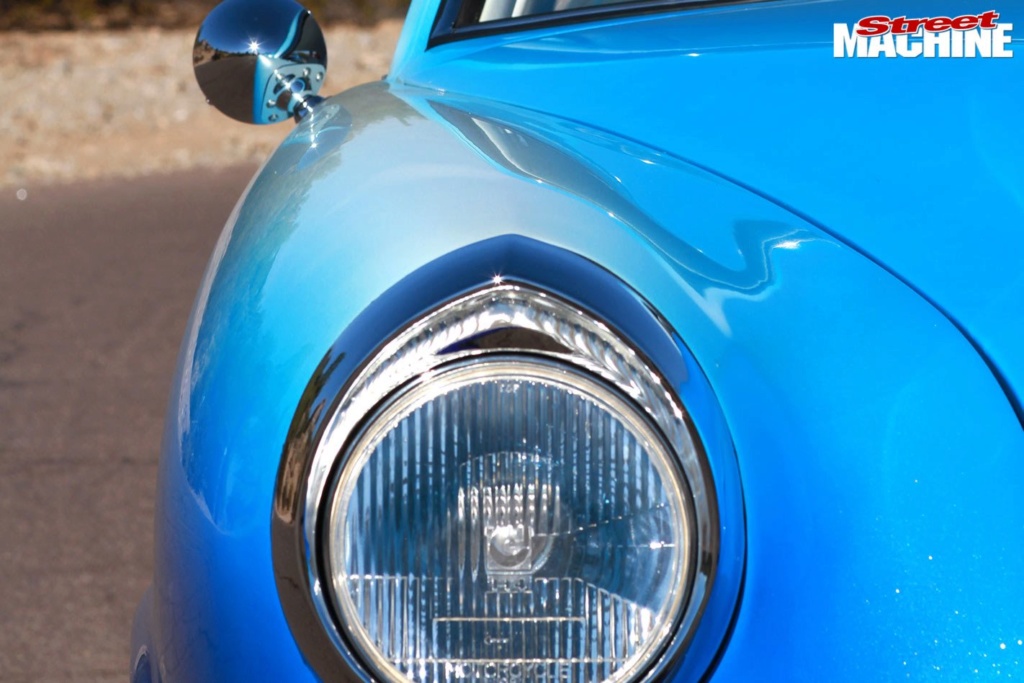 Despite those who said it couldn't be done, the Kaiser's unique round roof was chopped — and without any dramas. The windscreen was lowered between the cowl and the dash to avoid cutting and possibly damaging what is pretty rare glass
The Caprice was stripped to its frame, which was notched and bagged before the Kaiser body was slipped over it.
"Some people rip me because it's a new chassis and engine but to me it's a custom. If I'd worried about what was correct I wouldn't have built this car the way I did."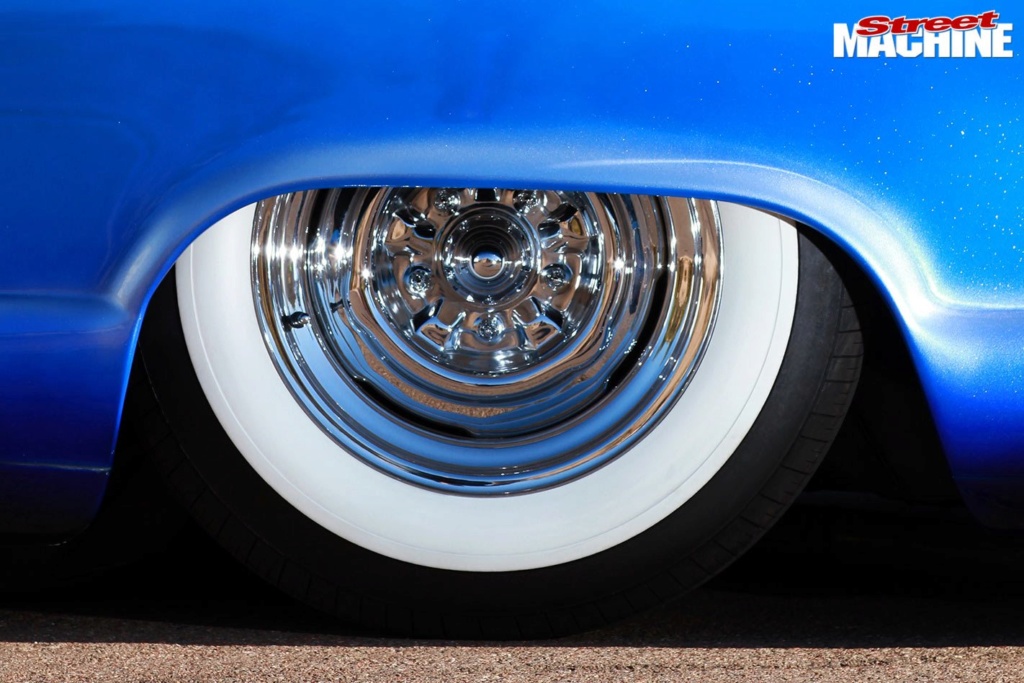 _________________
We don't care the People Says , Rock 'n' roll is here to stay - Danny & the Juniors - 1958
During an internship at Yamaha's design house GKDI, Keith took the unfinished Kaiser with him to California but he then scored his current job with Airaid in Arizona, where he designs performance intakes.
"So I dragged it back to Arizona and got to work on it. I got everything working, installed the steering column, windshield, mechanicals, drivetrain, opened up the rear wheel wells and continued to repair rust."
The engine and drivetrain were no-brainers, with the Caprice's LT1 350ci Chevy engine and the 4L60E transmission staying with the chassis.
Almost done, Keith renamed the car Kaiser Drag'n. The original model was called a Dragon because of its scale-like upholstery. But now with the car's arse so low, it was christened with a more fitting name.
Though Keith didn't know much about old-school car building, his talent for design and willingness to learn got him through. Those traits rarely go unrecognised and soon legendary customiser Gene Winfield took Keith under his wing. Keith had been attending Gene's metal-working course and after class he showed him some pictures of the Kaiser and asked if he'd paint it. Gene agreed.
That's an original '51 Kaiser instrument cluster but Keith retrofitted it with Auto Meter gauges. If you look closely at the tuck 'n' rolled vinyl Thunderbird seats, you'll see the word Drag'n on the backrests
"I didn't realise at the time that things had come full circle," Keith says. "The '54 Chevy from Monster Garage was also painted by him."
Over the next seven months, Gene taught Keith how to prep a car for paint — along with a helluva lot more about customising. The two of them worked late into the night, with Keith sleeping over at Gene's house.
"I set the goal to finish the Kaiser by the time I was 30 and before my wife had our first child," Keith recalls. "We nailed it — and we brought our baby boy home from the hospital in the Kaiser."
The Drag'n was finished a year ago, in time for the Good Guys Nationals where it won the Chopped & Dropped award. And in January this year it took fifth place in its category at the Grand National Roadster Show. As a bonus, Keith met Aussie customiser Justin Hills at that show and is now busting to come Down Under to visit — and maybe bring a car over too.

_________________
We don't care the People Says , Rock 'n' roll is here to stay - Danny & the Juniors - 1958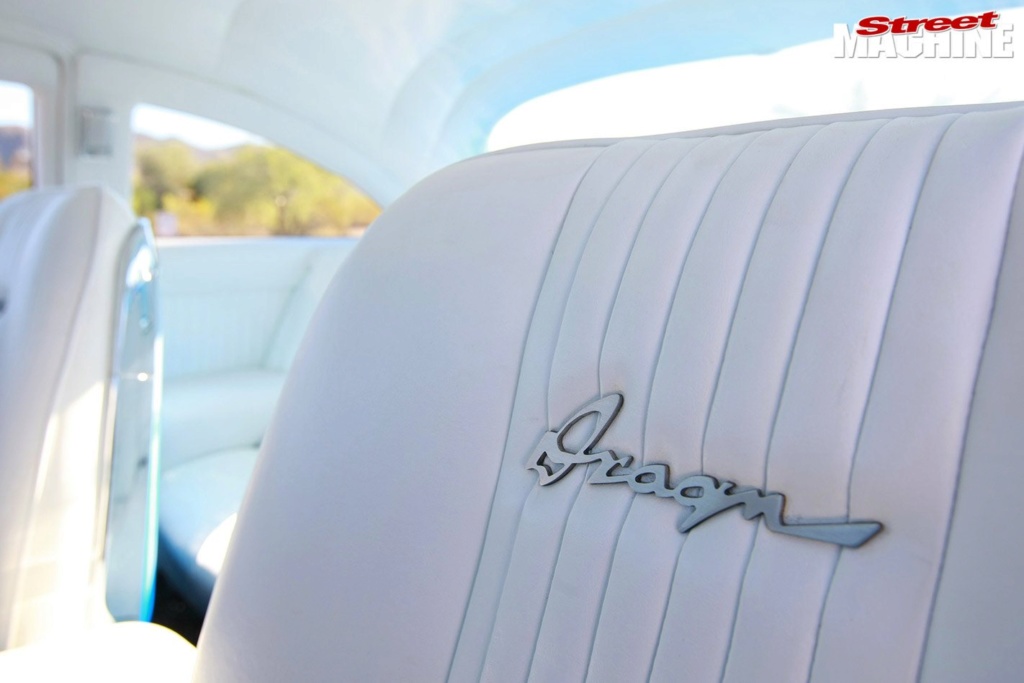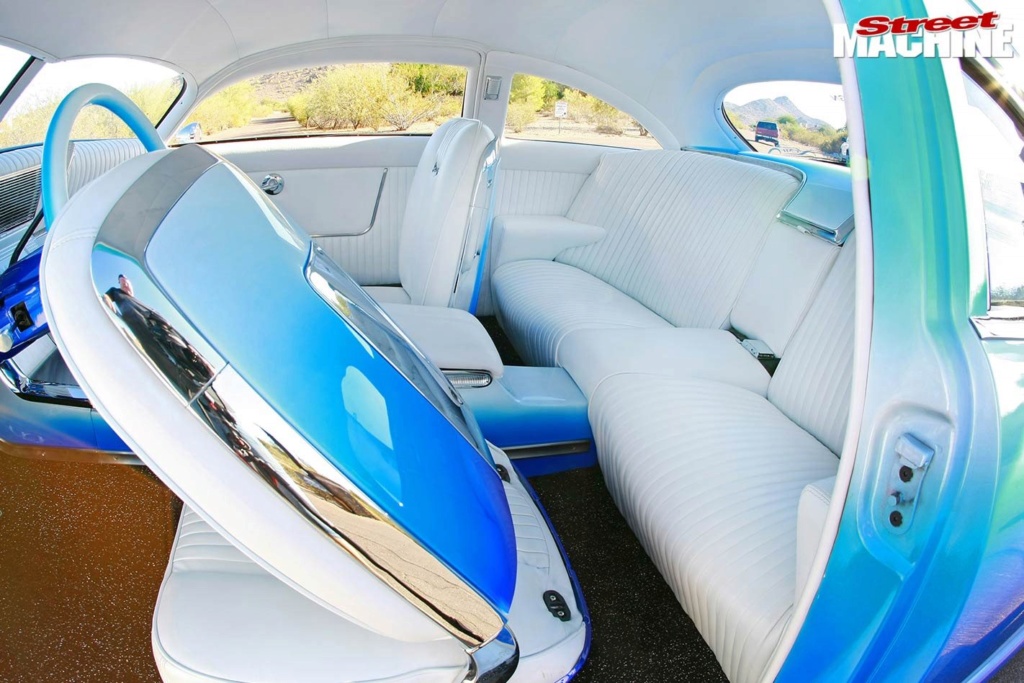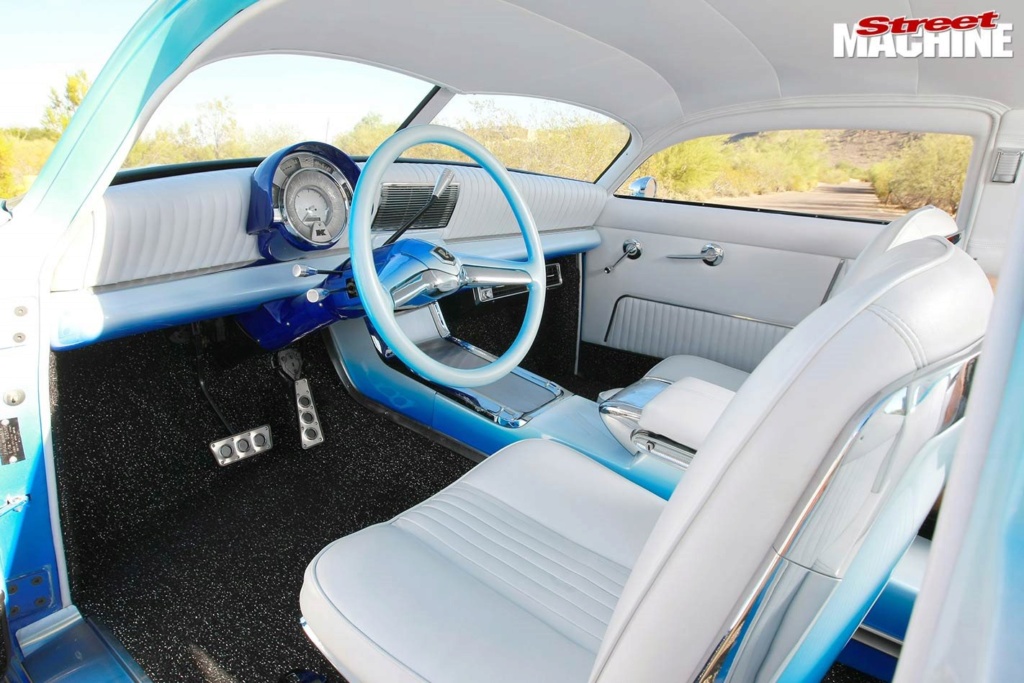 KEITH CHARVONIA
1951 KAISER DRAGON
Colour: HOK Cobalt and Oriental Blue
GRUNTING
Engine: 350 Chev LT1
Intake: Airaid
Exhaust: Borla headers, twin system
SHIFTING
Gearbox: 4L60E four-speed auto
Diff: 10-bolt
BENEATH
Airbags: Slammed Specialties
Shocks: RCD Classics
Front end: Chevrolet Caprice
Rear: Four-link, frame notch
Brakes: Four-wheel discs
ROLLING STOCK
Rims: Wheel Vintiques 15x7 (f&r)
Rubber: Diamond Back Radials, 215/75 (f&r)
THANKS
Rick Stewart (RIP), House Of Kolor, Borla, Auto Meter, Gene Winfield and crew, Brian Stupski, Josh Canfield, my father-in-law Dan and my mates Zach, Pat, Rob, Murph and Brendan. I learned through all of this that I have the most supportive wife in the world. When she was seven months pregnant, she took my whitewalls to the tyre shop to have them mounted and save me an hour of work time. I think that paints the perfect picture of our relationship!

_________________
We don't care the People Says , Rock 'n' roll is here to stay - Danny & the Juniors - 1958

_________________
We don't care the People Says , Rock 'n' roll is here to stay - Danny & the Juniors - 1958

_________________
We don't care the People Says , Rock 'n' roll is here to stay - Danny & the Juniors - 1958
---
Permission de ce forum:
Vous
ne pouvez pas
répondre aux sujets dans ce forum