EXTERIOR: Started with a clean, solid car. It's had extensive amount of custom body work. The quality is really high, I could see it costing $25,000 for the custom bodywork and paint on this car. We have pictures of the roof being chopped and leaned forward, what an undertaking. All the handles, trim, locks have been shaved and filled smooth. Doors and trunk open by remote. Headlights and taillights have been frenched, custom taillight lenses. Has smooth skirts and real spotlights. The paint is played out and polished like a mirror from top to bottom. There is no cracking, shrinking, bubbling etc. The color is gorgeous, like blue chrome. Upfront all the chrome has been redone- grill and bumper, new headlight bezels. All the stainless trim around the windows has been polished and restored. Trunk hinges are rechromed, back bumper and custom license plate surround is new.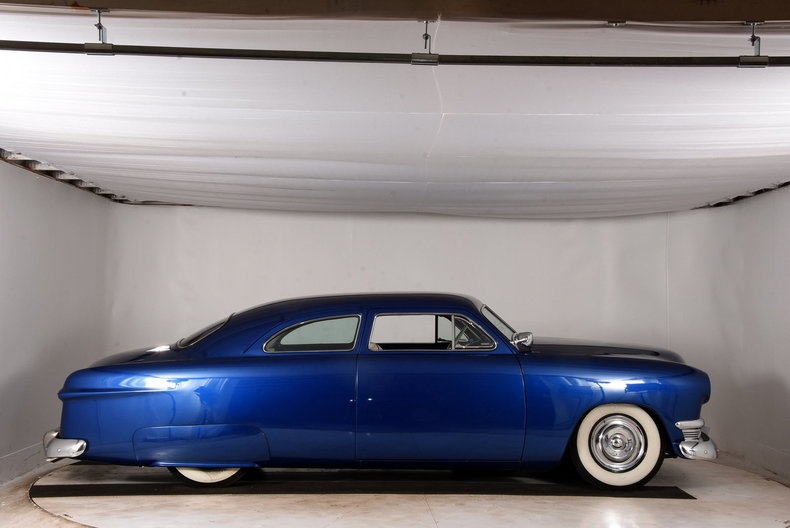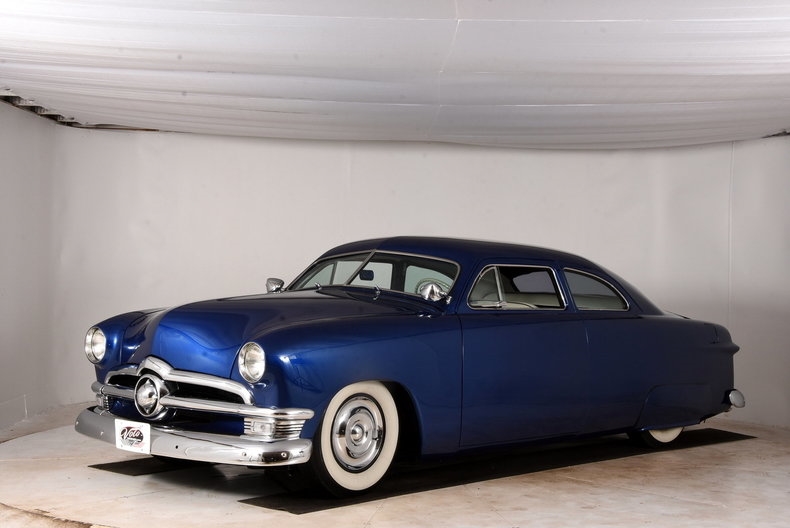 INTERIOR: Very tastefully and professionally redone in a nostalgic 50s style. Attractive 2 tone blue and white pleated upholstery on seats, door panelsand even the headliner. Dash is painted beautifully like the outside of the car. Stock instruments, radio, clock etc. Has custom knobs. There is a new gauge cluster neatly installed under the dash. Very nice dark blue carpet.
TRUNK COMPARTMENT: It is upholstered and carpeted to match the interior. Has full size spare.
ENGINE COMPARTMENT: Has a 302 Ford dressed up with some aluminum valve covers and air cleaner. Upgraded Edelbrock intake with a chrome plated Edelbrock carb. Aluminum radiator, overflow bottle and an electric fan keeps it cool.
UNDERSIDE: Looks like it has it's original metal and it is rock solid. The frame, floors, inner rockers, lower 1/4s are all solid. $4,469 just spent on mechanics underneath this car. New front disc brake conversion- calipers, hoses, wheel bearings, master cylinder etc. Completely rebuilt steering column and shift linkage, has neutral safety switch. Front end is gone through with miscellaneous parts replaced- new springs, shocks, bushings, sway bar. and disc brakes. Bottom of motor is clean, has C-4 trans. New custom bent dual exhaust.

_________________
We don't care the People Says , Rock 'n' roll is here to stay - Danny & the Juniors - 1958

_________________
We don't care the People Says , Rock 'n' roll is here to stay - Danny & the Juniors - 1958

_________________
We don't care the People Says , Rock 'n' roll is here to stay - Danny & the Juniors - 1958

_________________
We don't care the People Says , Rock 'n' roll is here to stay - Danny & the Juniors - 1958

_________________
We don't care the People Says , Rock 'n' roll is here to stay - Danny & the Juniors - 1958

_________________
We don't care the People Says , Rock 'n' roll is here to stay - Danny & the Juniors - 1958

_________________
We don't care the People Says , Rock 'n' roll is here to stay - Danny & the Juniors - 1958

_________________
We don't care the People Says , Rock 'n' roll is here to stay - Danny & the Juniors - 1958
---
Permission de ce forum:
Vous
ne pouvez pas
répondre aux sujets dans ce forum