La nouvelle capitale administrative du Brésil, Brasilia, inaugurée le 21 avril 1960, la notoriété de l'architecte brésilien devient mondiale.
Sa construction, à un rythme soutenu, sous l'impulsion du Président Juscelino Kubitschek qui souhaitait une meilleure répartition de l'activité économique alors concentrée sur les côtes, date des années 1960.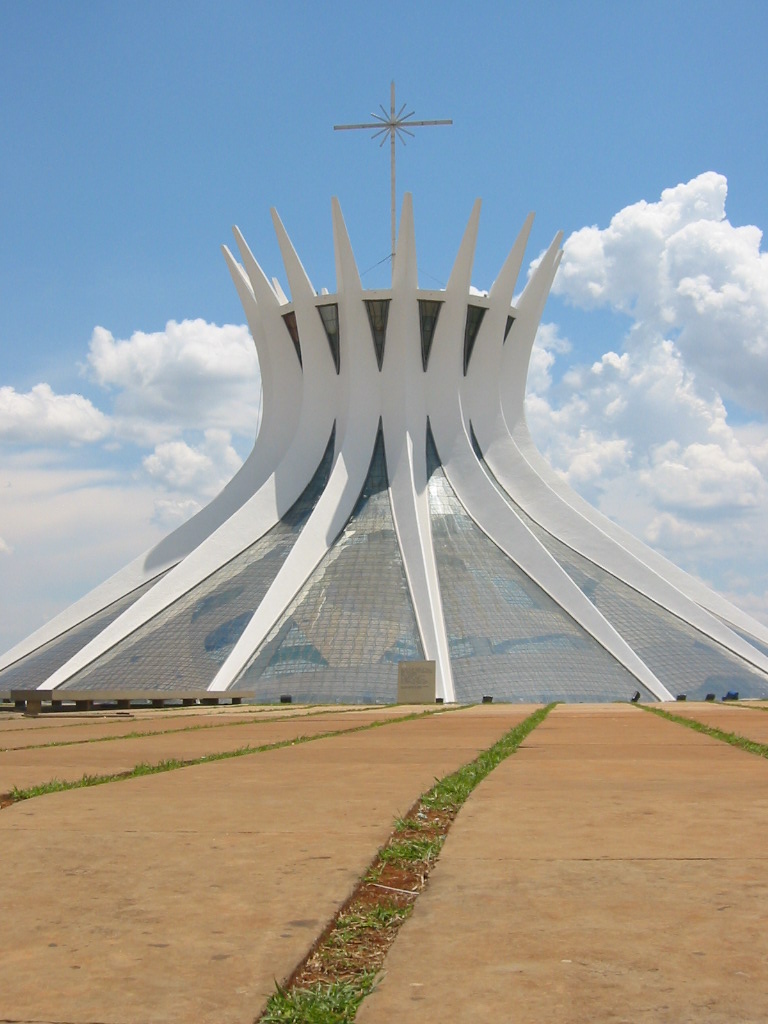 Brasilia est membre de l'Organisation des villes du patrimoine mondial (OVPM).
Le projet de création d'une nouvelle capitale à l'intérieur des terres avait pour but de mieux répartir les richesses et la population, largement concentrées sur les côtes, et de mettre fin à la rivalité entre Rio de Janeiro, capitale politique et culturelle, et São Paulo, capitale économique.
Cette volonté est d'ailleurs inscrite dans la Constitution de 1891, et un territoire est défini. Ce n'est qu'en 1956 que le président Juscelino Kubitschek décide de concrétiser le projet de Brasilia. Les premières infrastructures et les premiers bâtiments furent construits en seulement 1 000 jours, avant son inauguration le 21 avril 1960.
Juscelino Kubitschek avait assuré aux Brésiliens « 50 ans de progrès en 5 ans ». Le projet fut dirigé par les architectes Oscar Niemeyer et Lucio Costa.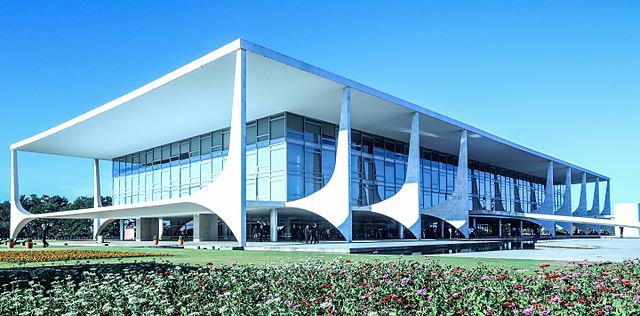 Avec des journées de travail atteignant dix-huit heures aux débuts des années 1960, des conditions de travail déplorables, les ouvriers furent totalement dirigés par la société de construction Novacap à qui fut confié le chantier (syndicats interdits, fortes répressions, interventions policières, parfois les récalcitrants furent mitraillés à bout portant[réf. nécessaire]). Malgré cela, les promesses d'emploi générèrent de fortes espérances. Avec l'aide de cette politique autoritaire, la première partie de la construction n'aura duré que 1 000 jours.

_________________
We don't care the People Says , Rock 'n' roll is here to stay - Danny & the Juniors - 1958
Véritable chef-d'œuvre d'architecture moderne, Brasilia a été déclarée Patrimoine mondial de l'humanité en 1987 par l'UNESCO. L'urbaniste Lúcio Costa est l'auteur du Plan pilote qui donne à la ville une forme d'avion, inscrit dans un lac artificiel : le lac Paranoá. Les quartiers résidentiels sont fonctionnels et s'auto-suffisent : centres commerciaux, écoles et parcs sont à proximité.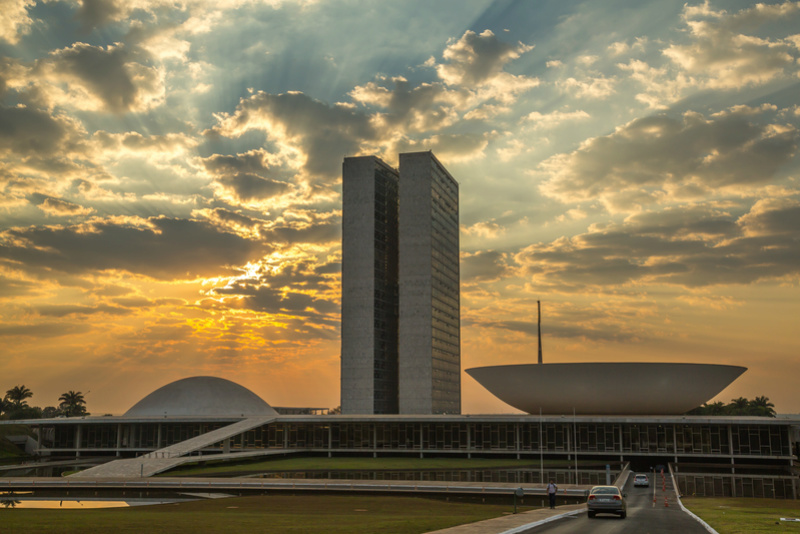 Congresso Nacional
Les bâtiments principaux ont été conçus par l'architecte Oscar Niemeyer : la cathédrale (4 000 places), le Congrès national (Chambre des députés et Sénat), le ministère des Affaires étrangères, le Tribunal suprême et le Palais de la présidence.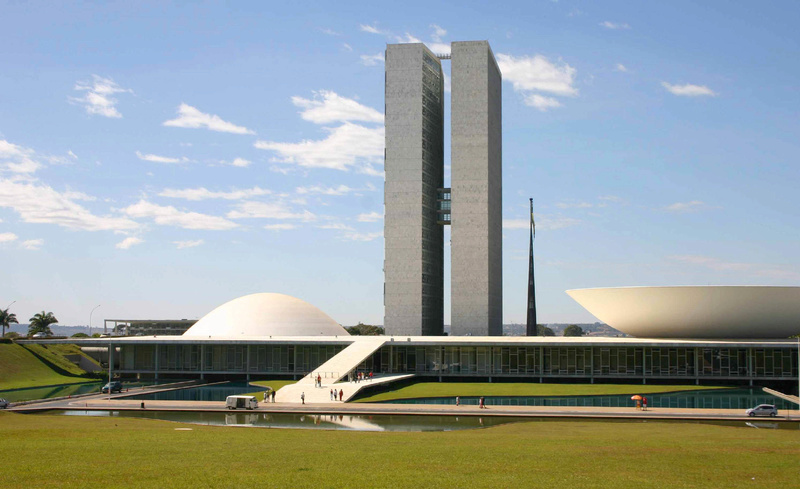 Les pouvoirs judiciaire, exécutif et législatif sont regroupés autour de la majestueuse Place des Trois Pouvoirs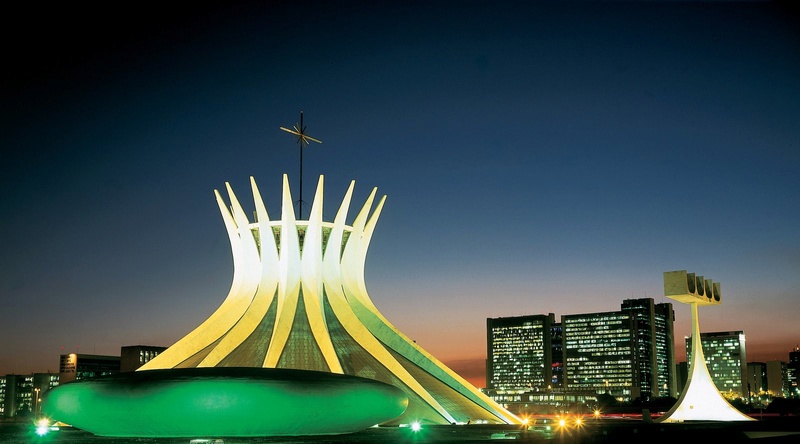 La cathedrale
La ville s'organise autour de deux axes perpendiculaires : l'Eixo monumental et l'Eixo Rodoviário (ou simplement Eixāo).
L'Eixo monumental, orienté est-ouest, coupe la ville en deux parties symétriques. Il est considéré par les Brésiliens comme la plus large avenue du monde, avec 250 m séparant ses deux fois six voies au point le plus large. Vu du ciel, il représente la flèche, le fuselage de l'avion. À sa pointe est se situe la place des trois pouvoirs ainsi que l'esplanade des ministères.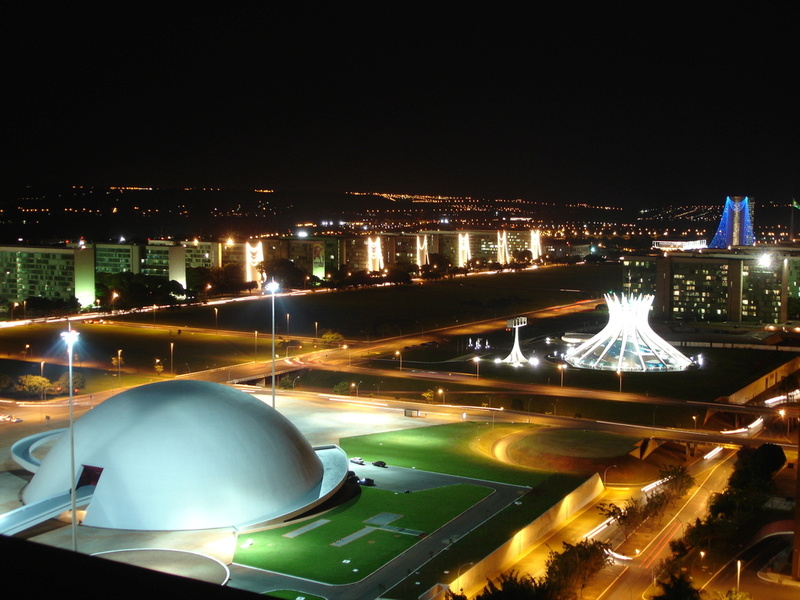 L'Eixāo, courbe, traverse la ville du nord au sud. Vue du ciel, elle représente les ailes de l'avion. L'aile sud et l'aile nord, organisées en superquadras le long de l'axe, regroupent un peu plus de 200 000 habitants. Il est constitué d'une "piste" principale de deux fois trois voies, accessibles à partir des axes secondaires (eixinhos en portugais, littéralement petits axes). Les axes secondaires se trouvent de part et d'autre de l'Eixao, chacun étant constitué de deux fois deux voies. L'Eixāo permet de traverser l'Eixo monumental sous un tunnel. L'Eixão est exclusivement réservé à la circulation des véhicules, des passages souterrains sont aménagés pour la traversée des piétons. Deux autres axes traversent de nord à sud le Plano Piloto, respectivement à l'ouest et à l'est de l'Eixão : W3 et L2. Ces axes sont bordés de commerces et de résidences.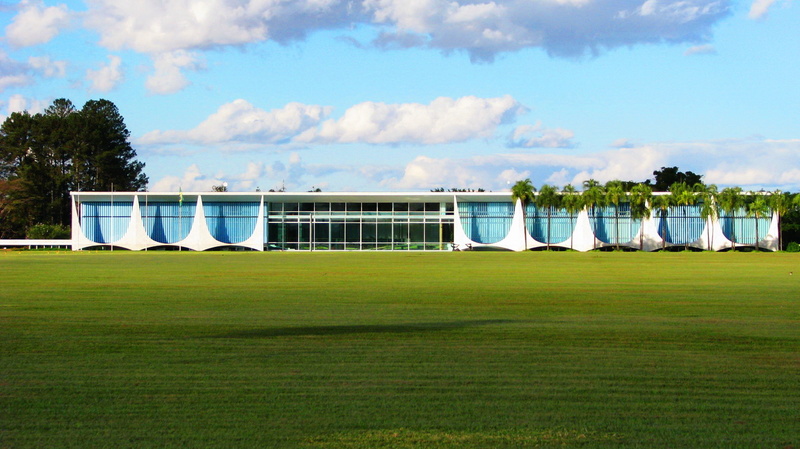 Au croisement des deux axes se trouve la rodoviária, qui accueille la station Central du métro et qui est aussi celle du réseau autobus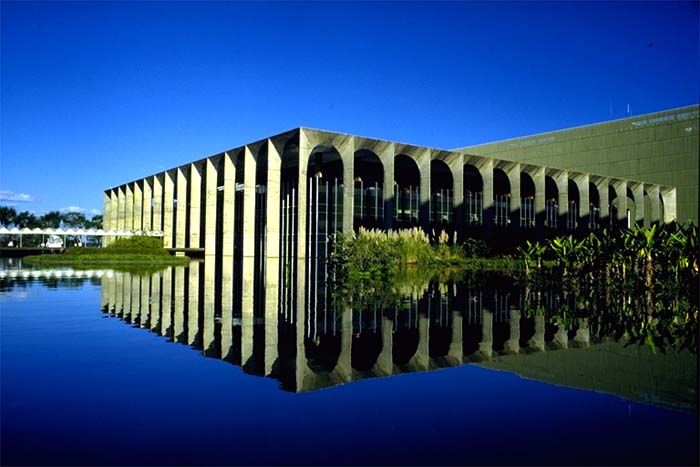 _________________
We don't care the People Says , Rock 'n' roll is here to stay - Danny & the Juniors - 1958

_________________
We don't care the People Says , Rock 'n' roll is here to stay - Danny & the Juniors - 1958
The national museum in Brasilia
In 1956, Brazilian president Juscelino Kubitschek committed his government to the erection of a new federal capital in the country's remote interior, to be inaugurated before the end of his term of office. This constituted a major step toward achieving a two–centuries–old dream of spreading the country's population into the hinterland of Brazil. Through a national competition held the following year, an international jury selected the entry by Lucio Costa (1902—1998) for the urban design of the new city—the so–called Pilot Plan (Plano Piloto) of Brasilia.
A crucial feature of Costa's proposal was a sharp distinction between an administrative civitas of monumental character and the everyday urbs.1 On a monumental axis running east to west and lined by a sequence of public buildings, the Esplanade of Ministries abuts the capital's foremost civic space, the Three Power Plaza. Brasilia's residential quarters—which were meant for five hundred thousand inhabitants and included commerce, services, and educational and health facilities—were conceived in terms of neighborhood units and modulated in superblocks along an arched north–south freeway.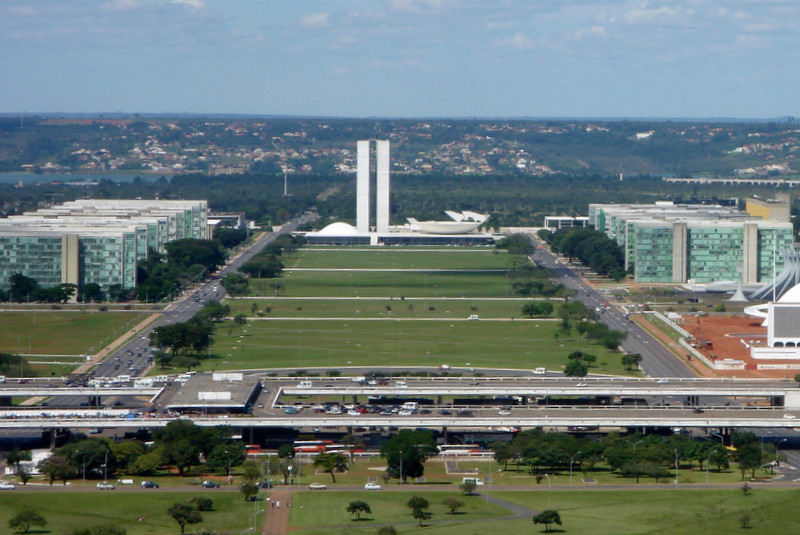 The Esplanade of Ministries in Brasilia. The National Congress complex, designed by Oscar Niemeyer, can be seen in the distance in the center. Photo: Vesna Petrovic.
This division of the urban fabric between the civic space and the residential areas was highly deliberate. It was intended to make possible the speedy completion of the most prominent civic structures to create an emblematic vision of the nation's new capital. The strategy was effective. For the civitas, world renowned architect Oscar Niemeyer (1907—2012) and his team designed the executive, legislative, and judiciary palaces, Brasilia's celebrated icons. The most essential bureaucracy was accommodated without delay, and the population of the Federal District quickly jumped to about one hundred fifty thousand inhabitants after the inauguration in April 1960.

_________________
We don't care the People Says , Rock 'n' roll is here to stay - Danny & the Juniors - 1958
En 1960 , Brasilia , la nouvelle et moderne capitale du Brésil , se dresse éclatante , sur un plateau désertique au coeur du vaste pays sud-américain . Construite en à peine quatre ans au bord d'un immense lac artificiel , Brasilia est un chef-d'oeuvre du modernisme urbanistique et architectural .
Le projet de Brasilia se concrétise alors que le modernisme s'est déjà bien implanté aux Etats-Unis d'Amérique et en Europe Occidentale . Toutefois , si Brasilia n'est pas une nouveauté , elle représente un saut à l'échelle supérieure : c'est un méga-projet .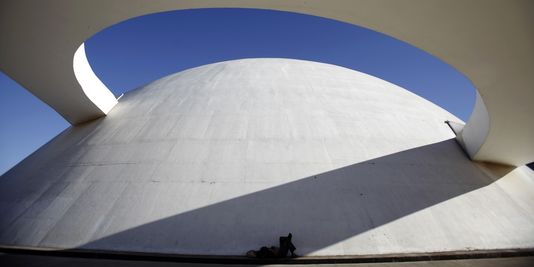 D'autre part , la nouvelle capitale administrative du Brésil a souvent été présentée par les médias comme « ville du futur » ou encore comme « capitale de l'ère atomique » et a servi d'outil projectif dans le cadre de la promotion de l'architecture et de l'urbanisme moderne .
Palais de l'Aurore résidence des présidents de la république.

_________________
We don't care the People Says , Rock 'n' roll is here to stay - Danny & the Juniors - 1958

_________________
We don't care the People Says , Rock 'n' roll is here to stay - Danny & the Juniors - 1958

_________________
We don't care the People Says , Rock 'n' roll is here to stay - Danny & the Juniors - 1958
---
Permission de ce forum:
Vous
ne pouvez pas
répondre aux sujets dans ce forum