Back when Rick Dore first teamed up with Metallica front man James Hetfield on their first build, the resulting finished product—a dream car–inspired '53 Buick Skylark—wasn't the only thing on their minds. Seems James was looking a bit further down the road, like six years and nearly as many collaborated customs (Rick Dore Kustoms, that is).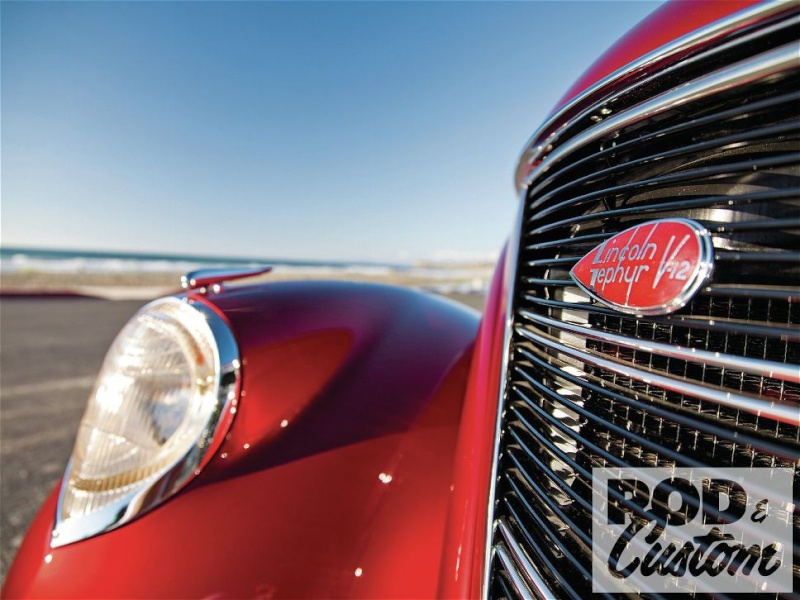 According to Rick, the two were at Pomona (Grand National Roadster Show), where they were debuting the car James' daughter dubbed "Skyscraper", when out of the blue, James brought up
Lincoln
Zephyrs. The pair compared fellow Beatnik club members' versions with others—most of which were drivers—and also with Terry Cook's 'glass-bodied sled, "Scrape". Rick says that he was pretty sure he knew what James was getting at, but he didn't just want to come out and say it. But it wasn't long before he had no other choice but to ask, "So what are we talking about here? You want to build your version of a Zephyr or keep dreaming about it?" With the talent-blessed ability to do so, eventually they would fulfill that dream—but there were some other things that needed tending first … a Candy Root Beer Auburn custom, for one.
Rick readily admits that without James, he wouldn't have been able to build some of the cars he'd dreamed of doing. And the same goes for the '37
Lincoln
… well, sort of. You see, Rick's got this thing for concept/Motorama-type customs—but that's exactly what James didn't want with the Zephyr. Instead, he envisioned a traditional custom that played on the existing factory styling, not one that asked the question, "what if?". For Rick, this was a challenge he was more than ready and willing to take on.
Interesting story with the '37: As Rick tells it, the
Lincoln
belonged to a fellow up in the Sacramento/Auburn area of Northern California. Upon returning from Vietnam back in 1972, obviously adversely affected from his recent tour of duty, he literally hopped a train and was never seen or heard from again. And for the next several decades, the Zephyr sat in the same place it'd been in since the late '60s.

_________________
We don't care the People Says , Rock 'n' roll is here to stay - Danny & the Juniors - 1958
Rick had learned of the Zephyr through the grapevine, and through persistence, wound up acquiring it for James not too long ago. In the coming years, the coupe would bounce back and forth between NorCal and SoCal during its construction, pretty much in a pattern: up north to Antioch Muffler for chassis work and exhaust, back south to Keith Dean for all the major body modifications, up north again to Darryl Hollenbeck for final bodywork and paint, south to Craig Hopkins for upholstery, and north again to Tony Gomes at Tri Valley Glass. While the car was doing its bouncing routine, so too were many of its major components—for instance, as Mike Herman at H&H was breathing new life into the
Lincoln
's V-12 Flathead in La Crescenta, Sherm's Plating was dipping the handmade brass trim (and other various to-be-plated parts) in its chrome vats up in Sacramento.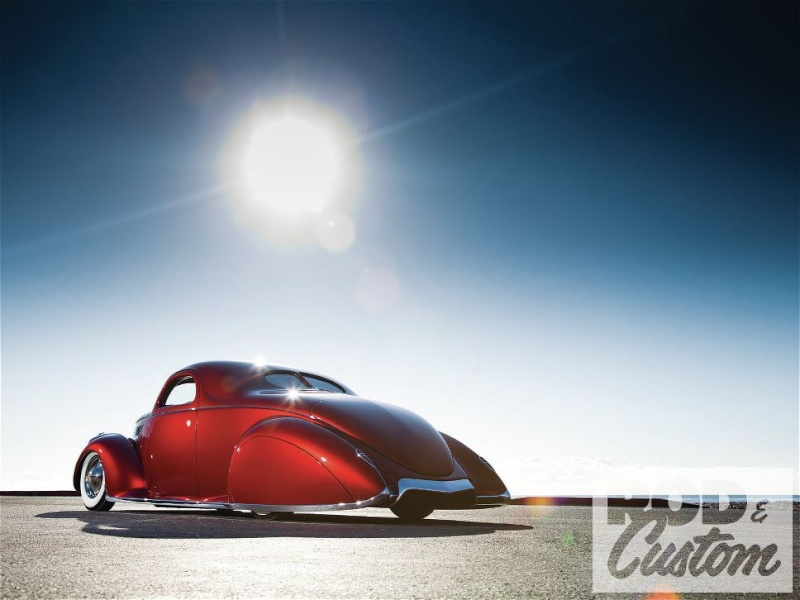 When all was said and done, well, let's just say that James Hetfield's Zephyr is indeed a deviation from what we're used to seeing come out of Rick Dore's mind into custom car form. In short, it's a custom not void of its original styling cues, rather, one with enhanced signature design elements. And that's a good thing; it's exactly what James wanted—no more … no less.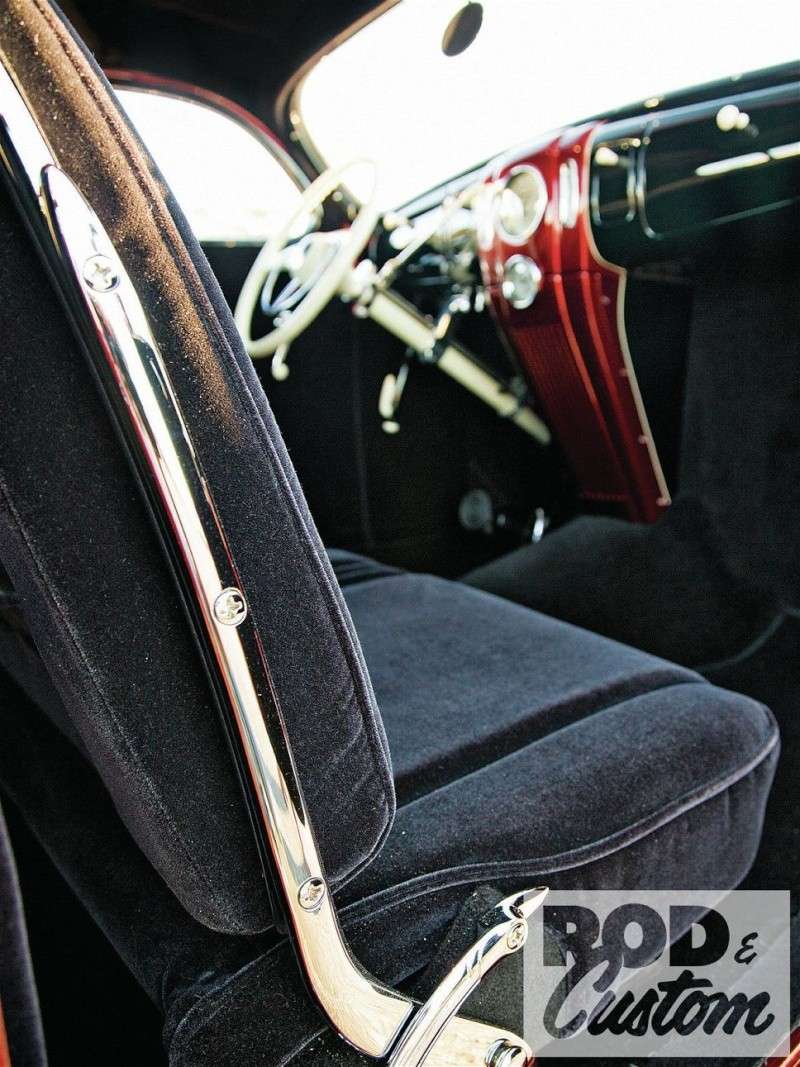 _________________
We don't care the People Says , Rock 'n' roll is here to stay - Danny & the Juniors - 1958
Rod & Custom Feature Car
James Hetfield/Rick Dore Kustoms
Bay Area/North San Diego County, California
1937
Lincoln
Zephyr Coupe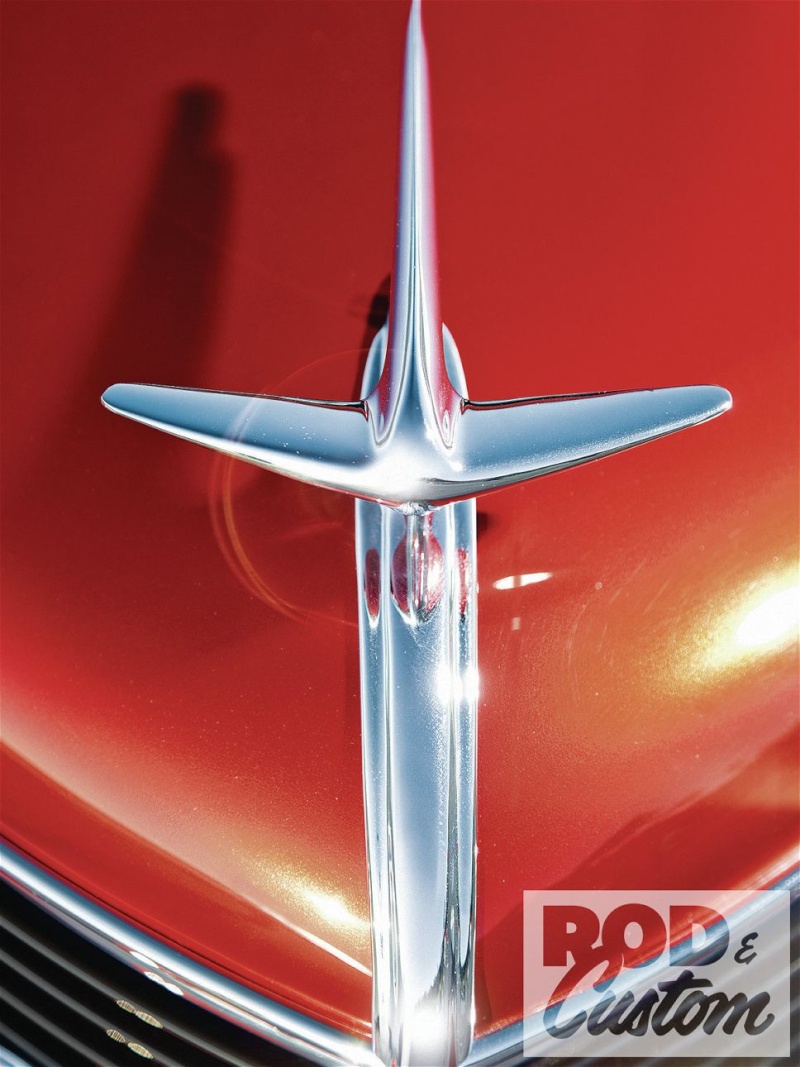 Chassis
True customs don't require mega-buck, high-tech chassis to get the job done—they don't hurt, but often all that's necessary to properly propel a sled are a few modifications to the existing platform, which is exactly the case here. Antioch Muffler (Antioch, CA) handled the aforementioned chores by first installing a Mustang II–derived independent front suspension followed by a 9-inch Ford rearend—each outfitted with RideTech airbag setups—and, of course, what their name suggests, a complete dual exhaust system.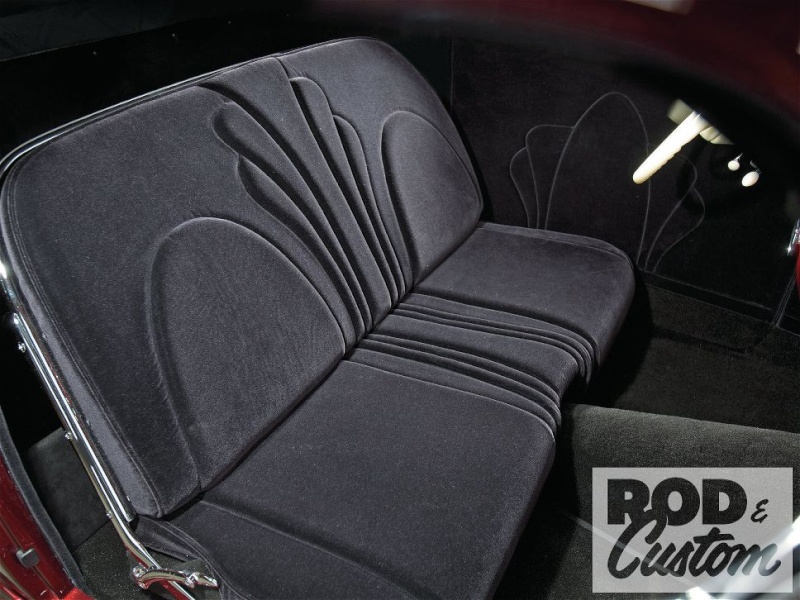 Drivetrain
When we said Rick deviated from his custom norm that applies under the hood of James' Zephyr. No small-block anything here, rather, the
Lincoln
's original Flathead V-12. How can you beat the looks of such a gorgeous engine to begin with? Here's one way: Have it rebuilt and revitalized by H&H Flatheads in La Crescenta, CA. Mike Herman deftly took on the long project and, using parts supplied by Rick, combined with some pulled from his personal stash, turned the once stinkin'
Lincoln
into a badass mill, with looks to match. Those parts with appeal—like the chromed 97s from Genuine Stromberg and polished PowerGen from Powermaster—also lend themselves to improved performance as well. Behind the V-12 now lies a C4 automatic trans rather than the early closed-drive stick, while the radiator is a stock unit that has been modernized by Don Armstrong at U.S. Radiator.
Body & Paint
Keith Dean, son of the late king of chops, Dick Dean, is responsible for, among other things, lowering the lid on James' coupe. And as Rick calls it, Keith also "Coke bottled" the rockers/running boards, molded in '38 Zephyr rear quarters, leaned the rear edge of the doors forward, added the custom-made taillights, lowered and laid the stock headlights back, and integrated a canted Kaiser overrider into the rear bumper. To avoid having the windshield appear curved in (concave) as they tend to do after chopping a car of this nature, Rick enlisted Timo Tanskaanen to make a convex piece of safety glass for the front. Final prep and the flawless paintwork (including coming up with the custom-mixed colors: Candy Apple Red over raspberry) was all done by Darryl Hollenbeck up at his studio in Concord, CA. Sherm's Plating is credited for all the shiny brightwork (the lower body trim is all handmade from brass stock).

_________________
We don't care the People Says , Rock 'n' roll is here to stay - Danny & the Juniors - 1958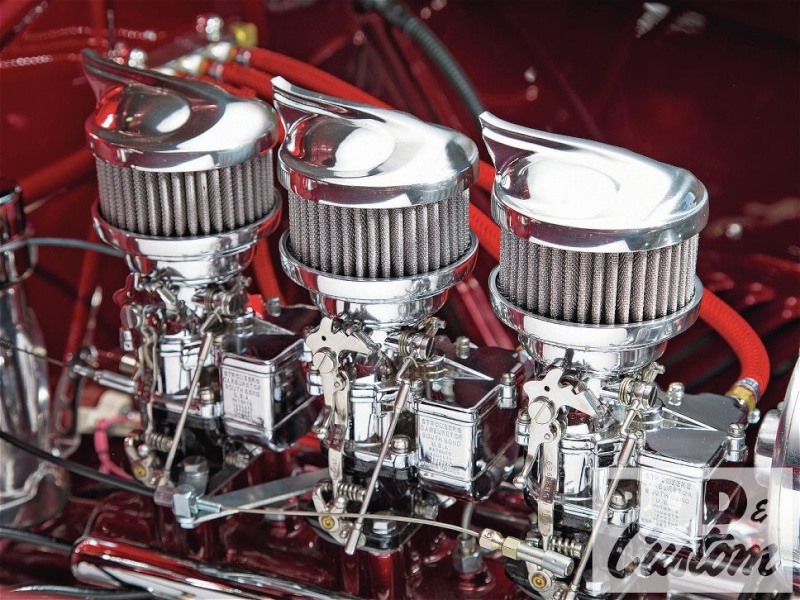 Wheels & Tires
James provided the vintage
Lincoln
caps (lettered by Hollenbeck) that adorn the chrome 16-inch artillery custom-made for the Zephyr by Wheel Vintiques; the Firestone 600-16 bias wide whites are via the whitewall source, Coker Tire.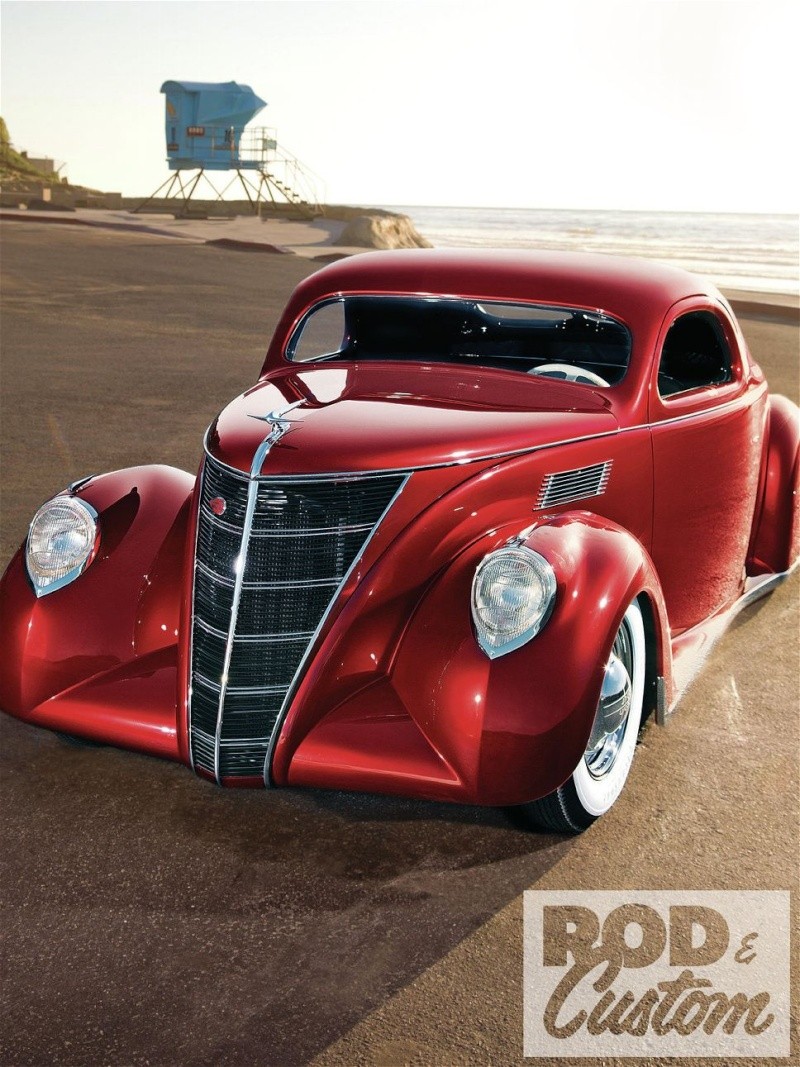 Interior
No pearly white vinyl this time around. Instead, for James' coupe Rick signed on with Craig Hopkins for an Art Deco–inspired upholstery job fashioned mainly out of black mohair. With contrasting vanilla white and Candy Red interior appointments, the choice of going with a darker fabric color seems to work fairly well overall. The steering wheel is a restored piece of the '41
Lincoln
variety, which rests atop a '40 Ford column. Last but by no means least, Tony Gomes at Tri City Glass (Bay Area, NorCal) handled all the flat glass installation.
Read more:
http://www.rodandcustommagazine.com/featuredvehicles/1204rc_1937_lincoln_zephyr_coupe/viewall.html

_________________
We don't care the People Says , Rock 'n' roll is here to stay - Danny & the Juniors - 1958
---
Permission de ce forum:
Vous
ne pouvez pas
répondre aux sujets dans ce forum