0 Mercury Coupe, owned and restyled by Shifters member Kevan Sledge of Auburn, California. Kevan purchased the car in 2000, the car would be transformed into a stunning timeless custom within the next couple of years. He began with fixing the rust and replacing bad body panels. Then it was time for a haircut. He started the chop by raising the windshield up into the roof 1 5/8". It's easier to do this step first, that way you don't have to add a filler piece to the A pillar later. By raising the windshield, you remove the "forehead" above the windshield, making the front window even with the side windows. After the windshield was fully tacked in place, the drip rails were shaved. Then he cut out the back window. He left about 3" all the way around so there would be plenty of meat to work with. Then he cut 6" out of the A-Pillars, and 7" out of the back. The A-pillars requires cuts top and bottom, and the bottom of the pillars needed to be slightly leaned back to line up. After he got the A-pillars set, he could begin reshaping the C-pillars to achieve better flow. The flow of the C-pillar was rendered with cutting slices right in the heavily curved area.[1]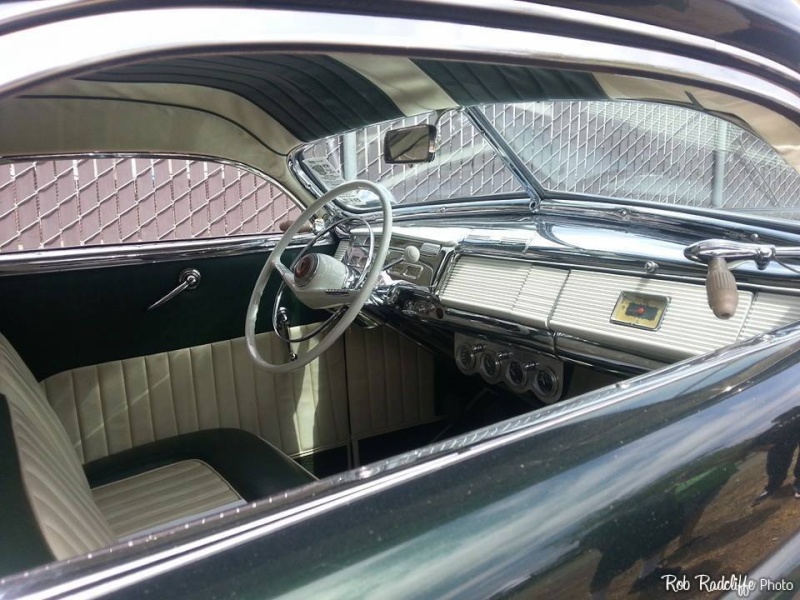 The car was nosed, decked and shaved for door handles. The side trim on the hood was shortened. The rear fenders were molded to the body achieve a cleaner look, and the gas filler was relocated inside the trunk.[1]
Dernière édition par Predicta le Mer 28 Oct - 8:38, édité 1 fois

_________________
We don't care the People Says , Rock 'n' roll is here to stay - Danny & the Juniors - 1958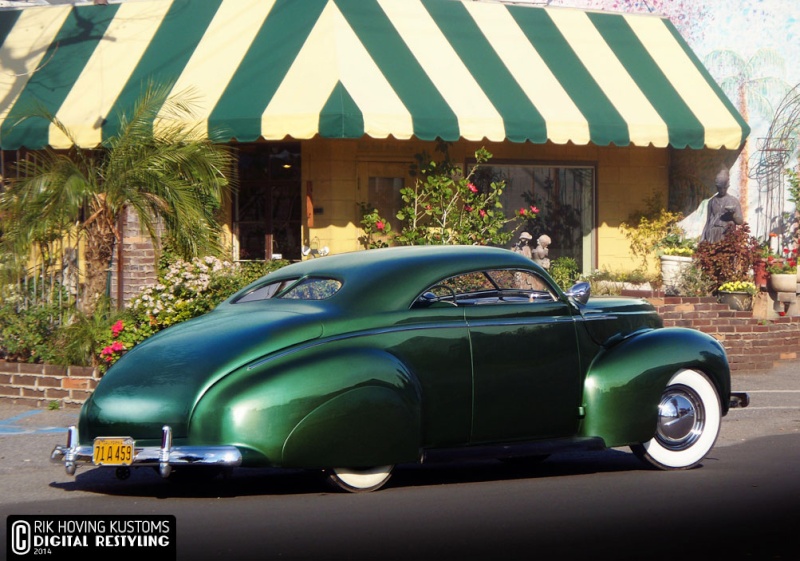 When the bodywork was done, it was painted flat black and fit with Flipper Hubcaps. Later on, it was painted Rally Green, and rendered a little bit. In the rear, he built a custom splash pan which was made to fit the 1946 Ford bumper. The taillights were removed, and relocated in the bumper guards. Up front, a 1939 Lincoln Zephyr unit was installed. This version sported a set of 1947 Cadillac Sombreros, which were 16" and super rare since they only came on series 75 Caddy Limos and ambulances. Kevan looked for 4 years before he found a good pair! The 16's are deeper and stick out slightly more so the 40 merc spindle isn't a problem. He installed them by using 1940 ford beauty rings, and used a resin to attach the two.[1]
Adam Taylor is currently working on the door gaps, hood and trunk to fit better, little cracks, etc. He will when finished, paint it glossy. Kevan had two different skirts on the car, so he found a nice set of accessory Ford skirts that will get mounted as well.
http://www.kustomrama.com/index.php?title=Kevan_Sledge%27s_1940_Mercury
http://www.customcarchronicle.com/custom-cars/kevan-sledge-merc-finished/

_________________
We don't care the People Says , Rock 'n' roll is here to stay - Danny & the Juniors - 1958

_________________
We don't care the People Says , Rock 'n' roll is here to stay - Danny & the Juniors - 1958

_________________
We don't care the People Says , Rock 'n' roll is here to stay - Danny & the Juniors - 1958

_________________
We don't care the People Says , Rock 'n' roll is here to stay - Danny & the Juniors - 1958

_________________
We don't care the People Says , Rock 'n' roll is here to stay - Danny & the Juniors - 1958

_________________
We don't care the People Says , Rock 'n' roll is here to stay - Danny & the Juniors - 1958
---
Permission de ce forum:
Vous
ne pouvez pas
répondre aux sujets dans ce forum