The beginning of my 1931 Ford coupe and obsession with hot rods began around 1991. I was a punk rock kid looking for something new. I was working with my father in the family tool and die business and going to night school taking welding classes. I started going to Rat Fink Reunion shows at Mooneyes with my friends Don Misraji and Rick Stine. We met Taco Bill, who was really into mini bikes and had the greatest collection around. One Saturday Don and I went to look at a mini bike at Taco Bill's, and while Bill and Don were talking mini bikes, I caught a glimpse of his 1931 Ford sedan. He had it all ripped apart and I could see where he was going with it. He was mocking up the frame, and since I was a welder and machinist I starting thinking that I could build one of these.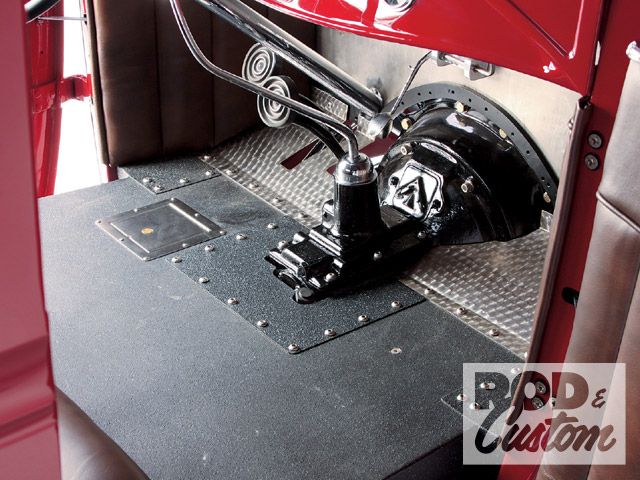 Jump ahead to 2004, I'd managed to save $3,500 for my hot rod fund, so I started my quest to find a Model A body. Why the Model A? Because I always liked the visors on Model As and I couldn't afford a '32-36. Around this time I started hanging around Nick O'Teen's shop where he built and painted hot rods, customs, and bikes. I had looked at some really bad bodies for $1,000, but I wanted to find something a little better that I could chop cleanly.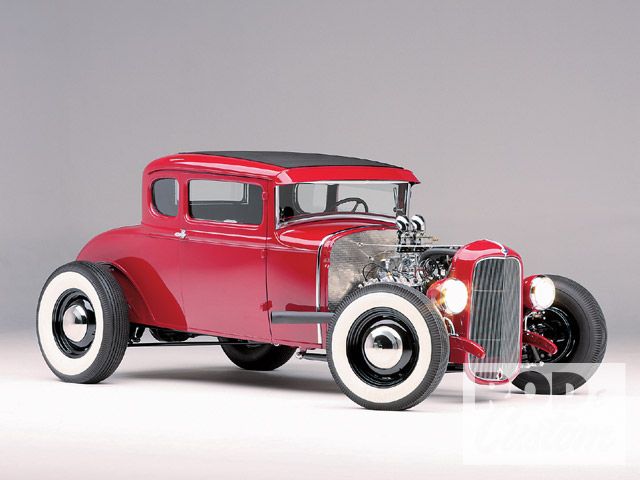 I was up early one morning and started checking out the Recycler online, and there was an ad for a 1931 coupe with a Flathead. I had a feeling about this one, so I called my dad and told him I was running late and wouldn't be at work till around 10:30. I drove to Claremont and when I got there the seller led me around the side of his house, and there's the coupe sitting on a badly stick-welded Model A frame with a 21-stud '37 Flathead barely bolted down. The body had good doors that shut OK. All the glass and wood was still there, but the floors were gone and the wheelwells were rusted out. It had a dropped axle and '40 juice brakes.
I was standing there thinking, it's a great canvas, but the motor looks like it's never going to run again. Is this the one? I told the guy I'd think about it and would be back. I went and sat in my car and thought, I gotta get that coupe! So I went back and made my offer. He agreed and even offered to tow it home to my house for free, because he had a trailer.

_________________
We don't care the People Says , Rock 'n' roll is here to stay - Danny & the Juniors - 1958
Once it was in my garage I started looking at it and thinking, where the hell do I start? I bought Vern Tardel's book, How to Build a Hot Rod, which turned out to be the bible for me. When I started, the whole rat rod, rusted, slammed, crappy welded cars were the trend. I didn't want to build one of those. I wanted to build a hot rod. So I read and started on the chassis. The frame was a mess, so I bought a plasma cutter and started cutting and welding.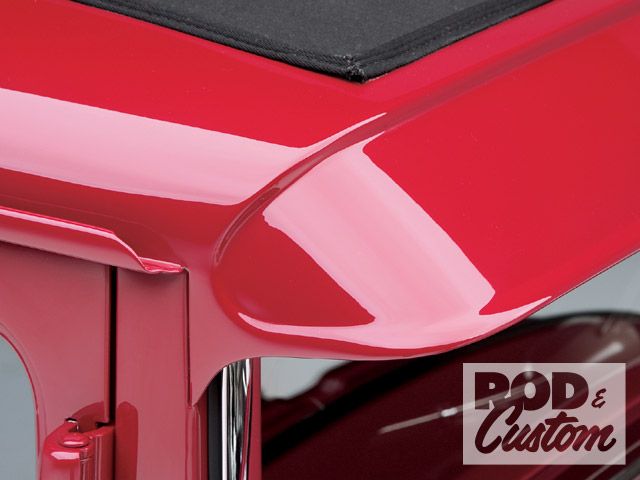 I moved the front crossmember back 4inches so I could drop the radiator in front of the crossmember, allowing me to channel the body 8 inches but leave the new grille shell stock. I decided not to use the 21-stud Flathead it came with and found a '50 Ford F-1 truck with an 8BA Flathead in it for $500. I just wanted the motor, shock mounts, and steering box, so I pulled the parts I needed and sold the rest of the truck on eBay for $500.
When I pulled the engine apart, it had a Mercury crank and rods. Jackpot! I dropped the block off at H&H Flathead for machining. Once I got the engine pieces back I started to assemble it with my friend Rick Stine. I wanted to put some speed equipment on it, so I bought the Eddie Meyer repro intake from Speedway and was going to run the stock heads till I got some extra cash. Then this punk rock friend of mine tells me he has some original '49-53 Eddie Meyer heads and he knew I had a big punk rock record collection. So we traded those heads for some of my old records. I had Max Herman Sr. at H&H deck and redome the heads to get the compression ratio I wanted and then had the engine bench-tested by Mike Herman for my peace of mind.
Dernière édition par Predicta le Sam 24 Oct - 18:53, édité 1 fois

_________________
We don't care the People Says , Rock 'n' roll is here to stay - Danny & the Juniors - 1958
After the engine was finished, I picked up an early Ford pickup open-drive three-speed and a '58 Ford 9-inch so I could start building the chassis K-member and ladder bars. I mocked up the motor in the frame and made some motor mounts with a subtle design on them. The chassis was now a solid foundation rolling on all four tires, so I started channeling the body and building the mounts (two in the front, two in the middle, and two in the back).
I cut out the firewall and replaced it with .080 flat stainless steel sheet that I had polished like a mirror. Once it was installed and I could see two motors, I didn't like the way it looked, so Nick O'Teen and I decided to engine-turn the firewall. Man! It took two days of engine turning!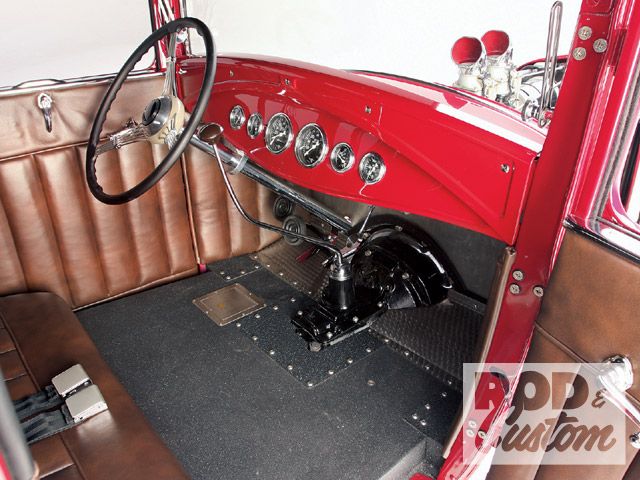 The floor was next. I welded -inch square tubing on the floor for a skeleton that I could plug-weld 16-gauge sheetmetal floors to. I then welded temporary support bars inside the body so it wouldn't lose its shape while Nick and I were chopping it. We chopped the coupe with the doors on and then took it to Nick's shop for bodywork and paint.
When I started to build my coupe, I thought I was going to paint it a suede color for the first few months till I got some money together to finish it. But once Nick had it for a couple of days he came over and told me that he couldn't let me do that and that it had to be finished glossy. I decided to listen to my wise friend and looked through the House of Kolors book and found the Maltise Maroon color. It took Nick around 10 months to finish the bodywork and paint. He had some prior jobs he had to finish and I had told him to take his time.
I got the car back and Nick helped me assemble the coupe in my garage where I built it. I built the headers myself because I wanted to have a turnout on the end to avoid the black exhaust on the side of the door. I had a custom radiator built by Radiator Ralph in Lakewood. Nick did the wiring, and once we got the starter solenoid figured out it started right up and sounded great. My coupe was finally alive!
1931 Ford Model A Coupe Window Visor
We finished the brakes and plumbing just in time to drive it 55 miles to Ventura for the Primer Nationals. Everyone loved the coupe and it was a really good feeling knowing people liked what I built. Halfway through the day Bobby Walden came up and told me I had to move my car. When I (politely?) asked him why, he told me, "You have to move your coupe to the Winner's Circle...You won Best Hot Rod!" I was like, "What!!!??!!" I was in shock.
While I was in Ventura I met Dave Martinez from Indiana. He told me he was an upholstery guy and that he wanted to upholster my coupe because it reminded him of his old coupe he'd sold to start his business. I said yes, so Dave drove down from Indiana with his sewing machine in his truck and stayed at my house for a week while he finished the interior.
This coupe has really become a family member to me and my friends because it was something I wanted to finish...and did. I've made some great new friends along the way and am looking forward to showing it and driving it.
Rod & Custom Feature Car
Rudi Hillebrand
North Hollywood, California
1931 Ford Model A Coupe
Chassis
Rudi retained the original, but poorly modified, frame that came with the coupe when he bought it and cut it apart repeatedly, repaired the rust, filled the holes, and straightened and boxed it. The finished frame ended up Z'd 4 inches on both ends and stretched 4 inches. The front crossmember was moved 4 inches back and a new K-member was built from 3x3 tubing. A vintage 4-inch dropped axle with '40 juice brakes hangs on a Posies spring with split '39 Zephyr wishbones. An F-1 pickup 'box handles the steering. Out back a '58 Ford pickup 9-inch is suspended with homemade 43-inch ladder bars and a Model A spring.
Drivetrain
The engine choice is critical if you're building a hoodless traditional hot rod, so Rudi went with a '49 Flathead bored and stroked to 268ci by H&H Flatheads. Once the machine work was done, Rudi and his buddy Rick Stine filled the block with a Mercury 4-inch crank with stock Merc rods, Egge pistons, and an H&H cam. Extra power and dress-up come from the Eddie Meyer aluminum heads and high-rise 2x2 intake. The 1- to 3-inch cone tapered lakes pipes were homemade. The transmission is an open-drive Ford pickup threespeed with a reworked stock shifter.
Dernière édition par Predicta le Sam 24 Oct - 18:54, édité 2 fois

_________________
We don't care the People Says , Rock 'n' roll is here to stay - Danny & the Juniors - 1958
Wheels & Tires
A set of '40 Ford pickup 16-inch steelies were cleaned up and sprayed black and then wrapped in 6.00 and 7.00 Firestone wide whites.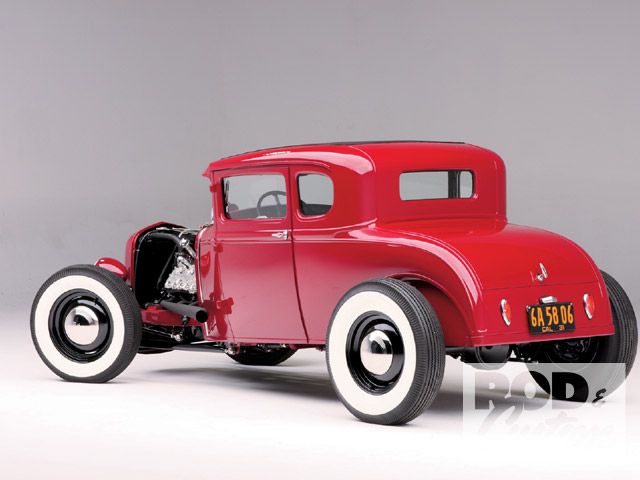 Body & Paint
The body was unchopped and a bit rough when Rudi got his hands on it. It was missing the floor, so the decision to channel it 8 inches must have been a little easier. Rudi and his friend Nick O'Teen worked the body back to almost stock with the exception of the 4-inch chop and filled cowl. Once the body was ready, Nick sprayed the House of Kolor Maltise Maroon. The stock door and trunk handles, Guide headlights, repro '39 teardrops and engine-turned firewall provide the perfect complement to the flawless paint.
Interior
The stock dash was replaced with a Howell's Sheetmetal '32-style dash filled with Stewart Warner Wings gauges. The Ford F-1 column is held in place with a custom aluminum drop and topped with a Limeworks Speed Shop '39 Banjo wheel. Dave Martinez covered the custom bench seat and door panels in chocolate brown leather and the headliner in black worn leather. The channeled floor was sprayed in gray and black Duplicolor spatter paint, and engine-turned toeboards flank the exposed three-speed trans.

_________________
We don't care the People Says , Rock 'n' roll is here to stay - Danny & the Juniors - 1958
---
Permission de ce forum:
Vous
ne pouvez pas
répondre aux sujets dans ce forum