A close friend of mine recently took one of the rarest of rare motorcycles, a '41 Crocker (one of a handful remaining, with a value well into the six figures), and did the unthinkable: he built a custom bike that he rides-often. While some may view that as sacrilege, others, including myself, see it purely as exercising one's right to self-expression. Granted, Alvin Garnica's '59 Chevy Apache is by no means in the same class as a vintage Crocker (far from it, to be honest), but it is a piece of Americana, albeit one heavily deviated from its original guise- just like the aforementioned motorcycle.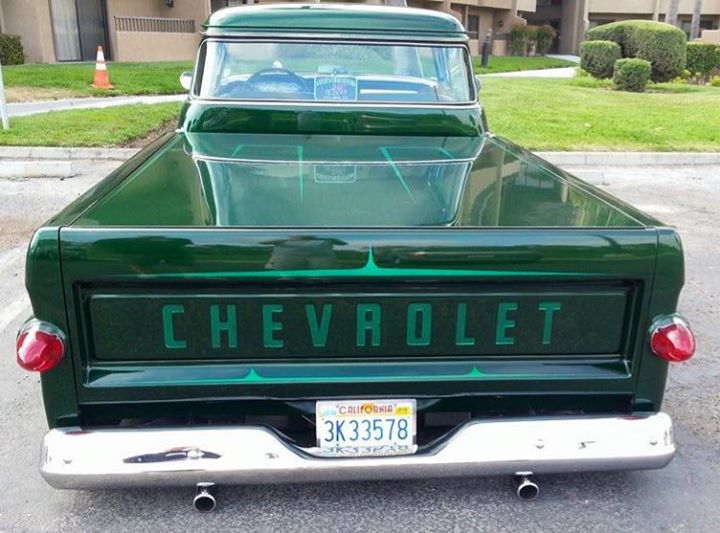 The art of customizing is probably one of the classic forms of expressing oneself. Contrary to today's swarm of imports buzzing around, most of which are overadorned with store-bought junk, back in the day, differentiating oneself from the crowd-and maybe more so, luring the opposite sex-meant putting more effort into individualizing your ride than the average schmuck. Luckily, that desire still exists today, be it with 0-somethings resurrecting the past or their folks reliving (better yet, still living) their past. Alvin is definitely one of the latter, which is clearly evident with his latest skirt-chaser-a chopped, 'flaked, and scalloped Apache.

With the help and support of Alvin's family and friends and the "era-true" eye of Oz kustom, the old workhorse went from being a dormant for decades to slick, to a purple-primered Fleetside with a tastefully lowered lid, to the emerald green sled it is now. From his first custom, a '55 F-100 done in the '70s, to over a dozen '49-51 Mercs, Oz Welch knows a thing or two about restyling-and so too does his son, kyle. The father and son team ply their craft in Oroville, California, roughly 100 miles, give or take, from Alvin in San Jose. If you've never had a car or truck built professionally, then you have no idea how nerve-wracking it can be having your baby in the hands of a not-so-nearby shop-unless it's a shop with a good reputation. And with the exception of the interior, Oz kustom instituted its rep all over Alvin's Chevy.
Dernière édition par Predicta le Ven 11 Sep - 4:37, édité 1 fois

_________________
We don't care the People Says , Rock 'n' roll is here to stay - Danny & the Juniors - 1958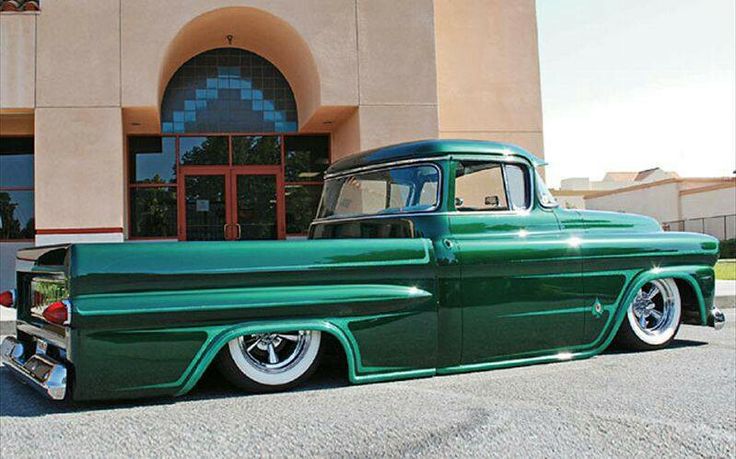 As it sits now-nice and low over a set of Coker radial whitewall-shod Astro Supremes-the Apache rides on a latemodel Buick Skylark frontend and a sameera two-linked Olds 10-bolt rear with a Panhard bar, each outfitted with airbags for the requisite adjustable height. And being it's still a driver, not a pampered trailer rider, the '59 is powered by a nofrills (run of the mill, as it were) 327 and a Turbo 350 automatic.
Obviously, labor focused on aesthetics, primarily the exterior modifications. underneath the layers of clear and the scallop-accent combination of House of kolor kandies and flakes lie untold hours of work spent in an attempt to give the truck a much sleeker, more stylish look- chopping the top (on a big-window cab, no less, which required the back glass to be sunken into the cab). And save for the unimpressed stock purist, you gotta admit it worked. So much so, in fact, that they felt it unnecessary to alter any of the subsidiary items such as the grille or headlights (Ok, so they threw on a set of '56 Olds taillights!), just a minor shave of emblems and handles. Hell, they even went ahead and slapped on a visor, which along with the cut-down cab's stainless provides a nice crowning touch.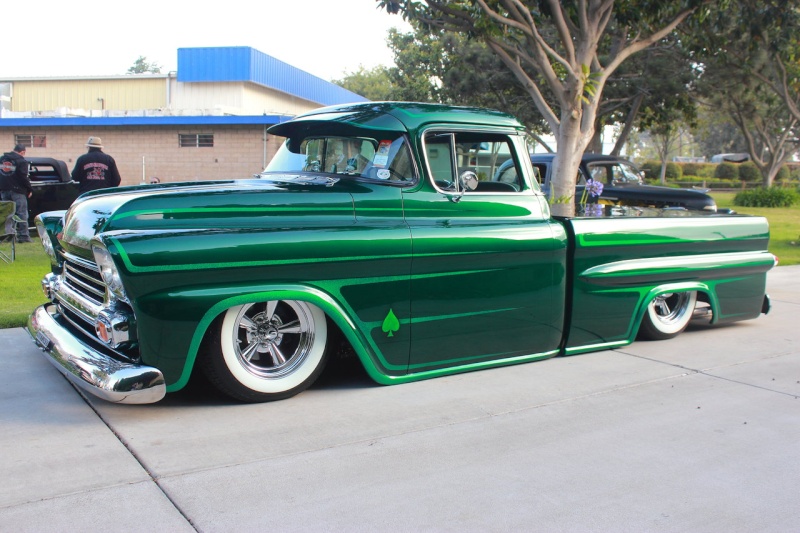 After the Apache had spent enough time in Oroville, it was brought back to San Jose. But before actually going home, Alvin took it to Santos Pena for a new set of threads. Choosing not to go the full old-fashioned route, instead of Naugahyde he opted for a more comfortable cloth material for the tuck 'n' roll over a Glide Engineering bench seat and custom-made door panels. A redone '55 Plymouth steering wheel (adapted with a Camaro center welded in), Lucite teardrop knobs for the airbag controls, tall Gennie shifter, and column tilt lever add a nice finishing touch to Alvin's '59.

_________________
We don't care the People Says , Rock 'n' roll is here to stay - Danny & the Juniors - 1958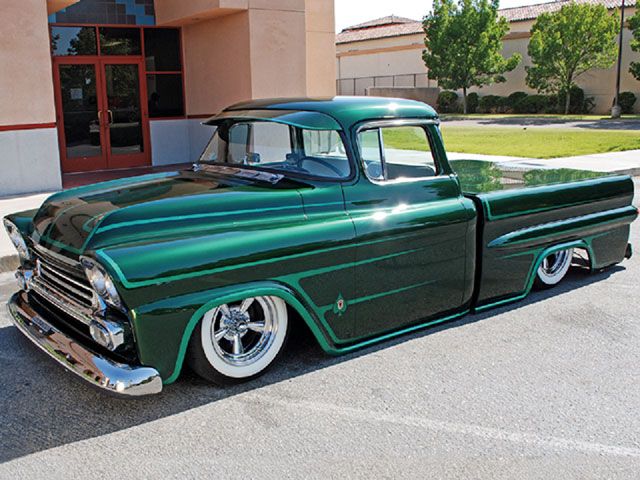 To those viewing this as an act of automotive blasphemy, well, I don't have much to offer other than flip the page! There are plenty more '58-59 Apaches out there ripe for restoring, if that's your thing. For Alvin and Oz kustom- nice job.
Facts & Figures
Alvin Garnica
San Jose, California
1959 Chevy Apache
CHASSIS
FRAME: stock
MODIFICATIONS: late-model Buick front clip
REAREND / RATIO: '78 Olds / 3.00:1
REAR SUSPENSION: custom-made 2-link w/airbags by Oz kustom, Oroville, CA
REAR BRAKES: GM drum
FRONT SUSPENSION: '77 Buick Skylark
FRONT BRAKES: GM disc
STEERING BOX: Saginaw, power
WHEELS: Astro Supreme, 15x7
TIRES: Coker radial whitewall, 195/70R15
GAS TANK: relocated
DRIVETRAIN
ENGINE: Chevy 327ci V-8
HEADS: stock
VALVE COVERS: chrome
MANIFOLD / INDUCTION: stock / 4bbl
IGNITION: HEI
HEADERS: Hooker
EXHAUST / MUFFLERS: steel / glasspacks
TRANSMISSION: TH350
SHIFTER: Gennie
BODY
STYLE: Apache Fleetside
MODIFICATIONS: top chopped, rear glass sunk, handles/emblems shaved
FENDERS: stock
HOOD: stock, nosed
GRILLE: stock, chrome
BED: stock w/custom tonneau
BODYWORK AND PAINT BY: Oz kustom, Oroville, CA
PAINT TYPE / COLOR: House of kolor / Organic Green
HEADLIGHTS / TAILLIGHTS: stock / '56 Olds
BUMPERS: stock, chrome
INTERIOR
DASHBOARD: stock
INSERT / GAUGES: aluminum / Auto Meter
STEREO: JVC
STEERING WHEEL: '55 Plymouth
STEERING COLUMN: GM tilt
SEAT: Glide Engineering bench
UPHOLSTERY BY: Santos Pena, San Jose, CA
MATERIAL / COLOR: cloth / gray
Read more:
http://www.hotrod.com/cars/featured/0803ct-1959-chevy-apache/

_________________
We don't care the People Says , Rock 'n' roll is here to stay - Danny & the Juniors - 1958

_________________
We don't care the People Says , Rock 'n' roll is here to stay - Danny & the Juniors - 1958

_________________
We don't care the People Says , Rock 'n' roll is here to stay - Danny & the Juniors - 1958

_________________
We don't care the People Says , Rock 'n' roll is here to stay - Danny & the Juniors - 1958

_________________
We don't care the People Says , Rock 'n' roll is here to stay - Danny & the Juniors - 1958

_________________
We don't care the People Says , Rock 'n' roll is here to stay - Danny & the Juniors - 1958
---
Permission de ce forum:
Vous
ne pouvez pas
répondre aux sujets dans ce forum