Dj Eddie-Cesc




Messages

: 479


Date d'inscription

: 03/07/2015



Born in Fort Worth, Texas, Curtis began playing guitar at the age of 12, entering local talent competitions. In 1954, his family moved to Weatherford, Texas, and while there he formed a band with two classmates, Jim and Ken Galbraith. They played at school events, but during one of the events, their show was shut down due to sexually suggestive on-stage movements.[1] Instead, the group played locally, and in 1955 they were offered a deal with King Records, who released their debut single, "If I Had Me a Woman".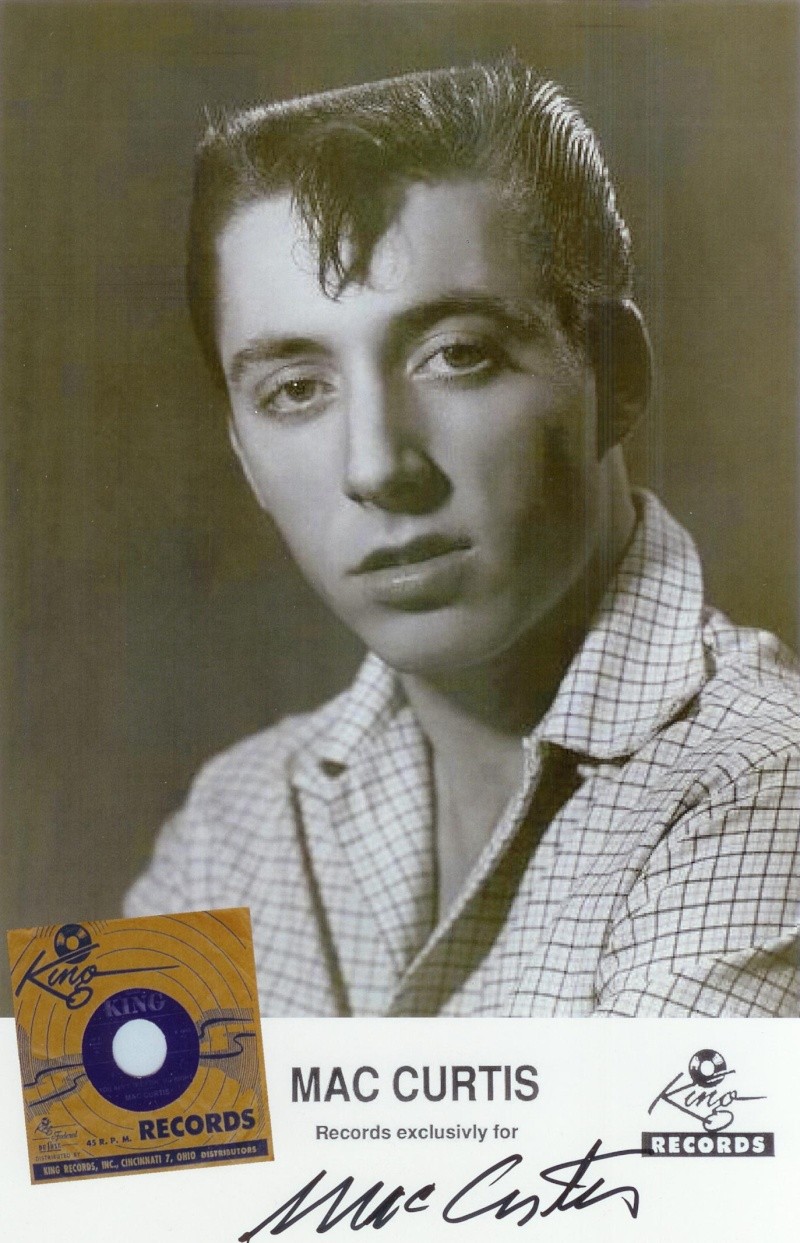 Soon afterwards, Alan Freed heard the group and invited them to play on his Christmas radio special in 1956. Curtis returned to Weatherford to finish school in 1957, and then became a disc jockey in Seoul, Korea after joining the military.[1] Upon his return in 1960, he continued work as a DJ in the South, and released a few albums; his 1968 release, The Sunshine Man, hit No. 35 on the U.S. Country albums chart.[2] As rockabilly grew in popularity in the 1970s, he began recording with Ray Campi and signed to Ronnie Weiser's Rollin' Rock Records. In 1970, Mac Curtis had two hits on Billboard country chart, "Early In The Morning" (#35) and "Honey, Don't" (#43).[3] As a singer he was still active in the 1980s and 1990s. He was later elected to the Rockabilly Hall of Fame.
He died on September 16, 2013 at age 74, following injuries received in a car accident a month earlier, after which he had undergone rehabilitation at a nursing home.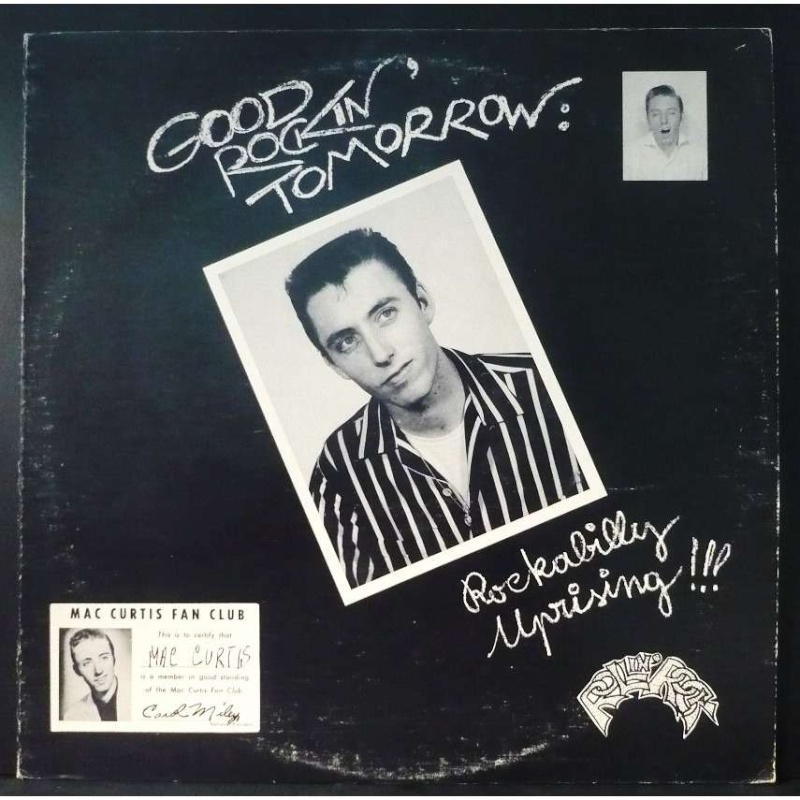 _________________
We don't care the People Says , Rock 'n' roll is here to stay - Danny & the Juniors - 1958
Singles

Year Songs A/B Catalog number


King Records (US)
1956 If I Had Me A Woman / Just So You Call Me 45-4927
1956 Granddaddy's Rockin' / Half Hearted Love 45-4949
1956 You Ain't Treatin' Me Right / The Low Road 45-4965
1956 That Ain't Nothin' But Right / Don't You Love Me 45-4995
1957 Say So / I'll Be Gentle 45-5059
1958 What You Want / You Are My Very Special Baby 45-5107
1958 Little Miss Linda / Missy Ann 45-5121

Felsted Records (US)
1960 Come Back Baby / No Never Alone 45-8592-V

Le Cam Records (US)
1962 Singing The Blues / Soho 339
1962 Dance Her By Me (One More Time) / You're The One 954
1965 Lie And Get By / I Just Ain't Got 965

Dot Records (US)
1962 Dance Her By Me (One More Time) / You're The One 45-16315

Brownfield Records (US)
1962 Doodle Doodle Do (And Forget About You) / Don't Take My Freedom BF 27

Shah Records (US)
1962 Singing The Blues / Ballad Of Black Mountain S 982

Limelight Records (US)
1963 12th Of June / Lie And Get By Y 3010

Shalimar Records (US)
1963 Come On Back / 100 Pounds Of Honey S-103

Maridene Records (US)
1964 100 Pounds Of Honey / Down The Pike M-111

Tower Records (US)
1967 Stepping Out On You / The Ties That Bind 319

Epic Records (US)
1968 Too Close To Be True / Too Close To Home 5-10257
1969 Love's Been Good To Me / The Quiet Kind 5-10324
1969 Sunshine Man / It's My Way 5-10385
1969 Almost Persuaded / The Friendly City 5-10438
1969 Happiness Lives In This House / Little Ole Wine Drinker Me 5-10468
1969 Us / Don't Make Love 5-10530
1970 Honey Don't / Today's Teardrops 5-10574

GRT Records (US)
1970 Early In The Morning / When The Hurt Moves In 26
1971 Gulf Stream Line / I'd Run A Mile 41

Rollin' Rock Records (US)
1972 Ducktail / Sidetrack Mama 45-007
1974 Grandaddy's Rockin' / You Oughta See Granma Rock 45-016
1974 How Come It / Slip Slip Slippin' In 45-018
1975 Johnny Carroll Rock / Rockin' Mother 45-026
1975 What'll I Do / (B-side by Ray Campi) 45-029
1978 Keep Doin' What You're Doin' Now / Pistol Packin' Mama 45-043

Emcee Records (US)
1974 Pistol Packin' Mama / She Knows All The Good Ways To Be Bad 002

Ranwood Records (US)
1975 Asphalt Cowboy / Pistol Packin' Mama R-1017
1975 Keep Doin' What You're Doin' Now / She Knows All The Good Ways To Be Bad R-1033
1975 Nine Times Out Of Ten / More Like I Do Now R-1041
1976 West Texas Women / We Made It All The Way R-1050

Hot Rock Records (UK)
1980 Hot Rock Boogie // Half Hearted Love / The Hucklebuck HR-001
1981 I'm Gonna Be A Wheel Someday / Goosebumps HR-010

Rebel (FIN)
1981 Making It Right / Been Gone A Long Time MAC 005
1981 For Your Love / Turn Away From Me MAC 006

_________________
We don't care the People Says , Rock 'n' roll is here to stay - Danny & the Juniors - 1958

_________________
We don't care the People Says , Rock 'n' roll is here to stay - Danny & the Juniors - 1958
Epic Records (US)
1969 SUNSHINE MAN

Little Ole Wine Drinker / The Friendly City / Break My Mind / Love's Been Good To Me / Too Good To Be True / Too Close To Home / The Quiet Kind / Sunshine Man / I've Got The Tiger By The Tail / Almost Persuaded / It's My Way
BN 26419 (LP)

GRT Records (US)
1970 EARLY IN THE MORNING

Early In The Morning / Big Boss Man / Ain't That A Shame / Blues Man / Baby What You Want Me To Do / Maybelline / Gulf Stream Line / Stagger Lee / I'd Run A Mile / I Got A Woman / Where The Hurt Moves In / Him Or Me (What's It Gonna Be)
LP 20002 (LP)

Rollin' Rock Records (US)
1973 RUFFABILLY

Big D Women / Baby Let's Play House / Heartbreakin' Mama / Fannie Mae / Sidetrack Mama / Holdin' On / Good Rockin' Tonight / Amarillo Killer / Hot Rock / Crazy Crazy Lovin' / Wild Wild Women / You Hurt Me / Sexy Ways
LP 002 (LP)


1975 GOOD ROCKIN' TOMORROW

Good Rockin' Tomorrow / Wake Up Rock 'n' Roll Rock-A-Baby / Hard Hearted Girl / Party Line / Turn To Me / For Your Love / Rockabilly Uprising / Been Gone A Long Time / Juice Box / Gone Out Of My Mind / Wildcat Tamer / Let's Go
LP 002 (LP)



1978 ROCK ME

Sidething / That's How Much I Love You / Turn Away From Me / Making It Right / Real Good Itch / She Knows All The Good Ways To Be Bad / Suntan Girl / You Can't Take The Boogie Woogie Out Of Me / I'd Run A Mile To You / Good Love Sweet Love / Don't You Love Me / Rock Me
LP 016 (LP)

Sunshine Records (US)
1977 GOLDEN GOSPEL FAVORITES

I'm Gonna Walk Them Golden Stairs / He'll Understand And Say Well Done / Swing Down Chariot / Just A Little Talk With Jesus / This Old Building / His Hand In Mine / When God Dips His Pen / Milky White Way / Where Could I Go / It's Different Now
SS 001 (LP)



Radar Records (UK)
1979 ROCKIN' MOTHER

Ducktail / Grandaddy's Rockin' / You Oughta See Granma Rock / How Long Will It Take / If I Had Me A Woman / Good Rockin' Tomorrow / Rockin' Mother / How Come It / Slip Slip Slippin' In / Johnny Carroll Rock / Turn Away From Me / That Ain't Nothin' But Right / Crazy Crazy Lovin' / Hungry Hill

collection of Rollin' Rock masters
RAD 22 (LP)

Rebel (FIN)
1981 TEXAS ROCKABILLY LEGEND

Rock Me / If I Had Me A Woman / Slip Slip Slippin' In / Turn To Me / I'd Run A Mile To You / Hungry Hill / Johnny Carroll Rock / Pistol Packin' Mama / Ducktail / Making It Right / Sidething / Good Rockin' Tomorrow / Been Gone A Long Time / She Knows All The Good Ways To Be Bad
collection of Rollin' Rock masters
ROLLS 004 (LP)


1981 TOP CAT ON ROCKABILLY TRACK

Rockin' Mother / Rockabilly Uprising / Suntan Girl / Wildcat Tamer / That Ain't Nothin' But Right / Grandaddy's Rockin' / Amarillo Killer / How Come It / Hard Hearted Girl / Keep Doin' What You're Doin' Now / How Long Will It Take / For Your Love / You Oughta See Granma Rock / Turn Away From Me
collection of Rollin' Rock masters
ROLLS 004 (LP)


Hot Rock Records (UK)
1981 TRUCKABILLY

I'm Gonna Be A Wheel Someday / Goosebumps / Good Rockin' Teddy / Wishin 'n' Prayin' / The Hucklebuck / I'm Gonna Love You Back To Loving Me Again / Rockin' Pneumonia And The Boogie Woogie Flu / Train Of Sin / Just a Little Too Much / Hooked On Music / Turn To Me / Little Miss Linda / Don't Forbid Me / Hollywood City
HR-701 (LP)

Rollin' Rock Records (CH)
1995 THE ROLLIN' ROCK & REBEL SINGLES

Ducktail / Sidetrack Mama / You Oughta See Granma Rock / Grandaddy's Rockin' / How Come It / Slip Slip Slippin' In / Johnny Carroll Rock / Rockin' Mother / Keep Doin' What You're Doin' Now / Pistol Packin' Mama / Been Gone A Long Time / Making It Right / For Your Love / Turn Away From Me / If I Had Me A Woman / That Ain't Nothin' But Right / Rollin' Rock Rock / How Long Will It Take / Tell Me What'll I Do
collection of Rollin' Rock masters
RRCD 004 (CD)

Hightone Records/HMG (US)
1997 ROCKABILLY UPRISING

If I Had Me A Woman / Good Rockin' Tomorrow / Party Line / Ducktail / I'd Run A Mile To You / Wild Wild Women / That's How Much I Love You / You Can't Take The Boogie Woogie Out Of Me / Grandaddy's Rockin' / Turn Away From Me / Sidething / How Come It / Wake Up Rock 'n' Roll / Hard Hearted Girl / More Love Where That Came From / Real Good Itch / Turn To Me / For Your Love / Suntan Girl
collection of Rollin' Rock masters
6601 (CD)

Vinyl Japan Records (UK)
1998 ROCKABILLY READY

Rockabilly Ready / The Love Doctor / Show Me The Money / Tell Me What'll I Do / Old Rock 'n' Rollers Like Me / Miss Linda's Still Fine / One Foot Loose / Blues Man / Let's Go Downtown / Keep On Rockin' / Hey Hey Little Lady / Mesmerized / Are You Ready To Rumble / Side Wind / Little Mama Have Mercy / Frantic
JRCD 31 (CD)

Bluelight Records (FIN)
1999 EARLY IN THE MORNING

Early In The Morning / Big Boss Man / Ain't That A Shame / Blues Man / Baby What You Want Me To Do / Maybelline / Gulf Stream Line / Stagger Lee / I'd Run A Mile / I Got A Woman / Where The Hurt Moves In / Him Or Me (What's It Gonna Be)
re-issue of GRT album
BLR 3367 2 (CD)

2011 SONGS I WISH I WROTE

Singer Of Sad Songs / This Time Tomorrow / 100 Pounds Of Honey / Sunshine Man / Turn Away From Me / One More Night / Stay Love / Beautiful Annabel Lee / So What Let It Rain / Drowning All My Sorrows / If You Want To Be My Woman / Restless / You've Turned Down The Lights
BLR 33147 2 (CD) BLR 33147 1 (LP)

_________________
We don't care the People Says , Rock 'n' roll is here to stay - Danny & the Juniors - 1958
Sujets similaires
---
Permission de ce forum:
Vous
ne pouvez pas
répondre aux sujets dans ce forum