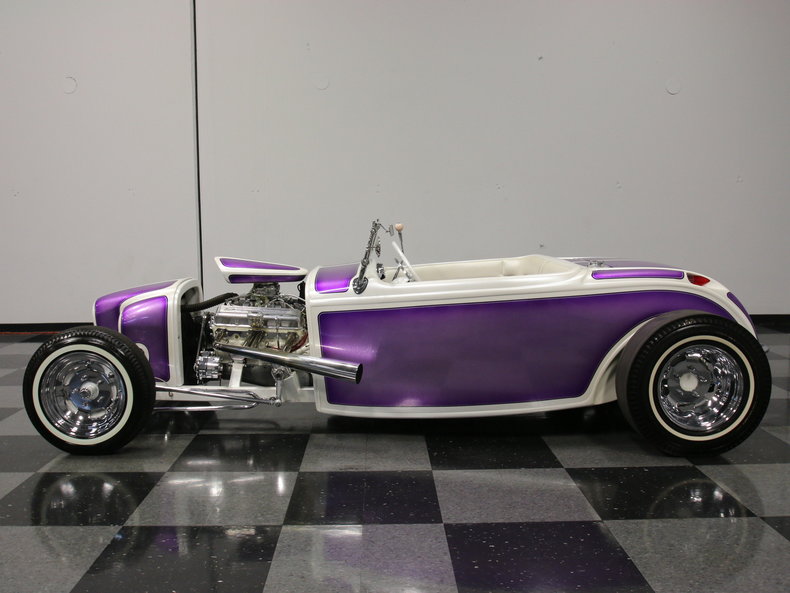 Built by Craig Smith and called "The Liberace," this fantastic '32 Ford roadster definitely has that old school customizer's vibe. It's based on a Rod & Race '32 Ford roadster body, in fiberglass of course, and has been fully customized the old school way. If there's a modification possible, this car probably has it, from being chopped, shaved and channeled, to the elimination of the doors (do you really need them when the car is less than three feet tall?), to reworking the beltline trim to make it look clean and sleek. Then there's the nose, which emulates some of the far-out creations of the '60s, giving The Liberace a very unique, one-off look. The paint is expertly done in pearl white with purple inserts and looks spectacular out in the sun. Other details include Frenched '59 Cadillac taillights, Mustang fog lights, and even a set of marker lights from a semi-truck, all working together to make this car totally unique. It's long, lean, low, and loud, which is exactly the point with a car like this.
The interior is a tasteful blending of '60s sensibilities with modern comfort, as the bench seat was totally reworked to make this roadster comfortable for all-day cruises. On the other hand, the purple pleated vinyl inserts and side panels are totally old school, with sparkles just to reinforce the point. Black carpets keep it from being overwhelming and that '55 Chevy steering wheel was smoothed and painted to match the bodywork. The instrument panel, if you can call it that, is art more than function, with a center-mounted speedometer and auxiliary gauges in their own pod down out of sight. And nothing's cooler than cruising with your hand hanging from that tall Lokar shifter, complete with eyeball shift knob. Even the trunk is neatly finished in the same materials and offers remote charging posts for the hidden battery as well as a master cut-off switch. No radio, no heat, no top, no windows, just your back-to-the-60s rod that's all about fun.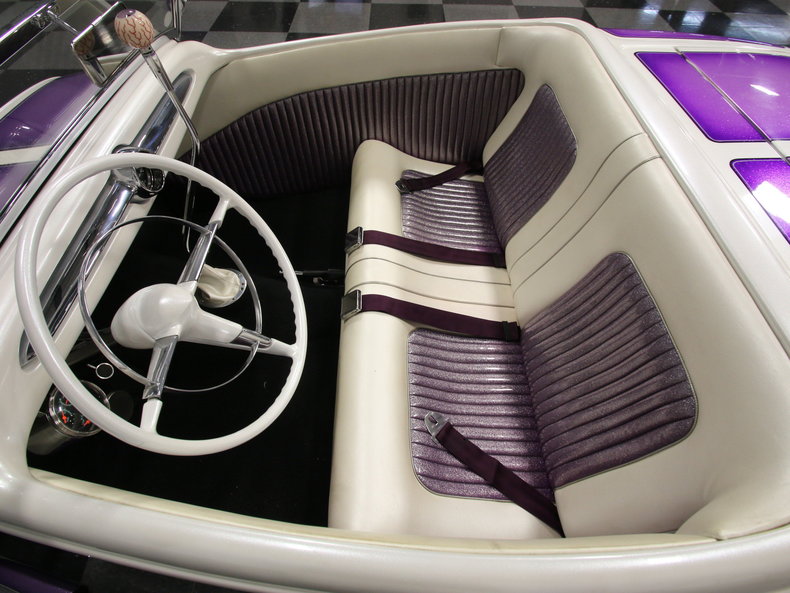 A 350 cubic inch GM crate motor provides about 270 horsepower, which is plenty in this flyweight roadster. The focus was on reliability, so they added a Pertronix ignition, Speedway polished Edelbrock intake manifold and carburetor, and a set of gorgeous headers with Volkswagen Beetle stingers and baffles, so it's not overwhelming to drive long distances. Clearly the goal was to have a no-compromises old-school rod. Its backed by a 700R4 4-speed automatic overdrive transmission and a 10-bolt rear, so highway cruising is truly effortless, and the entire box-section frame was custom made and painted to match the body. Simple transverse leaf springs at both ends do their job, along with chrome hairpins up front and ladder bars out back, the way they did it decades ago. Chrome kidney bean-style wheels are pure 1963 and carry bias-ply whitewalls, with the rears being vintage drag slicks. Too cool!
This car has a long, long list of awards behind it, more than a few magazine features, and an awesome pedigree. If you grew up during a certain time period, this car is already speaking your language. Call today!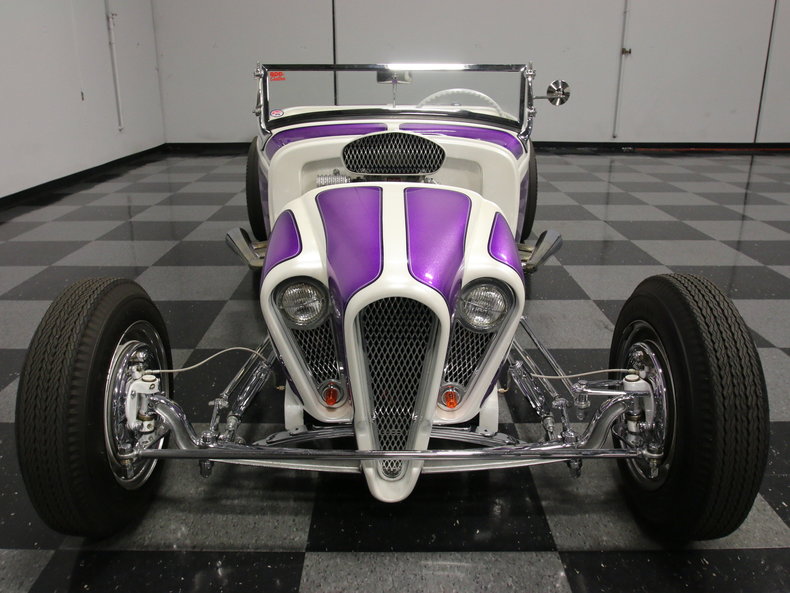 _________________
We don't care the People Says , Rock 'n' roll is here to stay - Danny & the Juniors - 1958

_________________
We don't care the People Says , Rock 'n' roll is here to stay - Danny & the Juniors - 1958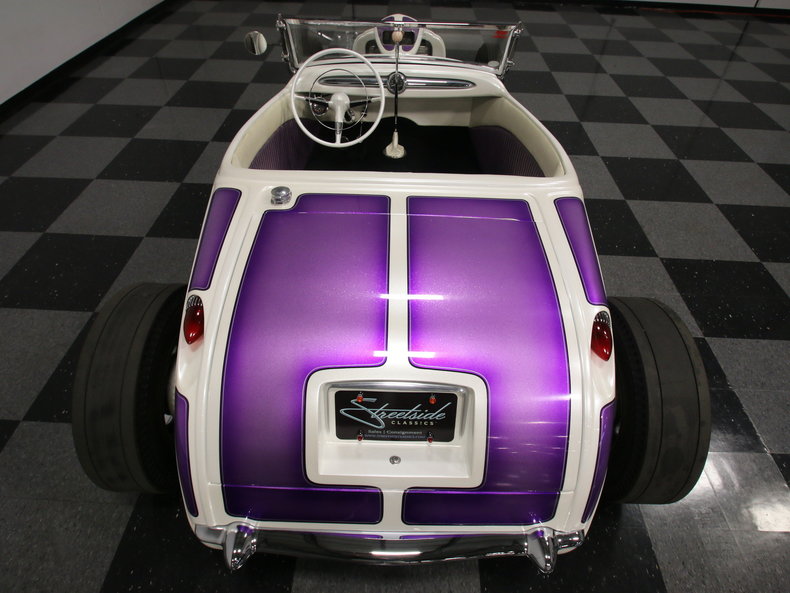 _________________
We don't care the People Says , Rock 'n' roll is here to stay - Danny & the Juniors - 1958

_________________
We don't care the People Says , Rock 'n' roll is here to stay - Danny & the Juniors - 1958

_________________
We don't care the People Says , Rock 'n' roll is here to stay - Danny & the Juniors - 1958

_________________
We don't care the People Says , Rock 'n' roll is here to stay - Danny & the Juniors - 1958
---
Permission de ce forum:
Vous
ne pouvez pas
répondre aux sujets dans ce forum