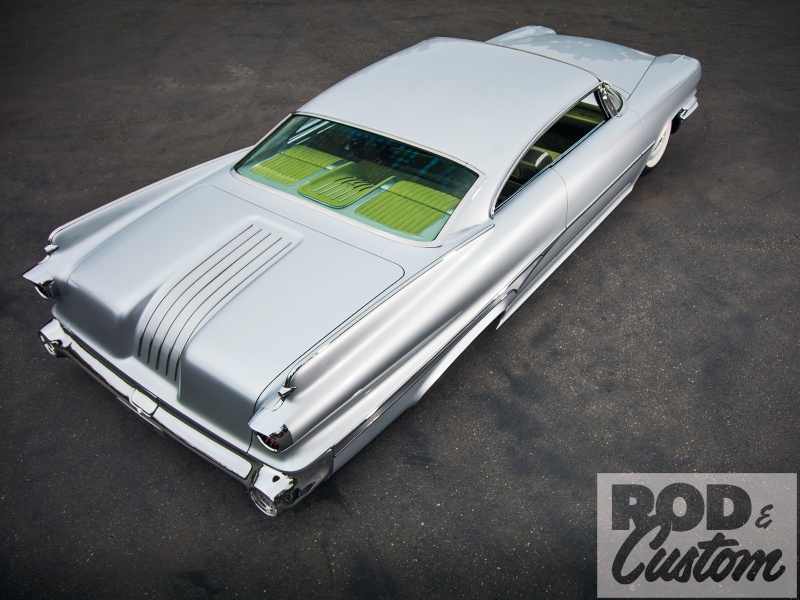 Justin Hills/Hills & Co. Customs
Taree, New South Wales, Australia
1960 Dodge Phoenix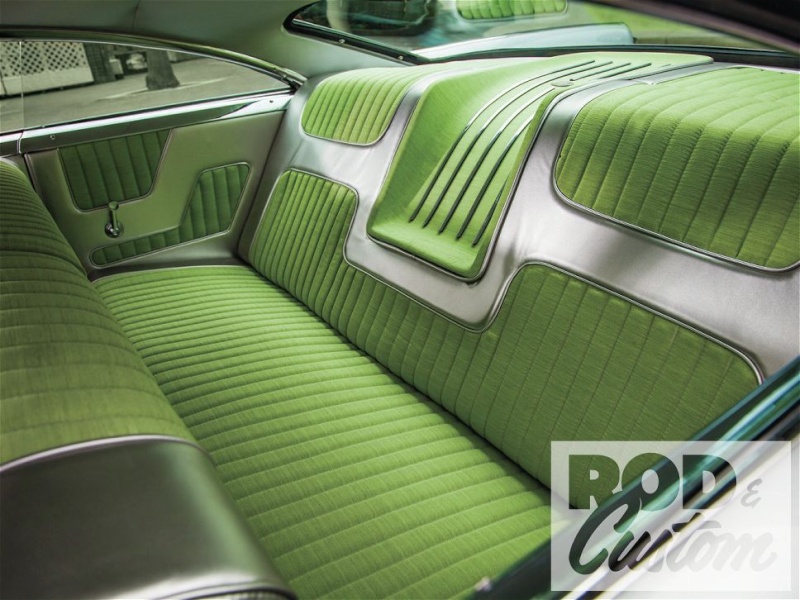 When I first laid eyes upon Justin Hills' 1949 Buick that we subsequently featured in our July 2011 issue following its GNRS debut, I knew I was looking at a car built by someone with a true eye for classic custom styling. I also knew to expect more from Justin's Australian-based shop, Hills & Co. Customs. Well, my expectations were met this past January, at the very same place I became acquainted with man and machine to begin with, the Grand National Roadster Show.
1960 Dodge Phoenix Engine Block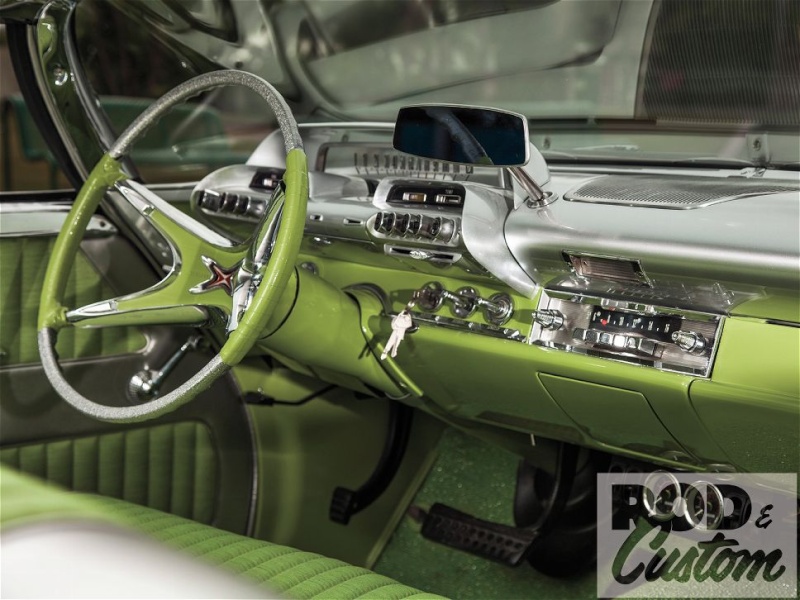 Amongst an array of vividly colored custom creations sat Justin's latest effort, his space-age-inspired '60 Dodge Phoenix, "Atom". Like its predecessor Buick Sedanette, subdued paint (in this case, solid silver metallic) made as much of a visual statement as did the vibrant pastels of its competing brethren displayed within the same building at the Pomona Fairplex. The hardtop Dodge perched upon spaceship-esque reflective silver fabric, drew me in just as the Buick did—for its well thought out customizing, perfect use of various components, and, of course, excellent color combinations. I found it hard to criticize anything—and that's a hard thing to do!
Dernière édition par Predicta le Mer 24 Juin - 5:44, édité 1 fois

_________________
We don't care the People Says , Rock 'n' roll is here to stay - Danny & the Juniors - 1958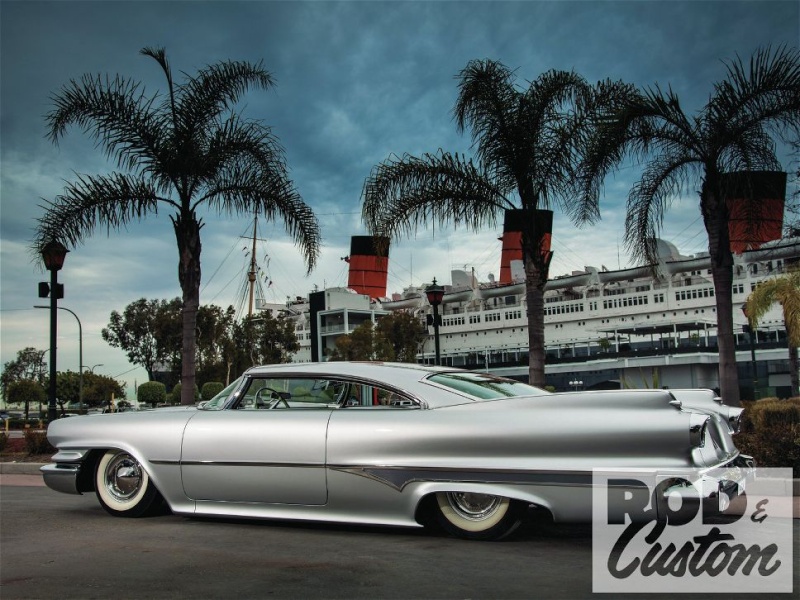 OK, so it's fairly obvious how I feel about the car, but just what is it that makes Justin's Dodge stand out? Well, let's backtrack to how it all started and what it took to build this space-aged custom.
Back when Justin Hills was embarking on his first voyage overseas with not only the Buick, but his extravagant Cadillac custom, "Wildcad", he spied the Dodge at his friend Mario Colalillo's shop. "Mario's son, Andy, had the car and was planning on building it, but had other things going on," Justin recalls. Obviously, Andy's plans were thwarted, and thus the initial groundwork was laid for Justin's next big build.
1960 Dodge Phoenix Trunk
Once back from his 2011 whirlwind tour, Justin started on the Dodge Phoenix (Australia's version of the Dart). First came the chassis work, then the chop and subsequent pillar/backlite surgery, and then... the colors. "The conception of the build was a 'space age' factory custom concept car," Justin claimed. "Myself and Brian [Kilpatrick] spent hours planning the overall look, but the colors I'd come up with a long time ago… when I told people it was going silver with green trimmings, I got some odd looks!" Kilpatrick, as it turned out, trimmed the Dodge in its complementary green guts; Justin and coworker Chris Lineham laid down the exterior sparkle.

_________________
We don't care the People Says , Rock 'n' roll is here to stay - Danny & the Juniors - 1958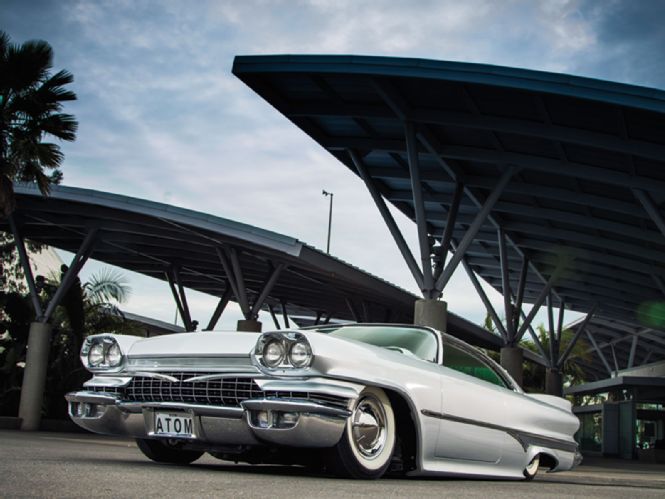 So, with two—sorry, make that three—customs under Hills & Co.'s belt in the last two years alone, are we to expect even more by 2015, or sooner? Let's hope so.
Read more:
http://www.rodandcustommagazine.com/featuredvehicles/1309_1960_dodge_phoenix/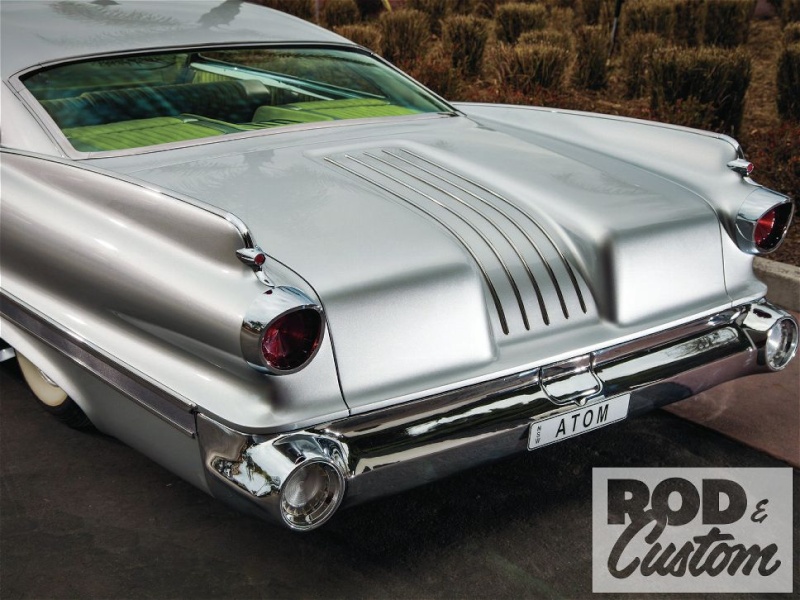 _________________
We don't care the People Says , Rock 'n' roll is here to stay - Danny & the Juniors - 1958

_________________
We don't care the People Says , Rock 'n' roll is here to stay - Danny & the Juniors - 1958

_________________
We don't care the People Says , Rock 'n' roll is here to stay - Danny & the Juniors - 1958

_________________
We don't care the People Says , Rock 'n' roll is here to stay - Danny & the Juniors - 1958

_________________
We don't care the People Says , Rock 'n' roll is here to stay - Danny & the Juniors - 1958
---
Permission de ce forum:
Vous
ne pouvez pas
répondre aux sujets dans ce forum