49 Mercury KUSTOM-, 350 chevy small block V8, automatic, 71 Monte Carlo sub-frame with power Disc Brakes and Power Steering and a four link coil spring rear suspensipon from the 71 Monte Carlo and she RIDES NICE !!!....built by the FAMOUS Canadian kustom car builder Jim Bailie ( look him up ! ) .... JUST CAME IN -- AND she is BEAUTIFUL !!!!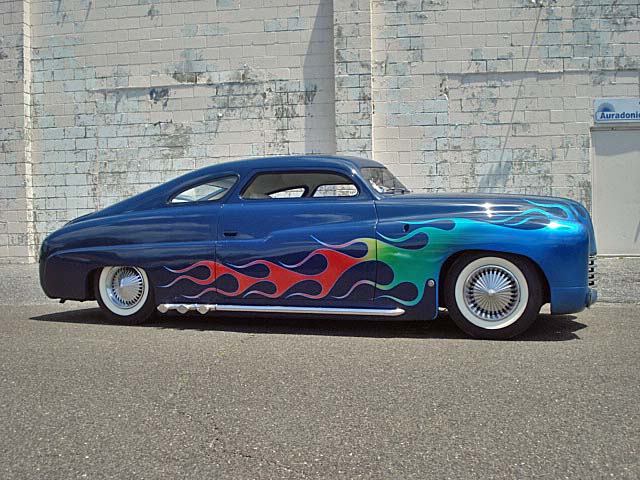 This ABSOLUTE BEAUTY has had SO MANY body modifications that are SO SUBLTLE you actually have to LOOK ..... but .. FIRST .... She is painted in a nice Sunset Blue with a KNOCK OUT Multi-Color Flame job that is REALLY NICE !!! The Blue and White Roll and Pleat interior is 50's PERFECT and COMFORTABLE as your favorite chair !!! The car was built in the 80's so she does have some paint dings, etc, but we didn't wanna' TOUCH HER because of her history ....
Now ... body mods.... I'll give 'ya a FEW and see if you can spot the rest .....LOOK AT ALL THE BODY LINES -- the FIT and FINISH of the metal work on the car is nothing short of OUTSTANDING !!! Of course ... She has the " usual " nose and deck ..... and the PERFECT TOP CHOP !!! And here's a few MORE .... Starting at the front end ..... the Hood has been peaked and extended and re-shaped to fit the custom grill cavity with a custom grill built by Jim.... the ENTIRE front end was re-shaped to give it a "movie" car look like the "Green Hornet" or " Dick Tracey" type of movie car with the headlights dropped down ( and they have removable COVERS to HIDE THEM COMPLETLY !! )and the custom Grille/Grille cavity ....A custom front roll pan was created to match the contours of the re-shaped front end.... Jim installed a one-pice windshield and then he moved on to RE- SHAPE the front and rear wheel arches that are a NICE touch ....he then installed a SUNKEN MIRROR in the door that when closed keeps the body lines SMOOTH and it is one NICE piece of metalwork !!! ... then he added sunken door handles ( YES !!! -- a Kustom with DOOR HANDLES that are as COOL AS IT GETS !!!!) .....The triple exit side pipes are channeled thru the rocker panels....... Then he moved to the rear window and SUNK the window and created a pair of PEAKED trailing edges ..... THEN --- onto the the rear of the car ----- The trunk has been re-shaped to meet the Jim Bailie created rolled rear pan with frenched license plate ( oh ... frenched antenna too !! ) ... Next was a SEXTUPLET of tail lights expertly frenched into the lower rear 1/4 panels ..... now YOU LOOK and see all the modifications to this MERCURY KUSTOM that was created by ONE OF THE BEST METAL--SHAPERS ON THE PLANET !!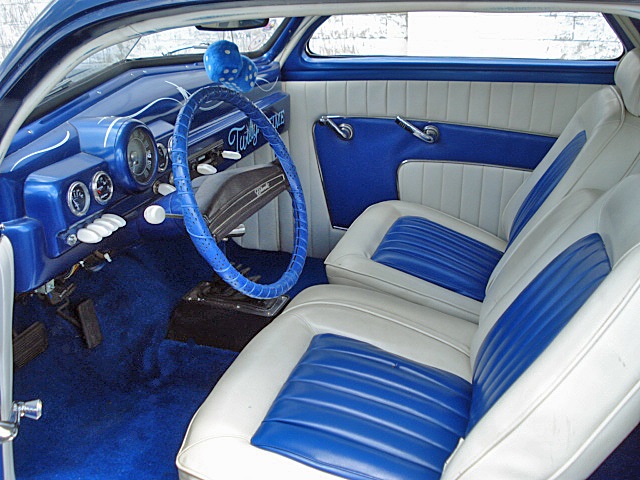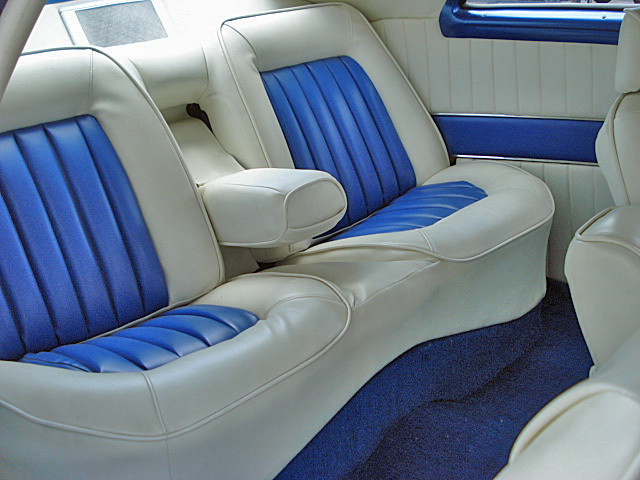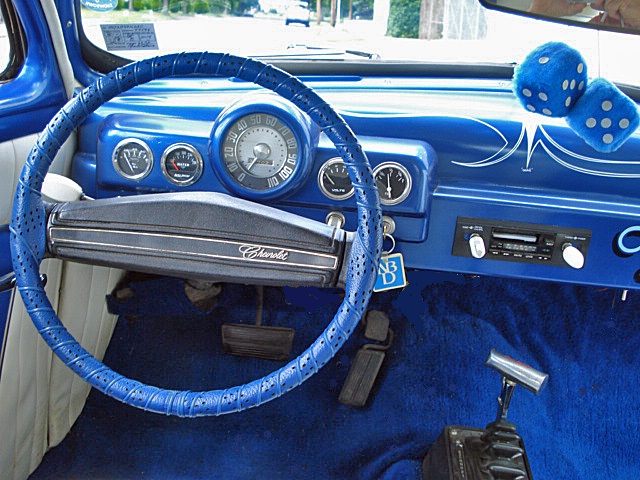 _________________
We don't care the People Says , Rock 'n' roll is here to stay - Danny & the Juniors - 1958

_________________
We don't care the People Says , Rock 'n' roll is here to stay - Danny & the Juniors - 1958

Zed




Messages

: 149


Date d'inscription

: 10/11/2012


Age

: 52


Localisation

: Oraison (04 )



---
Permission de ce forum:
Vous
ne pouvez pas
répondre aux sujets dans ce forum