Dernière édition par Predicta le Sam 9 Mai - 6:20, édité 2 fois

_________________
We don't care the People Says , Rock 'n' roll is here to stay - Danny & the Juniors - 1958

_________________
We don't care the People Says , Rock 'n' roll is here to stay - Danny & the Juniors - 1958

_________________
We don't care the People Says , Rock 'n' roll is here to stay - Danny & the Juniors - 1958

_________________
We don't care the People Says , Rock 'n' roll is here to stay - Danny & the Juniors - 1958
This is a full kustom Buick Centry Hardtop. It was recently featured in the little book, Traditional Kustoms and won "Best Custom" at the Grand National Roadster Show in Pomona.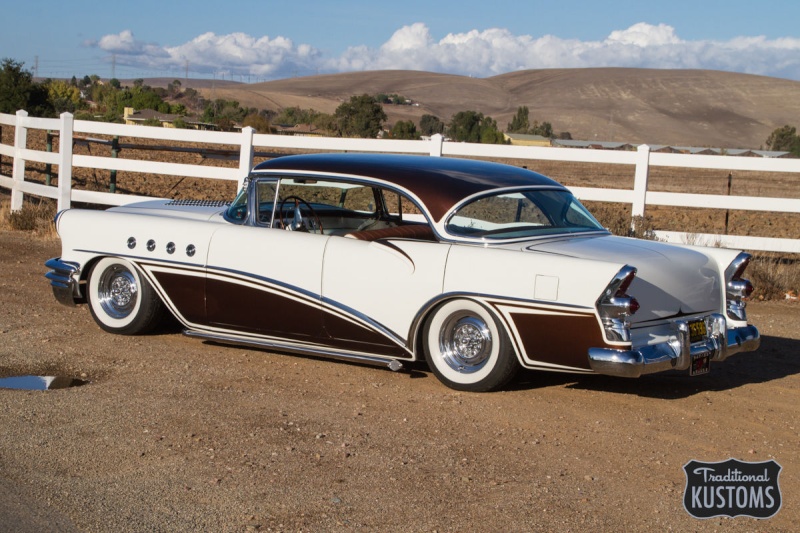 Body has been stripped to bare metal, door handles shaved, decklid shaved and remote popper installed (has a manual pull cable just in case), Hood has been shaved, peaked and has been louvered by Seret Speed and Custom. Jennings Kustom Restoration in Concord did the final body and paint. Striping by Eric Reyes. Other custom touches on the outside include blacked out front grille, 53 Buick rear bumper and guards, 53 Buick bullet tail lights frenched into the 55 housings. All exterior chrome has been replated. All stainless was straightened and polished. There is $1200 in Steele Rubber replacement seals installed also. Lakes pipes are stainless, but not hooked up.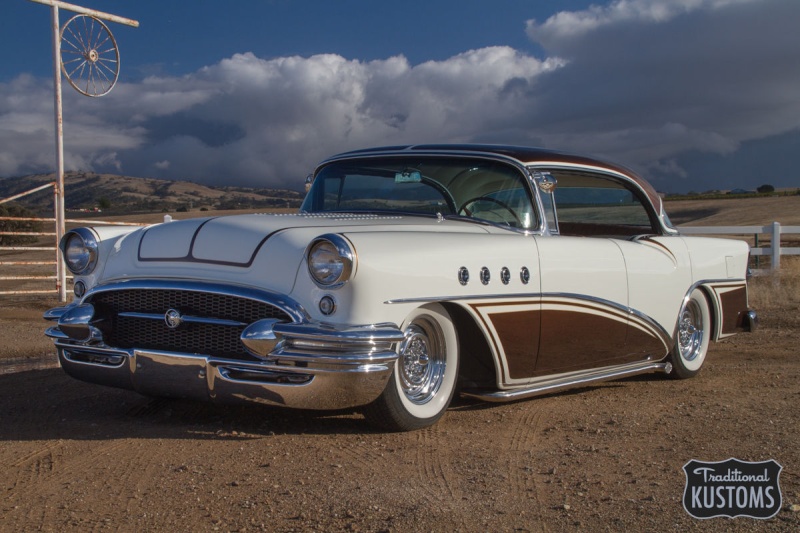 Interior was done by TriValley Auto Glass and Upholstery. Cream and brown with gold piping to mimic the exterior scallops. Power seat works. Power windows work, but the motors are slow and need to be gone through. Dash is customized with Stewart Warner Speedo and Tach frenched into stock housings and additional gauges where the radio used to be. There are 4, 6.5" Zues speakers with separates in the kick panels and package tray, all hidden under vinyl. A 10 sub is in the trunk as are two amplifiers and the tuner. All of the interior chrome and the glass have been replaced, except the rear window. A 22 circuit Kwik-Wire wiring kit is also installed. The Steering column has been shaved of the shifter hole. The trunk us also upholstered.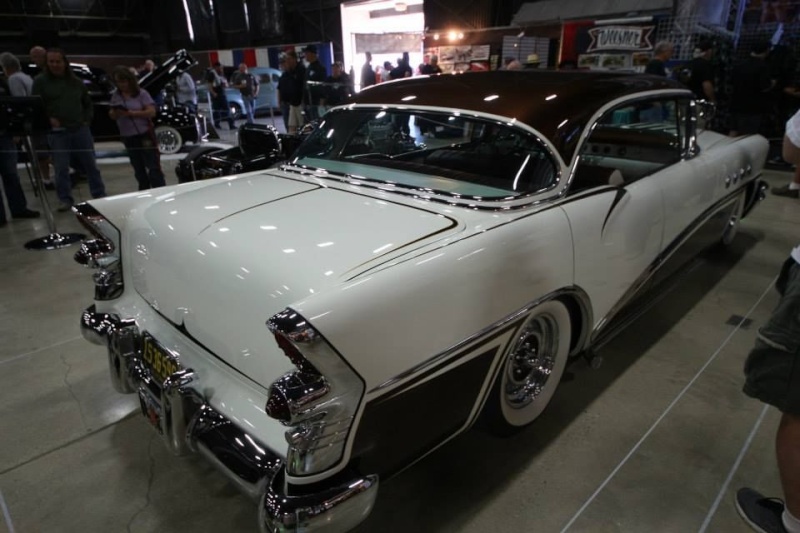 The rear of the car has a 4-link suspension from a 66 Chevelle, including the 10-bolt rear with fresh 3.55 gears. The front has Fatman dropped spindles and Jamco springs along with big AstroVan disc brakes from Scarebird. A power booster and Corvette master round out the braking system.
The engine is pretty cool. Its a .030 over 1956, 322ci engine that was rebuilt and installed in a T-Bucket show car in 1967. There is a build tag on the side of the oil pan from the machine shop. I pulled it from the show car (the guy wanted to put a chevy in it!!) and it had 1200 miles on the odometer. It start and runs great with no smoke or bad noises. The motor features a rare Weiand dual quad intake with a pair of rebuilt AFBs on it. Pertronix ignition has been installed as well. The water pump is new from Russ Martin. The transmission is a fully rebuilt Ford RUG unit, which is a Toploader 3-speed with a 4th gear overdrive attached to a Cragar adapter with a rare Hurst Shifter and vintage marble glass knob installed. This thing cruises at 2100rpm at 70mph all day long. The radiator is a heavy duty commercial unit (was in the car) that Pankeys restored. Fresh dual exhaust with Porter mufflers.
Wheels are from Wheel Vintiques and have the centers painted and striped to match the car. Tires are fresh Coker radials.
The car is set up for AC, and has a custom bracket installed with the compressor on the engine. The car comes with the rest of the Southern Air Products under dash heat/AC system in a box. I never got around to installing it and haven't needed it. The rear bumper was done at a different shop then the rest of the chrome (which is awesome) and it has a spot under the license plate where it is starting to peel. Not a big deal, but I wanted to mention it. The speedo adapter is leaking a little at the trans, and it recently stopped working, so I believe it needs a new one ($125 at Summit).

_________________
We don't care the People Says , Rock 'n' roll is here to stay - Danny & the Juniors - 1958

_________________
We don't care the People Says , Rock 'n' roll is here to stay - Danny & the Juniors - 1958
Sujets similaires
---
Permission de ce forum:
Vous
ne pouvez pas
répondre aux sujets dans ce forum