Sometimes, the world is fortunate to have iconic creations preserved and restored for all to draw inspiration from, while at other times many creations are either lost or destroyed. Such is the case of Duane Steck's '54 Chevy Bel Air hardtop, known as Moonglow.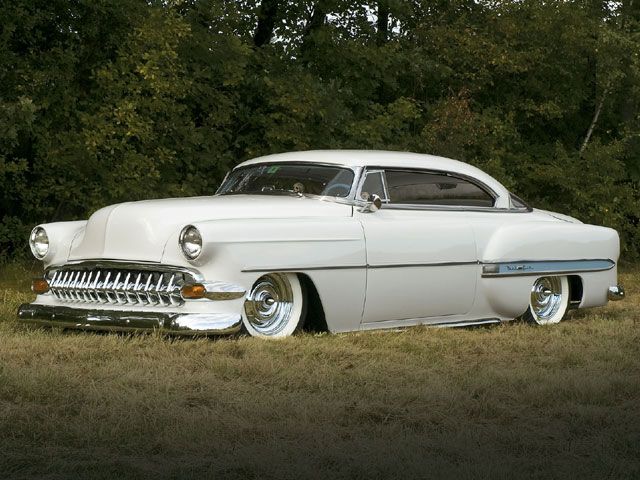 Here was a car that wasn't created at a notable California custom shop in the 1950s; instead, it came together in the driveway of the owner who had an incredible vision for the transformation of his car to a truly historical level with its style and form. Gracing the cover of Car Craft magazine in January 1957, the car would continue to earn its share of countless trophies and expanded magazine coverage. Appearing on numerous covers, it continually evolved over a few years while still owned by Duane, who updated its appearance and colors along the way.
Sadly, as time passed, the car changed hands and was eventually crushed. Inspiration is the true motivator to keep life in something that was influential, which was Charlie Gish's main thought as he set out on a 15-year pilgrimage to recreate the Moonglow to the best of his abilities.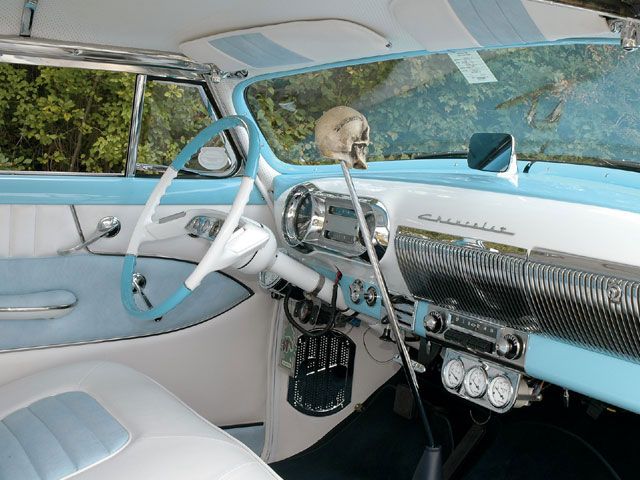 Under the hood of Charlie's... read full captionUnder the hood of Charlie's '54 lurks one of the most detailed six-bangers we have seen in recent memory. Built by Nelson Kiss, its block has been massaged to 273 ci while being filled with plenty of vintage speed goodies, including Badger slugs, a Howard stick, and an Offy three-pot intake.Searching for a suitable base to start with, and knowing that the chances of finding one in the rust belt where he lived was going to be slim to none, Charlie came across an ultra-clean, bone-stock '54 Bel Air hardtop from California that definitely fits the bill. The complete car had one-piece bumpers and tinted glass. Having completed his research on the original Moonglow, as well as having spoken at length with Moonglow expert Tony Feil of Raritan, New Jersey, Charlie had amassed a complex grouping of information about the car and many of its fine details, which would help him out greatly once the build got started. His goal was to get the car as close to the original as possible, along with a number of personal revisions he wanted to incorporate into the project.
To get the project started, Charlie contacted the legendary Kelsey Martin to take on the daunting task of chopping the top. The chop had to be absolutely perfect, and Charlie knew Kelsey was just the right person to take it on. Kelsey gave the car its signature look by removing 3 1/2 inches from the lid of the Bel Air, but there was far more involved than just the roof cut. He took on the painstaking responsibilities of making all of the trim fit, as well as ensuring all of the windows worked, even the side vents.
Another extremely involved portion of the build was getting a rear window made that would fit perfectly; for this, Charlie worked with Thunder Road Specialty Auto, where the team was able to make a one-piece Lexan unit that not only fit right the first time but also looked great once installed. From that point, it was up to Mike Johnson of Tyngsboro, Massachusetts, to take on the balance of the body modifications that included filling and peaking the hood, frenching the headlights, shaving the body, and infusing loads of seductiveness into the car's final form.
Everyone knows the next key to a wicked custom is dialing in the stance, and Charlie took some liberties by installing more modern components, including a Fatman IFS along with Air Ride Technologies 'bags and dropped spindles, combined with a C'd chassis and an updated driveshaft tunnel and trunk floor, thanks to Dave Joyce of Derry, New Hampshire. The binders are vintage Chevy drums, while rollers are Wheel Vintiques chrome steelies topped with chrome nipple caps, ensuring that plenty of classic feel keeps the car in check. Remember, this is a car that Charlie has plenty of sweat-equity in, having personally worked tirelessly on it while he drove it every season as it continued to evolve, amassing more than 20,000 miles in the process!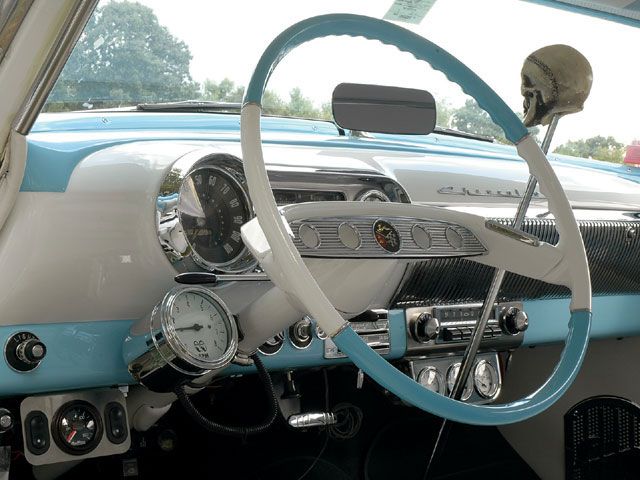 When it came time for the engine build, Charlie had a '61 Chevy six that was just aching for attention, so he contacted Nelson Kiss of Vassalboro, Maine, to work his magic on it. After punching out the block to 273 ci, Nelson worked it to perfection, while dropping in a set of new Badger slugs urged by a Howard cam. An Offenhauser three-pot topped with a set of Rochester single-throats ride shotgun wearing helmet-style air cleaners that suck plenty of air. A Mallory Unilite was selected to light the fire, while spent gases are dumped thanks to a Fenton header.
Dernière édition par Predicta le Ven 1 Mai - 7:23, édité 1 fois

_________________
We don't care the People Says , Rock 'n' roll is here to stay - Danny & the Juniors - 1958
Add in plenty of dazzling detail and this is one six-banger that garners many accolades once the hood is opened. Shifted through a warmed-over Chevrolet TH350 linked to 3.55:1 gears out back, this car is set up for the long haul. It was time to add some excitement to the mix with all of the body and mechanical updates out of the way, and Charlie contacted Ken Boisclair at Classic Chassis Auto Body to lay down a vibrant coat of Pure White glaze to bring the car to life. The final icing on the cake came when Charlie got together with the team at Columbia Auto Seat Covers to lay out the interior, as well as fill it with sound and loads of final detail, including a '61 Chevy steering wheel, a Moon tach, and a skull-topped shifter.
The car in its completed form is nothing short of breathtaking and calls to memory the fine lines of the original Moonglow. While it is not meant to be an exact recreation of Duane Steck's masterpiece, it's one Charlie has wanted all of his life. The fact that it pays homage to one of the great customs of all time is enough for any true custom fan to appreciate.
Article original:
http://www.streetrodderweb.com/features/0811sr_1954_chevy_bel_air_hardtop/viewall.html#ixzz2U99uSLsA

_________________
We don't care the People Says , Rock 'n' roll is here to stay - Danny & the Juniors - 1958
---
Permission de ce forum:
Vous
ne pouvez pas
répondre aux sujets dans ce forum