"After 30 years of not surfing or having an old custom car, I decided it was about time for both. So, I went out, bought a new surfboard, and got back in the water. That was the easy part; now I just needed to find a car.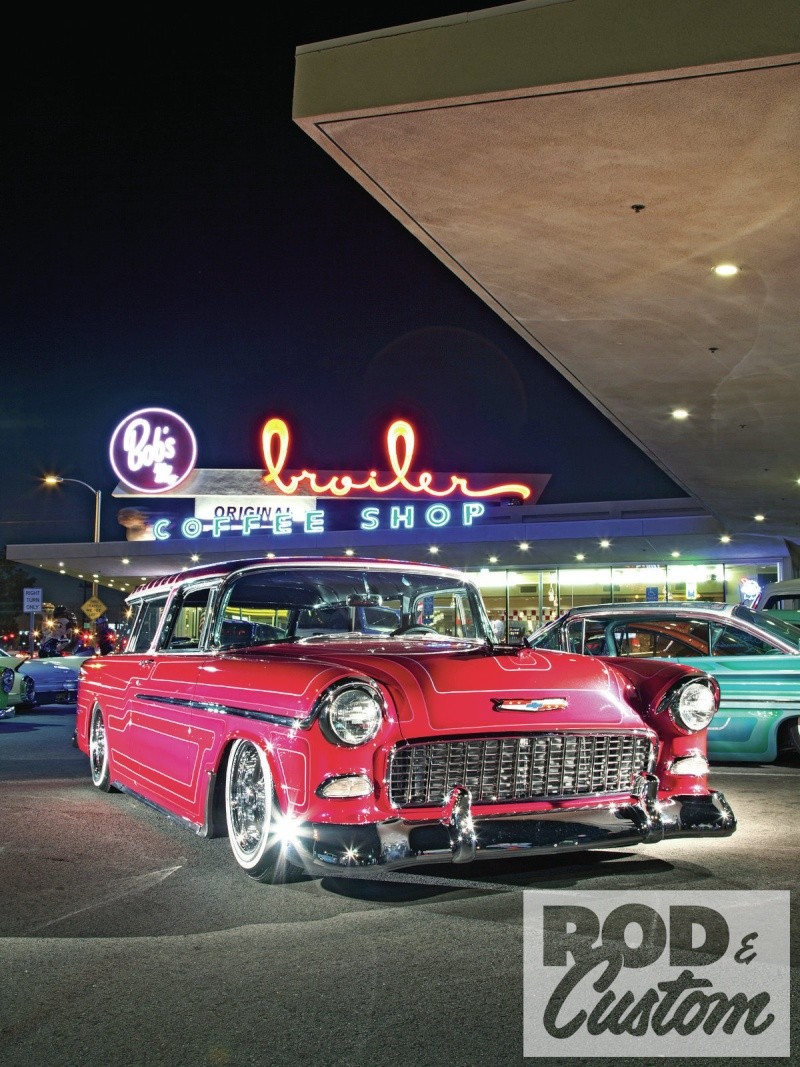 "Out of all my cars, boats, and Harleys, my '55 Nomad was my favorite. When I graduated from Carson High in 1964, a friend of my brother was selling his Nomad; it was black on the bottom with a silver 'flake roof, black tuck 'n' roll, and Astro Supremes. I drove it like that for a few months to all of the A&Ws, The Wich Stand, Wray's, Harvey's Broiler, and so on. I started seeing all the nice custom paintjobs and realized that's what I wanted on my wagon. Soon afterward, the redo began: new diamond/button-tuft interior with four bucket seats and dual consoles, hydraulics, and the custom burgundy fade paint with silver metalflaked and webbed roof. I was invited to enter it at the 1966 Long Beach Show, where I won first in class.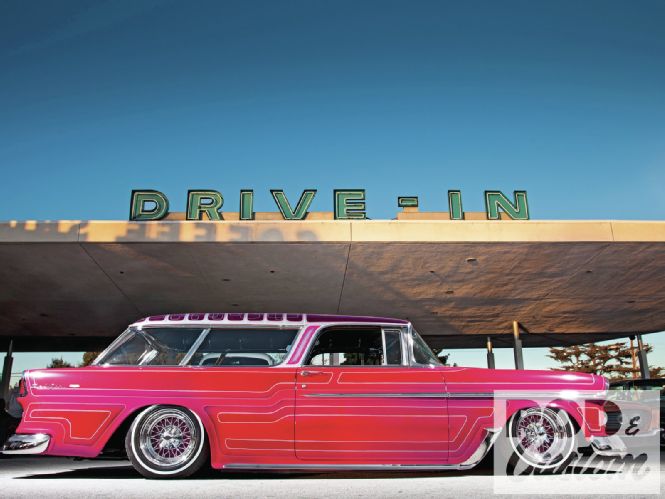 "By 1969, I'd started water skiing and ended up buying a boat, which the Nomad couldn't tow. I ended up trading the wagon to a friend for his '64 El Camino. Eventually my friend moved back east, taking the Nomad with him, and I never saw it again. That was the end of the original 'Pink Panther'!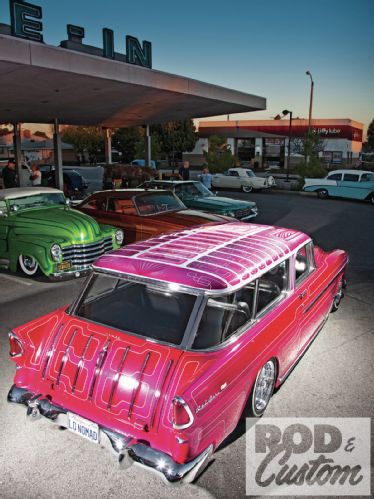 "After months of searching for another Nomad, I finally found one in the Old Car Trader for $15,000. I had it shipped from Illinois and drove it as-is for a couple weeks before starting the build. For the next 10 years, I worked on it on and off, all the while still driving it. By 2010, everything but the paint was finished—it was primed, taped off, and ready to be sprayed. I had done some painting myself earlier on other projects, but was not too sure about the design on the Nomad.
"I live across the street from Stevenson Automotive Paint and Supply, so one day I talked to the owner, Mike Stevenson, who suggested I go by a shop up the street called Starlite Rod and Kustom thinking I might get some ideas from their custom paintwork, so I did just that. After seeing all the paintjobs they'd done, which were just my style, my confidence level was up. We talked for a while and I felt good about the guys; I told them my history and showed them pictures of my old car from the '60s. We came up with color schemes and designs together, and instead of going back and applying them myself, I un-taped the wagon and brought it back to Starlite for them to fine-tune the bodywork and do the paint for me!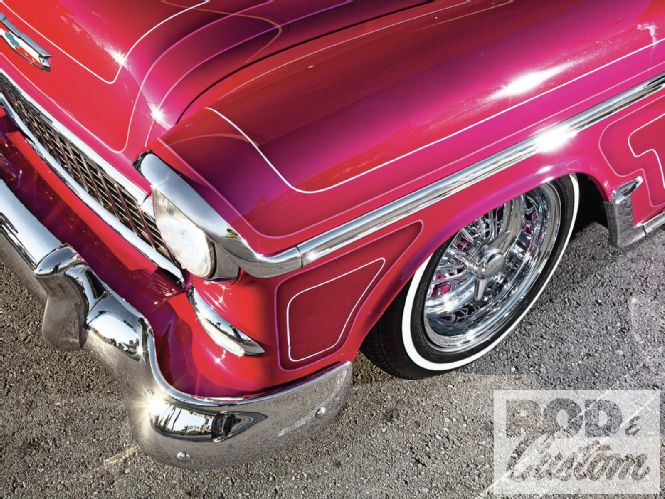 The Nomad turned out perfect, in no small part thanks to the guys at Starlite Rod and Kustom. The Pink Panther is back! Rod & Custom Feature Car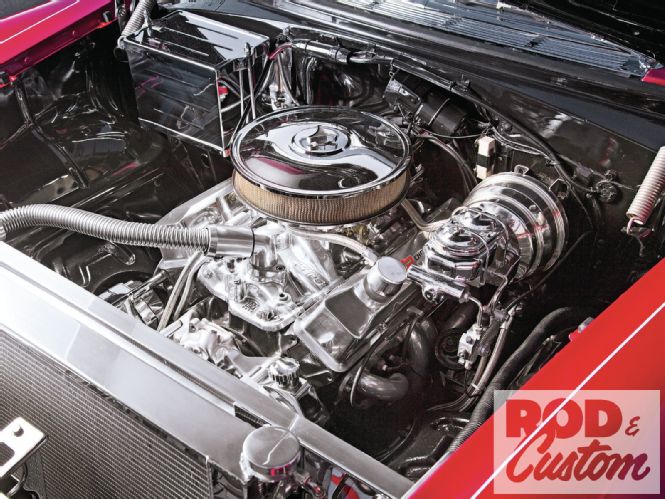 Jerry Aggus
Carson, California
1955 Chevrolet Nomad Wagon
Chassis
While Jerry's original Pink Panther Nomad was outfitted with hydraulics, his modern version has a more contemporary approach to adjustable ride height, airbags. Ponch, The Bag Man, in Anaheim, CA, handled the install, while Gary Paolucci (Signal Hill, CA) saw to the wagon's power steering and power brakes.
Drivetrain
A venerable
Chevy
350/350 combo powers the Nomad. Underhood niceties and performance goodies include an Edelbrock Performer carb and intake, Mallory ignition, March Performance pulley/bracket system, Mattson's aluminum radiator, and various brightwork by Bob Sebring (Torrance, CA).
Wheels & Tires
Once again deviating slightly from his original custom cruiser, Jerry opted for a set of 14x7 Tru-Spokes rather than Astros. His choice of rolling stock is wrapped with "pinner whitewall" 175/70R14 Hankook radials.
Body & Paint
A self-admitted painter in his own right, having done the original Pink Panther himself nearly five decades prior, Jerry instead relied on the skills of Jack Fields and crew at Starlite Rod and Kustom (Long Beach, CA), and the outcome obviously speaks for itself. The application of the House of Kolor candies, pearls, and 'flakes (courtesy of Stevenson Automotive Paint and Supply) is nothing short of eye-searing custom perfection!
Interior
One area Jerry didn't stray too far from original was the interior. Using a quartet of Chevelle bucket seats and a pair of Impala center consoles, Redondo's Trimline laid out and stitched up an era-correct—'60s, that is—diamond-pleat and button-tuft upholstery in black "pleather". Complementing amenities include a chrome ididit column, leather-wrapped Lecarra wheel, Dakota Digital gauges, and a Pioneer/Rockford-Fosgate sound system installed by Al & Ed's in Torrance, CA.
Read more:
http://www.rodandcustommagazine.com/featuredvehicles/1209rc_1955_chevrolet_nomad_wagon/

_________________
We don't care the People Says , Rock 'n' roll is here to stay - Danny & the Juniors - 1958

_________________
We don't care the People Says , Rock 'n' roll is here to stay - Danny & the Juniors - 1958
---
Permission de ce forum:
Vous
ne pouvez pas
répondre aux sujets dans ce forum