ROD & CUSTOM FEATURE CAR
Aaron Acquafondata
Reno, Nevada
1946 Chevy Coupe
What is it about 1940s Ford customs? Sure, everything from 1935 through 1948 wearing the Blue Oval badge makes for, and has made for, prime custom material. The most memorable pre- and postwar customs are Ford/Mercury, right? Not all of them.
1946 Chevy Fleetmaster Front Seat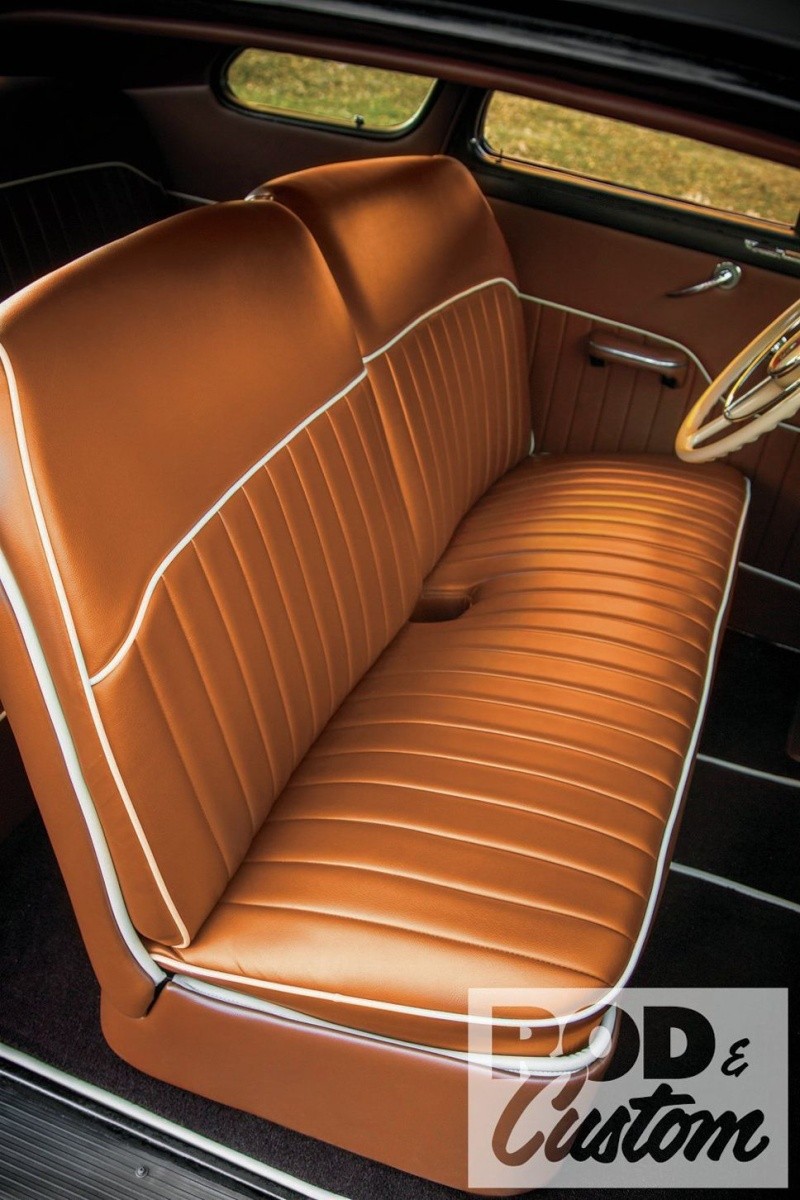 While they pale in comparison to the amount of FoMoCo fare, there have been a number of GM-based customs to fill the annals of custom car history. The latter part of the 1940s-era models, most notably 1946-48 Chevrolets, are atop the black sheep popularity list, and for good reason—they're some of the best looking designs to be penned by General Motors prior to the forthcoming "slab-sided" revolution. The Fleetline/Aerosedan, for instance, is about as close to a factory chop as you'll ever find; their counterpart Fleetmaster/Stylemaster coupes, with their similarly swept-forward B-pillars, entice further profile adjustment. Perfect case in point: Aaron Acquafondata's 1946 coupe.

_________________
We don't care the People Says , Rock 'n' roll is here to stay - Danny & the Juniors - 1958
The Reno, Nevada, resident was handed down the gearhead gene from his father, who gave his son a 1951 Pontiac for his first car. "It was all downhill from there!" Aaron recalls. "When I graduated high school, I decided to sell my car, take a year off, and build my dream car. I set out to build a custom that represented the subtle class and taste in the early custom car era. I also wanted to drive the hell out of it, so I made sure it was equipped with a reliable and affordable drivetrain," he continues.
"Over the course of a year, I was able to get the car finished, but I couldn't have done it without the help of my friends. The biggest obstacle with the initial buying of the car was that I had it shipped from Hawaii to Hayward, California, then broke down halfway to Reno due to a wiring failure. I've had to dip into my college fund, but I think it was worth it…"
1946 Chevy Fleetmaster Steering Wheel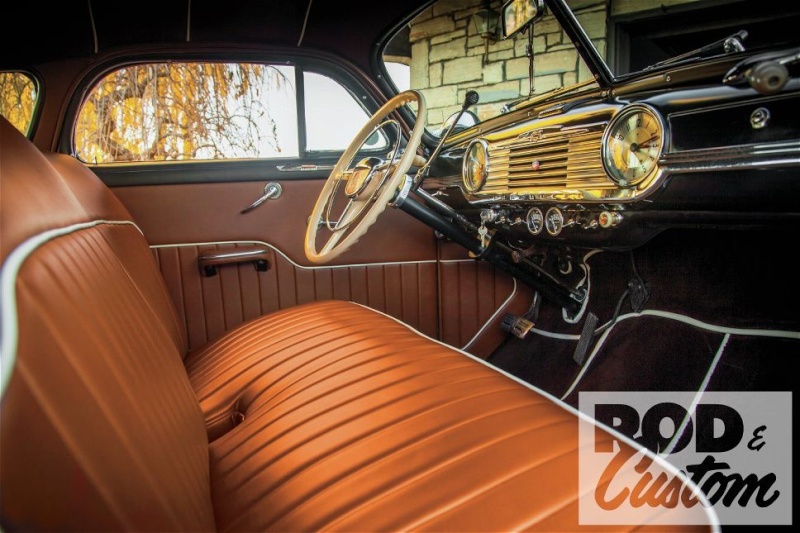 Worth it not only to achieve his goal and get his gearhead fix, but also to create a perfect representation of a late-1940s California custom. Once Aaron had the 1946 in his possession, friend Brant Jackson lent a hand by not only getting the coupe running, but cutting and lowering the roof (the top was in the process shortened, necessitating an extended catwalk/tulip panel). As Aaron put it: "He made the rough sketch and I took it and made it into a finished painting." His refinement work not only entailed finishing out the top chop, but fitting and refitting all the decades-weary and abused panels on the 1946. Other than a traditional nose and deck job, much of the Fleetmaster is stock, including lighting fixtures and majority of trim. Bodywork by Brian Louis and Roger and Matthew VanTrees was topped by single-stage DuPont black by the VanTrees, while standard 1950 Chevy caps on same-make 15-inch steelies wrapped with Coker-BFGoodrich Silvertowns, Appleton spots, and rear fender skirts finish off the mild yet impactful exterior. The interior also harkens back to the past: brown vinyl tuck 'n' roll by Paco's Custom Upholstery (Roseville, California) with brown pile carpet does the trick. While the dash is stock (entirely save for Stewart-Warner gauges), the original column was swapped out for an ididit Hot Rod unit equipped with a LimeWorks column shifter, now sporting a 1946 Dodge steering wheel.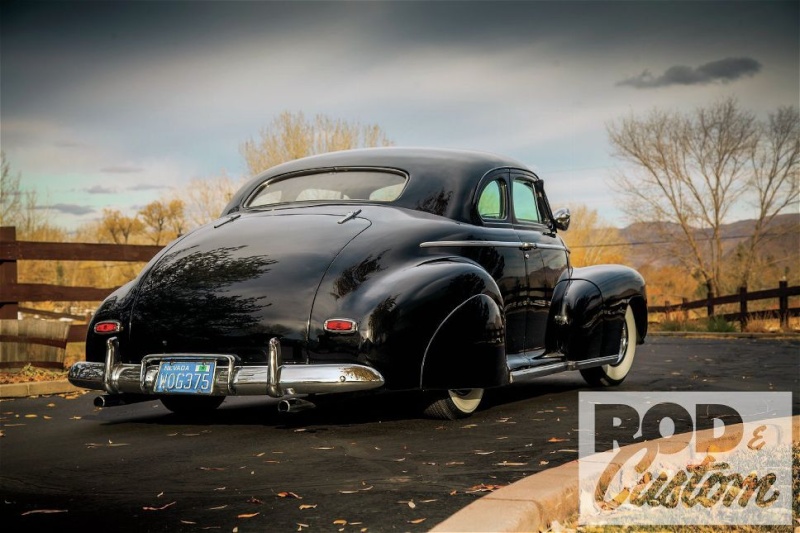 The readily visible aspects of this Chevy may speak traditional, but beneath, as he himself clearly pointed out, it's all reliability. That translates into a stock frame updated with a Mustang II frontend, four-linked and coil-sprung Camaro rearend, and a late-model Chevy 350/350 combo, all incorporated and facilitated by Johnny Koonce at Kool Kat Kustoms in San Jose, California.
"It's a daily driver. Rain or shine. It's been on multiple 400-mile trips, with a few longer and shorter ones thrown in," Aaron surmises. Perfect, ...form AND function, in harmony.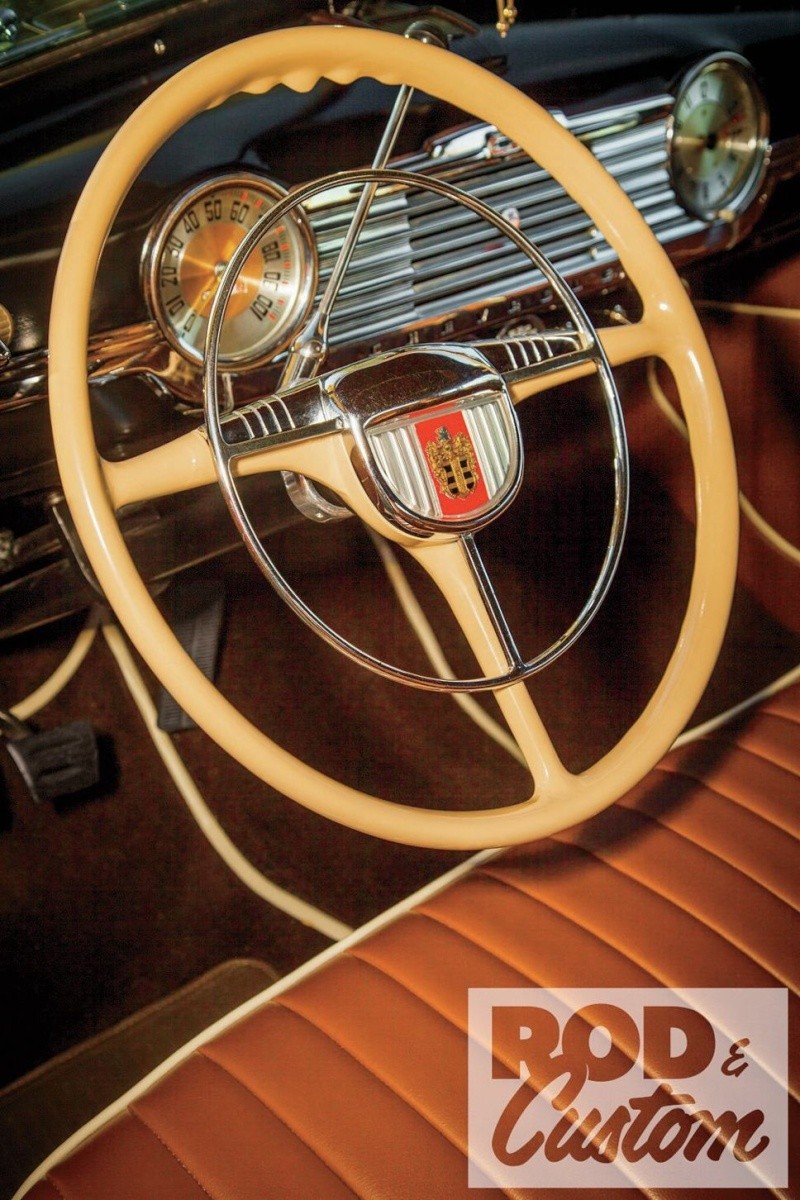 Read more:
http://www.rodandcustommagazine.com/featuredvehicles/1406_1946_chevy_fleetmaster/

_________________
We don't care the People Says , Rock 'n' roll is here to stay - Danny & the Juniors - 1958
Sujets similaires
---
Permission de ce forum:
Vous
ne pouvez pas
répondre aux sujets dans ce forum