As Roger tells it, both the purchase and construction of his '57 Eldorado Seville came about somewhat by chance. "I bought a '57 Eldorado Brougham in Needles, California, from a lady who was cleaning out her property," Roger recalls. "She also had this Seville. I already had one that I didn't know what to do with, but I bought both. We took three pickups loaded with friends, and two trailers, and dug them out of the sand.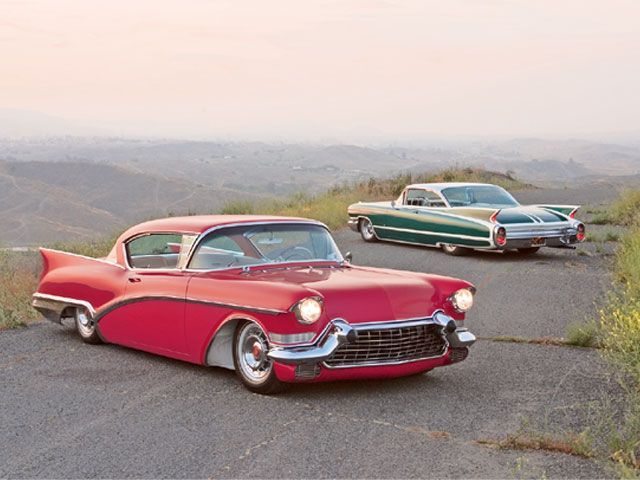 "Larry Watson and I would take trips around to painters, builders, and designers in Orange County," Roger continues. "On one trip, I was whining to him that I had two '57 Sevilles and didn't know what to do with them. He thought about it and said to do something along the lines of the Golden Sahara twin-fin show car. When we got to Steve Stanford's, Larry and Steve started discussing it. Steve did his artwork, and when I picked it up he said it would work as a single-fin also.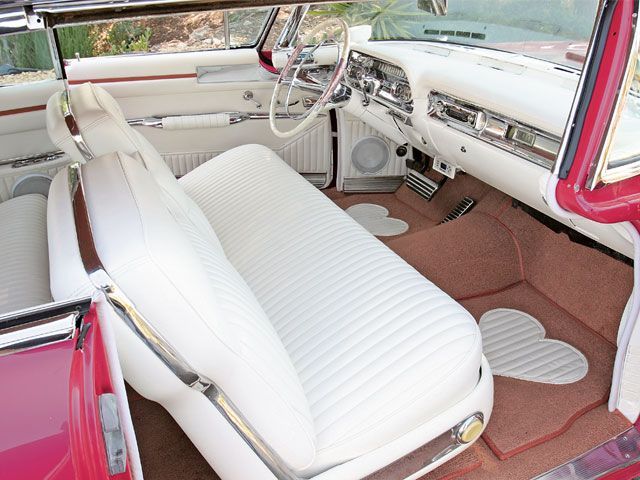 "I made a copy and tacked it up on my shop wall, and as time went on I decided the fins looked like '60 Cad fins. I had two, so I made a fiberglass template of the '60 fin and taped it to the '57 quarter-panel. I liked it, so I went to work."
With help from buddies he affectionately calls Slave Boy and One-Arm Bob, Roger stripped the car down and sent it off to Bio Kustumz to have Max Fish C-notch the frame and set up the rearend with a four-link and air springs. Roger installed the front air springs and disc brakes, and hooked up a Dakota Digital controller to monitor the suspension.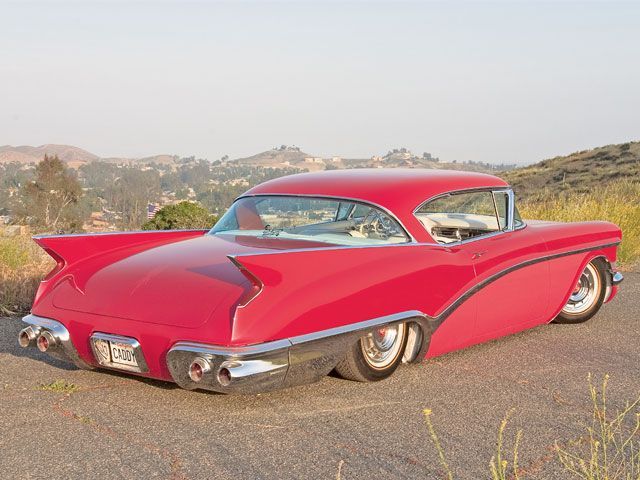 While this was going on, Larry Hale was making a '73-vintage, 500ci Cad V-8 sing using J&E forged pistons, ported and polished heads, an Edelbrock carb and intake, and an MSD distributor. Tranny John rebuilt the TH400 using a shorter Chevy tail section to accommodate the Gear Vendors overdrive unit installed by Bob's Driveline, while three trans coolers from Specialty AutoTech were added to keep fluid temps in check. A custom 40-plus-gallon fuel tank from Rock Valley gave the Seville Cad-size cruising range.
Before long it was time to tackle the metalwork, a task with which Roger wanted some assistance. He was in luck. "Sam Foose had retired and moved to Canyon Lake," Roger says. "He had just had heart surgery, so I called Chip to see if it would hurt him physically to help me. Chip said it might kill him if he couldn't work on cars, so Sam and I went to work!"
Sam installed the taller '60 fins on the '57 quarters, modifying them to accept two '60 taillight lenses each. He also helped Roger restyle the front end by pie sectioning and reskinning the hood to give it a more graceful slope. Roger built the custom grille using '60 Cad horizontal bars and custom vertical pieces, and incorporated new parking lights into the reshaped lower bumper.
Roger determined the car needed side trim, so Watson taped out the shape on the body and Roger made templates from it. He transferred the pattern onto a 4x12ft sheet of 5/8-inch aluminum, rough cut and filed it close to the desired shape, and then Sam used a router and dual-action sander to create the final contours prior to plating. The finished trim was partially frenched into the body's sheetmetal. 1957
Dernière édition par Predicta le Lun 25 Mai - 4:59, édité 1 fois

_________________
We don't care the People Says , Rock 'n' roll is here to stay - Danny & the Juniors - 1958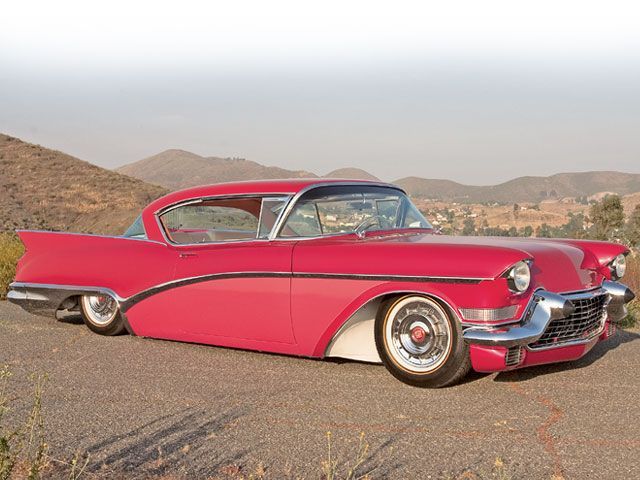 Roger called on Bobco-the well-known F-100 builder from Lake Elsinore-to perform the car's final bodywork and paint. "I wanted it painted the colors that Watson put on John Tevelde's '56 Chevy in 1958," Roger says. Bobco mixed the pink pearl hues using PPG material, and Tevelde even came by to OK them a few days before he unexpectedly passed away. Pinstriping by Dennis Ricklefs and plating by Sanchez Polishing helped make the pink pop, as did the '57 Eldorado Brougham wheels, which were restored by Jay Armstrong before being wrapped in Vogue radials.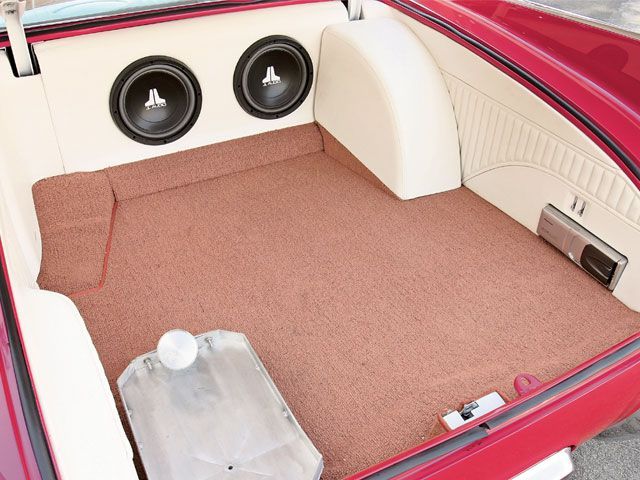 Young James Mendoza at A&C Upholstery in Nuevo did an excellent job emulating '50s-style tuck 'n' roll when he recovered the Cadillac's seats and built custom door and side panels. Coral-colored carpet and a beautiful two-tone pearl wheel by Pearl Craft in Australia offset the white vinyl upholstery and dash. Meanwhile, Richard Cook rewired the car with all the necessary circuits to power the Vintage Air climate controls and Pioneer stereo, which in turn drives JL subwoofers and Infinity speakers 1957 Cadillac Eldorado Engine
The Seville's final assembly was completed early this year with help from The Pollack, Shaky Legs, Slave Boy, and One-Arm Bob. Since then it has earned awards at the Grand National Roadster Show, Goodguys Del Mar, and Cruisin' Paso Robles, plus an invite to the exclusive Fresno Autorama. We're willing to wager that most spectators were unaware of the significant restyling bestowed upon this Cad, not only because most people are unfamiliar with stock Sevilles, but mostly because the modifications are so well designed and integrated they look like factory offerings.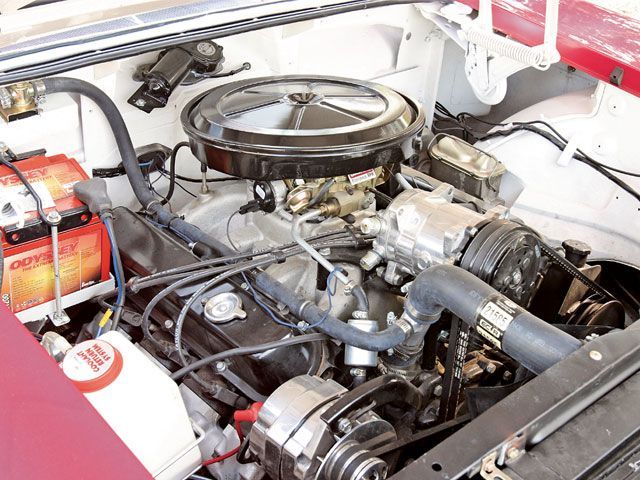 Read more:
http://www.customrodder.com/features/0611cr_1960_1957_cadillacs/viewall.html

_________________
We don't care the People Says , Rock 'n' roll is here to stay - Danny & the Juniors - 1958
---
Permission de ce forum:
Vous
ne pouvez pas
répondre aux sujets dans ce forum