One of the things that makes old customs so unique is each has its own singular saga behind it. As these cars change hands, their individual history begins to fade, and all that's left is the car itself. There are a few occasions, however, when the builder of a '50s custom is reunited with his creation a half-century after he first took torch to metal and can personally relate how he built it. This was one of those times.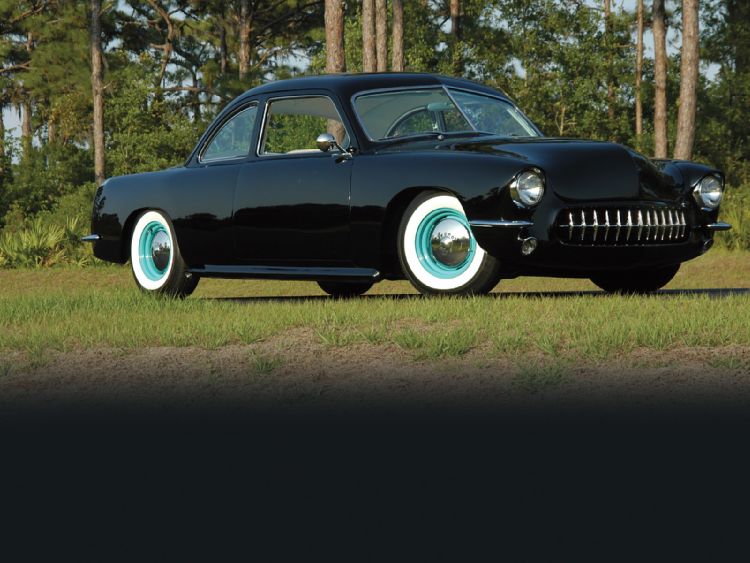 Ronnie Staples, of Sarasota, Florida, had been digging to learn this '50 Ford's history since he bought it in 1996. In December 2005, he finally located its original builder, Gerald Cooper, and, in April 2006, flew him and his son Tommy cross-country to reunite with his creation for our photo session. It would be the first time in 32 years Gerald would see his old Ford. And while subsequent owners had made alterations, it was Gerald who cut the tin, and most of his handiwork was still intact.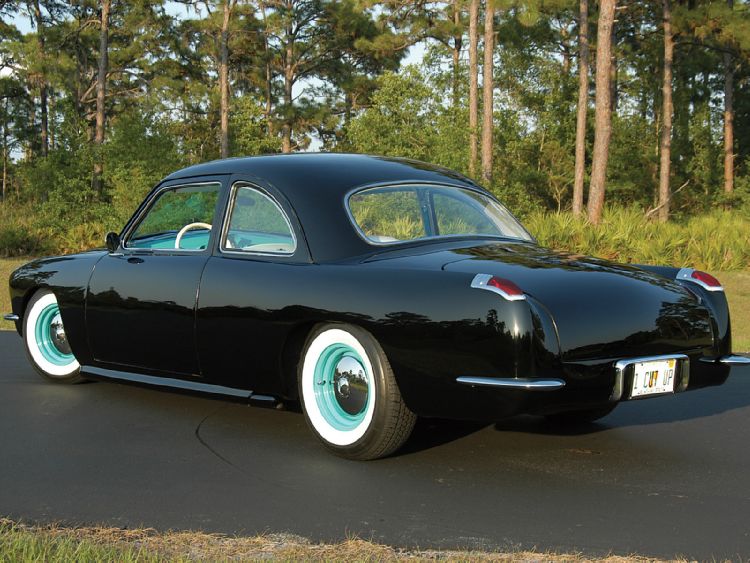 As a young man, Gerald had always wanted to build a custom. He religiously read Honk! (the precursor to Car Craft) and was fascinated by the customs being built in California. Gerald's home in Tucumcari, New Mexico, wasn't a hotbed of hot rodding; there was just a small group of guys building cars. His only experience was building a mild '46 Ford with a roll 'n' pleat interior done by his wife. Gerald felt he was ready to tackle something more radical.
Dernière édition par Predicta le Ven 1 Mai - 8:20, édité 2 fois

_________________
We don't care the People Says , Rock 'n' roll is here to stay - Danny & the Juniors - 1958
What really caught his attention was the growing trend, led by Valley Custom, of sectioning cars. Gerald had just returned from Korea and was learning bodywork on the GI Bill at a Lincoln-Mercury dealer. While he was straightening dents on Cosmopolitans, he was dreaming about building a shoebox Ford. "I told my wife," Gerald says, "'If I have to wait 'til I'm 70 years old, I'm gonna build a custom.' She told me to quit waiting and start on a car now."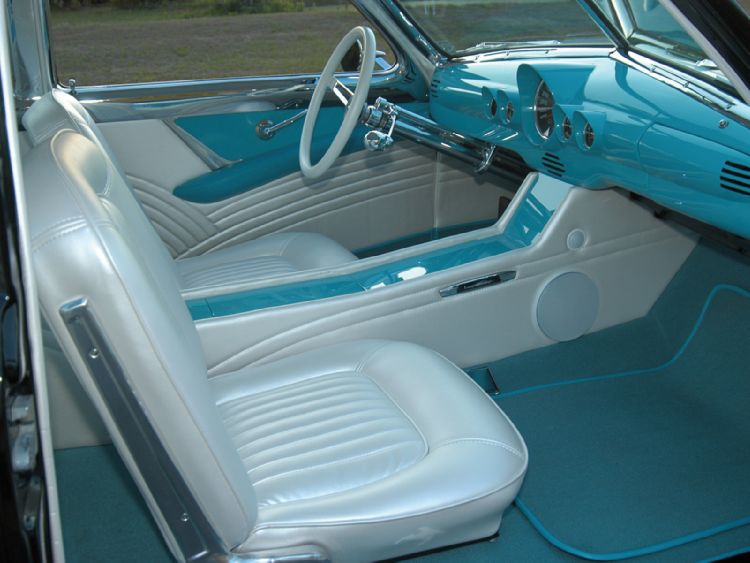 The Lincoln dealer had a derelict 1950 Ford around back that caught Gerald's eye. "The body was sitting on the frame," Gerald says, "but had no wheels or tires, and the engine and transmission was missing." Gerald bought it because he had seen a magazine article about sectioning shoebox Fords. "The guys who wrote the story said you couldn't go any more than 5 inches."
Not long after he bought it, Gerald went to work in a Ford dealership body shop. "I told my new boss that I had just bought a car and wanted to build a custom," Gerald says. "I asked him if there'd be any problem if I worked on it at the shop on my own time at nights and on weekends. He said OK, and that's when I started, in the latter part of 1954."

_________________
We don't care the People Says , Rock 'n' roll is here to stay - Danny & the Juniors - 1958
Like every customizer, Gerard toyed with some radical ideas during the course of the project. He tried installing a fin on the left quarter-panel, starting behind the door with bent conduit pipe and rising up about a foot. "I was gonna use Edsel station wagon taillamps that had a neat bend to them," he says. "I got to looking at it and thought 'that's pretty stupid.' So I yanked 'em off."
For the next 10 years, Gerald worked on and off on the project while having a family and opening his own shop. He often found inspiration walking around his buddy's salvage yard. "That's where I got the idea for the '49 Buick taillamps," he says. That's also where he picked up the Pontiac bumper overriders to trim out the lower front and rear fenders.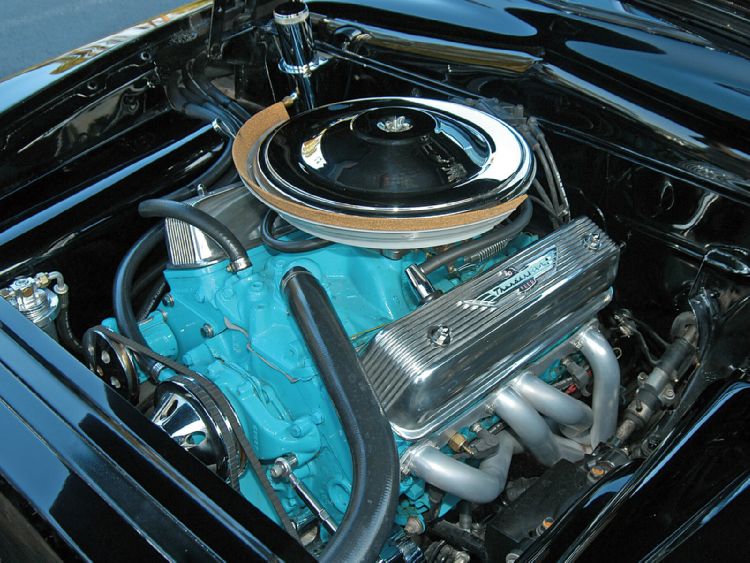 The 5-inch section job started at the doors. "I had to experiment," Gerald says, "because I had never sectioned a car before. The way I did it is I got some flat tin, marked it real close, and cut the door along the center and made room to make a lap joint. That lap joint went right under the molding so I wouldn't have quite so much bodywork."

_________________
We don't care the People Says , Rock 'n' roll is here to stay - Danny & the Juniors - 1958
After the sectioning, Gerald raised the quarter-panel line, creating a gentle incline from the C-pillar to the taillamp bezel. He then rounded the ends of the quarters, eliminated the windsplits, and rolled the rear pan. He replaced the exposed chrome trunk hinges with hidden '51 pieces, and shaved the emblems for a smooth, sleek appearance. The coupe's top, however, was left stock. "It used to have vent glass," Gerald notes, "but Ronnie put in one-piece door glass with power windows. I like that a lot better." When asked why he chose not to chop the top, even a little bit, Gerald's answer is simple: "Because I didn't want to."
Gerald displays the NHRA Sweepstakes Trophy he won in 1964. "I also got a cheap watch for Best Paint," he says. In its original form, the grille used '58 Ford aluminum, a custom main bar, and Olds backup lamps as parking lamps. The side trim was original '50 Ford with a rear quarter kickup molding from a mid-'50s Buick. Paint was copper metallic.The front fenders were reshaped to create '55 Chevy-style headlight eyebrows. "I didn't use Chevy sheetmetal, and that's the reason they're still there," Gerald says. "If I had taken them off of a Chevy, they'd be hollow up behind the lamp assemblies. They're not hollow on this car so they don't catch all the mud that's flung into the cavity. If they were off a Chevy, they'd had rusted out a long time ago." Gerald also rounded the hood corners, filled and reshaped the grille opening, and built a lower pan using a '41 Ford hood. Gerald had radiused the front wheel openings, but Ronnie later had them reshaped and lowered.
The interior was originally white rolls 'n' pleats over Renault bucket seats and a fabricated rear seat. Gerald built the full-length center console out of wood, placed four gauges in its front, and then covered it with a piece of stainless steel that he machine-polished by using a radial arm saw. "I didn't have a drill press at that time," Gerald says. "I used my radial arm saw and I had to crank it up and crank it down, over and over again!" The instrument panel was painted copper to match the exterior, which Gerald shot with Ditzler lacquer. "The paint wasn't as course as metalflake," he says, "but it was more course than regular metallic. It was lacquer paint, and I don't like lacquer-never have and never will."

_________________
We don't care the People Says , Rock 'n' roll is here to stay - Danny & the Juniors - 1958
Since the original Flathead was long gone, Gerald chose a 283ci Chevy V-8. He took it to a machine shop in Amarillo to be rebuilt and balanced, only to learn they would not reassemble it. So he borrowed a shop manual from the Chevrolet garage and assembled it himself. "It lasted until Ronnie took the engine out," Gerald says. The transmission was a Ford three-speed with overdrive and the Mercury rearend came out of a wrecking yard. "I had to change rearends four or five times before I found one that didn't howl," he recalls.
Gerald finished the shoebox in 1964 and kept it another 10 years before cutting it loose. It changed owners several times after that. Ronnie looked at it in 1988 but couldn't come to terms with the owner. When it popped up again at the 1995 Turkey Run in Daytona, he snagged it. "It was black with flames," Ronnie says. "We sanded and buffed that paint and got the One Fine Paint award at Gettysburg in '99."
After that, Ronnie commissioned Marty Martino to redo the grille opening around the Corvette grille, add shrouded lakes pipes, and reshape the front wheel openings to look more like the rears. "One thing lead to another," Ronnie says, "and I had the engine out, the interior out, and I was ready to replace the paint. I never can leave well enough alone." Bob Clark Sr. laid on the outstanding deep black finish.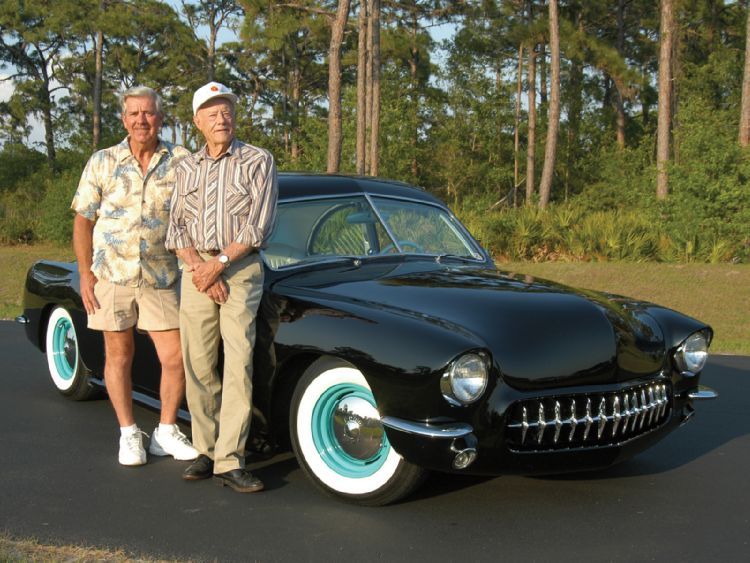 Current owner Ronnie Staples (left) flew Gerald (right) and his son from New Mexico to Florida in 2006 for a very emotional reunion. It was the first time in 32 years they had seen the car.While Ronnie wanted to retain the Ford's exterior look, he felt it was time for some underside updating. The frame received a Fatman front stub with a Mustang II-style IFS and disc brakes, and a stabilizer bar was added in the back before Coker radial whitewalls were mounted on 14x6-inch steel wheels with '50 Ford caps.
Inside, JR's Upholstery, in Venice, Florida, built new rear seats and sewed up pearl white and turquoise vinyl upholstery with '56 Ford-inspired stitching on the doors, quarter trim, and headliner. Bob Clark Jr. installed a '59 Chevy gauge cluster in the smoothed original dash, and refinished the console, adding a metal top with glovebox, radio, and HVAC controls.
Ronnie is especially proud of what he calls his "T-Bird Special" engine-a Chevy ZZ4 V-8 dressed out with T-bird valve covers and a T-bird air cleaner. Custom brackets keep the belt-driven accessories low, and a four-row crossflow radiator keeps things cool. The three-speed Muncie transmission is hooked to the original column shift linkage, while the 8-inch Ford rearend houses 3.00:1 gears, making the Ford an Interstate cruisin' pleasure that delivers more than 17 mpg. Since completing the shoebox's redo in 2005, Ronnie has logged more than 4,500 miles driving to events all over the Southeast and snagged some recognition along the way, including a finalist award for the Goodguys Custom Rod of the Year, and a Custom Rodder Top 10 pick.
There's one other award on this shoebox's list of accomplishments, and it goes to Gerald Cooper for winning the NHRA Sweepstakes Award in Amarillo, Texas, in 1964. That was the culmination of Gerald's dream 42 years ago. Just knowing his restored shoebox is in the hands of Ronnie Staples today means his dream will keep going for decades to come.
article original:
http://www.customrodder.com/features/0703cr_1950_ford_coupe/viewall.html

_________________
We don't care the People Says , Rock 'n' roll is here to stay - Danny & the Juniors - 1958
---
Permission de ce forum:
Vous
ne pouvez pas
répondre aux sujets dans ce forum