Personnellement les disques qui me rappelle  plus la fin des années 1980's sont les absolument fantastiques deux premiers albums des Teenkats. Combien de concert de Rock 'n' roll avons nous fait en écoutant sur la route grace à l'autoradio ces albums. Ce qui est assez incroyable c'est comment ce groupe jusque là inconnu a pu sans réelle publicité devenir une légende trés rapidement auprés du public de fans de rockabilly, ils renouvellent avec un talent de composition étonnant le style Teddy Boys des groupes comme Crazy Cavan & the Rhythm Rockers ou Matchbox sans pour autant faire la même chose, comme nous avons pu le voir le Rock 'n' roll et Rockabilly Teddy Boys devient en partie grâce à eux un style à part entière à partir de la décennie suivante.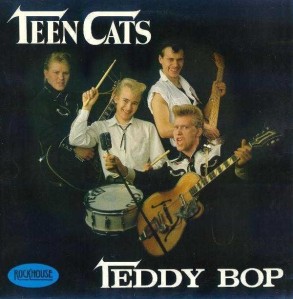 Les Teencats est un groupe Norvégien (pays qui deviendra une des nations rockabilly par excellence) qui se composait de Stig Rune Reiten au chant , guitare et compositeur, Stein Erik Reiten (son frère) à la batterie, Esten Graffsronningen à la basse électrique et Ove Marken à la guitare rythmique.
Comme je l'ai écrit au début de cet article la popularité du groupe est telle en cette fin des années 19980's et début 1990's, qu'ils font plus de 100 concerts par an essentiellement dans les pays du Nord de l'Europe comme la Norvège et l'autre grand pays du rockabilly la Suède.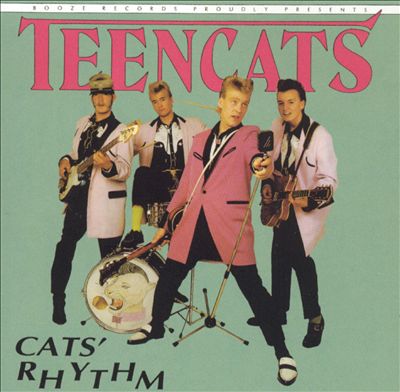 Ils commencent en 1986 par l'enregistrement d'une cassette
Back to the 50's with Rockabilly
(que je ne connais pas, et en 1987 sort leur premier indispensable LP
Teddy Bop
qui sort sur Rockhouse il contient les titres
Little Girl
très bon rock 'n' roll rapide avec2051053780_l.jpg choeurs, Teddy Bop le fameux premier chef d'oeuvre du groupe un rockabilly influence Crazy Cavan ultra speed,  My Heart Is Crying est un medium rock à la bonne mélodie,  
What Did I Do
un rockabilly rapide qui va chercher son inspirations dans les groupes anglais 1970's,
Save My Life
un autre titre très réussi avec une bonne mélodie et une construction parfaite,
Trapped Love
un rock 'n' roll teddy boys parfait avec choeurs,
Baby Let's Play House
cover de Arthur Gunter /Elvis chez Sun dans un style Teddy Boy rockabilly,  
Am I The One
un medium rock 'n' roll absolument parfait,
Tore Apart
cover hommage au légendaire groupe Ted anglais des 1970's The Whirlwind probablement l'une de leur grande référence artistique,
Cross My Heart
rock 'n' roll teddy boys  avec rythme doo wop,
Gonna Have A Party
petite perle du rockabilly teddy boys,
Goin' Down That Road
cover du rockabilly classique d'Ersel Hickey chez CBS,
I Got A Date
fabuleux medium rockabilly teddy boys et
Elisabeth
le second grand chef d'oeuvre du groupe. En résumé cet album est pour moi l'un des grands album de l'histoire du rock 'n' roll au même titre pour la même décennie que les 1er Stray Cats,  Polecats et Rocker Sharks.
Trés rapidement fin 1987 début 1988 sort le second lp du groupe
Cat's Rhythm
sur Booze Records, ce dernier commence sur les chapeaux de roue par le très rockabilly 1970's
Keep On Rockin', Cause I Am A Teddyboy
est un petit chef d'oeuvre manifeste du mouvement Teddy Boy,
 Stoned To Love With You
un rockabilly medium assez mélodique,
I Go For You
est une ballade rock 'n' roll au son proche des groupe rock 'n' roll revival anglais 1970's,
Rockabilly Guy
bonne cover très originale du classique des Polecats en Teddy Boy bien sur,
Blue Over You
splendide ballade aux guitares cristallines dans le style des Shadows,
You Said Goodbye
est un rockabilly dans le style de Crazy Cavan,
Gonna Bring It Back
est un rockabilly rapide,
Marilyn
est un autre rockabilly rapide avec une bonne mélodie,
Teddyboy Rocker
un autre rockabilly inspiré de
I'm Ready
d'Eddie Cochran,
Forever Yours
est un trés bon rock 'n' roll lent, Rockabilly Rhythm est un rockabilly rapide typique du début des 1980's,
Goin' Down Town Tonight
est un rockabilly rapide et
Cats' Rhythm
est un rockabilly sauvage instrumental aux sonorités plus authentiques.
Ce second album quoique inférieur au précédent est absolument génial et jouant sur des styles plus diffrents, alliant ballade et rockabilly rapide.
En 1989 parallèlement à leur succès avec
Elisabeth
ils sortent leur troisième lp
Teddy Boy Stomp
sur Sonet records (reconnaissance artistique sur le groupe, il s'agit du label qui a sortie la légendaire compilation
Best of Britisch Rockabilly
). Il contient les titres  
Teddy Boy Stomp
un rockabilly dans le style de Crazy Cavan & Rhythm rockers,
Oh Julie
est un rock 'n' roll avec sax,
I Go For You
est une ballade rock 'n'roll inspiré par Elvis Presley avec les Jordannaires, (It's Just That) I Don't Love You Anymore est un medium rock créatif,  Teddy Boy Stroll est un titre dans le style du fameux Teddy Boy boogie de Crazy cavan & Rhythm Rockers,
Sun-Tan Tatoo
cover des Valiants,
Elisabeth
nouvelle version de leur classique,
Hey Mr.Grogan
hommage à Cavan Crogan  leur grande référence artistique,
She's A Teddy Girl
titre de rockabilly explosif dans le style de Crazy Cavan justement,
Charlena
est une ballade rock 'n' roll,
Apron Strings
cover d'un classique du rock 'n' roll anglais début 1960's de Cliff Richard et  
Lucky Night
est un rockabilly rapide.
Ce troisième album est très bon, avec des styles différents, mais je n'y retrouve pas le génie des deux précédents.

_________________
We don't care the People Says , Rock 'n' roll is here to stay - Danny & the Juniors - 1958

_________________
We don't care the People Says , Rock 'n' roll is here to stay - Danny & the Juniors - 1958

_________________
We don't care the People Says , Rock 'n' roll is here to stay - Danny & the Juniors - 1958

_________________
We don't care the People Says , Rock 'n' roll is here to stay - Danny & the Juniors - 1958

_________________
We don't care the People Says , Rock 'n' roll is here to stay - Danny & the Juniors - 1958

_________________
We don't care the People Says , Rock 'n' roll is here to stay - Danny & the Juniors - 1958

_________________
We don't care the People Says , Rock 'n' roll is here to stay - Danny & the Juniors - 1958

_________________
We don't care the People Says , Rock 'n' roll is here to stay - Danny & the Juniors - 1958

_________________
We don't care the People Says , Rock 'n' roll is here to stay - Danny & the Juniors - 1958

_________________
We don't care the People Says , Rock 'n' roll is here to stay - Danny & the Juniors - 1958
Sujets similaires
---
Permission de ce forum:
Vous
ne pouvez pas
répondre aux sujets dans ce forum