1962 Chevrolet Corvair Monza GT Concept
One of the highlights of the 1962 New York Auto Show was GM's unveiling of the Corvair Monza GT concept car, featuring a fiberglass body, a large Plexiglass windshield, and an air-cooled 6-cylinder engine placed ahead of the rear axle. Smooth, well-formed, and ultra-clean. Shape and detailing were vintage period GM, yet also somewhat Italian.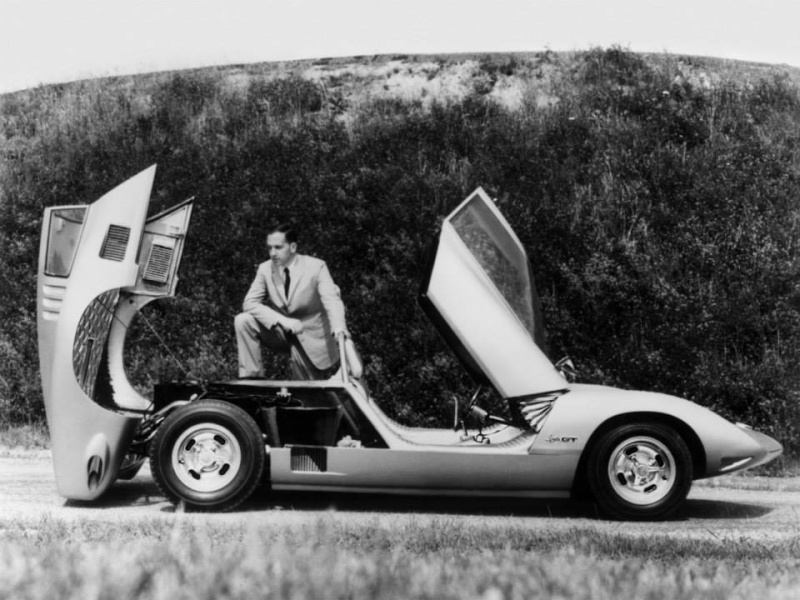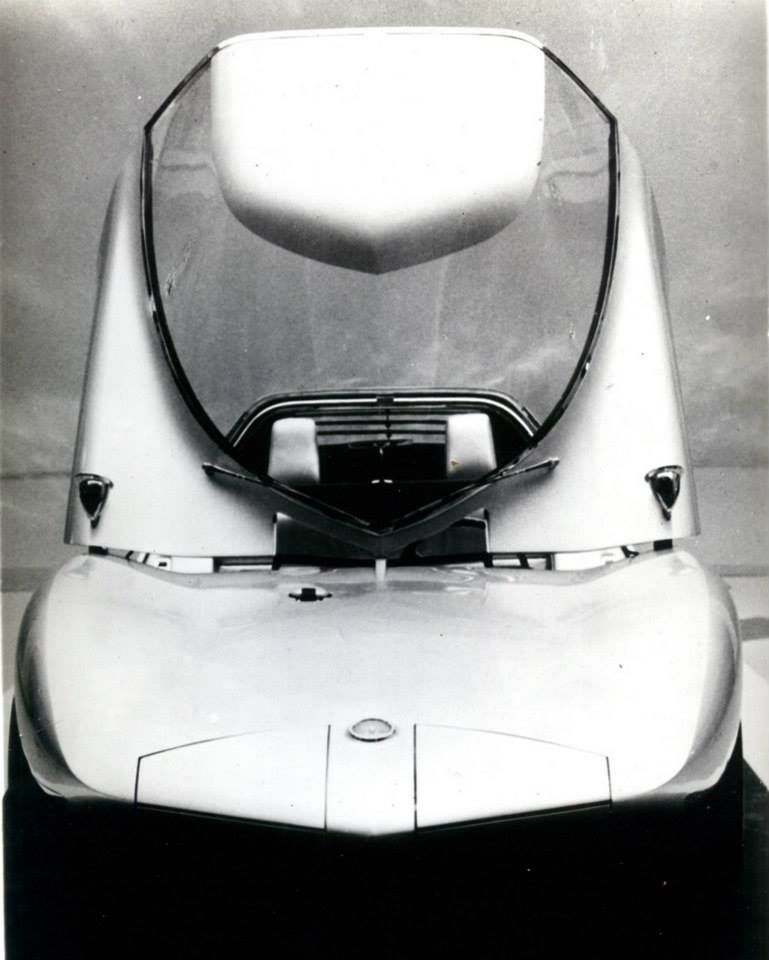 _________________
We don't care the People Says , Rock 'n' roll is here to stay - Danny & the Juniors - 1958
The Chevrolet Corvair Monza GT was a 1962 mid-engined experimental prototype automobile based on the early model Chevrolet Corvair series. Essentially a concept car, the Monza GT did not enter production.
Design and development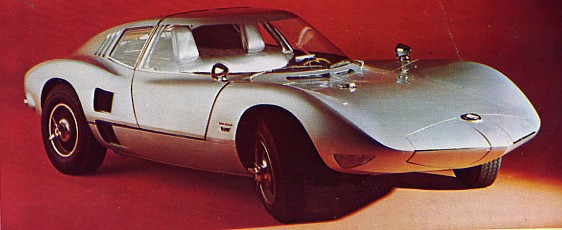 Under direction by Bill Mitchell, the Corvair Monza GT coupe was designed by Larry Shinoda and Tony Lapine in 1962, borrowing from the Bertone designed Testudo concept car. Like the earlier design, the GT doors swung upward and were actually a front hinged canopy that extended into the B section; the rear engine cover also hinged at the rear. The engine used was a standard Corvair 145 cu in (2,380 cc) 102 hp (76 kW), flat six with two carburetors. Unlike the production Corvair, the GT engine was mounted ahead of the transaxle, turned around 180 degrees and mounted as a mid-engine layout. The chassis was on a 92 in (2,337 mm) wheelbase, 16 inches (406 mm) shorter than production cars. The overall dimensions were similarly reduced with a length of 165 in (4,191.0 mm), and a height of 42 inches (1,067 mm), creating a small but well-proportioned sports car.
Besides its streamlined appearance, the Monza GT had innovative features, including magnesium-alloy wheels, 4-wheel disc brakes, and fixed seats with adjustable pedals. These features would eventually turn up in production cars, years later.
Some of the styling features of the GT, notably the rear end, were the inspiration for the 1965–1969 Corvair. Pontiac Motor Division engineer Bill Collins, the division borrowed heavily from the Corvair Monza GT design when it developed both the coupe and convertible versions of its 1964 Banshee prototype cars. The design would also influence the 1965 Chevrolet Mako Shark II concept car and the 1968-1982 Corvette (C3) that clearly resembled it, three years later.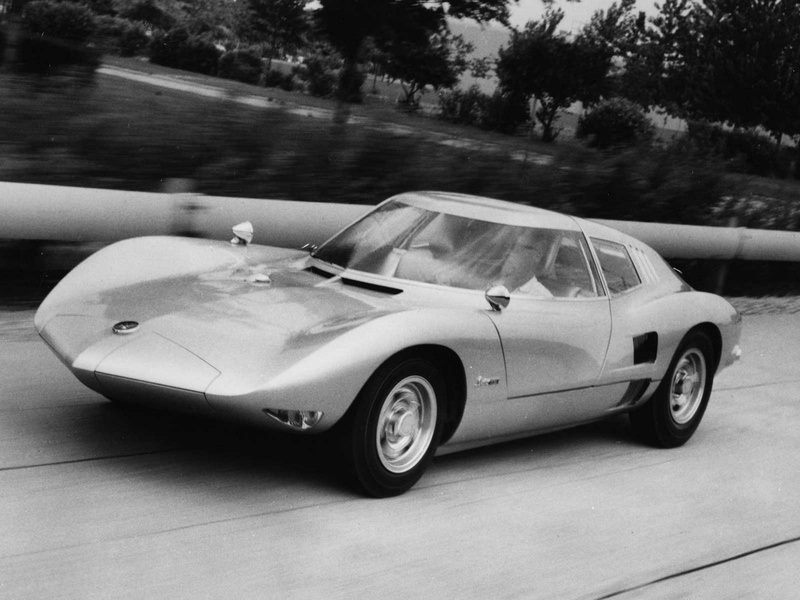 Operational history
Introduced to the public in June 1962 at Elkhart Lake at a Sports Car Club of America race for A- and B-production classes, the Corvair Monza GT was an instant hit with enthusiasts. Reporters remarked that the car was "gorgeous."[1]
The Chevrolet Corvair Monza GT coupe toured together with the Monza SS (Spyder) in early 1963, making a further public appearance at the New York Auto Show. Although both cars were based on the Corvair drivetrain, each represented a development of the Corvair design. In the SS convertible, the engine, with four carburetors, was left in its stock location behind the transaxle, allowing a shorter (88 in (2,235 mm)) wheelbase.
Although the SS came close to series production, both cars ended up as concepts only, tied to the fortunes of the Corvair, which had been declared unsafe by Ralph Nader.
One interesting offshoot was that Disneyland's World of Tomorrow car ride attraction used the Corvair Monza GT as the basis for the ride.
Today, the Corvair Monza GT concept car is one of the more than 700 vehicles found in the GM Heritage Collection of historically significant vehicles.

_________________
We don't care the People Says , Rock 'n' roll is here to stay - Danny & the Juniors - 1958
C'est marrant, à l'époque, bien voir la nuit était souvent synonyme de gros phares !
Ce concept car aurait tout à y gagner en esthétisme avec les feux modernes bien planqués, ils éviteraient ce truc bien moche sur la face avant quand c'est ouvert...
Sinon c'est bien sympatoche !
_________________
Ça pourrait être pire...

Tristan




Messages

: 643


Date d'inscription

: 15/11/2012


Localisation

: Tolosa



Toutes les autos à phares escamotables, ou tout du moins une très grosse proportion, sont moches avec les phares en fonction.
Ce n'est beau que les phares masqués!

_________________
Rien ne vaut le son du V8 le soir au coin du bois.

The Red Baron




Messages

: 744


Date d'inscription

: 01/07/2014


Age

: 53


Localisation

: Bordeaux



1962 and 1963 Chevrolet Corvair Concept Cars
962 and 1963 Chevrolet Corvair Monza GT and SS Concept Cars
Though they bore a hint of Mako-shark-era Corvette styling, the 1962 and 1963 Chevrolet Corvair Monza GT and SS concept cars looked like nothing else: smooth, well-formed, and ultra-clean. Shape and detailing were vintage period GM, yet also somewhat Italian.

GM designer L. W. Johnson got a look at Bertone's two-seat, Corvair-based Testudo as it was nearing completion in 1962-1963 and happily informed the Italians about his own company's latest Corvair special.
Though built in 1962 and tested informally that year at Elkhart Lake and Watkins Glen, the new Monza GT fastback wasn't publicly unveiled until April 1963, when it handily stole the limelight at the New York Auto Show along with a racy open sibling called the Chevrolet Monza SS.
Both these experiments were fiberglass-bodied two-seaters with four-wheel disc brakes, magnesium-alloy wheels, hydraulic clutches, stock four-speed-manual Corvair transaxles, fixed seats and adjustable pedals.
Both were also cleanly styled in the billowy idiom then favored by General Motors, with bumperless fronts and oblong headlights concealed behind large "clamshell" lids.
Yet for all their similarities, the Chevrolet Monza GT and SS differed markedly in some ways. The GT coupe, for instance, carried its engine ahead of the rear axleline; the SS roadster put it behind, as in production Corvairs.
Wheelbase was 88 inches on the Monza SS, 20 inches shorter than stock, but 92 inches on the more visually aerodynamic Monza GT.
Like production Chevrolet Corvairs, the roadster offered a small front luggage compartment but the coupe did not. Inside, the Monza SS dash was stark but highly informative, with a large tach and speedometer, plus five auxiliary gauges.
Had a production version materialized, the low, racing windshield and fixed side windows would have been replaced by a conventional screen and roll-up glass.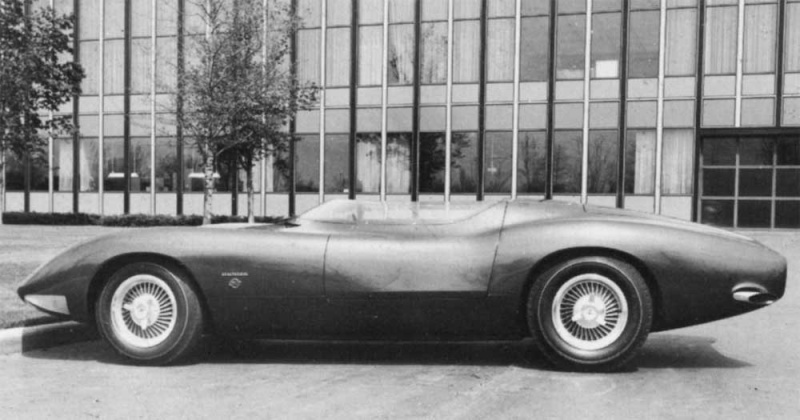 The Chevrolet Monza SS also had normal doors where the GT used a Testudo-style lift-up cockpit canopy, again front-hinged at the cowl and extending back to the B-pillar region.
Also echoing Bertone's work was the rear-hinged hatch that swung up to reveal the engine, which was a two-carburetor version for quiet, smooth running. The SS used a four-carburetor setup.
Though often credited solely to GM design chief Bill Mitchell, Corvair Monza GT and SS styling was actually the work of Larry Shinoda, now celebrated for his work on various Corvettes and early-1970s Mustangs, and Anatole "Tony" Lapine, who would go on to design Porsche's 928. Both the GT and SS were created under project code XP-797.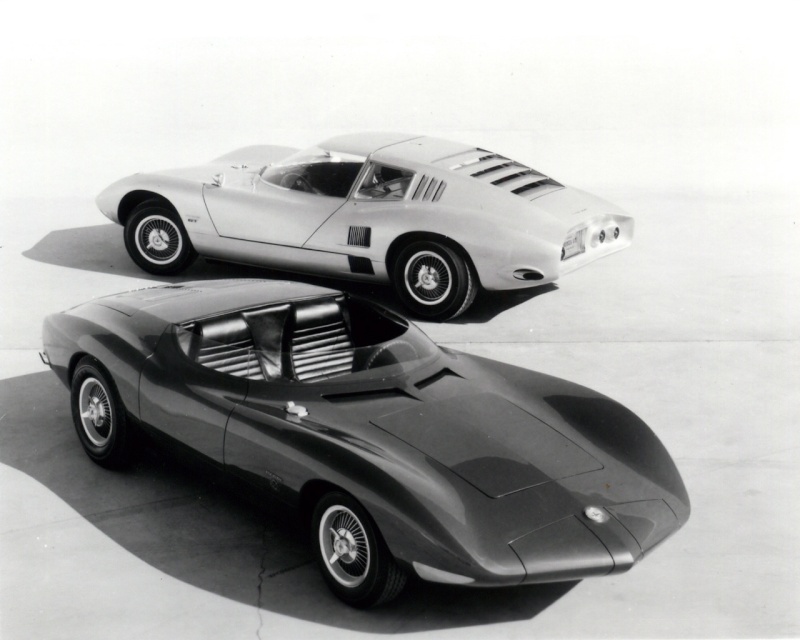 The Chevrolet Monza SS at least came fairly close to actual production -- as close as any Corvair special. Remember that when these Monzas first appeared, Ford hadn't released the Mustang, and Corvair was still GM's only low-cost sporty car.
Had the redesigned 1965 Corvair sold better against the Mustang, it's not inconceivable that a street SS or GT could have appeared by 1967 or 1968 -- which means GM might not have needed to create the Camaro, with all the expense that entailed.
But the Mustang sold like nickel hamburgers from day one, and GM quit working on future Corvairs entirely. Which was a shame, because the Mustang wasn't half the sports car these Monzas might have been.

_________________
We don't care the People Says , Rock 'n' roll is here to stay - Danny & the Juniors - 1958

_________________
We don't care the People Says , Rock 'n' roll is here to stay - Danny & the Juniors - 1958

_________________
We don't care the People Says , Rock 'n' roll is here to stay - Danny & the Juniors - 1958

_________________
We don't care the People Says , Rock 'n' roll is here to stay - Danny & the Juniors - 1958

_________________
We don't care the People Says , Rock 'n' roll is here to stay - Danny & the Juniors - 1958

_________________
We don't care the People Says , Rock 'n' roll is here to stay - Danny & the Juniors - 1958
---
Permission de ce forum:
Vous
ne pouvez pas
répondre aux sujets dans ce forum