Oldest-known 'Batmobile'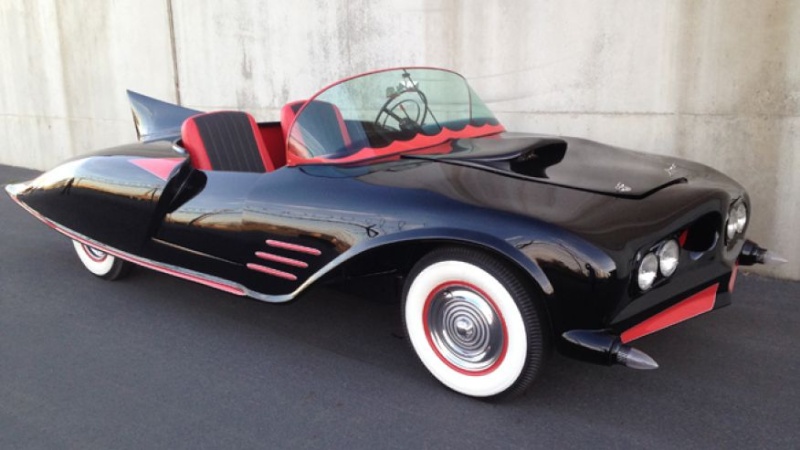 Hey, bat-fan, if you thought those "Batman" TV show DVDs were the coolest cape crusader-themed gift you could buy this holiday season, the joke's on you.
What's billed as the oldest-known "Batmobile" is being offered by Heritage Auctions.
The custom car was designed in the early 1960s, years before George Barris got to work on the iconic car that would carry Adam West and Burt Ward into the camp hall of fame.
Built for fun by New Hampshire teenager Forrest Robinson, the curvaceous Oldsmobile-based coupe caught the eye of a representative for All Star Dairy, which was selling a line of Batman ice cream and drink products at the time.
The company leased the car for Robinson for a few years to use at promotional events, but never got it officially licensed as a "Batmobile". It was then sold a few times and neglected, its deteriorated hulk finally ending up on eBay last year.
Sid Belzberg, owner of ToyCarExchange.com, bought it and shipped it to Borbon Fabrications in Sacramento for a full, 1,700 man-hour restoration, which was completed this past winter. It won the first car show it was entered in.
Absentee bidding opens on November 17th and the hammer comes down on December 6th. The opening bid is $90,000, a bargain compared to the $4.2 million that one of the TV show cars sold for in January.
http://www.foxnews.com/leisure/2014/11/15/oldest-known-batmobile-heading-to-auction/?intcmp=latestnews
Dernière édition par Predicta le Dim 16 Nov - 9:12, édité 1 fois

_________________
We don't care the People Says , Rock 'n' roll is here to stay - Danny & the Juniors - 1958
The world's first official Batmobile is going up for auction, but it's probably not the one you think.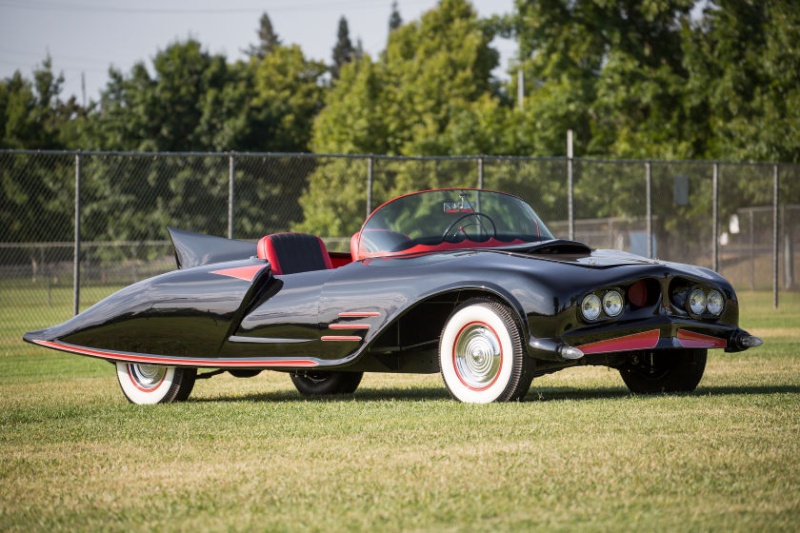 While many assume that the Batmobile created for the 1966 television series was the Dark Knight's first officially licensed ride, another actually car preceded it by three years. As Pictocollecta notes, the first Batmobile was created by Forrest Robinson, who was only 23 years old at the time. The '63 Batmobile is a custom job, using a 1956 Oldsmobile frame and a one-of-a-kind body that Robinson created. It does share an uncanny resemblance to vehicle that would transport Adam West and Burt Ward around Gotham, however.
Heritage Auctions, the company auctioning the Batmobile, says that DC Comics licensed the car to All-Star Ice Cream, an ice cream company that was also selling Batman ice cream. (As a side note: That ice cream was titled "Slam Bang Vanilla with Banana and Marshmallow). The Batmobile was used in the ice cream's promotional and marketing efforts, appearing at grocers and stores that sold the Batman ice cream. Though the car remained dormant for the next 50 years, it was was purchased and restored by a California-based fabrication shop in 2013.
http://comicbook.com/2014/11/07/earliest-known-officially-licensed-batmobile-to-be-auctioned-off/

_________________
We don't care the People Says , Rock 'n' roll is here to stay - Danny & the Juniors - 1958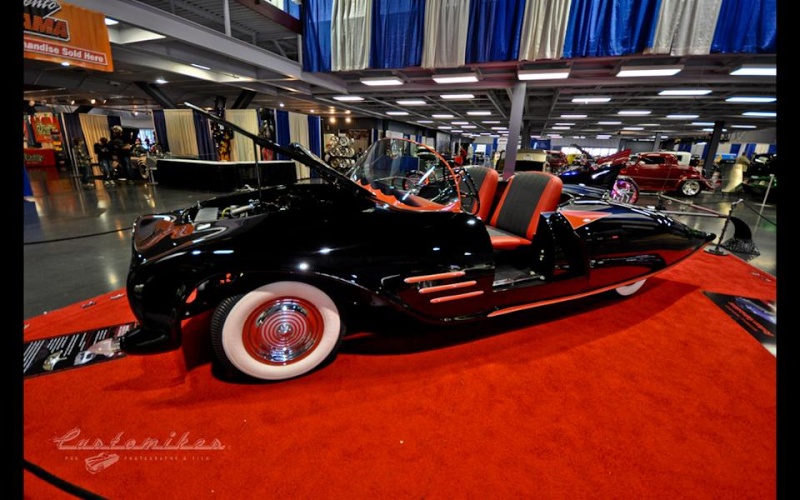 _________________
We don't care the People Says , Rock 'n' roll is here to stay - Danny & the Juniors - 1958

Fif




Messages

: 1324


Date d'inscription

: 11/11/2012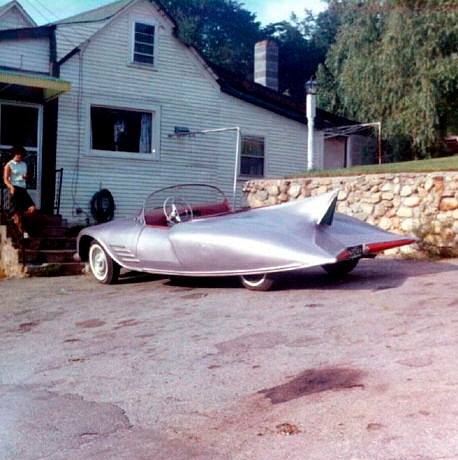 Constructed on a 1950's Oldsmobile chassis, the fiberglass creation features quad headlights around a nostril-style grille, a pair of low, horizontal tailfins, and doors that slide into the rear fenders to open.
As far as Albright knows, it was the first of its kind to hit the road.
Powered by a 1957 Olds V8, Robinson finished the car in 1963, two years before George Barris built the iconic TV Batmobile, and used it as a daily driver as he and his wife Violette headed off for his three-year stint in the Army at Fort Bragg, N.C.
There, a rep for the All Star Dairy cooperative, which was launching a line of Batman-themed ice cream and drink products, came across the car and offered to rent it for promotional use.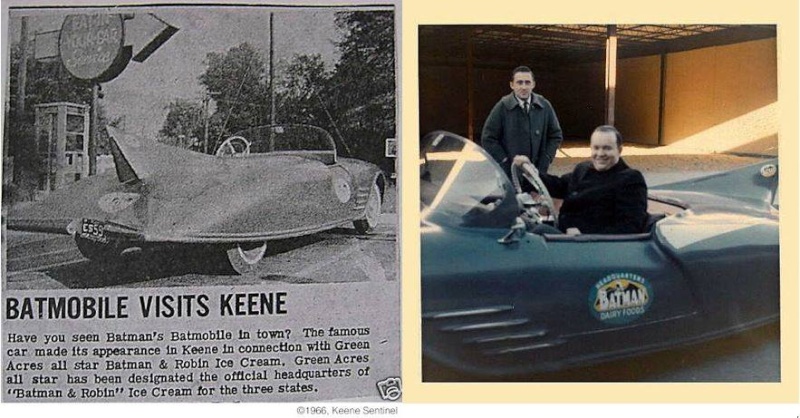 Busy with his military service, and happy for the extra cash, Robinson jumped at the chance and handed over the keys.
Although never officially licensed or anointed a true Batmobile by DC Comics, the car spent the next two years touring the east coast with the All Star team, surely providing an eye-catching talking point at every stop.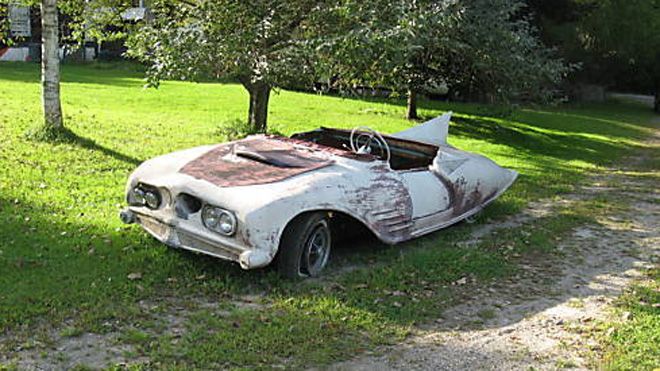 Robinson eventually took the car back, and then sold it to a friend in 1967. He never built another custom car, but when he got home from the Army he did open a machine shop in his hometown of Westmoreland, N.H., that's still in business today.
Unfortunately, the new owner didn't take very good care of the car and it has deteriorated quite a bit over the years as it changed hands a couple of more times before Albright found it in Chicago.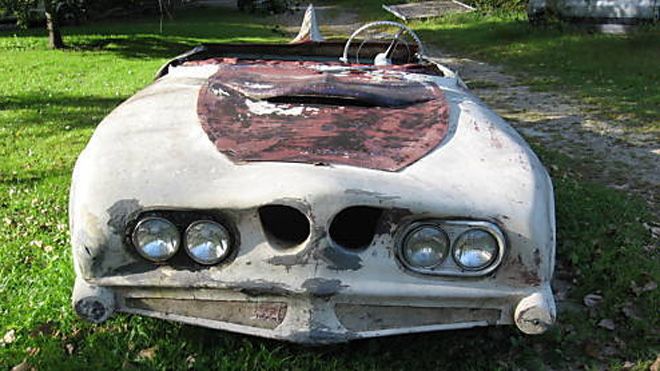 But while the chassis and running gear have seen better days, and the body quite dirty, Albright says the fiberglass is surprisingly straight and ripe for a good restoration.
If you're up for the challenge, it's currently listed on Ebay for $19,800 in an auction that ends this Friday.
Compared to the $4.2 mil spent on the other one, it almost seems like a steal.
Good thing it comes with a clean Florida title as proof of ownership, you wouldn't want Batman to show up at your house looking for it.
Or would you???

_________________
We don't care the People Says , Rock 'n' roll is here to stay - Danny & the Juniors - 1958
Unless you're a big fan of the 1940s & 1950s DC Batman comics, you probably won't recognize this car, but it's actually the very first Batmobile. Licensed in 1963, the car became the first Batmobile a whole two years before the famed George Barris could roll out the custom Lincoln most of us (falsely) assumed was the first Batmobile, and if you have somewhere in the range of $200,000 this December, it could sit in your Batcave…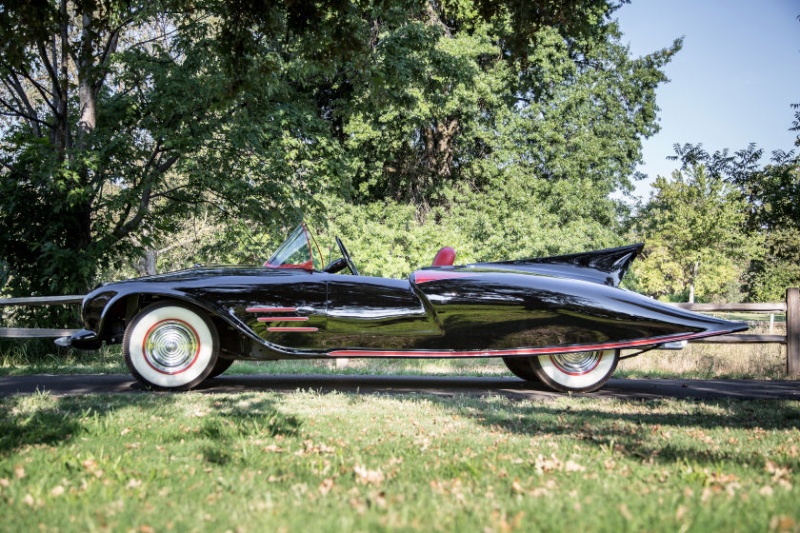 The car was the creation of a 23-year old kid named Forrest Robinson and his buddy Len Perham. Together they spent 3 years building the crazy contraption out in the Robinson family barn, and when completed in 1963 it became the earliest car to ever be sanctioned by a DC Comics licensee.
The first Batmobile is truly a one-of-a-kind, hand built creation… Built around a 324 Rocket mill and a 1956 Olds frame, the body has the iconic back fin and bat-nose front that true Batman comic lovers will immediately recognize.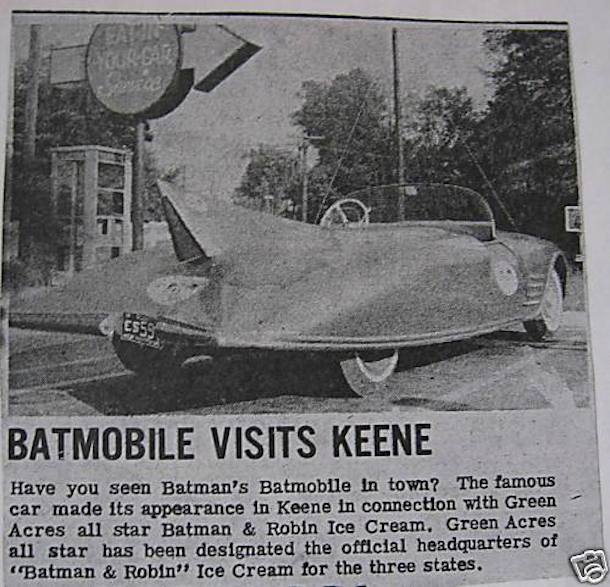 Heritage Auctions discusses how Forrest Robinson's creation became the first Batmobile: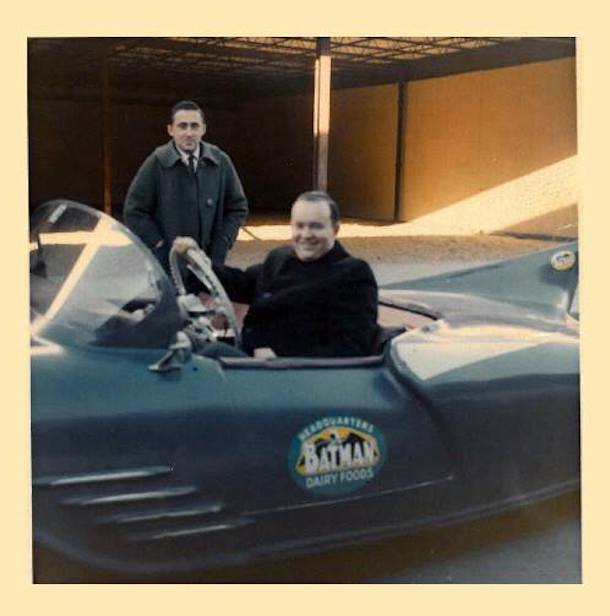 He painted the car space-age silver-a stunning piece of art-on-wheels. Robinson initially used the car for regular driving, but when Batmania started in earnest, the car caused such a sensation that ALL STAR Dairies and its New Hampshire affiliate, Green Acres Ice Cream (a DC Comic Book licensee), leased it for a promotional campaign.
With the Barris Batmobile now on the TV screen, Forrest unloaded his creation for a measly $200 so he could start a fabricating business, and the beauty ended up rotting away for nearly 5 decades in a New Hampshire field. Thankfully, the car found new life when discovered in 2008 and made its way to auto historian George Albright. He found ol' Forrest and his buddy Len and a whole slew of DC & ALL STAR Dairies execs and asked them about the car. They confirmed it was, in fact, the first Batmobile.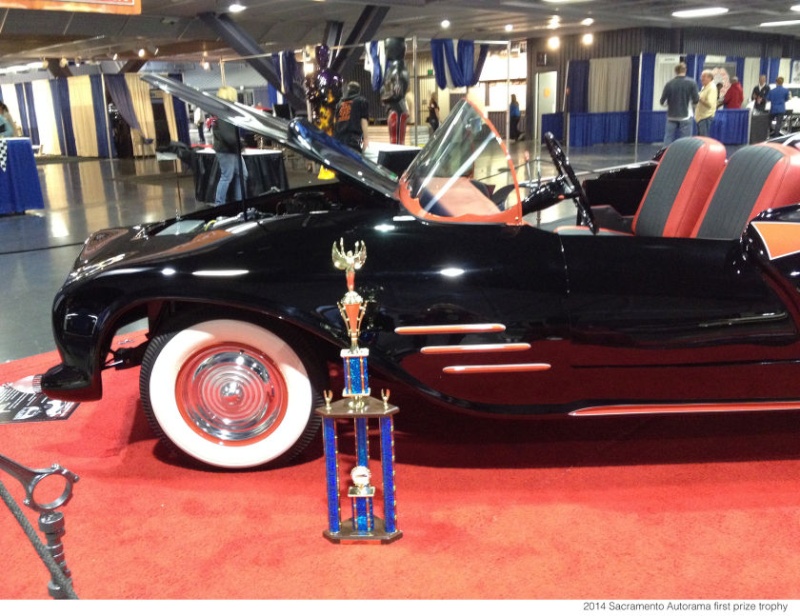 The car changed hands again in 2013, going to Toy Car Exchange LLC who had the car restored by Borbon Fabrications.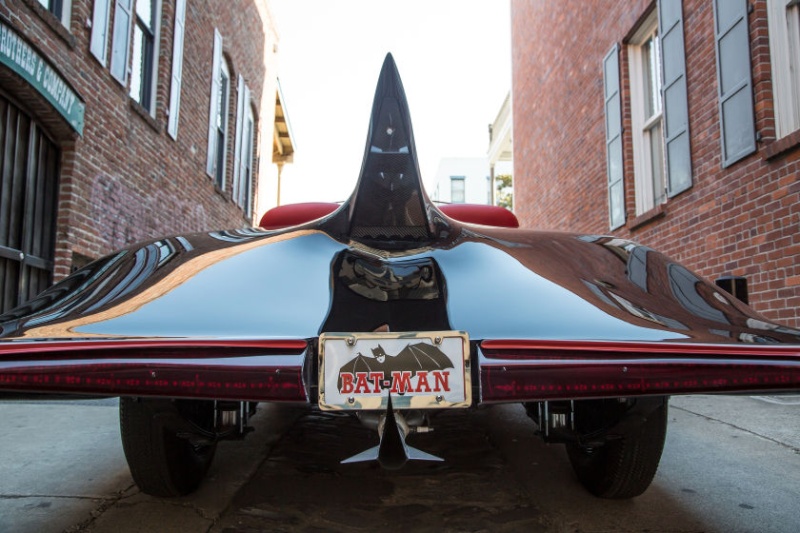 When unveiled at the Sacramento Autorama earlier this year, the Batmobile won 1st prize in the hand-built sports car class.
https://roadtrippers.com/blog/very-first-batmobile

_________________
We don't care the People Says , Rock 'n' roll is here to stay - Danny & the Juniors - 1958
If you always thought that the 1966 TV batmobile was the first then you and everyone else in the world were wrong. Recently discovered and restored is this custom built batmobile that was first completed in 1963 and sanctioned by DC comics in 1966. So what it took to build the first official batmobile was a super fan just like you and I.
Forrest Robinson was only a young man of 23 when he began building his dream car. The reason? His Grandson put it simply, "Well what he told me was, back then we thought the Batmobile was really neat so we decided to build one ourselves."
Sitting in a field for 50 years this car was a heap of junk, barely recognizable as the beauty that's driving around today. George Albright, a well known automotive historian, was the first to confirm the story behind this car. He took it to his museum in chicago but found it was too big a project to take on at the time. Along come the Belzbergs, a charming couple from NY that collect rare Matchbox cars with a newly developed taste for collecting life size automobiles. With their last restoration, the car from "Rain Man", being a great success they were hungry for a new project. Under all that rust and decay Alicia was able to recognize the beauty in the lines of the batmobile and make the quick decision to buy the car.
They passed the project to Mario Borbon of Borbon Fabrications in Sacramento CA. Mario, a seasoned restorer of classic VWs, had no idea what he was getting into. He would end up 5 times over budget and way behind schedule only 2 months into the build. Mario had to close his shop and dedicate 100% of his efforts to this car. With only himself and a couple guys he was able to complete the rebuild in a little over ten months of full-time work. The restoration was completed in February of 2014 and now you can see the first Batmobile ever built as it looks today, pictured below

_________________
We don't care the People Says , Rock 'n' roll is here to stay - Danny & the Juniors - 1958
Certainement la plus réussie !!

EL TEX




Messages

: 563


Date d'inscription

: 22/07/2013


Age

: 54


Localisation

: Dodogne



Sujets similaires
---
Permission de ce forum:
Vous
ne pouvez pas
répondre aux sujets dans ce forum