Jack hadn't been standing idly by while Erik's Olds had taken form. His original idea of fixing up his Starliner for a quick sale was nixed in favor of keeping the car and really going all out with it. With every layer of prep and paint that Erik achieved, Jack became more and more inspired to turn his dormant Starliner into another Starlite stunner. He liked the early '60s mild-custom look, and wanted to keep that long-stock profile, but his big Ford would feature some custom styling.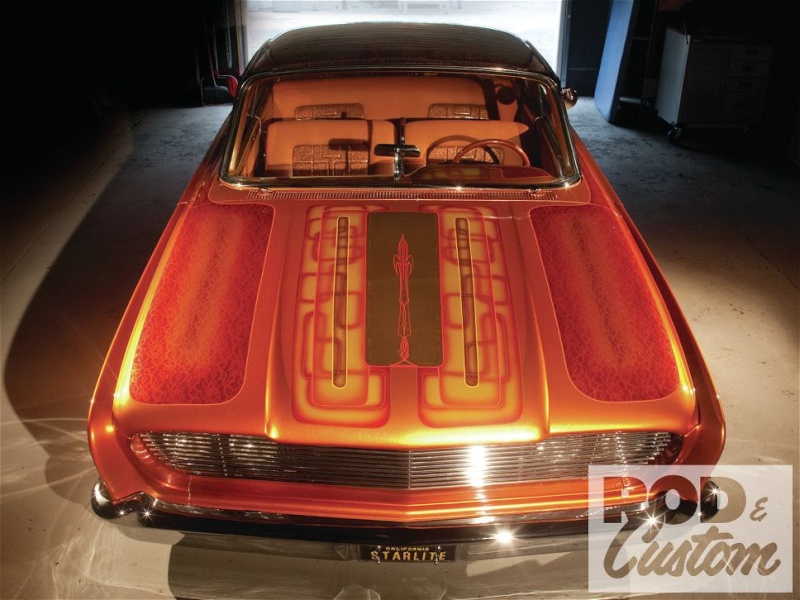 The '60 Ford Starliner was another automotive marvel that tied together the boxier, eccentric '50s styling cues with the longer, more sedate lines of the later '60s. The rear deck profile and the way the rear glass follows the contour of the body is something that wouldn't be seen again from an American factory. Jack's Starliner, with its deleted trim and door handles, still attracts the eye with numerous body details. A see-through mesh grille was fabricated to cover the entire front panel of the car, while in the rear the taillights were dropped down into the chrome bumper. Like all Starlite builds, the car features countless small custom details.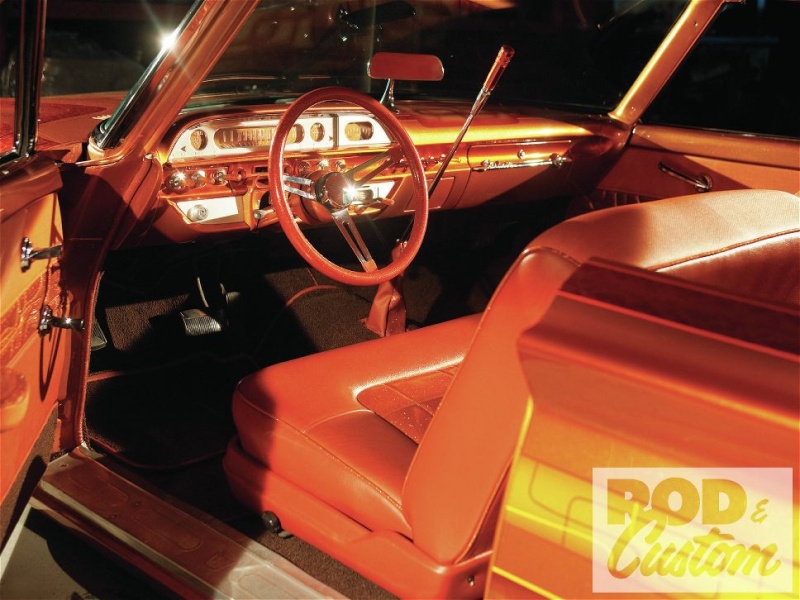 As Erik had been before him, Jack was dazzled by the sheer size of the body panels. Again, the car was a blank canvas that demanded intricate panel work and Jack wanted to personally do as much of the paintwork as could. As he recalls, "My dad showed me how to put down paint. Later I picked up a lot when I was working at an auto body shop doing insurance work. Luckily, the owner didn't like to cut corners and insisted that we did things correctly. You learn a lot that way. I took the PPG and DuPont paint courses and that was helpful in learning proper technique as well."
Jack paid a visit to Mike and Rich at Stevenson's Paint Supply to get some guidance in paint color. Stevenson's is like a big military surplus store in that they carry everything in stock as far as unique paint materials are concerned. When you're primed and ready to spray, there's nothing worse than having to special order an uncommon color. Jack wanted to make sure his Starliner was going to make a statement wherever he went, so he decided to go with House of Kolor Gamma Gold with candy tangerine fades as the Ford's base colors.
Back at Starlite, Jack, Horta, and Mageno spent an entire day laying down graphics. "I did some sketches about what I thought I wanted. But when we rolled it into the booth and started taping it, we just started from scratch. Me and Alex and Chris just put our heads together and let it evolve the way it was supposed to."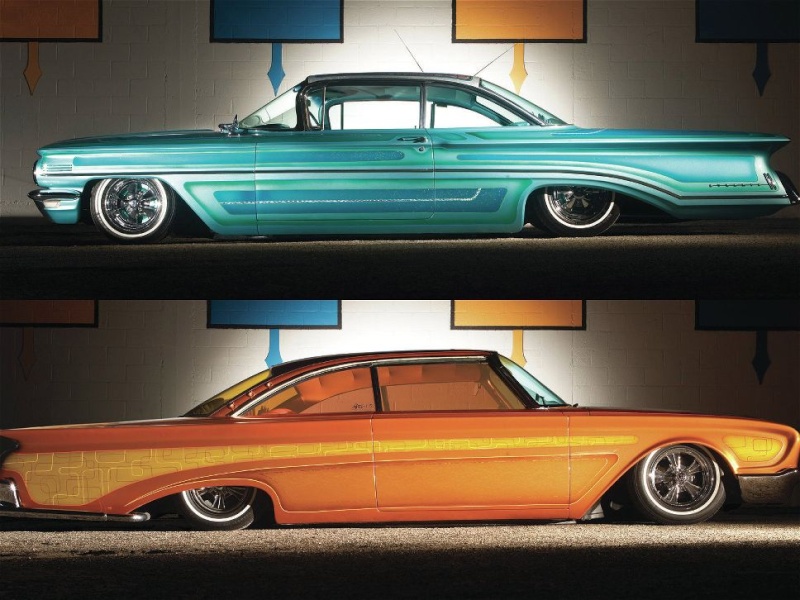 The boys then spent two full days masking and painting a combination of lace, fades, and tape out panels. To complete the intricate paint detail, Cisneros Pinstriping was again brought in to add the elaborate pinstriping and variegated gold leaf designs. The intricate panel paint detail extends inside the car onto the dash to tie the whole masterwork together.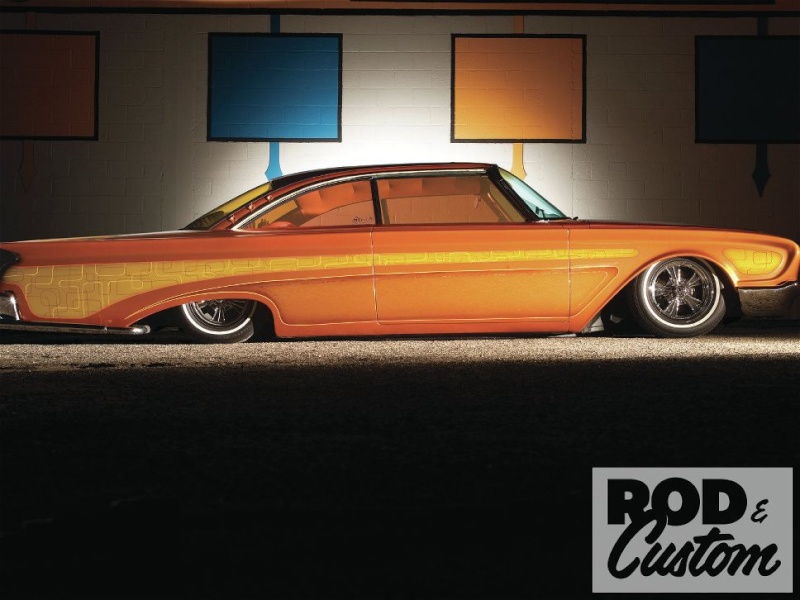 Dernière édition par Predicta le Lun 1 Sep - 13:21, édité 1 fois

_________________
We don't care the People Says , Rock 'n' roll is here to stay - Danny & the Juniors - 1958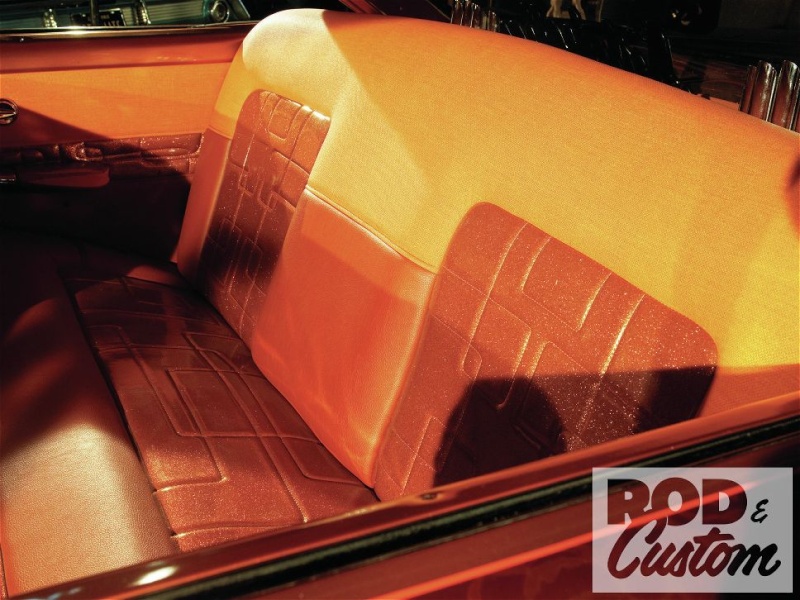 "Larry Watson was definitely one of my influences. But there were a lot of talented local South Bay guys around here who never got any recognition. The newer lowrider styles don't appeal to me. I have to say I'm more old school, and I know that's an over-used term. Back when I worked at the body shop, there was an old biker who lived across the street. He started painting motorcycles in the late '50s and he taught me authentic graphic techniques from that time. A lot of the tape outs on my car are early '60s motorcycle style; you really didn't see them on cars at the time. This stuff was all over the place back then, but never made it into the magazines," Jack reminisces. 
 Jack tapped into Chito's Glass for all the rubber and stainless, and just for that extra kick had them come up with authentic one-piece orange side glass and matching rear window tint. "That orange glass almost happened by accident. Chito is in our shop all the time and this one day the guy shows me this orange-tinted glass. Growing up, my dad was into the Willys scene and I loved those '60s Gassers. You'd see the colored glass on those sometimes. I just decided to run with it. I'm not a die-hard traditionalist. My cars just kind of fit into where I'm at in life."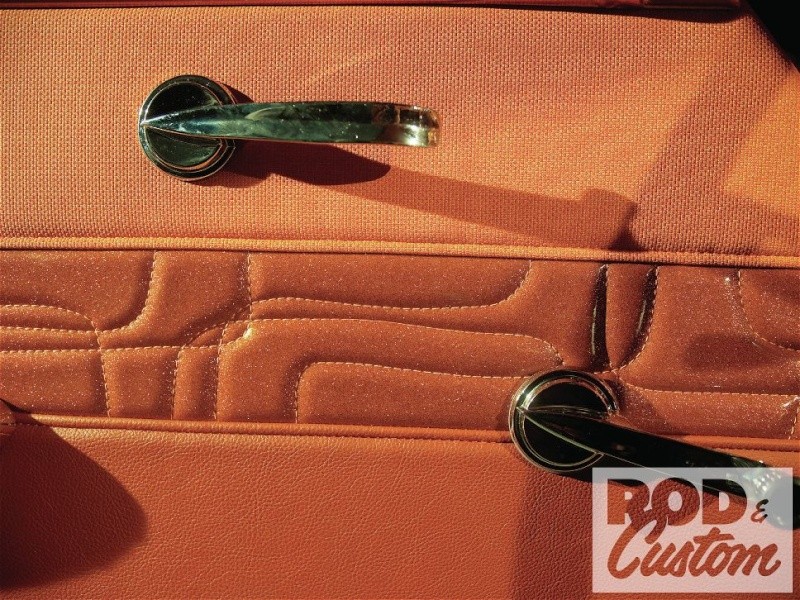 For the upholstery, Jack wanted to take the same '60s design from the paint pattern and replicate it onto the seats and door panels of the Starliner's full-custom interior. Again, Chuy's Upholstery proved that they were up to the challenge, and the result is that every time Jack climbs into that interior he gets a one-of-a-kind rocket trip into another dimension. Jack christened the finished Starliner custom "Agent Orange".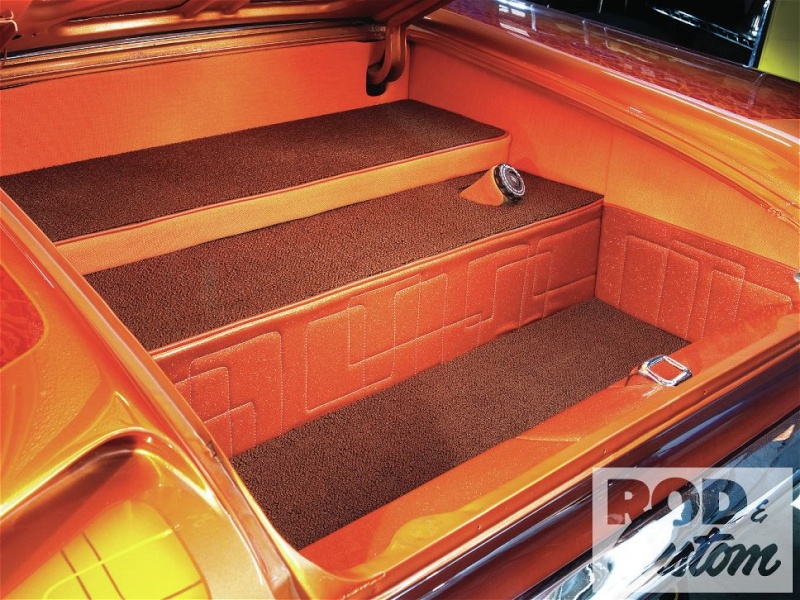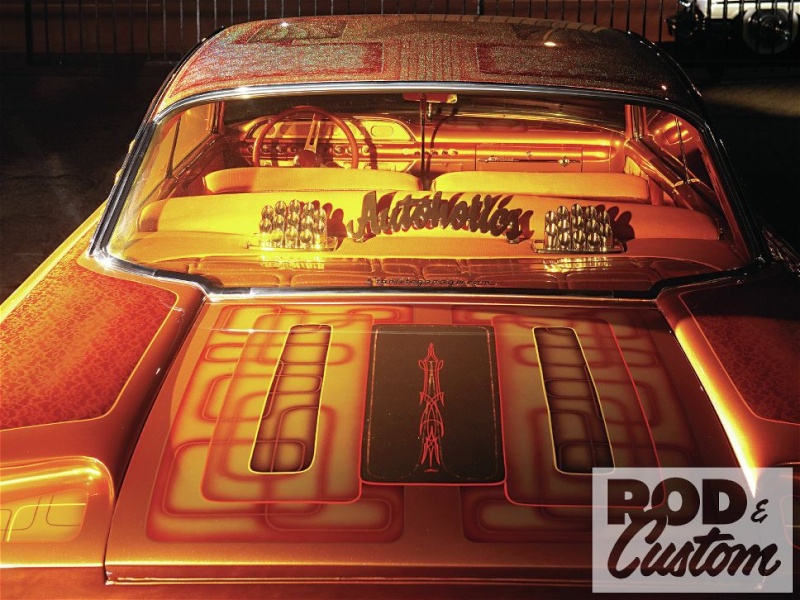 http://www.rodandcustommagazine.com/featuredvehicles/1108rc_1960_ford_starliner_and_oldsmobile_dynamic_88/viewall.html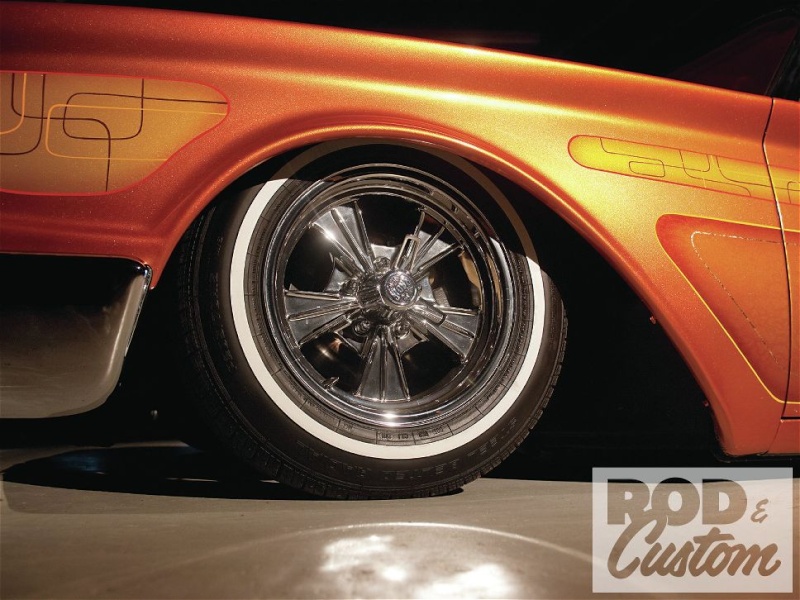 _________________
We don't care the People Says , Rock 'n' roll is here to stay - Danny & the Juniors - 1958

_________________
We don't care the People Says , Rock 'n' roll is here to stay - Danny & the Juniors - 1958

_________________
We don't care the People Says , Rock 'n' roll is here to stay - Danny & the Juniors - 1958

_________________
We don't care the People Says , Rock 'n' roll is here to stay - Danny & the Juniors - 1958

_________________
We don't care the People Says , Rock 'n' roll is here to stay - Danny & the Juniors - 1958

_________________
We don't care the People Says , Rock 'n' roll is here to stay - Danny & the Juniors - 1958
Sujets similaires
---
Permission de ce forum:
Vous
ne pouvez pas
répondre aux sujets dans ce forum