It's a pleasant Sunday morning in Chiba, Japan. The Seven-Eleven store in Noda city is busy as usual with a steady stream of people heading inside to pick up some fresh onigiri, a can of coffee, a bento lunch or any one of the other fine items you'll find in a Japanese conbini. Before entering the store though, they are taken back by an unfamiliar looking vehicle parked out front.
An old man rolls up on bicycle – your textbook Japanese ojisan. He stares at the car with an impressed, but very confused look on his face. He circles around slowly, eyeing the strange shape before him. Finally, the questions start coming. "What kind of car is this?", "What year?" and the best one – "How many CCs?".
The car he's looking at is a heavily customized 1949 Mercury, better known as "Merc 9″ and the scene that just unfolded is a regular occurrence for its owner and builder Isamu Kondo. It was also the exact sort of thing I was hoping to see when I met up with him to shoot the car last month.
Don't get me wrong, this Merc is a stunning machine. A car that would stand out even at legendary custom car gatherings like the Cruisin' Nationals in Santa Maria or inside the halls of the Grand National Roadster Show. In fact, at the 2012 Yokohama Hot Rod Custom Show, Merc 9 was chosen as the "Best Automobile" of the entire show. That should give you an idea of the quality of this build.
But rather than just focusing on the car itself, I wanted to try and capture the feeling of what it's like to build, own, and drive a genuine American lead sled in Japan. It's a concept that just happened to fit perfectly with the American car culture theme we have going on right now.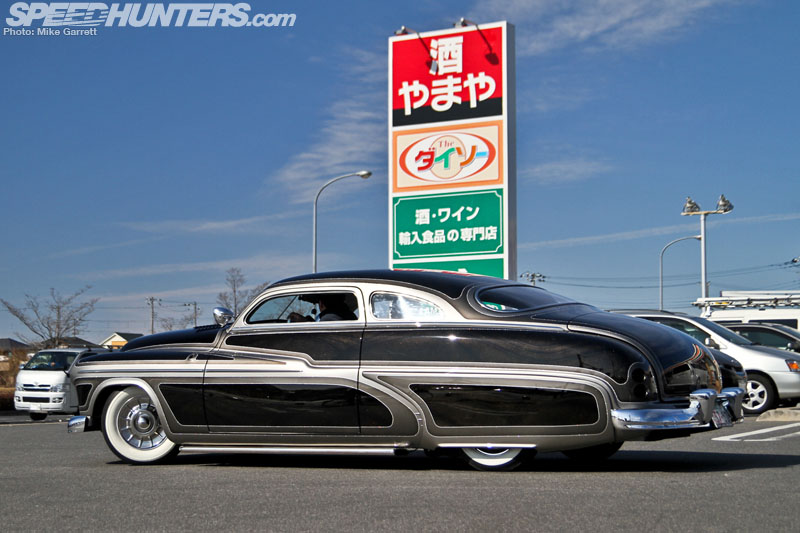 Kondo-san is from Saitama Prefecture, and he spends his days working as metal fabricator inside one of the many industrial workshops found in the area. While his day job involves working on things such as highway guard rails, like many in his field he's also taken a liking to customizing cars. But why American machines?
His first vehicle was actually a lowered Datsun 720 pickup, but part of what lead him to American cars was the intense scrutiny from law enforcement towards modified Japanese cars and their association with bosozoku gangs. He figured by driving American cars he might be able to fly under the radar. More importantly though, he had been fan of American cars since childhood after seeing them glamorized in films like American Graffiti.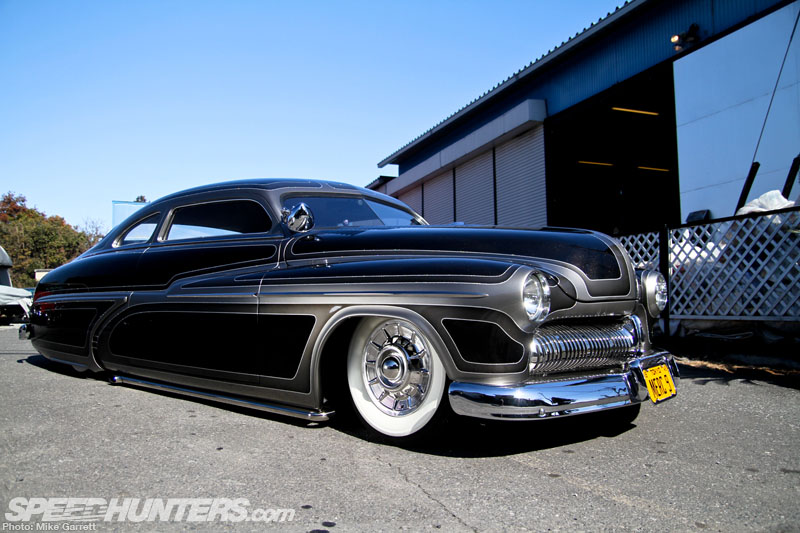 Kondo-san has owned many different American cars in his life, and his interests include everything from Lowriders to muscle cars. In a way, the Mercury is a culmination of all those things. When he first bought the car from a friend it was already customized, but in the years since he's entirely redone it, making Merc 9 completely his own creation.
While the Merc has been through several different phases during the time he's owned it, it hasn't been entirely smooth sailing…
At one point while out on a cruise, the Merc was involved in a petty bad car accident. Fortunately Kondo-san was OK, but the same couldn't be said for the car. There was heavy damage to the body, with hours and hours of custom metal and paint work destroyed in an instant. While this would be enough to make most want to give up on the car entirely, it only inspired him to rebuild the car even better than it was before.
Luckily, Kondo-san's boss understands his car hobby and has allowed him to not only to store the Merc at the metal shop, but also to let him work on it after hours. Over the course of many long nights and weekends, he worked not only to repair the car, but to reform it into the machine you see here.
When he rolled the car into the Yokohama Hot Rod Custom Show in December, he was happy just to be there. Happy that the damaged car was once again back on its feet after so much hard work. A bit of pride that any car person should be familiar with. He never imagined that the car would take home the Best of Show award.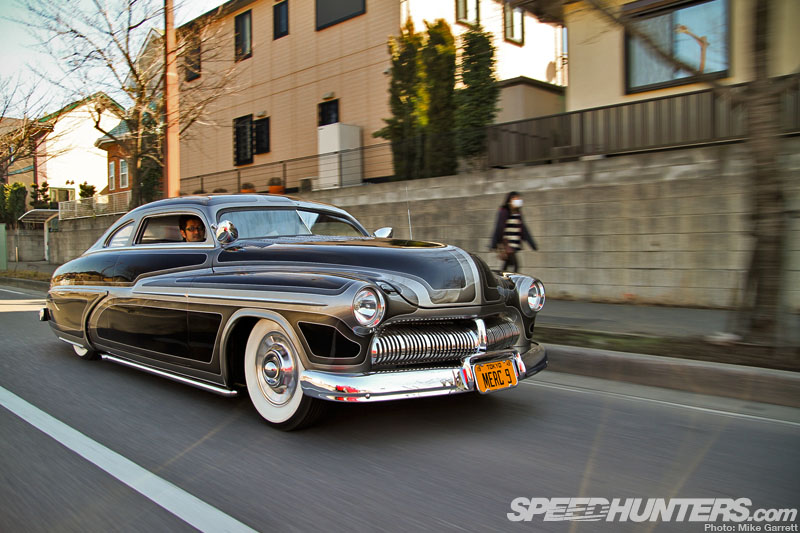 In typical Japanese fashion, Kondo-san is very humble about the achievement. After all, HRCS features the finest hot rods and custom cars from all over Japan. How could his car be chosen as the best?
But one look at the Merc and it's easy to see why it won over so many in Yokohama. The car has a style all of its own, and the quality of the craftsmanship inside and out is second to none.
The paint work on the car was handled by Cal Trend in Saitama (more on them in another story) and it's one of Merc 9′s most outstanding features. The intricate pattern of flaked black and silver hues looks like something that could have easily rolled out of Larry Watson's shop during the heyday of the Southern California custom scene. It's truly impossible to do the paint and body work justice without seeing the car in person. There's just so much detail to it.
And the closer you look at the car, the more details you begin to pick up on. The license plates for example were made from scratch with a style inspired by the yellow plates California used during the '40s and '50s. A a little thing, but it speaks to the overall style and attention to detail on the car.
While the exterior of the car has a purely traditional look, Kondo-san has not been afraid to modernize other parts of the Merc for maximum drivability.
Under the hood for example, sits a tried and true 350 Chevy sourced from a Camaro. Given the difficulty of finding parts in Japan, the small block was a logical choice and it moves the big Merc down the expressway with ease.
Inside, the car is not the hard-edged custom you might be expect, but something that's been built to be as comfortable and usable as possible. There are power seats, power windows, a navigation unit and also a vintage air conditioning system for those humid Japanese summer days.
Here you can see the custom-built center console and the B&M shifter fitted to the 700R4 overdrive transmission.
Hardcore traditionalists beware, there's even a complete set of digital gauges.
As you've probably gathered by now, this car's built to be driven. Sure it's a show quality machine in and out, but I don't think a Japanese translation exists for the term "garage queen". Kondo-san likes nothing more than just getting out there and cruising.
Dernière édition par Predicta le Jeu 30 Avr - 7:16, édité 2 fois

_________________
We don't care the People Says , Rock 'n' roll is here to stay - Danny & the Juniors - 1958
He's also very fond of the great American burnout. "I can do this as many times as you want", he says.
The Merc has also been rigged to spit flames. In true lead sled fashion, you know?
Out of curiosity, I asked Kondo-san if it was difficult to navigate the big Mercury on these tight Japanese backroads. He says that over the years he's gotten pretty good at it, but the car's large turning radius can make things challenging in parking lots and tight intersections.
Overall though, that's a small price to pay for the magical experience that comes with rolling around the streets of Japan in a bitchin' lead sled. The reactions from people are priceless – a strange mix of bewilderment and pure admiration. These folks might not have any clue what they are seeing when Merc 9 rolls by, but they know it's cool. Sometimes that's all you need.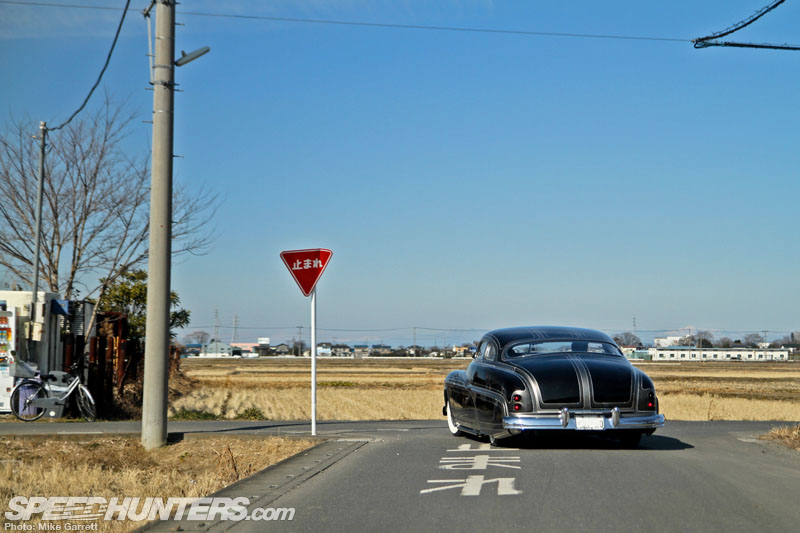 I also asked him if he travels to US often like a lot of Japanese hot rod and custom fans do. Amazingly, he hasn't yet had the chance to visit. Instead, all of his inspiration has come from magazines, the internet, and the aforementioned movies. The fact that he's managed to build such a high quality and authentic American custom is a testament to just how seriously the Japanese take their automotive hobby.
So as we look for examples of traditional American car culture being interpreted and spread by enthusiasts around the world, it's hard to think of a better case than Kondo-san and his Merc. Whether it's winning under the lights in Yokohama or just getting a thumbs-up from a confused ojisan outside the Seven-Eleven, this is the spirit of the USA in Japan.
I'd like to thank Kondo-San, Cal Trend, and KAGE for helping to make this story possible.
-Mike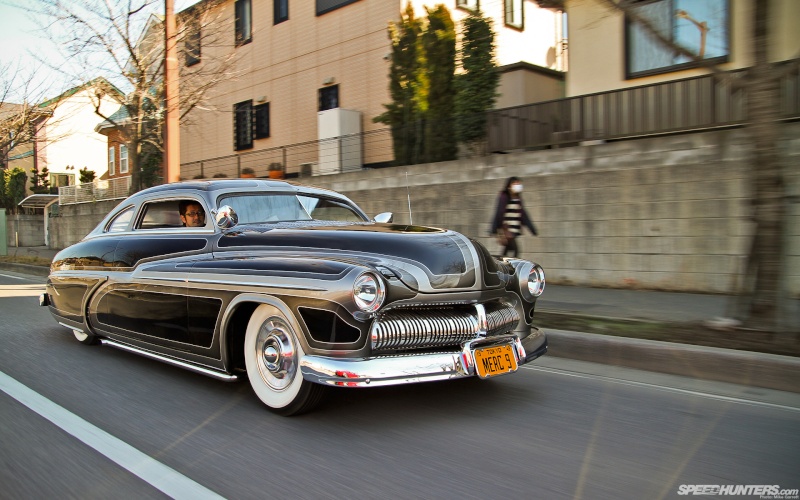 1949 Mercury "Merc 9″
ENGINE
Chevy 350 small block
MSD Ignition
Custom stainless steel oval side pipes with flame shooters
DRIVELINE
Corvette 700R4 automatic transmisison
GM 10-bolt 3:42 Posi rear end
SUSPENSION/CHASSIS
Cadillac STS rack and pinion
Hyrdaulics suspension front and rear
Rear three-link setup
BODYWORK
Four inch roof chop
Ribbed fender arches
Louvered hood
Custom steel fender skirts
One-piece side glass
'50 Chevy side mouldings
Lucas headlights w/ '54 Mercury headlight trim
'50 Mercury rear glass
PAINT
Paintwork by Cal Trend
House of Kolor mini-flake
PPG Silver
Alsa Candy Black
INTERIOR
'88 Camaro power seats
Custom center console
Vintage air conditioning system
Power windows
B&M Quick Shifter
Digital gauges
http://www.speedhunters.com/2013/03/merc-9-the-tale-of-a-japanese-lead-sled/

_________________
We don't care the People Says , Rock 'n' roll is here to stay - Danny & the Juniors - 1958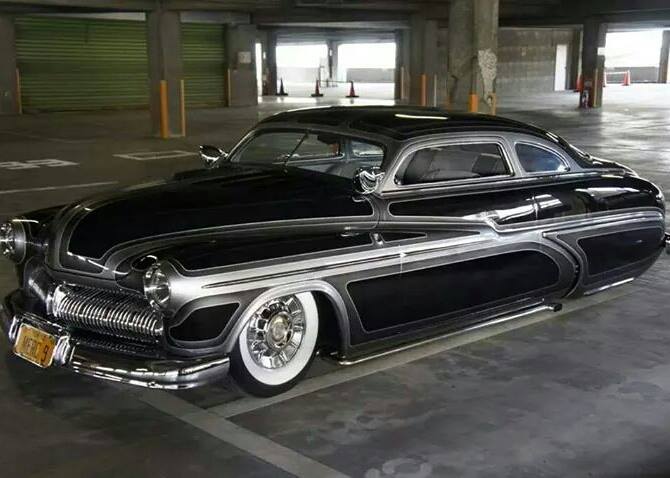 _________________
We don't care the People Says , Rock 'n' roll is here to stay - Danny & the Juniors - 1958
paneling vraiment brillantissime !

Zed




Messages

: 149


Date d'inscription

: 10/11/2012


Age

: 51


Localisation

: Oraison (04 )



---
Permission de ce forum:
Vous
ne pouvez pas
répondre aux sujets dans ce forum