Chris Montez s'est fait un nom dans l'histoire du rock grâce à son immense tube
Let's Dance
en 1962, c'est sous la direction du producteur Jimmy Joe Lee qu'il met en boite jusqu'en 1964 ses meilleurs titres.
Montez est né à Hawthorne en Californie, en 1962 son simple Let's Dance sort sur Monogram records, le titre atteint la 4 eme place au Hot 100 (US) et la seconde place des charts UK.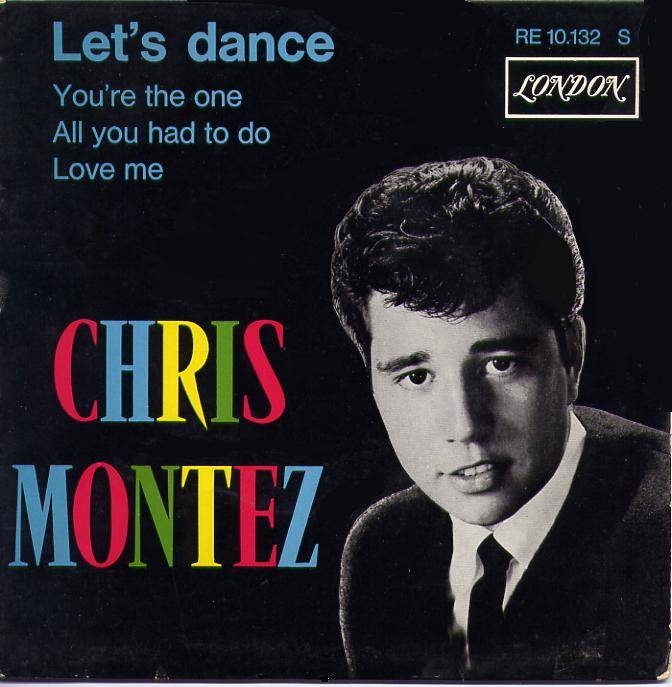 Some Kinda Fun
se classe de son côté n°10dans les charts UK et cependant en Janvier 1963
Let's Dance
se vend à plus d'1 million d'exemplaire et il obtient un disque d'or.
Montez tourne avec Clyde McPhatter, Sam Cooke, The Platters, and Smokey Robinson and the Miracles, Tommy Roe puis même avec les Beatles.
En 1966 il fait un comeback chez AM records et obtient un immense succès avec la ballade
The More I See You
puis en 1965 avec le titre Easy Listening
Call me
atteignant la seconde place des charts du style.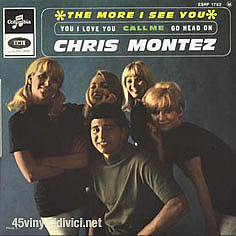 L'album Remusic
Let's Dance
compile l'ensemble des faces enregistrées par Montez durant cette période.
En toute logique c'est
Let's Dance
qui débute le disque une mélodie efficace associé à un rythme tout aussi réussi à l'orgue hammond fait de ce teen rock rapide un incontournable rock du début des sixties, à noter le jeu de production réalisé avec l'enregistrement stéréo,les titres se partagent entre des ballades
You're The One
et
All You Had To Do (Was Tell Me)
( mélancoliques dans le style de Ritchie Valens),
It Takes Two
,Tell Me (It's Not Over) et
Love me
(très teen rock),
In An English Town
(une cover de Ritchie Valens) du rock 'n' roll
No! No! No!
(avec des paroles en espagnol dans le style de
La Bamba
),
Monkey Fever
,
Shoot That Curl
et
It's Not Puppy Love
( très sixties avec orgue hammond),
I Feel Like Dancing
( une rythmique à la Buddy Holly),
Rock 'n' Blues
(assez pêchu avec orgue et guitare),
Chiquita Mia
(de rythme medium et chanté en espagnol encore influencé par Ritchie Valens), I Ran (dans le style de Kansas city),
He's Been Leading You On
(merseybeat),
Say You'll Marry Me
(rock rapide dans le style de
C'mon let's go
de Ritchie Valens), du twist avec
Let's Do The Limbo
,
My Baby Loves To Dance
(dans le style de
let's twist again
) et
Some Kinda Fun
.
Au final un disque ne contenant que des titres plutôt réussi mais comme vous l'aurez compris assez souvent influencé par le style de Ritchie Valens.

_________________
We don't care the People Says , Rock 'n' roll is here to stay - Danny & the Juniors - 1958

_________________
We don't care the People Says , Rock 'n' roll is here to stay - Danny & the Juniors - 1958

_________________
We don't care the People Says , Rock 'n' roll is here to stay - Danny & the Juniors - 1958

_________________
We don't care the People Says , Rock 'n' roll is here to stay - Danny & the Juniors - 1958

_________________
We don't care the People Says , Rock 'n' roll is here to stay - Danny & the Juniors - 1958

_________________
We don't care the People Says , Rock 'n' roll is here to stay - Danny & the Juniors - 1958

_________________
We don't care the People Says , Rock 'n' roll is here to stay - Danny & the Juniors - 1958

_________________
We don't care the People Says , Rock 'n' roll is here to stay - Danny & the Juniors - 1958

_________________
We don't care the People Says , Rock 'n' roll is here to stay - Danny & the Juniors - 1958

_________________
We don't care the People Says , Rock 'n' roll is here to stay - Danny & the Juniors - 1958
---
Permission de ce forum:
Vous
ne pouvez pas
répondre aux sujets dans ce forum