A thousand Star in the Sky
est l'une des ballades mélancoliques du début des 1960's les plus réussies, le style et les harmonies vocales étant proches des formations Doo Wop de la décennie précédente. 
Kathy Young est originaire du Sud de la Californie, c'est grâce au flair du producteur Jim Lee de Indigo Records qui fait passer en 1960 Kathy agé de 15 ans au côté du groupe vocal masculin The Innocents au Wink Martindale's Pop Music TV Show, ils font une cover d'un succès des Rivileers datant de 1954
A Thousand Stars
.
En Décembre le titre atteind la 3 eme place du Billboard Hot 100 et la 6 eme des charts Rhythm and Blues. Les sucés s'enchainent alors Happy Birthday blues (30 au top 100 en 1961) et Magic is the night et The great pretendre rentrent dans le top 40. Devant ce succés le groupe enregistre un album.
On peut noter en 1961 que le groupe fera partie du New American road show d'Alan Freed au côté de Etta James, Brenda lee, The Ventures, Gene Mc Daniels, Clarence Frogman Henry, The Shirelles, The Fleetwoods, Bobby Vee et Jerry Lee Lewis. 
Le label indépendant Black Tulip reprend le recto de l'album pour la couverture de son cd compilation
24 All Time favorites
. En toute logique le disque débute par
A thousand  Star in the Sky
que l'on retrouve en deux prises diférentes en fin d'album, le reste du disque se compose de ballades doo wop jouant harmoniquement entre la voix féminine de Kathy Young et les chœurs masculins des Innocents comme
Eddie My Darling
un doo wop lent dans le style de
Heart Angel
des Peinguins dont on reconnait certaines harmonies de
A thousand Star inthe Sky
,
Baby Oh Baby
plus intéressant au niveau mélodique car différent de leur tube,
Magic
Is The Night
un peu plus medium avec une présence plus marquée des chœurs masculins des Innocents,
Happy Birthday Baby
assez mélancolique et classique,
Lonely Blue Nights
est trop proche harmoniquement  de leur tube, et 
You're The One
et 
All You Had To Do Was Tell Me
qui sont deux petite perles  avec des mélodies particulièrement brillantes, on peut mettre à part
Gee Whiz
un slow doo wop dont la voix leader est masculine donc plus un titre des Innocents.
Nous trouvons de bons doo wop plus rapide comme
 Sparkle And Shine
dans le style des Chantels mais avec chœurs masculins,
Du Du'nt Du
plus medium  et
Shoot That Girl
qui se rapproche du rock sixties avec des influences vocales proche des Beach Boys.
Des covers personnelles et réussies les rendant singulières comme
Great Pretender
le tube des Platters,
Angel Baby
classique de la formation concurrente Rosie and the Originals et
Will You Love Me Tomorrow
le tube des Shirelles .
Comme souvent pour les formations doo wop blanches certains titres se rapproche du teen rock comme
It Takes Two
avec son jeu de réponses entre deux voix, 
Someone To Love
et
Dream Awhile
au rythme medium et
Angel On My Shoulder.
Mais certains titres sont quelques peu décevant voir ennuyeux comme
Our Parents Talked It Over
,
Just As Though You Were Here, Please Love Me Forever
  et 
Send Her Away
qui est  quand même bien kitch.
Cette compilation permet de faire découvrir une formation doo wop mixte dans des titres moins connus mais très réussis.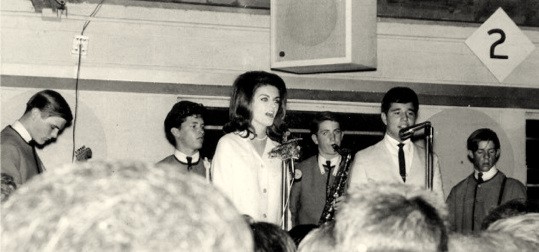 _________________
We don't care the People Says , Rock 'n' roll is here to stay - Danny & the Juniors - 1958

_________________
We don't care the People Says , Rock 'n' roll is here to stay - Danny & the Juniors - 1958

_________________
We don't care the People Says , Rock 'n' roll is here to stay - Danny & the Juniors - 1958

_________________
We don't care the People Says , Rock 'n' roll is here to stay - Danny & the Juniors - 1958

_________________
We don't care the People Says , Rock 'n' roll is here to stay - Danny & the Juniors - 1958

_________________
We don't care the People Says , Rock 'n' roll is here to stay - Danny & the Juniors - 1958
---
Permission de ce forum:
Vous
ne pouvez pas
répondre aux sujets dans ce forum