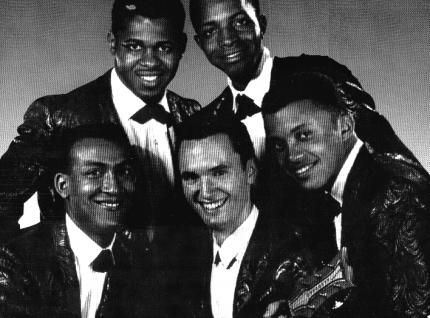 The Charades est une formation de Doo wop qui se forme en 1957 sous le nom de the Latin Knights dans la région de Tulane (Californie), il est formé de Johnny T Johnson (leader Tenor), Syl Grigsby (falseto , bariton), Alex Pilkinton (Basse, Bariton), Levem Butler (bariton) et Ray Barradat (Tenor, bariton). Ils enregistrent pour les labels Swingin' records et Weber records, mais ils sont malheureusement perdus.
En 1960 ils changent de nom pour The Charades et entre 1962 et 1965 ils enregistrent pour le producteur Anthony J Hilder et sont édités sur des labels comme Del-Fi, Ava, Original sound, Northridge et Impact. C'est en 1962 qu'ils enregistrent leur classique
Please be my love tonight
. L'album
Please be my love tonight
de Collectable compile les titres de cette époque soit 13 titres sortie à l'époque et 5 prises alternatives.le style est varié nous trouvons du doo wop classique a tempo lent et medium(
Please Be My Love Tonight , Turn Him Dow, Close To Me, Take A Chance, Promise Me Everything, Open Up Your Heart
et
For You
), du doo wop stroll (
Surf & Stomp
,
Endless Love
), du surf vocal (
Delano Soul Beat
,
Funny Papers
,
The Soul, Women
,
Surf Bird
) de la ballade sentimentale T
reasure Of Love
, du twist
Shake Shout & Soul
et de la soul
Bright Star
. Un disque dans l'ensemble plutôt agréable.

_________________
We don't care the People Says , Rock 'n' roll is here to stay - Danny & the Juniors - 1958

_________________
We don't care the People Says , Rock 'n' roll is here to stay - Danny & the Juniors - 1958

_________________
We don't care the People Says , Rock 'n' roll is here to stay - Danny & the Juniors - 1958

_________________
We don't care the People Says , Rock 'n' roll is here to stay - Danny & the Juniors - 1958

_________________
We don't care the People Says , Rock 'n' roll is here to stay - Danny & the Juniors - 1958

_________________
We don't care the People Says , Rock 'n' roll is here to stay - Danny & the Juniors - 1958

_________________
We don't care the People Says , Rock 'n' roll is here to stay - Danny & the Juniors - 1958
---
Permission de ce forum:
Vous
ne pouvez pas
répondre aux sujets dans ce forum